Fusion & Genesis PPV List!
-Battlescars
-Anarchy Rulz
-Retaliation
-Requiem
-Exodus
-CyberSlam
-Tag Team Cup
-Validation
-Dark Carnival
-Point Break
-Regicide
-Wild Card
-Absolution
-Emergence
-Home Coming
-Cause & Effect
-Final Resolution
-Purgatory
-Ascendance
Will Marko Punish beat Brock Lesnar
After being the final man eliminated in the NXT: TakeOver Royal Rumble, the rivalry between these two has heated up quite a bit. Now after being attacked before his match last week by August, Starr might get a lick of revenge when he takes on Happytown tonight.
After pulling through for their Team Leader on last weeks Episode of NXT UnMatched, these two will now go to war over a spot in a Fatal Four Way Qualification Match next week in which the winner will join the Elimination Chamber for the NXT Championship as the sixth and Final Man. Will William Rage become one of the fastest rising Superstars in NXT History? Or Will Kevin Styles, the season one veteran, finally get the chance to get his hands on the gold?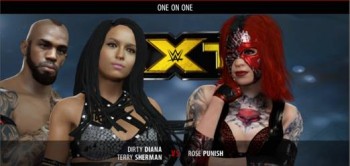 Tonight we'll find out who the fifth Vixen to take part in the first ever Vixens Elimination Chamber which will be for the NXT Womens Intercontinental Championship. Both of these women have fought Jade Dynamite for the NXT Womens Championship and failed, it's not time for them to turn their attention to Sophia Caldwell and her Title, but only one Vixen can qualify. Rose Punish has already had her taste in singles gold when she became the second ever NXT Womens Intercontinental Champion, while Dirty Diana has been unbeaten for over a month now after aligning herself with Terry Sherman.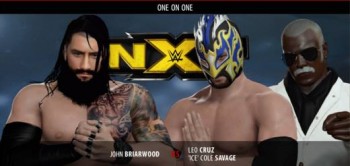 Tonight the former CMV Lightheavyweight Champion will take to arms against a former NXT Television Champion in the form of Leo Cruz. Briarwood may have a little more trouble from Cruz than he'd be expecting, as the infamous Cole Savage will as always be ringside for Leo Cruz tonight in this ever important match up in which the winner will join the Fatal Four Way Qualification match on the go home show next week for that final spot in the Elimination Chamber.
Both of these Vixens have huge matches in store at NXT UnChained, with Lexin Damjen taking on Jade Dynamite for the NXT Womens Championship, while Dawn Bryan will have a huge chance to win back her NXT Womens Intercontinental Championship as she'll be entering last inside the Elimination Chamber. However tonight these two Vixens collide in a battle for momentum. Dawn Bryan will have to keep an eye on the most must see superstar in CMV history, The Miz, who has claimed to only be the voice of Damjen, but we'll have to wait and see if he gets involved.

Both of these men are confirmed to be going through to the next round of the Tournament of Legends. However the winner of this match should in theory have the easier match in the second round. Marko Punish is coming off of a huge win securing himself a position inside the Elimination Chamber last week on NXT, But will it be enough to stop The Beast Incarnate Brock Lesnar?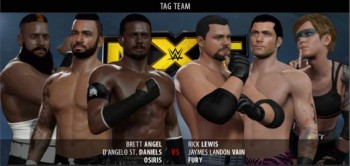 At TakeOver; D'Angelo St. Danials had a hard fought battle Jaymes Landon Vain and while D'Angelo won, he must again face-off against JLV, however this time, JLV won't be alone as he'll be teaming up with one of the fastest rising stars in the industry in the form of Raging Rick Lewis who as always will have the former Vixens Champion, Fury in his corner. However D'Angelo St. Daniels shouldn't be overly intimidated as he'll be teaming with the Longest Reigning NXT Champion in NXT history, Brett Angel in what is sure to be a war between four men who could potentially collide inside the Elimination Chamber in two weeks at NXT UnChained.
House Show
Jade Dynamite VS Kendra McArthur

Tournament Match
Wendell Grace VS Everett

Tag-Team Action
Nick Blake & Mr. Wentworth w/ Goliath VS Aaron Waite & Akira w/ Jonny Sampson

Qualifier
CJ Havret VS Nancy Hurt

Main Event
Chris Adams VS Chet Taylor


_________________
IT'S TIME
Main Event Star!





Posts

: 2219


Join date

: 2015-08-29


Age

: 25


Location

: New York


Humor

: Slapstick



Admin





Posts

: 6086


Join date

: 2015-03-09


Age

: 20


Location

: MizTV


Humor

: Making Sons uncomfortable



Wow. Main Event Match! I'm honored
_________________
My Characters
Rage - Current CMV Global Champion
Cassie Maverick - 2x IC Champion, 2x Vixen's Champion
Mr. Showtime - Former Tag Team Champion
Bill Maverick
Gluttony
The Jezebels (Susanna and Valderiss)
Main Event Star!





Posts

: 1153


Join date

: 2015-09-13



I mean that huge win over adams cannot be forgotten.
Admin





Posts

: 6086


Join date

: 2015-03-09


Age

: 20


Location

: MizTV


Humor

: Making Sons uncomfortable



Admin





Posts

: 6086


Join date

: 2015-03-09


Age

: 20


Location

: MizTV


Humor

: Making Sons uncomfortable



---
Permissions in this forum:
You
cannot
reply to topics in this forum