Fusion & Genesis PPV List!
-Battlescars
-Anarchy Rulz
-Retaliation
-Requiem
-Exodus
-CyberSlam
-Tag Team Cup
-Validation
-Dark Carnival
-Point Break
-Regicide
-Wild Card
-Absolution
-Emergence
-Home Coming
-Cause & Effect
-Final Resolution
-Purgatory
-Ascendance
CTW Roster:

(High Card)
Ezekiel Jackson
Rob Conway
Mr. Kennedy
Rodney Mack
Chris Masters
Kenny King
Bad News Barrett
(Mid Card)
Alex Riley
Ted DiBiase Jr.
Maven
Baron Corbin
David Hart Smith
Nathan Jones
Cesaro
Tyson Kidd
(Low Card)
Test
Big Daddy V
Jay Lethal
Shad
Marcus Louis
Deuce & Domino
Chavo Guerrero 
(Jobbers)
CJ Parker
(Not Active)
Teddy Long
Cherry
(Authority Figures)
Rampage Jackson
Tag Teams:
The New Nation: Jay Lethal & Shad
Deuce & Domino
Test & Big Daddy V
(
Alliance
) Rob Conway & Marcus Louis
Brass Ring Club: Cesaro & Tyson Kidd
Stables:
The New Nation: Rampage Jackson, Ezekiel Jackson, Maven, Jay Lethal & Shad
Referees:
Brian Gorie
Paul Turner
Champions:
CTW Heavyweight champion:
Ezekiel Jackson
CTW Tag Team champions:
 The New Nation (Shad & Jay Lethal)
Last edited by Mr. Dashing on Fri May 08, 2015 3:45 pm; edited 5 times in total
_________________
1x CMV Anarchy champion
1x CMV Tag Team champion
Bludgeon
1x Mr. Money in The Bank, 2x World Heavyweight Champion, 1x United States champion, Glammy award for Feud of the Year, Glammy Award for Heel of the Year
Xander Slate
Updated with my roster and shit. My next show might be up today!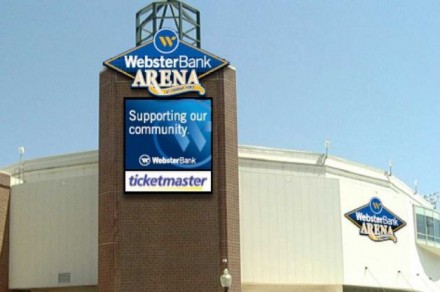 CTW episode four, airing live from the Webster Bank Arena in Bridgeport, Connecticut!
The show kicks off with its usual pyro, the fans hyped up for what is sure to be an action packed episode as CTW's first pay-per-view, Arrival, is just seven days away!As things begin to quiet down, we're greeted by The New Nation's theme song blasting over the PA system. Big Jackson, Lethal, Shad, Maven and the illustrious general manager, Rampage, all make their way down to the ring, slowly, Rampage clearly having something on his mind. Their now all front and center inside of the ring, the GM being given a microphone. Standing between his brothers, he goes on about how last week was nothing more than a fluke, and there will be hell to pay for Nathan Jones! In just seven days time, he continues, Nathan Jones WILL get the championship opportunity that he earned by defeating Ezekiel Jackson, but the match will be contested inside of a steel cage! The CTW Heavyweight champion now takes the microphone, staring dead into the camera as he speaks directly to Jones. Tonight, the #1 contender is to find two partners to face himself, Jay Lethal and Shad in a 6-man tag team main event match!!!
Match #1
Kenny King
vs.
David Hart Smith
Referee: Brian Gorie
Making his much anticipated debut tonight is the Pretty Boy Pitbull, Kenny King! He and Hart lockup to kick things off, having a pretty heated back and forth contest. Smith seems to be largely in control throughout the match though, not taking it easy on the newcomer. King mounts a comeback late into the contest, nailing David with a nasty kick to the back of the head, following it up with the Royal Flush!!! Kenny King picks up a win here in his debut match, I guess we'll see if his momentum keeps him on a roll!Mr. Kennedy is in the ring as CTW comes back from a short commercial break. Kennedy flat-out challenges Rob Conway to a match at Arrival, no beating around the bush. It takes a few minutes, but Conway eventually shows up on the big screen, accepting Kennedy's challenge under just one condition, it be 4 on 4 elimination tag team match! Kennedy refuses, he wants Rob one on one, but Conway says he WILL NOT compete at Arrival against Ken if it isn't in that type of match. Reluctantly, Kennedy accepts, he really doesn't care what type of match it is, so long as he can get his hands on Rob!!!
Match #2
Marcus Louis
vs.
Baron Corbin
Referee: Paul Turner
1-2-3-4-5-6, Corbin makes his STRONG debut here tonight against Louis, beating him in only six seconds with a wicked End of Days!!! All praise FRANCE!!!
The feed quickly cuts to the backstage area where Nathan Jones is currently being interviewed by The Coach, Jonathan Coachman! Jones looks furious and with good reason, as Coach asks him how he feels about his title match at Arrival now being contested inside of a steel cage! Jones doesn't speak, he only glares into the camera, it feels like he's about to jump out at you, but he suddenly peers down at Jonathan, breathing heavily. "Stupid move, Big Zeke, stupid move." With that Nathan spits at the ground before storming off, Coach looking frightened.
Match #3
Ezekiel Jackson, Jay Lethal & Shad
vs.
Nathan Jones, Deuce & Domino W/Cherry
Referee: Paul Turner
Lethal and Shad are fuming as Deuce and Domino make their way down to the ring, joined by the lovely Cherry! Remember what happened last week, it came down to The New Nation and the two greasers to crown the inaugural CTW Tag Team champions! Deuce kicks things off against Jackson, champ vs. champ indeed, but far from an even bout! Zeke dances over Deuce, tossing him around the ring like he's a plaything. Zeke tags out to Shad who continues the beat down. This goes on for what seems like forever, at least to Deuce . . . Finally, in a last ditch effort, Deuce manages to tag in Jones who goes to town on Shad and Lethal, pounding them into the canvas like it was his day job, oh wait . . . A quick tag out to Domino yields great results as the fresh competitor hammers away at Jay. He tags in Deuce and the two perform a double DDT! Lethal manages to kick out somehow, crawling his way to get Ezekiel into the match. Zeke DESTROYS Deuce once again, trying to prove a point to Nathan perhaps? No, he just enjoys inflicting serious pain on his opponents! He actually sits back and allows Deuce to tag in Jones, a preview of Arrival! The two monsters stand toe to toe, eye to eye, glaring at one another. Zeke in a split second spits into the face of his adversary . . . BIG mistake, Jackson! Jones utterly mauls the Heavyweight champion, showing off his impressive strength as he lifts Zeke way up into the air for a military press slam! Zeke makes a sneaky tag out to Shad, to which Jones is unaware! Nathan keeps on beating Jackson, tossing him over to his corner, tagging in Domino, who right away gets blindsided by Shad! Shad tags in Lethal and the two perform their tag team finisher, a brutal Samoan drop, neck breaker combo! The G9!!! 1-2-3!!! Jones takes a deep breath as Zeke is helped up by Shad and Jay, Deuce & Domino rolling out of the ring, Cherry making sure they're okay. Jones doesn't seem to be finished tonight though, he begins to make his way over to Zeke, plowing over shad and Lethal as they try and stop him! Just before Nathan can grab Zeke, Rampage comes out onto the stage and announces that if Jones so much as breaths in Big Zeke's direction, he won't get his title match at Arrival. Jones backs off, watching as Zeke is helped out of the ring by Maven and the rest of the crew, Rampage laughing up on the stage. The show ends with Nathan pointing up and the Heavyweight championship, making the cutthroat motion, Zeke with a worried, worried look on his face . . .
_________________
1x CMV Anarchy champion
1x CMV Tag Team champion
Bludgeon
1x Mr. Money in The Bank, 2x World Heavyweight Champion, 1x United States champion, Glammy award for Feud of the Year, Glammy Award for Heel of the Year
Xander Slate
CTW Episode six, Arrival, airing live from the Mohegan Sun Arena in Uncasville, Connecticut!
Ladies and gentleman, it is finally time for CTW's very first pay-per-view, Arrival!!! The atmosphere inside of the arena is incredible as EVERY single fan is up on their feet! This is sure to be one hell of a show!!!

Match #1
Referee: Paul Turner
Team Conway (Rob Conway, Marcus Louis, Rodney Mack & Chavo Guerrero)
vs.
Team Kennedy (Mr. Kennedy, David Hart Smith, Alex Riley & Chris Masters)
The only way that Rob Conway would face Mr. Kennedy here tonight, an eight-man elimination tag team match! Conway starts off in the ring against the debuting Chris Masters! Kennedy shocked the fans by bringing Masters onto his team here tonight!!! Rob doesn't even break a sweat as he right away tags in Guerrero. Chavo charges at Masters but gets caught up in the Master Lock!!! He taps so quick that it'll make your head spin!!! Mack now steps into the ring, intent on erasing what happened to him in his debut a few weeks back from the memories of the fans. Teddy Long looks on from ringside as Chris and Rodney lockup. They go back and forth, Mack showing off some impressive strength here tonight!!! Masters tags out to DHS, and he and Mack go toe to toe, putting on a good match. In the end though, Rodney gets caught up in an impactful Oklahoma Slam, shaking the entire arena!!! It's now down to 2 vs. 4, Conway sweating heavily, even though he hasn't even been in the match yet. Now its Louis turn as Rob still refuses to enter the ring. DHS gets snaked with a rollup while Conway was distracting him from out on the ring apron. There's a small bit of breathing room for Conway, but not for long as Marcus gets his head nearly taken off as Riley nails him with a wicked clothesline!!! Riley then lifts him up and hits the Hawaiian Crusher!!! Oh boy, Rob, you're in trouble, tag out to Kennedy and now Conway HAS to get into the ring. But, it's actually a pretty great match as Rob holds his own, even taking out Riley with a rope hanging neckbreaker!!! Kennedy gets tagged back in and reverses a clothesline attempt from Rob, hitting the Mic Check!!! He's not done though, he tags in Masters, who slowly puts the Master Lock on Conway, making him pass out!!! Team Kennedy wins! Masters and Kennedy celebrate their hard fought victory, Conway being helped out by a handful of referees . . .
An interview with New Nation members, Shad and Jay Lethal, reveals that tonight they will take on Deuce & Domino for the CTW Tag Team championship!!! They seem pretty confident as usual, will this be the night for the two young competitors!?
Match #2
Referee: Brian Gorie
Maven
vs.
Baron Corbin
So, Maven, you want to try YOUR hand at beating Baron- Oh, too late, Corbin has already laid him out with the End of Days!!! Well played, Baron well played . . .

Backstage we see Nathan Jones warming up for his big World title match later on in the evening. It'll be contested inside of a steel cage, but Jones seems ready, amped up even, especially after what happened on last week's show. He puts a huge dent into one of the lockers with a strong right hook, the camera zooming in on him as we cut to our next match!!!
Match #3
Referee: Brian Gorie
Brass Ring Club (Cesaro & Kidd)
vs.
Test & Big Daddy V
It's time!!! The highly anticipated debut of the Brass Ring Club! But they've, literally, got a HUGE challenge ahead of them. Kidd starts off against Test, the two putting on a high octane performance, Tyson of course doing most of the work. Test is looking choppy so he tags in Big Daddy V. Oh man; V goes to town on Kidd, hammering away at him in the corner with some body splashes!!! Kidd somehow gets over to Cesaro, the Swiss SUPERMAN putting the team on his back; he goes for the- the, CESARO SWING!!! He only gets four swings, but wow, that's impressive!!! He then lifts V up, The Neutralizer!!! What a debut win here tonight at Arrival for the Brass Ring Club, they're sure to wreak havoc here in CTW!!! . . .
General Manager and the owner of CTW, Rampage Jackson, comes onto the big screen. He's somewhere backstage, hyping up his boy Ezekiel Jackson!!! Of course, Big Ezekiel will be putting his World Heavyweight championship on the line in tonight's main event against Nathan Jones!!! Rampage has all of the confidence in the world that his stablemate will retain here tonight, brushing off Jones as some MINOR threat . . .
Match #4
Referee: Paul Turner
CTW Tag Team Championship
New Nation (Shad & Jay Lethal)
vs.
Deuce & Domino W/Cherry ©
The tag titles are up for grabs here tonight as The New Nation have placed themselves into this championship bout. Do they really deserve it!? Shad kicks it off against Deuce, who's still reeling from the beating he took on last week's show. Shad uses this to his advantage, beating the utter crap out of Deuce! Domino begs and pleads for a tag, but Deuce just can't make it to his corner. Tag to Lethal, Cherry trying to cheer her man on and get the crowd pumped up, "Let's GO, DEUCE!!!" But to no avail, Shad gets tagged back into the ring and the two hit their tag team finisher, The G9!!! Jay rushes towards Domino and spears him off of the ring apron, Shad getting the 1, 2, and 3!!! NEW TAG TEAM CHAMPIONS!!! And they didn't even cheat . . . But really, did they actually DESERVE this match here tonight!?!? Either way, The New Nation celebrates their huge win, but will Ezekiel Jackson be so lucky up next in our main event!? . . .

A video highlight of the Ezekiel Jackson/Nathan Jones rivalry, this one is personal, folks!!!
Match #5
Referee: Brain Gorie
CTW World Heavyweight Championship
Steel Cage
Ezekiel Jackson © W/Rampage
vs.
Nathan Jones
We're off to the races, these two behemoths colliding inside of the confines of a steel cage!!! Rampage is stalking the outside of the ring, can and/or will he get involved here tonight!?!?! Jones dominates most of this match here in the main event of Arrival. But it starts to pick up halfway through, becoming very back and forth . . . This is a good showing by these two, but Rampage seems to be plotting in brash, what's he up to??? He begins to bang on the side of the cage, trying to draw Nathan's attention away from Jackson. It doesn't work though!!! Jones stays on top of Ezekiel and even hits his signature spinning kick!!! To see a man that size move the way that he does is amazing!!! He begins to climb up the cage, but what's this!? Oh, surprise, its Rampage, sliding a steel pipe in through the cage, it lands right beside Ezekiel and now the GM of CTW starts to bang on the cage again. This time the distraction works, Jones kicking back through the cage!!! Ezekiel begins to stir, his hand finding the steel pipe aided by Rampage. He uses it to cave in Nathan's ribs!!! Jones falls a few good feet down to the mat where Ezekiel continues his assault with the pipe, relentlessly bashing in Nathan's midsection. Rampage opens up the door, and here's your winner folks, AND STILL, THE CTW WORLD HEAVYWEIGHT CHAMPION, Ezekiel Jackson!!! The slime, the filth, what a snake and what a way to end tonight's event, Arrival was a great show and The New Nation truly prospered, Shad and Lethal the new tag champs, Ezekiel still on top of the mountain, Rampage with all of the bragging rights!!!
_________________
1x CMV Anarchy champion
1x CMV Tag Team champion
Bludgeon
1x Mr. Money in The Bank, 2x World Heavyweight Champion, 1x United States champion, Glammy award for Feud of the Year, Glammy Award for Heel of the Year
Xander Slate
---
Permissions in this forum:
You
cannot
reply to topics in this forum