Fusion & Genesis PPV List!
-Battlescars
-Anarchy Rulz
-Retaliation
-Deathwish
-Requiem
-Exodus
-Validation
-Sacrifice
-CyberSlam
-Dark Carnival
-Point Break
-Regicide
-Wild Card
-Absolution
-Emergence
-Home Coming
-Cause & Effect
-Final Stand
-Purgatory
-Ascendance
Quick Links!
Dashing's Stuff!
Cop's Stuff!
CMV Network!
Social Media!
Site Threads!
Page 1 of 2 • 1, 2


Backstage we see Nick Starr in a director chair in a deem lit room

Nick Starr:
Back by popular demand this is "The Demo Reel." You must be asking yourselves where's the fancy set, Nick where's the skits, why aren't you entertaining us with your wits?
NXTreme.....I was your NXT Champion I had an opportunity to shut the critics in saying I was just a "Filler Champion" and I blew it.....
And its been a little bit of a problem for me over the past few months,
I've been in a little of a funk and I can trace it all down to that one date when I lost the NXT Championship....
Now don't give me wrong Brett Angel is a "Great Champion"
(Even though I already pinned him and he has yet to defend it)
As I said since I lost the NXT Championship I've been in a funk so I want redemption.....
And I want back my championship! That is why I'm entering myself into that Battl Royal and I WILL WIN! I can beat you Angel I've done it once I can do it again

Nick Starr gets up from his chair and leaves the set

Main Event Star!





Posts

: 1040


Join date

: 2015-07-19


Age

: 21


Location

: Hopewell, Virginia



Before he takes center stage for the Six Man Battle Royal
An excited and determined Nick Starr stops to speak to a camera so the audience understand where his head is

Nick Starr:
Ladies and gentlemen, guys and dolls, all of those in between this is not Demo Reel but I'm going to tell you and everybody else what's happening with young, brash, and entertaining Nick Starr.
I refuse to let my second chance to go to waste, I'm not going to let a sons of anarchy extra, a gringo who pretends to be Spanish, a Russian Red Giant, a freak who hides behind a mask, and that other guy no one know about.
I'm fast , furious, and in your face and let me just say those guys have their hands full and I will go one to face Brett Angel for what I deserve.

As his music play setting him up to enter
Starr hypes himself up and runs out for his entrance


_________________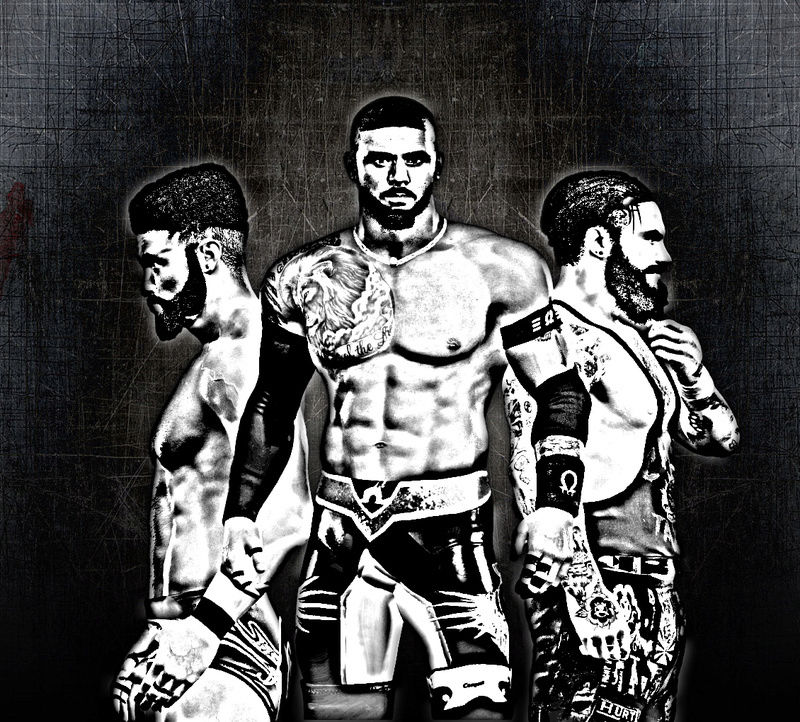 Main Event Star!





Posts

: 1040


Join date

: 2015-07-19


Age

: 21


Location

: Hopewell, Virginia



Hours before showtime Nick Starr is backstage warming up with some yoga
Starr addressing the camera while warming up

Nick Starr:
Seeing the look on Brett Angel's face told me all I need to know about where his head is going into our match. You'd think it would only be clear to me because I'm the only one in the ring close enough to see into the man's eyes but the fact is it was body language that betrayed Brett and everybody could see it. So here he is just won yet another match and he turns to see little ol me with his prize posseion wraped around my waist and his reaction is what exactly? Is it to immediately snatch that belt back from me the way I would him, the way that an actual man with any real conviction would have done? No, what Angel does is he hesitates and its that hesitation that tells me "Here's a man preparing for defeat." Now I can garuntee you that if it was just him and I alone he'd of let me walk out that arena with the NXT Championship wrapped around my waist. so whatever happens at Takeover after the match weither I have to walk away from NXT or I'm going to walk out that door with Angel's belt around my waist it is all based on me and my decisions and my life and you have nothing to do with my fate I do because at Takeover I end you and your story as NXT Champion. I can appreciate the greatness you chase honoring your wife the fact is that greatness cannot be caught at least not on the night that you stand in the ring with this guy because this guy is taking that title

Starr walks off
_________________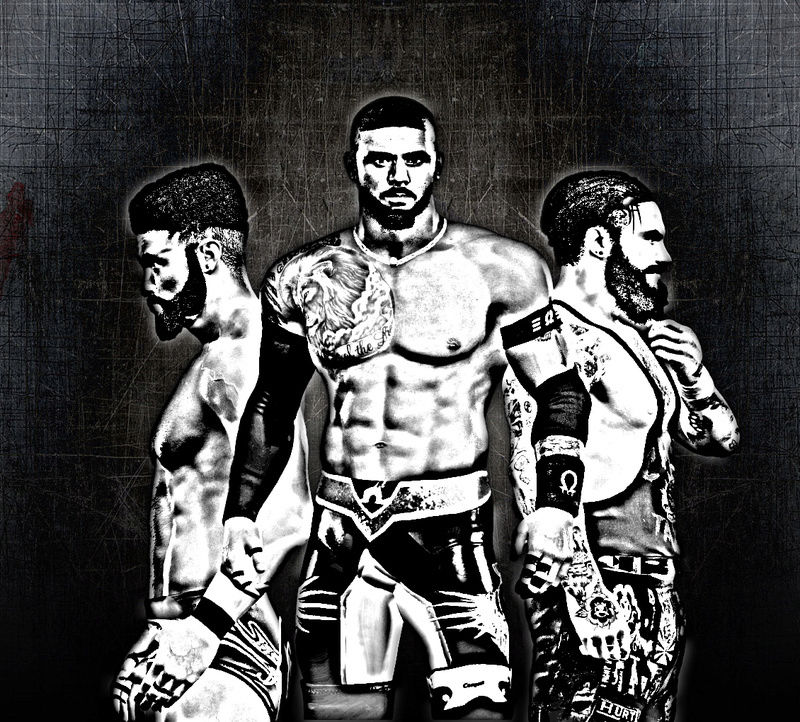 Main Event Star!





Posts

: 1040


Join date

: 2015-07-19


Age

: 21


Location

: Hopewell, Virginia



Following his win in his delayed return to Unmatched a bloodied and tired Nick Starr is doesn't waste anytime and grabs the mic from the ring announcer's hand
Starr takes a sec to wipe the blood trickling down from his forehead

-Nick Starr-
[Breathes heavily into the mic]
Angel if you were BRAVE enough, BOLD enough, COURAGEOUS enough to come out here and fight me now.....
You come out here in front of these fans portraying yourself as if you were an actual decent human being with moral values, when in reality you are a COW-ARD. You really going to attack me from behind denying my opportunity at the world championship, you coward?! And you think I'm afraid of you? My vibrational frequency is too high for that. I am a great distance away from fear. Look at what you've caused, yeah it hurt it still hurts, now I gotta look at this knowing that I was robbed of my chances of being a two time world champion. Not only are you a coward Angel but a low vibrational snake....
AND NOW I AM LOOKING TO CUT THE HEAD OF THAT SNAKE, TONIGHT I STOMP OUT FEAR, I DO WHAT SHOULD'VE HAPPENED SEVEN MONTHS AGO!!!
One more time Angel I ask of you, are BRAVE enough, BOLD enough, COURAGEOUS enough to fight me now.......

Starr slams the mic to the mat waiting for Angel to come out
_________________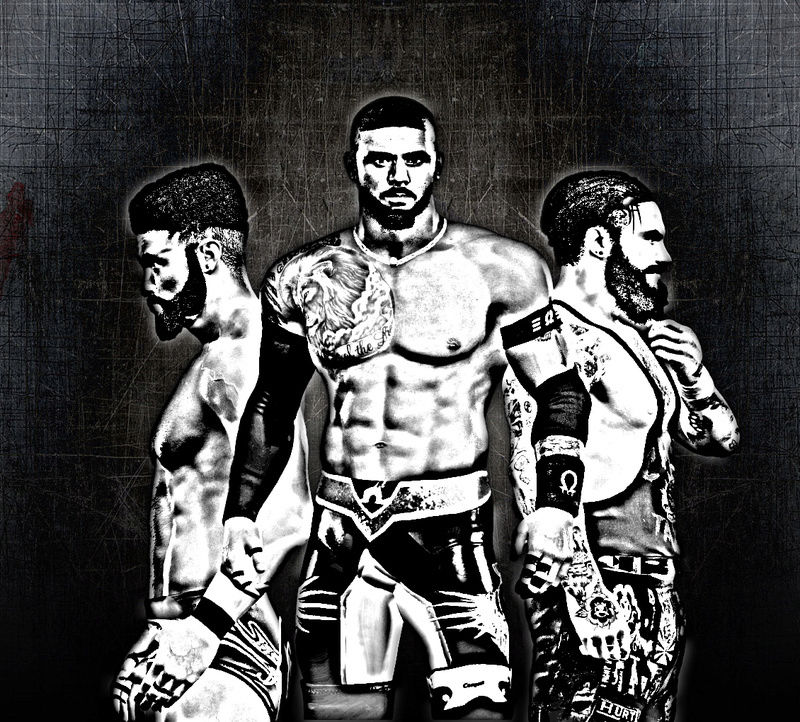 Main Event Star!





Posts

: 1040


Join date

: 2015-07-19


Age

: 21


Location

: Hopewell, Virginia



Starr's words hang in the air, the challenge that he set forth still energizing the crowd. For a few moments, nothing happens. The fans begin to stir, a buzz beginning to fill the room as they question whether or not Angel is even going to appear. Nick paces back and forth, waving his hand toward the stage and yelling for Brett to come out.

Suddenly, there's a surge of movement in the arena, shocking gasps escaping from the mouths of fans as thousands of heads snap towards the same place at the ringside barricade, their eyes locking on to the man standing there: Ringo Maxx.

Starr turns and locks eyes with Ringo Maxx, realization and understanding filling his expression with even more rage. Maxx retorts the look with a simple, smug smile, wiggling his fingers in a condescending wave.

Ringo hops the barricade with ease, his denim and leather jacket billowing around his torso and over his trademark black pants. Locked in place, Starr can only watch as Maxx grabs a microphone from a ringside technician and slowly climbs the steel steps, his cool expression never leaving his face. As he ducks into the ring, Ringo takes a step back, leaning confidently against the ropes as he speaks his first words in a CMV arena in many months.

Ringo Maxx
"If I told you why I did what I did, would you even listen? Would you care to understand why I have once more graced these ropes at all? Or do you just want to tear into my throat right now and give these fans the bloodbath they expect?"

Taking their cue, the crowd erupts into indiscernible chants, each selecting their own gladiator in the impending fight. Starr's nostrils flare, but Ringo wags a finger back in forth, shaking his head no.

Ringo Maxx
"In due time, friends, in due time. But I will tell you, Nicky, I will tell you why I didn't allow you to walk out to that arena and stake your claim as a champion once more. It wasn't jealousy, or anger, or even the cowardice that you so casually toss around... No, Nick, it's disappointment. Disappointment in you and the mockery that you have made yourself out to be. You see, friend, you remind me of what I once was: a glorified fool strutting around these ropes with all the glitz and glamour that this business could muster up. The Naughty Guy, they called me, dressed to the nines in exotic patterns, appearing like some hysteric, flamboyant peacock. And do you know where that got me, Nick? Do you know where that got me?"

Ringo Maxx licks his lips, the microphone in his hand swaying back and forth as he speaks. He takes a few steps forward, his expression softening as he speaks in an almost hushed tone.

Ringo Maxx
"Nowhere, Nicky, it got me nowhere. I was a joke, and everyone knew it. But you know what I did? You know how I solved that problem? Rage. Anger. I drew up every vile feeling I had in my soul and I allowed it to absorb the man you once knew. That's how I became the man that stands before you today, the man that picked you apart backstage and stole away your hopes of glory. The Austrian Death Machine."

Maxx grins, going nose to nose with Starr as they meet in the middle of the ring, clanging heads against one another. Once more Ringo Maxx raises the microphone to his lips, and with a chuckle, asks a question.

Ringo Maxx
"So how do you feel, Nicky?"

And with that, Starr shoves him away, and in return gets a clubbing blow from the microphone to his forehead. Maxx jumps on top of him, laying in fists and elbows to every exposed part of Starr's body. They roll over, this time with Starr on the offense, delivering his own barrage of strikes to Ringo. They seperate, each man lurching to their feet, at which time Nick Starr goes for a huge superkick, but Maxx ducks it and delivers a Banshees' Call in the middle of the ring!

Ringo, his smile now returning, quickly slides out of the ring and over the barricade, the only sounds accompanying his exit being the clashing chorus of cheers and jeers from the forever split crowd.
Main Event Star!





Posts

: 1289


Join date

: 2015-06-09


Age

: 20


Location

: nowhere


Humor

: none



Main Event Star!





Posts

: 3273


Join date

: 2015-03-09



This Krzy, is the kind of magic that happens when Angel returns.
_________________
Matthew wrote: Hayden is so much better than Schmidty in every way.
Admin





Posts

: 7118


Join date

: 2015-03-09


Age

: 21


Location

: MizTV


Humor

: Making Sons uncomfortable



While Unmatched goes on we cut backstage with Lisa Evans and Nick Starr who's wearing an "Austrian Death Machine" shirt and denim leather jacket combo instead of his usual bright galaxy patterns

-Lisa Evans-
Alright I'm standing here with the man in six days time will go toe to toe with Ringo Maxx at Quarantine and um....nice shirt and jacket there Nick. What's uh going on?

-Nick Starr-
I'm being serious....

-Lisa Evans-
Ok? Let's talk about Ringo Maxx and your confrontation with him, he had strong words to say about you and your style of wresting....
What do you have to say in response?

-Nick Starr-
I'd like to tell you my response but if you could please, stand over there and that corner right there, and you cameraman place a filter on your lense and give me a nice angle because I'm going to get in this shot real tight. Because you know Ringo I took what you said to me sounding like every other douche bag telling me how to act and what works in wrestling, telling me that I'm a mockery of this sport, I'm all glitz and glamour well I've taken you're message and all it was that you're a douche bag and an idiot. You see all my life has always revolved around wrestling, wrestling, wrestling,

surfing

, wrestling, wrestling, wrestling,

video games

, wrestling, wrestling,

girls

, wrestling, wrestling, wrestling, wrestling.......
So the problem with you Ringo is that you're a joke, you see while you consider me as a joke of a wrestler the difference is I can get it done in the ring, I'm a King of the Ring Winner and the youngest world champion in CMV history....What the fuck have you done in your career besides have a douchy promo then lay on your back in defeat?
So you look at a guy like me and see what could've been, someone you tried to be, I am everything you wished you could've been its the main reason you wanted to play the part of the spoiler and robbed everyone of their chances of seeing me as their world champion again, job well done. It doesn't happen very often when someone pisses me off to the point of rage usually that's my thing but kudos to you Ringo. I'm going to see to it one of these days you're going to be in a wheel chair, you understand Ringo? I don't like your face, I don't like you, you're a deadman....
Ringo I'm coming after you, the time for laughs are over and I'm going to take your mobility and tonight I will show you what you will be dealing with at Quarantine because as far as I'm concerned you couldn't beat the piss out of a urine soaked sponge.

At that note Starr walks off getting ready for the six man elimination tag
_________________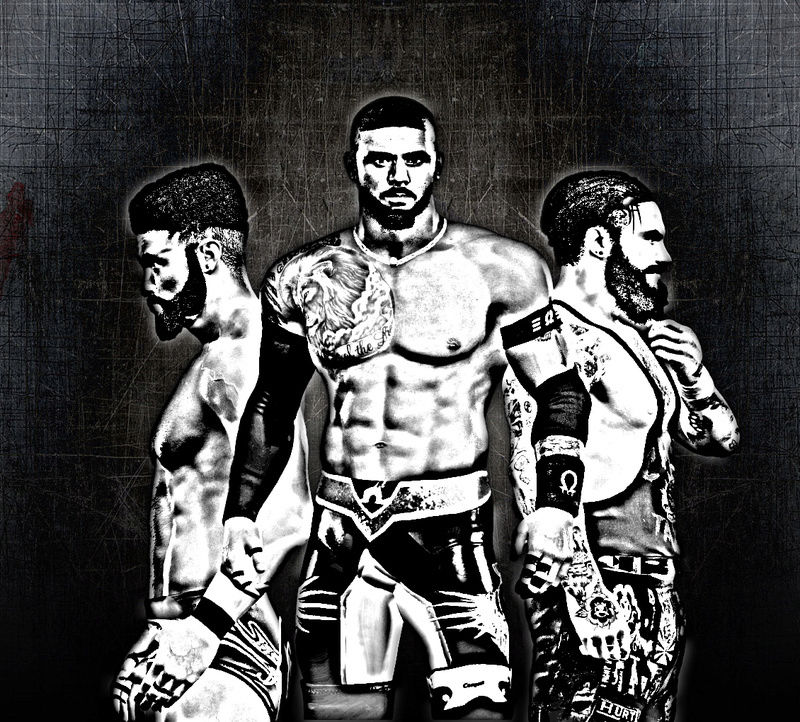 Main Event Star!





Posts

: 1040


Join date

: 2015-07-19


Age

: 21


Location

: Hopewell, Virginia



A camera crew wants to get a few last minute words from Nick Starr as he is getting ready for his fight with Ringo Maxx
The camera crew make their way to Nick Starras he is at the entrance way with a very serious look on his facing channeling his rage for the street fight

-Nick Starr-
I use to wake up in the morning and know exactly who I am and what exactly I wanted to be but now I have people like Ringo Maxx who wants me to be sorry for being who I am, wants me to live in his cold dark black and white way of life.....
Its not that simple I live in a world fun and creativity, don't confuse fun and creativity with being a mockery to this sport. This is what allows me to do things others just can't do, that's what allows me to fall and get back up. I know who you are, I know how hard you hit, I know what you could probably do to me in this type of environment but I also know after all the pain and all the suffering that you have put me through it is going to RAIN DOWN ON YOU AND IT IS GOING TO RAIN DOWN ON YOU WITH ABSOLUTELY NO REMORSE....
I couldn't care less about pinning your shoulders down on the mat and I couldn't care less about stealing the show. I have one thing and one thing only in mind and that is it to put down the Austrian Death Machine. 5"10 of me beats 6 foot whatever the fuck you are because I am just purely better than you....

Starr's them hits and just before he goes past the curtains Starr amps himself up with a few slaps and yells of rage and Intensity and runs past the curtains for his entrance
_________________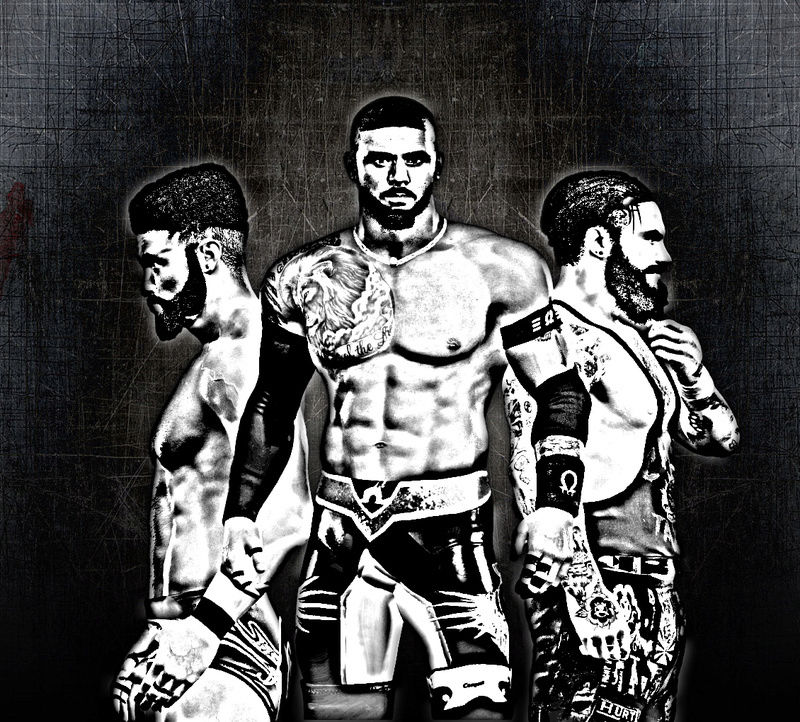 Main Event Star!





Posts

: 1040


Join date

: 2015-07-19


Age

: 21


Location

: Hopewell, Virginia



Page 1 of 2 • 1, 2


---
Permissions in this forum:
You
cannot
reply to topics in this forum