Fusion & Genesis PPV List!
-Battlescars
-Anarchy Rulz
-Retaliation
-Deathwish
-Requiem
-Exodus
-Validation
-Sacrifice
-CyberSlam
-Dark Carnival
-Point Break
-Regicide
-Wild Card
-Absolution
-Emergence
-Home Coming
-Cause & Effect
-Final Stand
-Purgatory
-Ascendance
Quick Links!
Dashing's Stuff!
Cop's Stuff!
CMV Network!
Social Media!
Site Threads!

As Unmatched #86 continues, a concurring theme plays, as the crowd boos the roof off of the place.*



*As the song continues playing, Charlie Garfield comes out, showing off a "Victory Puroresu" shirt, but as he comes out, following behind him are Tobias Hyde and Kris Kryptic.*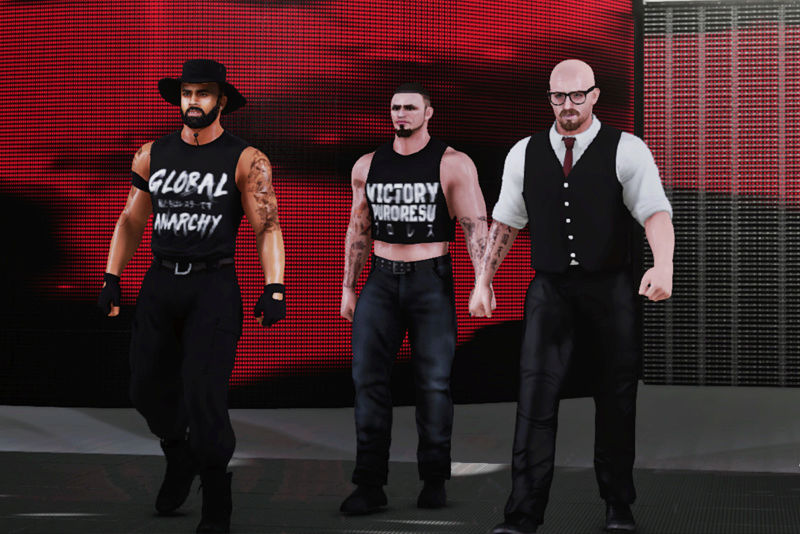 *The three of them stand at the top of the entrance, watching over the fans as they outburst a thunderous clap of boos. They subside the verbal blows, as they continue their way to the ring. Charlie walks as the leader of the pack, in front of the two others as they make their way into the ring. Charlie stands in the middle, as Tobias grabs the man a microphone.*

Ahhh...well isn't this a surprise, huh? Welp, we're back and we've got afew things to get off our chests. You see, we've been in the back for FAR too long, twiddling our thumbs and looking the other way at the REAL action. Well now, WE are the REAL action. And we're not going to sit in the back any longer.

*The crowd boos the "Lone Wolf", as he stands in place, holding the mic to his mouth, as he smirks, waiting for the crowd to quiet down. As the noise distinguishes, Charlie continues on*

As you can see, majority of us aren't here tonight. Frank Hunter, our big gun, isn't here due to his warpath in other various "small" companies around America and England. As for MLG, they are in Canada, serving up some ass-whoopings. Jay Money isn't here because...he's Jay Money. He's the British KO Artist, running amuck in Japan and England!! But you see, there is a similarity between all of these actions, these "distractions" of sorts. WE are generally everywhere. You'll see the words "Global Anarchy" on every newspaper or magazine you read around the world, whether it be the States, Japan, England, China, hell even fuckin' Russia!! WE are everywhere and we are going to revolutionize the world of professional wrestling!!

*Charlie slowly turns around, looking at Tobias. Tobias grins abit, as he walks over to Charlie. The brits have a small convo, as Charlie hands Tobias the microphone and stands besides the British Serpent.*

Mates, let's see this as a chance. Because I bet you, any of these bloody wrestlers wouldn't stand a chance against us. We are the faces that run these grounds. You may see Maurice Fischer, or Sunshine, saving the day, but at the END of the day, Who's standing tall, while your so called heroes vanquish into being nothing more than a dust-bunny on the shelf? WE are.

*As Tobias rants on, Kris walks his way over Hyde, as he hands Kryptic the microphone.*

Let's cut the chit-chat, guys. I mean, we show WHO we are and WHAT we do in this ring. We don't have to use our voices to "voice" out our opinions or threats towards low-level trashbags such as what CMV is. We'll let our fists and our brains do the talking. So next week, or matter of fact, any given week, you want Global Anarchy, we'll give you Global Anarchy.

*Kryptic then throws the microphone on the ground, as he goes back into position, with Charlie in the front. They fall into line with one another.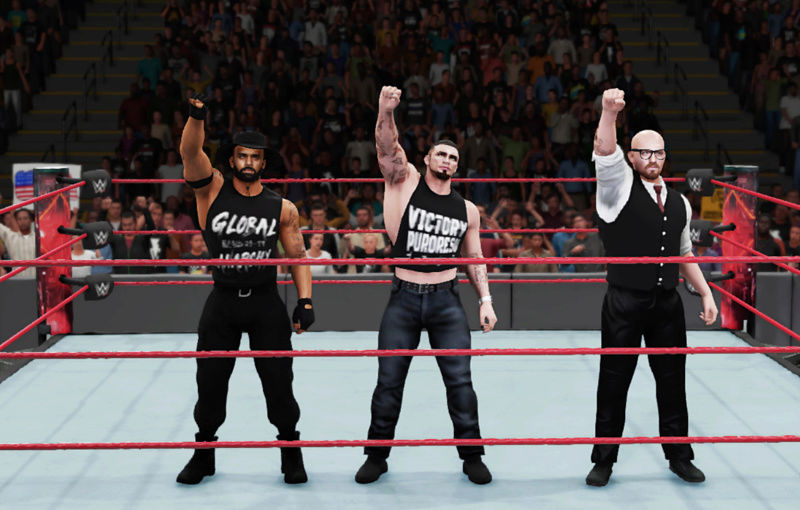 *The three throw up the balled up fist, showing the revolution of Anarchy is among Unmatched and CMV. They drop their arms, as they slowly and discreetly waltz out of the ring and up the ramp, getting boo'ed at by hundreds of people, until they reach the entrance way and make their way to Gorilla position, continuing the show.*
_________________
"I am the one thing in life. I can control. I am inimitable. I am an original"


Jay Davis: 2x Light Heavyweight Champion
Jaquan Shay:2x Anarchy Champion
Guri Sukonov: 1x International Champion, 1x Alpha World Champion
Rey Furioso: 1x Rising Star Champion
Charlie Garfield:
Davina Blair:1x Women's Intercontinental Champion



Charlie Garfield is a god among men.

702 is better than any single one of us
Main Event Star!





Posts

: 1243


Join date

: 2016-07-18


Age

: 17


Location

: New York, Sahn!!


Humor

: Hellish




---
Permissions in this forum:
You
cannot
reply to topics in this forum