Fusion & Genesis PPV List!
-Battlescars
-Anarchy Rulz
-Retaliation
-Requiem
-Exodus
-CyberSlam
-Tag Team Cup
-Validation
-Dark Carnival
-Point Break
-Regicide
-Wild Card
-Absolution
-Emergence
-Home Coming
-Cause & Effect
-Final Resolution
-Purgatory
-Ascendance
Moves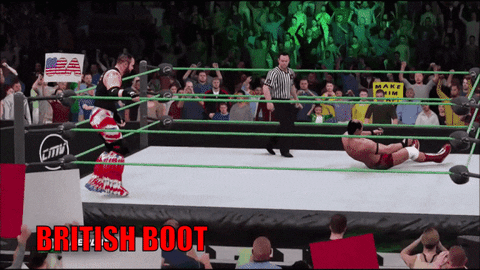 Real Name : Christopher Andrews
Ring Name : 'The Bloody Brit' Chris Andrews
Age 25
Born : Leeds, England
Sigs
1)Discus Punch
2) British Boot (Discus Boot)
Finishers
1)Revenge (Whipper Snapper)  
2)The D.U.I (Discus Punch
Allies : Mike Miles, Oliver Caine and Sebastian Crawford : The Foreign Affairs
Enemies : Any f****** who gets in my way
Titles & Accomplishments :
1x International Champion
2x Anarchy Champion
1x tag team champion (w/Paul Divine--- but Divine vacated his belt to Brit, making Brit sole defender of Tag Belts)
1x winner of Elimination Chamber
Champion of Champions winner
King of Fatal 4 Ways
Bio
Chris Andrews was born in a little village called Scholes, A place in West Yorkshire in between Bradford and Leeds. He grew up watching football (Soccer)and when he became a man he and his mates went  to watch his team Leeds United… Now as you know football fans can get rowdy so growing up in that environment, people drinking, getting rowdy…. Chasing the bloody referee and calling him a wanker after the game, Getting into fights became part of his life.. But he wanted more he needed to beat people up, drink some lager and beat more people up… So he decided to become a wrestler… Odd choice many thought, but he put in the effort and bulked  up, trained hard and has officially joined CMV`s Fusion where he debuted As a Foreign Affair member with Mike Miles and Sebastian Crawford making there debut at Fusion #13. The Brit literally hit Suplex City..... Coining the phrase, Arrive....Suplex City....Leave.
CyberSlam - F.A's PPV debut Getting a tornado tag team win over The Dirty Republic.
He's always ready for a fight, and is proud to be British donning the United Kingdom face-paint and a lager before and after a match, hell even during if he wanted to.
CMV Fusion #19 Saw Brit in his 1st 1 on 1 match against Bill Cipher
Regicide : Foreign Affairs were dominant in the Tag Team Turmoil match as they run shot through all the tag teams to become #1 contenders.
Cause & Effect saw Foreign Affairs take on  the tag champions T&Lee.... However it would be T&Lee who retain their championships
Homecoming finally saw a 1 on 1 match with The Bloody Brit vs Morgan Jackson... Morgan had defeated other F.A members, Oliver Caine and Mike Miles in the build up to this match.... Jackson would go on to defeat Andrews but had to use the feet on the ropes for that cheap win. The following week a rematch would take place but this would be a #1 contenders match for the International championship, but again Jackson would win.
Absolution - drew #19 in the Royal Rumble
Genesis #41 ep209 - A fatal 4 way #1 contenders match for the International title was announced as The Bloody Brit vs Grid vs Paul Anderson Vs Jimmaurie and the winner would face Morgan Jackson at Purgatory .... Andrews would hit the Cliffhanger on Grid to earn the title shot.
Purgatory - Jackson Vs Andrews part 3 .... With Jackson 2-0 against the Brit, He was odds on favorite to retain, but The Bloody Brit would shock the CMV Universe and hit Revenge on Jackson and get the 3 count to become the new International Champion.
Road to Ascendance - The New International Champion would face Jaxon Jordan on Fusion #43 in what turned out to be a back and forth battle but JJ picking up the win... While on Genesis Jaxon saw action for the 2nd time in a week as he faced Tim LaFave and won...
The following week on Fusion #44 Brit took on Kevin Lee in another 5* match and delivered a 2nd British Boot for the 3 count... On Genesis Jaxon went onto face Kevin Lee, but it was Lee who managed to get the victory.
Fusion #45  Jaxon Jordan and The Bloody Brit would go at it backstage, and were forced to team up against T&Lee... It came as no surprise when the former tag team champs defeated Brit and JJ....
Fusion #46 and all three members of Foreign Affairs battled T&Lee and JJ. Mike Miles and Oliver Caine were eliminated early on leaving The Brit alone with all 3 of his Ascendance challenges, Brit would take the fight to all 3 of them, but was too much for him as T&Lee and JJ would win....Genesis saw Bloody Brit take on Tim Lafave for the 1st time ever in singles action and managed to defeat good ol' Timmy Boy. After the match though Tim refused to shake the hand of The Bloody Brit.... Genesis up next and Brit took on Eligah Stewart but Tim would come out and distract Andrews, costing him a match..
Genesis #47 and it was Tim's turn to face Eligah, Tim would win and when he was celebrating out came The Brit to stare down Lafave.
Fusion #48 and a poll on the CMV  website decided the main event which would be called The Champion of Champions match where all 4 participants are CMV Champs... We had The Bloody Brit as the International Champ... We had Andrew Briggs as the Light Heavyweight Champ, Sushi-X as Anarchy Champ and last but not least The Undisputed Champ Bryan Novak.... The Bloody Brit once again won a fatal 4 way making him the Champion of Champions and The King of 4 Ways when he pinned Sushi with the Trio of Powerbombs.... Genesis #48 was people power night as the Universe had the power to book the entire card.... And Tim LaFave would have to take on his good friend Kevin Lee, Tim earned himself the win that night...... But Ascendance is up next as The Bloody Brit will defend his International title against Jaxon Jordan, Tim LaFave and Kevin Lee.
Ascendance - Bloody Brit came out in a new sweet attire to defend his International title against 3 challeenges (Jaxon Jordan, Tim LaFave and Kevin Lee) in a best to 2 pinfalls match, 1st person to gain 2 pinfalls or submissions would walk out as champ. Tim LaFave would get the 1st pinfall on Lee.... Brit scored a pinfall on Lee and The Tim would pick up a 2nd pinfall and be crowned the New International champion.
Fusion #49 - The Bloody Brit would call out Tim LaFave as he wanted answers, did Lee lay down for Tim at Ascendance, however after Tim came out to reply they would be interrupted by WEB who surround them on the ringside.... However X-Gen members Sushi-X and Ryan Kent and Foreign Affairs Mike Miles and Oliver Caine of who were assaulted a few weeks ago by WEB would come rushing down to the ring as WEB retreated leaving X-Gen and Foreign Affairs in a stand off. Johnny Sampson would come out and make a 3 on 3 match where if F.A win Caine would face Kent for the light-heavyweight title...... Miles would face Sushi for the Anarchy title and Brit would get his rematch for the International title...... Unfortunately for them X-Gen would get the win.... however not all was lost for the Brit as GM Sampson would announce another match for next week, a Money in the Bank qualifier match against none other than Timmy Boy.
Season 3
Fusion 13 FA vs Trio of Terror Fusion 15 FA vs Dirty RepublicCyberslam FA vs Dirty RepublicFusion 19 - Brit vs Bill CipherFusion 22 - FA vs The BromancersCMV Tag Team Cup Fusion 24 - Brit vs Chase ValentineFusion 25 FA vs TrailBlazersFusion 27 FA vs Fast n FuriousGenesis 28 Brit vs Bob StormREGICIDE - Tag Team TurmoilFusion 30 - FA vs T&Lee and Morgan JacksonGenesis 31 - FA vs FallenCAUSE & EFFECT - FA vs T&LeeFusion 33 - Brit vs Shanaz AdoniGenesis 35 - Brit vs GridHOME COMING - Brit vs Morgan JacksonFusion 38 - Brit vs Morgan JacksonFusion 39 - Battle Royal - Brit vs Duke vs Kristopher Ann vs Shanaz vs Matt Jefferson vs Nelson JrGenesis 40 - Brit vs Bloody JusticeAbsolution - Royal RumbleGenesis 41 - Brit vs Grid vs Jimmaurie vs Paul AndersonGenesis 42 - Brit/Elijah/Billy Weaver vs Nick Blake/Morgan Jackson/Duke BriggsPURGATORY - Brit vs Morgan Jackson (International Title Match)Fusion 43 - Brit vs Jaxon JordanFusion 44 - Brit vs Kevin LeeFusion 45 - Brit/Jaxon Jordan vs T&LeeGenesis 45 - Brit vs Tim LaFaveFusion 46 - FA vs T&Lee and Jaxon JordanGenesis 46 - Brit vs Elijah StewartFusion 48 - Brit vs Sushi vs Novak vs Andrew BriggsASCENDANCE - Brit vs Kevin Lee vs Jaxon Jordan vs Tim LaFave (Brit defending International Title)Fusion 49 - FA vs X-Gen  (T&Lee and Sushi)Genesis 49 - FA vs X-Gen (Ryan Kent&Tim LaFave)Fusion 50 - Brit vs Tim LaFaveFusion 51 - Brit vs HaydenFusion 52 - Brit vs Jeff Wallace vs QuantumBATTLESCARS - Brit vs Shiloh GrayFusion 53 - Brit vs Randy BortonKING OF THE RING Ep 239. Brit vs Sushi  (Anarchy Title Match)  - Brit vs NovakFusion 55 - Brit vs Parker vs Pierre Thompson vs Xander SlateFusion 56 - Brit vs Xander slateANARCHY RULZ (Pre-Show) - Brit vs Shiloh GrayANARCHY RULZ - Brit vs Parker (Brit defending Anarchy Title)Fusion 57 - Brit vs Justin SaneFusion 58 - Brit vs Jacob Ziegler vs Sam Valentine
Fusion 59 - Brit vs Nick Blake (Brit defending Anarchy Title)
EXODUS E.C - Brit vs Jacob Ziegler vs Marcantel vs Billy Weaver vs Bannon vs Sam Valentine
Season 4
Fusion 60 - Brit vs Billy Weaver (Brit defending Anarchy Title)
Fusion 62 - FA vs Blood Brothers
Cyberslam - Brit vs Parker (Brit defending Anarchy Title)
Cyberslam - Brit vs JustIN Sane (c) (CMV Undisputed Championship Title Match)
Fusion 63 - Brit vs Cobalt Ketchup
Tag Team Cup - Brit/Parker vs Vachon/Murdoc
Fusion 65 - Brit/Paul Divine vs Nick Blake/Sam Valentine
Fusion 66 - Brit vs Paul Divine
Validation - Brit vs Zack Cage (Brit defending Anarchy Title)
Fusion 67 - Brit vs Bannon
Fusion 68 - Brit vs Azreal
Milestone - Brit vs Zack Cage (Anarchy Championship Title Match)
Fusion 70 - Brit vs Jaquan Shay
Point Break - Brit vs Zack Cage (Brit defending Anarchy Title)
Fusion 71 - FA vs Number 1 Bubba's
Reality Wrassling #5 - Brit in a Battle Royal
Fusion 72 - Brit vs JustIN Sane
Dark Carnival - Brit/Rex vs Bannon/Valentine
Fusion 73 - Brit vs Schmidty
Fusion 74 - Brit vs Rex Carter (Brit defending Anarchy Title)
Regicide - Brit vs Bannon vs Sam Valentine  (Brit defending Anarchy Title)
Fusion 75 (live show) - Brit vs Bloody Justice
Fusion 76 - Brit vs Furious Frank
Wild Card - Brit vs Mike Crimson
Fusion 78 - Brit/Paul Divine vs Azreal/Sean Kent (Tag Team Title Match)
Cause & Effect - Brit/Tyson Cage/Suraci vs Paul Divine/Sebastian Frost/Mike Crimson
Fusion 80 - Brit vs Suraci/Tyson Cage
Emergence - Brit vs Azreal/Sean Kent (defending Tag Titles)
Fusion 81 - Brit vs Desolation (defending Tag Titles)
Fusion 82 - Brit vs Bludgeon
Home Coming - Brit vs rhys Matthews (CMV Undisputed Title Match)
Fusion 83 - Brit vs Sean Kent
Fusion 84 - Brit vs Azreal
Last edited by topher316 on Tue May 03, 2016 8:55 pm; edited 1 time in total
Main Event Star!





Posts

: 3753


Join date

: 2015-12-11


Location

: (NEAR)... Leeds, England


Humor

: yes :D




Similar topics
---
Permissions in this forum:
You
cannot
reply to topics in this forum