Fusion & Genesis PPV List!
-Battlescars
-Anarchy Rulz
-Retaliation
-Deathwish
-Requiem
-Exodus
-Validation
-Sacrifice
-CyberSlam
-Dark Carnival
-Point Break
-Regicide
-Wild Card
-Absolution
-Emergence
-Home Coming
-Cause & Effect
-Final Stand
-Purgatory
Quick Links!
Dashing's Stuff!
Cop's Stuff!
CMV Network!
Social Media!
Site Threads!

Backstage, Willow Nightling is finishing a workout regimen.  She's sitting on a bench in the locker room with her hands still wrapped from a sparring session with Quinn Belle, and a half-empty bottle of Fiji water with a straw poking out of the top sits next to her as he scrolls through his cell phone.  The camera catches her off guard, andMac Thompson quickly takes advantage of the candid moment to get some juicy details about the upcoming match with Andy Jaiden.

Mac Thompson
Miss Nightling!  Willow!  Care to comment about facing  Andy Jaiden?  It's sure to be a tough one! And why haven't we heard much from you since your lost to Kristen Page?

The self-perclaimed #megastar just shrugs and shakes her head, then points at her mouth.

Mac Thompson
What do you mean?  Don't you have anything to say?

Willow rolls her eyes and flings her arms up in exasperation, then holds the phone out to the camera, where we can see her Twitter feed.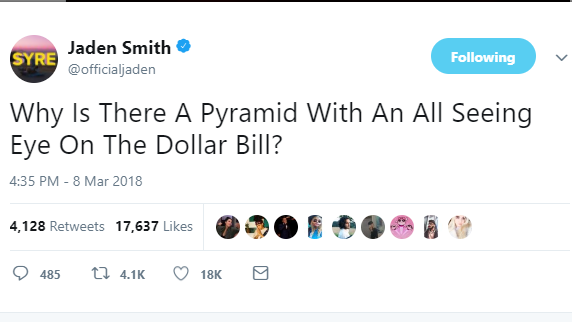 Mac Thompson
Seriously?

Again, Willow just rolls her eyes and she holds the phone up and wiggles it back and forth, then points again, trying desperately to convey a message somehow.

Mac Thompson
You want to TWEET me your comments?  You can just tell me, I'm right here!

Willow hangs her head and shakes it back and forth, completely flabbergasted with the density of this man's skull. Willow then sits up, points at her mouth again, points at the straw in his water, then deftly swipes a message into her Twitter, holding it up for the camera.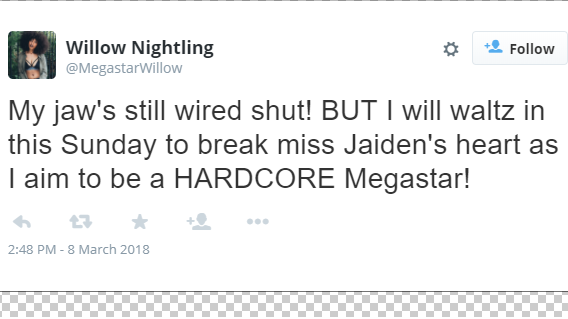 Mac Thompson
Oh… OH!  From the Kinshasa a few weeks ago!  Right, I totally forgot, I'm sorry… okay, well, I guess just Tweet me then.  I'm @MacDaddyPlaya

Blank is the only way to describe the look on Willow's face at hearing the interviewer's Twitter handle. She blinks twice, pulling her head back and then seemingly tries to shake her head hard enough to knock the knowledge of the handle right out of her skull.

Mac Thompson
Whatever, it's not that bad… just type it and show me then.  Jesus, they don't pay me enough for this.

Willow winces through a quick smile, then holds up a finger and gestures with the phone again.  He looks impatient and expectant of the interviewer.

Mac Thompson
Talk about the Andy Jaiden, what do you think of her? Aren't you worried about the possiblity of a loss to her? I mean she did beat Jade Dynamite clean as a whistle.

Quickly, Willow runs her fingers across the screen of her cell, then beams as she holds it up for the camera to see a tweetlonger message that read.  


"Do I look like I'm worried about lil' Andy Jaiden? I'm still on a meteoric rise to the top of the vixen division just like my #BFF Quinn-Belle, and little miss Andy Jaiden is just another stepping stone! Why should I be worried about her? Because she pinned a washed talent named Jade Dynamite? Pssst.....wow, color me #impressed NOT! I've been in the ring with Dynamite and she's lost it big time, a far cry from the earlier days of the vixen division where she was on top. What has Andy Jaiden done lately other then lose, taking up space with her nappy hair thats bigger than her? All flash with no substance in my opinion. I'm a #Megastar while girls like Jaiden are a dime a dozen. I'm a diamond in the rough baby that's why Quinn and I are best friends forever, it take a diamond to sharpen a diamond and Jaiden doesn't have what it takes to leave a scratch on me...."


Mac Thompson
So you don't worry at all about Hangman, even though he's HUGE and you're obviously injured going into the match?  Really?

Willow just wiggles the phone at him again, as if repeating his sentiments.

Mac Thompson
I feel like you're dodging the question, Willow  Everyone knows Andy Jai.....
 
Suddenly, Willow holds up a silencing hand and shuts the interviewer down cold. She goes back to her screen and starts typing again, her fingers turning into a blur across the phone screen.  Once again, she holds up the cell for the world to see as soon as she finishes.

"Look dude. Everyone wants to see their #Megastar. It just makes sense they book me aginst a scrub sometimea because it's easy money, you know? It doesnt matter how Sampson feels I'm a pretty big deal along side Quinn not Jaiden. Just watch the match, watch me win, and tell the #haters to #learntoloveit #peace"

And with that, before the interviewer can even get another word out, Willow shoos him off and grabs her Fiji bottle, carefully working the straw between her lips and sucking down a sip as the scene fades away to black.



#BanTheKinshasa
_________________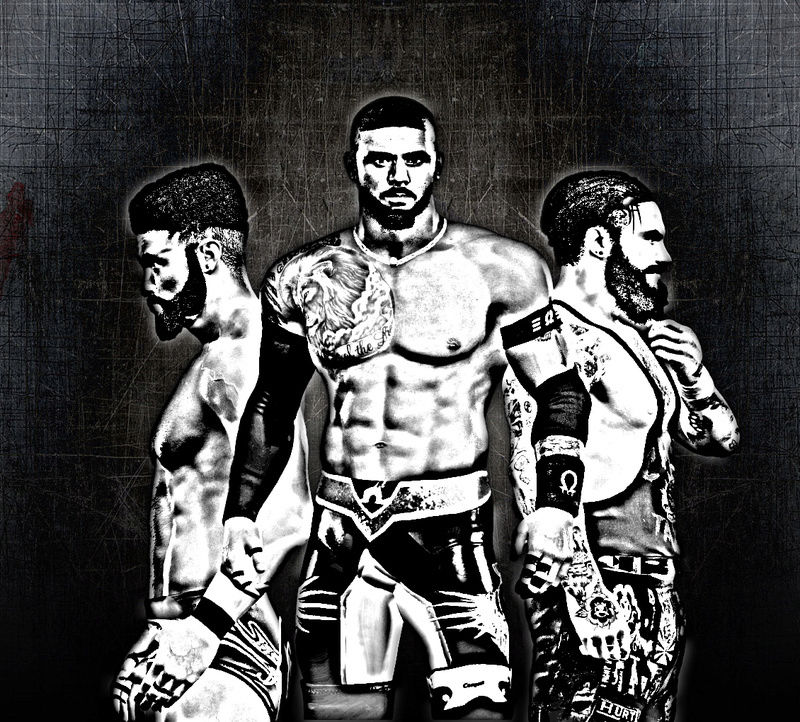 Main Event Star!





Posts

: 1040


Join date

: 2015-07-19


Age

: 21


Location

: Hopewell, Virginia



I didn't have time to post this earlier
But Gent
That was actually a really innovative promo
good stuff
_________________
Matthew wrote: Hayden is so much better than Schmidty in every way.
Admin





Posts

: 7084


Join date

: 2015-03-09


Age

: 21


Location

: MizTV


Humor

: Making Sons uncomfortable




---
Permissions in this forum:
You
cannot
reply to topics in this forum