Fusion & Genesis PPV List!
-Battlescars
-Anarchy Rulz
-Retaliation
-Deathwish
-Requiem
-Exodus
-Validation
-Sacrifice
-CyberSlam
-Dark Carnival
-Point Break
-Regicide
-Wild Card
-Absolution
-Emergence
-Home Coming
-Cause & Effect
-Final Stand
-Purgatory
-Ascendance
Quick Links!
Dashing's Stuff!
Cop's Stuff!
CMV Network!
Social Media!
Site Threads!

While fans are brushing their teeth, putting on their pajamas and saying good night to their loved ones they get an update on their phones from CMV.com.  An un expected video has gone live.  When it starts the fans are treated to a highlight reel of Paul Divine, Quantum, Hayden Kiteley as a monologue from The Asian Sensation himself dubbed over said video.

I wanted to make my own dynasty. I just remember waking up in the middle of the night wondering if I could be the best.  If I was in their shadows.  Could I ever be a main eventer, a Championship contender in my own right?  I wanted to make my own dynasty and not keep following trends.. XGEN had become sentient.  It had grown bigger than any of its members.  So big in fact, that we were all buried in its shadow.  For us as wrestlers we had to leave so we could grow.  Hayden and Quantum left, Quantum becoming a champion, top of the pack, which everyone knew would happen.  I clawed and dragged myself to the top, doing whatever was needed to get there.  Even when I knew the outcome wouldn't be in my favor I still had to so that I could keep my name near the top of the ladder.  In the end my blood, sweat, and tears paid off and became the Undisputed Champion proving to the doubters and the fans I was deserving of being the face of this brand, the face of this company.  But more importantly I proved to myself what I always knew, that I was more than a tag team champion I was more than the shadow of Quantum, Hayden, and XGEN.  And now at the top of my game.  As a Grand slam champion its time to prove that I can beat the best in there is, was, and ever will be, Hayden "Showtime" Kiteley.  It will be a battle of Titans come tomorrow night between two men who know each other oh so well.  Come tomorrow night We will know who the true King of Fusion, of Genesis, of CMV will be.  This is the super fight every fan has been looking forward to.

The highlight video cuts to a black screen as white text fades in.

First they ignore you. Then they ridicule you. And then they attack you and want to burn you. And then they build monuments to you.

The video cuts to static before going live to a Buffalo Wild Wings in Detroit.  The camera pans the crowed  as we see the fans screaming into it before it stops on Paul freakin Divine standing in the middle of everyone, fans jumping all around him trying to get a piece of history by being in the same camera frame as the Grand Slam Champion.  We can see UFC 222 playing the background.  Divine is yelling something to the extent of "Edgar was screwed.  Ref stopped to early.  Edgar deserves the belt."  The camera stops at the Undisputed belt that sits next to Japans biggest export.  It zooms in on the belt.  Fans watching become puzzled at whats going on.  Is it a replica?  Did Paul steal it?  The camera begins to pan again before Paul grabs it and begins speaking

When we understand the connection between how we live and how long we live, it's easier to make different choices. Instead of viewing the time we spend with friends and family as luxuries, we can see that these relationships are among the most powerful determinants of our well-being and survival.

In the background we see Cris Cyborg TKO Yana Kunitskaya.  And the crowed erupts in cheers for their champion.  

Oh shit did you see that...she got hit with that right and was not having any more of it...she did not wanna fuck with Cyborg after that.right

Divine turns around and looks to the big screen

Wait…what happened?

We see Quantum enter the camera grabbing Paul around the shoulder.  

She got knocked the fuck out brother.

We see two beers enter the camera

WHO GIVES A FUCK ABOUT CYBORG. WHAT ABOUT FRANKIE!!!!      

Hayden enters the screen with his beers and hands them to Quantum and Divine before picking up a glass of water.  All three of the XGEN members raise their glasses and cheer.  Paul, Quantum, and Hayden all look into the camera.

KINGS NEVER DIE!!!!

They cling their glasses together solidifying the return of XGEN
Last edited by edgy shitbag on Sun Mar 04, 2018 1:47 am; edited 1 time in total
_________________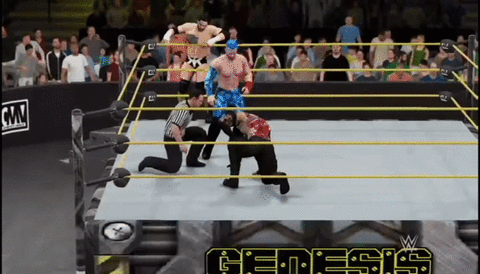 Main Event Star!





Posts

: 737


Join date

: 2015-04-06



Hooooooooleeeeeeeyyy shiiiiiiit
_________________
Matthew wrote: Hayden is so much better than Schmidty in every way.
Admin





Posts

: 7104


Join date

: 2015-03-09


Age

: 21


Location

: MizTV


Humor

: Making Sons uncomfortable



_________________
1x CMV Anarchy champion
1x CMV Tag Team champion
Bludgeon
1x Mr. Money in The Bank, 2x World Heavyweight Champion, 1x United States champion, 2x CMV World Tag Team champion, Glammy award for Feud of the Year, Glammy award for Tag Team of the Year (W/Borton), 2x Glammy Award for Heel of the Year
Xander Slate
HOW WAS HE NOT A WORLD CHAMPION!?
Admin





Posts

: 5565


Join date

: 2015-03-08


Age

: 21


Location

: The Hood


Humor

: Knock knock!





Similar topics
---
Permissions in this forum:
You
cannot
reply to topics in this forum