Fusion & Genesis PPV List!
-Battlescars
-Anarchy Rulz
-Retaliation
-Deathwish
-Requiem
-Exodus
-Validation
-Sacrifice
-CyberSlam
-Dark Carnival
-Point Break
-Regicide
-Wild Card
-Absolution
-Emergence
-Home Coming
-Cause & Effect
-Final Stand
-Purgatory
-Ascendance
Quick Links!
Dashing's Stuff!
Cop's Stuff!
CMV Network!
Social Media!
Site Threads!

Quantum's music starts to begin the show.
He doesn't have THE Championship... He hasn't in weeks. The Time Keeper has been the guardian of THE Belt, and they did their job well.

As he enters THE Ring he quickly accepts the Mic from the guy, who seems to be on time today.

"Right about now is where you expect me to provide an excuse for what just happened...
The only thing I could have apologized for.. was spoiling the ending some time ago.

I hate to repeat myself... but remember when I said, (slow, deep mimicking voice) 'Hey Tops, maybe you should put yourself in that match cuz uh... Well if you don't uh.... And you get to cash in... uh.... You're gonna fail? Well... uhhhh.... "

Quantum shrugs a bit


"Good luck with that Parker... had a friend once that knew him well... but that friend wasn't really all there and most likely had brain damage, rest in peace, ... so uhhhhhh... hate to say it but, ya I told ya so...."

He waits for the Oooohs to boil, then allows just enough time for it to reduce, bringing his sauce down to a simmer to lock in flavors.

"One more thing I should apologize for was that Time Loop I put Chris Adams through. That wasn't fair to you as fans, and it wasn't fair to him as he didn't know how go react properly. He saw the winner during that loop in the ropes ... He won't admit it, but I will. Go back and check the tape, the second he breaks free who does he b-line to and attack immediately? Yup, told you so...

But that wasn't fair to me either.
So there were many wronged by last night's events... Tops, The Fans, Chris? Me? What about Sunshine??! (Name-drop for crowd reaction)
And then also me again. Because this is about me, right now... not him.

Given the length and the lengths at which I have gone to defend THE Championship from unqualified challengers this season, and given the system in which the final challengers were determined and the frequency of such challengers in a type of gruelling match as the Chamber is, I am entitled to my rematch at A Time of my choosing. Well the funny thing about my Time is.....
Nevermind...

I will offer this option in exchange for my rematch opportunity. If DSD can find an opponent that can beat one of my choosing.... I will not request my rematch. When DSDs Champion cannot beat mine, I will then, and only then, ask for The Championship back.


Whattaya say?"



(Open to Gent)




Last edited by RiftedEnergy on Tue Feb 13, 2018 6:01 am; edited 1 time in total (Reason for editing : Adams not andrews)
Main Event Star!





Posts

: 776


Join date

: 2015-03-27





D'Angelo St. Daniels emerges from the back in the mist of smoke, chewing gum calmly as he takes off his shades showing his cuts and bruises from the chamber  and stares down at the ring. His signature jacket is zipped all the way up. He can't help but allow his smirk to appear across his face as he unzips his jacket, closes his eyes, and spreads his arms out wide, soaking in the jeers of the audience. Buckled around his waist is the newly made coveted World Championship belt, which he unbuckles and simply holds in one hand, holding it up in the sky for what feels to be forever and lowering his head as he walks down to the ring.
DSD is by the edge of the ring; allowing a smile to embed on his face taking a lap around the ring to give everyone around a nice good look at what is now in DSD's possession not even letting the fans touch the newly won and made title. DSD finds himself in the timekeepers area next to the ring announcer whispering in the announcer's ear.

Ring Announcer
Ladies and gentleman, allow for me to introduce your NEEEEEEEEEEEEEEEEEEEEW CMV World Champion D'Angelo Saint Daaaniels!

DSD jumps onto the apron and holds onto the ropes, using them to help himself up onto the turnbuckle. He's grinning from ear to ear, soaking in the rest of the cheers coming from the audience, shaking his head sideways as he lowers it, before jumping into the ring. He holds his championship belt up to the heavens once again, unable to stop smiling he ask for a microphone; his theme song slowly diminishing.
DSD ask for the crowd to settle down so he can get his thoughts out to respond to Quantum.

DSD
It seems I have changed you Quantum, last night you came to the realization of being just a place holder for the better man and I do say I am the better man, I'm grinning ear to ear tonight because its funny how full circle this was from the rumble with me last eliminating you to the elimination chamber with the same exact result and here you are now gracious in defeat with a gentleman's challenge well all I can say is I will gladly take you up on that personally.

Keeping it short and simple DSD drops the mic and leaves the ring hoisting the World Championship high into the air as he's heading back up the ramp.
_________________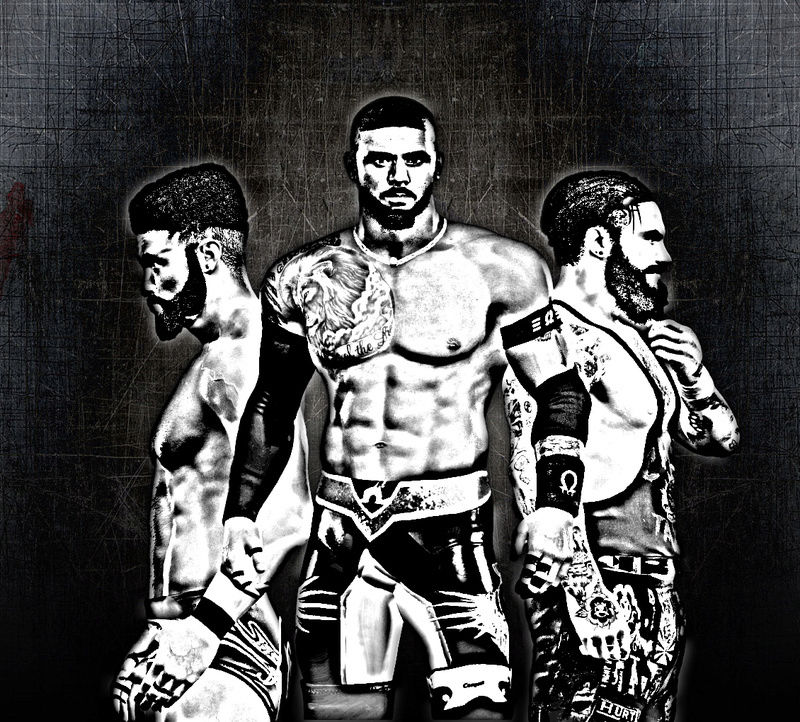 Main Event Star!





Posts

: 1040


Join date

: 2015-07-19


Age

: 21


Location

: Hopewell, Virginia



Quantum smells the tension in the moment. As a new World Champion makes his way up the ramp, he tries to break it.

"Oh... You're going to take up THE challenge personally? So, you're gonna choose yourself? What if I said my choice was to be... you, though?"

Quantum thinks DSD stutters in his step for a millisecond, but others just notice him not stopping.
They don't buy it either.

"Alright.. well, I guess the only thing I can say is this:
....
There's many a man back there that wants a piece of my pie... you? Sometimes it's very important for you to understand what I'm saying, and I will not repeat myself. You are clearly not concerned. And in the end.... that will be your downfall.

But for now..."

Quantum directs his attention to the locker room

"There is someone sitting back there trying to figure out a way to get a piece of Quantum.... and if you know what's good for you, you'll accept my challenge... step up and deliver me my rematch... and then face me.... for THE Championship!!!"


(Open to Blade Runner)

Main Event Star!





Posts

: 776


Join date

: 2015-03-27




---
Permissions in this forum:
You
cannot
reply to topics in this forum