Fusion & Genesis PPV List!
-Battlescars
-Anarchy Rulz
-Retaliation
-Deathwish
-Requiem
-Exodus
-Validation
-Sacrifice
-CyberSlam
-Dark Carnival
-Point Break
-Regicide
-Wild Card
-Absolution
-Emergence
-Home Coming
-Cause & Effect
-Final Stand
-Purgatory
-Ascendance
Quick Links!
Dashing's Stuff!
Cop's Stuff!
CMV Network!
Social Media!
Site Threads!

A night of upsets happened a few weeks ago on Monday Night Fusion with arguably the biggest shock of the night when Shanaz Andoni defeated "The Gargoyle of Destruction" Daemion….

Fans : 16-1….16-1….16-1….16-1….
16-1….16-1….

Jet : Hi I'm Jet Matthews backstage for Monday Night Fusion and as you can hear from the CMV Universe
Daemion suffered his 1st defeat 2 weeks ago and although last week he bounced back to his winning ways again, It seems like he's wreaking havok on the pre-show of Sacrifice,  there's been carnage back here, reports are coming in
and it doesn't look good backstage So I best be careful I don't want to be like my predecessor Mac Thompson.  But back to the reports, we`ve been told Daemion has left several local talent unconsciousness and in a heap of blood, it's like a warzone back here, officials, referees, medics are all trying to help these guys. But it's not a safe environment to be  in guys, But I have to do my job and find this out of control monster and get some answers. But for now back to Dashing at ringside.

Dashing : Wow guys, I don't envy this new kid, sucks to be him, especially with a 7`  plus  monster on the loose…Hell I'm just about  recuperated from that cheap sucker punch to my throat by Daemion after his loss a few weeks ago, But Maybe Jet should have stayed in the indies with his tag team partner Chase Valentine as The Trail Blazers.

Later in the show….

Jet : Just an update, I've been searching up and down these hall ways, I've been in the parking lot and it seems like he was here, so much destruction, vehicles all smashed up, glass everywhere, cars tipped over, this has to be the work of Daemion. Still no sighting of Daemion though, back to you again Dashing.


Dashing : Can somebody for the love of god check and see if my car is ok….What…we're live…..Shit…….Welcome to the Main show of Sacrifice....

Later….

Jet Matthews takes a minute to use the mens toilets and use the facilities, he whistles and chuckles to himself and says lost to Shanaz, how embarrassing, when all of sudden the mist appears, Jet pisses on his shoes as he turns around to see Daemion… Jet gasps in fear, but it's too late Daemion wraps his Big Meaty Claw around Jets head and delivers a Virus Slam through the urinal, Jet lays motionless covered in piss as Daemion leaves the area.

Dashing : C'mon that's taking the piss.

Pandora was waiting for The Gargoyle of Destruction outside the bathroom….

Pandora : 16-1  ….16-1  ………… That's right we went 16-1 a few weeks ago when you defeated Daemion handing him his  1st ever loss, But that hasn't stopped my Puppet, you see a fortnight ago on Monday Night Fusion, Daemion had the match won until Shanaz  appeared on the  titantron, in some pre-recorded footage as he was messing with our belongings, but you  distracted Daemion long enough and you capitalized on the situation, Maybe it was Daemion's inexperience, after all you are a long time veteran in CMV, so I give you credit, you outsmarted The Gargoyle of Destruction…… But that was your gravest mistake, now you've made my Puppet mad, and you know what happens when he gets mad…. DESTRUCTION.....CHAOS.... CARNAGE!!!!!   Shanaz there will be a Sacrifice tonight, and it will be you…. Shanaz your CMV days are numbered, you shall be VIRUS SLAMMED to Hell!!!
_________________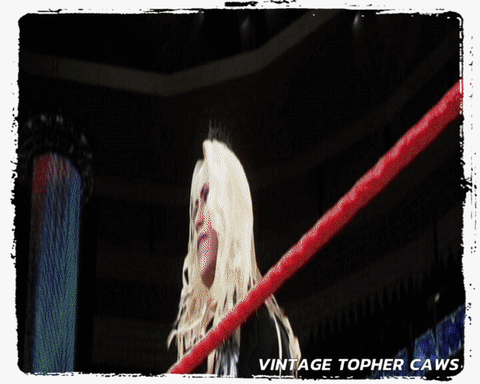 Main Event Star!





Posts

: 4962


Join date

: 2015-12-11


Age

: 99


Location

: (NEAR)... Leeds, England


Humor

: yes :D



Lol love it, pumped for the match
_________________
1x CMV Anarchy champion
1x CMV Tag Team champion
Bludgeon
1x Mr. Money in The Bank, 2x World Heavyweight Champion, 1x United States champion, 2x CMV World Tag Team champion, Glammy award for Feud of the Year, Glammy award for Tag Team of the Year (W/Borton), 2x Glammy Award for Heel of the Year
Xander Slate
HOW WAS HE NOT A WORLD CHAMPION!?
Admin





Posts

: 5567


Join date

: 2015-03-08


Age

: 21


Location

: The Hood


Humor

: Knock knock!



I'm pumped for all Shanaz matches, but this helps

_________________
Luther Thunder: 1x European Champion
Rashad Rockwell:1x Tag Team Champion with Kidd Campbell
Elijah Stewart: 1x Tag Champion with DJ Moore, 2x Alpha World Champion, 2018 Match of the Year, 2018 Attire of the Year, 2018 Face of the Year
Jimmaurie Williams:  2x CMV International Champion. Debut Episode 109.
Parker: 1x European Champion
Anthony Brown: 1x Television Champion
Miles Kelly: 1x Longest Reigning Rising Star Champion
Main Event Star!





Posts

: 3535


Join date

: 2015-08-18


Age

: 16


Location

: Near Earth


Humor

: South Park




---
Permissions in this forum:
You
cannot
reply to topics in this forum