Fusion & Genesis PPV List!
-Battlescars
-Anarchy Rulz
-Retaliation
-Deathwish
-Requiem
-Exodus
-Validation
-Sacrifice
-CyberSlam
-Dark Carnival
-Point Break
-Regicide
-Wild Card
-Absolution
-Emergence
-Home Coming
-Cause & Effect
-Final Stand
-Purgatory
-Ascendance
Quick Links!
Dashing's Stuff!
Cop's Stuff!
CMV Network!
Social Media!
Site Threads!

As the fallout of Validation, Monday night Fusion #110, has already gotten under way, the first match of the night just wrapping up, the crowd is split down the middle when the general manager of CMV's flagship show, Johnny Sampson, makes his way out onto the stage as his music hits the PA system. Big Johnny is pimped out in his finest suit as usual, shades on, looking fresh, smiling from ear to ear probably happy with how well Validation went pay-per-view buys wise. He makes it down the ramp and enters the ring via the steel steps, still grinning like a child on Christmas morning, he is handed a microphone by the ring announcer who then takes her leave, prompting Sampson to remove his sunglasses and put them away in his pocket, front and center he holds his arms out, embracing the audience's feedback.

Sampson
AH! WELCOME all to MONDAY NIGHT FUSION!!! THE A SHOW! And after last night, we all know why, that main event was ... Okay I suppose, but we all are thinking the same exact thing, and honestly, for once, Hayden and I agree on something; Fusion should have gone on last. BUT, that's in the past, no need to dwell on it, because in two week's time, the CMV universe won't have to be subjected to any Genesis trash when Fusion is back EXCLUSIVELY on pay-per-view for Sacrifice! We already have some HUGE matches made official for said show, in the main event, the fifth annual CMV King of the Ring winner, Andrew Briggs, will challenge the man who is STILL the CMV World champion, Hayden! Congrats by the way, Kiteley, I threw a big time challenge at you and you managed to survive it in Bison, well, not just survive it, you tamed The Beast. But I don't know, something tells me that Mr. Briggs might surprise us all come Sacrifice, but we'll hear more about that later on because the REAL kicker, the match that I'm personally looking forward to the most, is Schmidty's grand return to Monday night Fusion! AHHH! Against the unbeaten, hulking, Gargoyle of Destruction, Daemion! Inside of Hell ... In ... A ... CELL!!! A match that I took a lot of time putting together, I wanted Schmidty's return to be something special you know, I wanted to truly repay him in the best possible way that I could after what he did to me and my family last season.
The crowd murmurs among themselves for a moment while Johnny licks his lips, almost getting lost in a daydream of Schmidty being mauled by Daemion at Sacrifice but he quickly shakes himself back to reality.
Sampson
But more over than that right now, I'm out here tonight to talk to you all about a new match concept to CMV that will take place next Sunday ... Ultimate Sacrifice, another ingenious conception by yours truly! A lot of people in the CMV universe have been buzzing about what EXACTLY this match will entail ... Well I'm here to put you all at ease and answer your burning questions. Ultimate Sacrifice will feature four Fusion superstars, who will be locked inside of a menacing 16 foot black steel cage, the key thrown away, there will be no escaping. These lucky four will be competing inside the devilish structure for a golden opportunity, a ticket punched to Dark Carnival, where they will receive a shot at whomever may be the CMV World champion, for the title! But this risk, this chance to capture it all, will come at a terrible price, for each of these men must sacrifice something of their own in order to gain entry into the Ultimate Sacrifice match, something near and dear to them ... They must offer it up as tribute, put it ALL on the line for just the possibility, of taking one step closer to everyone's penultimate goal here in CMV; the CMV World championship! These four men, have already been selected, and their sacrifices' have been cashed in, there's no turning back now. Now we all know that from a poll posted on CMVWrestling.com last week that Harvey Hastings will be competing in the Ultimate Sacrifice match, and putting on the line his beloved CMV United States championship ... And joining him, will be ... AZREAL ... MILES KELLY ... And last but not least ... PAUL DIVINE!!!
The pop is real for the four names announced to partake in this equally thrilling but also dire contest.
Sampson
But what did they all sacrifice you may be asking ...? Well Azreal, who cherishes his good looks, his status as a personified movie star, has offered up his hair, for if he loses he must shave BALD! ... Miles Kelly, I was honestly shocked when he came to me and told me that he would put on the line his own CAREER as a CMV superstar in order to gain entry into this junction, and so he did! And Paul Divine, well ... Paul Divine laid down his own Fusion contract to see himself given just ONE MORE CHANCE at regaining that World title he's held so many times and craves to do so once again ... Meaning that if he is to fail in this match-up, he will NEVER appear here on Monday night Fusion EVER again!!! ... The sacrifices have been made, these four men will enter, but only one will survive with his sacrifice returned to him, and a shot at glory come Dark Carnival, while the other three, will be changed forever ... Now if any of these brave souls have something that they would like to say to the CMV universe, now is the time, for some of you may not get the chance again ...



(Open to THICC boi Sol <3)
_________________
1x CMV Anarchy champion
1x CMV Tag Team champion
Bludgeon
1x Mr. Money in The Bank, 2x World Heavyweight Champion, 1x United States champion, 2x CMV World Tag Team champion, Glammy award for Feud of the Year, Glammy award for Tag Team of the Year (W/Borton), 2x Glammy Award for Heel of the Year
Xander Slate
HOW WAS HE NOT A WORLD CHAMPION!?
Admin





Posts

: 5568


Join date

: 2015-03-08


Age

: 21


Location

: The Hood


Humor

: Knock knock!



Once Sampson was done preaching to the heated choir, a familiar tune would fill the air, turning the fans cheers into hostile boos.






Harvey Hastings marched out with a smug look on his face as he proudly displayed the United States Championship. For a man who had disrespected such a prestigious title by placing another country's flag upon it, he was clearly taking a good bit of care for the strap. The silver was cleanly polished to the point wear it flashed in the spotlights. Any kind of rust or grime that could have been built up was scraped away. But the title wasn't what the fans were here for, they were here to see Hastings meet his competition.


Hastings quickly slid into the ring and in usuall fashion, he mock charged Johnny Sampson before grabbing a microphone. He kept his glare on Sampson, chuckling softly as he began to speak.


Harvey Hastings: Well, I guess I should be happy that my name and title are prestigious enough to be apart of this match... However, you and I both know that isn't true, Sampson....


Sampson raised a brow, raising his Mic to speak up.

Johnny Sampson: Harvey, what are you imply-

Harvey Hastings: There were two options to choose from, and guess what? These people, so called "fans", overwhelmingly picked me.... There are only two reasons for these people to choose me... One, they hate me for improving their title. Or two, I'm just so damn competent that they expect me to handle the odds. And honestly, I see a bit of both sides happening.... But, you know what Sampson? I'm not angry or upset.... I'm thrilled to be in this spot.

Not only do I get to TEAR APART Paul Divine and Miles Kelly again, but I will also have the pleasure of getting another belt for the glory of Deutschland. I would look good with both silver and gold on my shoulders, don't you think?

But as for my opponents... I have no worries looking at who you brought in to go against me.... Azreal is a man filled with vain... Sacrificing your hair? That isn't a sacrifice, that is a get out of jail free card... Miles Kelly? I hope you're looking for a bingo hall to fall back on. Because you will NEVER beat me. And of course... Paul Divine... It felt so good tapping you out last night that I might just do it again when you walk out here... Seeing you, the Sensational Hero of Fusion, screaming and wailing like a coward gives me a new lease on life.... 

Each one of you will fall to me.... And it will be a moment of pure joy for me...


Hastings set his Mic down, taking a seat on the turnbuckle with a devious smirk.


(Open to Hardline, Mau, and Echo.)
_________________
ACHIEVEMENTS
Josh Wolf:
CMV Alpha World Champion (1x)
Inaugural Rising Star Champion (2x)
Harvey Hastings:
CMV Undisputed World Champion (1x)
US Champion (2x)
Amy Winters:
Women's IC Champion (2x)
Main Event Star!





Posts

: 1345


Join date

: 2017-01-28


Age

: 21


Location

: JoeJa



Azreal
LADIES AND GENTLEMEN!!! THE BEST ONE AROUND, IS HERE!!!
The sudden, out of nowhere voice from the BOA, immediately gets the fans attention, as they start booing Azreal the second he reveals himself, showing off his new illustrious mustache, and a good looking green and black suit(Everything is shown on Azreals Twitter, cause I am typing on Xbox).
Azreal
My "Wonderful," just wonderful fans and friends, the BOA has entered the arena.
The fans continue to boo Azreal as he walks towards and enters the ring
Azreal
Now instead of gloating about my new movie, which by the way comes out later this year, I am simply out here to settle this business of ours. You see when I heard that I was in this"Ultimate Sacrifice" thing or whatever, I just had to speak my opinion about it. And you know what I have to say?
Before he continues, Azreal gets distracted by fan chants"YOU CAN'T ACT, YOU CANT ACT, YOU CANT ACT!!"However, Azreal ignores the fans, and continues on.
Azreal
About damn time.
Azreal
It's about time I got the title match that I deserve. I have steadily fought for this chance for the Undisputed Championship, and the fact that my hair is on the line, really shows me, that I believe, Mr. Sampson that YOU, still think I am a future star in this industry. I mean, everyone else pretty much has their career or contract on the line. Wait hold on.
The BOA then turns attention to Harvey Hastings
Azreal
I'm sorry, but what was your punishment again? I totally forgot, because you're the least important person here. Same thing goes to Miles, and that walking red carpet Paul Divine. It does not matter who is in the match, I will win the match and go on to face Hayden, then retire him back to Unmatched. You all want to know why? BECAUSE I AM....THE...BEST....ONE.....A...ROUND!!!
(Open to Mau and Echo)
Main Event Star!





Posts

: 521


Join date

: 2015-06-28


Age

: 19


Location

: Somewhere in Florida


Humor

: When someone takes a shot at me,and doesn't expect me to fight back.






The crowd lets out a great pop as the "Legit Gentleman" makes his presence felt along with the other men making their Ultimate Sacrifice. Miles enters with a snazzy suit and tie. He walks with a cane that aids him as well. As he reaches closer to the ring the cheers die down. He circles around the ring to get good looks at the other superstars. Miles leans on the barricade with his right elbow and makes a big deal before speaking when he repeatedly fixes his tie. His OCD kicks in as he just ends up removing it when he can't get it to look right.

Miles Kelly
Ladies… and gentleman!

The crowd starts up cheers again when he says "Gentleman." As the roars of the crowd takeover he looks at Azreal and Harvey then shrugs his shoulders, mouthing, "I'm sorry, guys." They slowly die down again and he gets his words in.

Miles Kelly
You guys can put on the line your hair, which is pretty dumb since I thought you were bald 3 minutes ago. Harvey, I can't forget you. The German Super Soldier, right.

Harvey nods his head and mouths, "damn right."

Miles Kelly
That must be why they call you "Little Germ" backstage right?

The crowds laughs as Harvey flails his arms in anger.

Miles Kelly
You see you guys aren't thinking big enough. It's go big, or go home guys. I'm willing to go big for that championship. I'm willing to go through that hellacious cage, just to get unemployed in 3 seconds. I live for this whole idea of wrestling. You guys seem to just like the stigma and the aura of being a "superstar." My personality can shine passed any belt's reflection or any straight to DVD movie.

This time it isn't cheers, but there's applause from the crowd this time.

Miles Kelly
Before a Divine makes his entrance with his 18 inch sword and Spider-Man costume, I want you all to know that I'm prepared and definitely ready for Sacrifice.

(Open to Echo6snowman)

_________________
Luther Thunder: 1x European Champion
Rashad Rockwell:1x Tag Team Champion with Kidd Campbell
Elijah Stewart: 1x Tag Champion with DJ Moore, 2x Alpha World Champion, 2018 Match of the Year, 2018 Attire of the Year, 2018 Face of the Year
Jimmaurie Williams:  2x CMV International Champion. Debut Episode 109.
Parker: 1x European Champion
Anthony Brown: 1x Television Champion
Miles Kelly: 1x Longest Reigning Rising Star Champion
Main Event Star!





Posts

: 3543


Join date

: 2015-08-18


Age

: 16


Location

: Near Earth


Humor

: South Park





Every single last fan in the arena tonight shoots up to their feet at the sound of The Asian Sensation's theme song hitting the PA system. The three superstars in the ring all look up at the stage, Hastings snarling, Azreal checking  his money maker in the reflection of his sunglasses, Kelly with a smile on his face, excited to stand face to face with one of the greatest to ever do it in CMV, and then there's Big Johnny, grinning from ear to ear as he claps his hands wildly for one of his top talents, whom after Sacrifice, may not be any longer ... After making the crowd and his opponents wait for a good minute or so, Divine finally emerges from the back, a wave of support hitting him like a gale force wind, but he doesn't falter, he gets this same reaction no matter what building he's in, no matter which state or even country he's currently inhabiting. But still, deep down inside, he knows what he's putting on the line come Sacrifice; his Fusion contract, his home here in CMV, the place that he's accomplished everything is his career, all for just a CHANCE, to once again hold that World championship ... Is it worth it for Japan's Biggest Export? You're damn right! He allows for the reaction from the audience to die down a tad, The Assassin, The BOA, The Legit Gentleman and The Boss all eagerly awaiting what he has to say ahead of this career and life-changing match-up ...

Divine
... See you all next Sunday ...

And just like that, in VINTAGE Divine fashion, he takes off to the gorilla position, the CMV universe going nuts, they love it! While everyone in the ring is left with a bit of confusion, all reacting as they would before Monday night Fusion cuts to a commercial break ...
_________________
1x CMV Anarchy champion
1x CMV Tag Team champion
Bludgeon
1x Mr. Money in The Bank, 2x World Heavyweight Champion, 1x United States champion, 2x CMV World Tag Team champion, Glammy award for Feud of the Year, Glammy award for Tag Team of the Year (W/Borton), 2x Glammy Award for Heel of the Year
Xander Slate
HOW WAS HE NOT A WORLD CHAMPION!?
Admin





Posts

: 5568


Join date

: 2015-03-08


Age

: 21


Location

: The Hood


Humor

: Knock knock!



_________________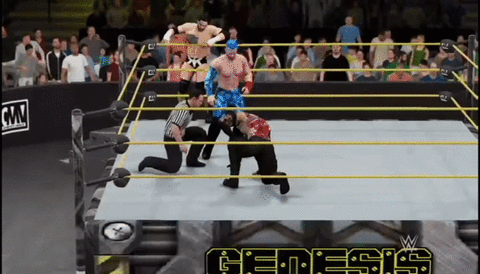 Main Event Star!





Posts

: 737


Join date

: 2015-04-06




---
Permissions in this forum:
You
cannot
reply to topics in this forum