Fusion & Genesis PPV List!
-Battlescars
-Anarchy Rulz
-Retaliation
-Deathwish
-Requiem
-Exodus
-Validation
-Sacrifice
-CyberSlam
-Dark Carnival
-Point Break
-Regicide
-Wild Card
-Absolution
-Emergence
-Home Coming
-Cause & Effect
-Final Stand
-Purgatory
Quick Links!
Dashing's Stuff!
Cop's Stuff!
CMV Network!
Social Media!
Site Threads!

Later on in the evening, as the crowd await the Main Event they are instead met by the theme of the inaugural CMV Women's Champion Jade Dynamite. As you would expect, the crowd erupt in response for arguably the greatest competitor to have ever entered a CMV ring making her appearance tonight. Moments go by until she makes her way out from the back, a microphone in hand and a smile upon her face, evidently pleased with her victory this past Sunday against Samantha Steel. She stands at the top of the ramp, looking around the arena. Embracing the loving crowd reception for a brief moment before she begins to make her way down the ramp towards the ring. Upon approaching the ring, Dynamite leaps up onto the apron and looks over across the crowd with a genuine look of happiness before stepping into the ring as always making sure to scale the ropes in every corner of the ring as usual, celebrating with the crowd before finally jumping down onto the mat where she raises the microphone to her mouth.Jade Dynamite:
What did I tell you all?! What did I promise you all?! That this Division will one day be returned to it's former glory. That it will all be normal once again. Well this past Sunday was the first step of many to achieving that. I did exactly what I promised each and every one of you. I would prove once and for all the kind of fraud Samantha Steel is. She's great sure, but her biggest win is beating me while I'm injured. Don't get me wrong that's still a big win. But she couldn't get the job done against me fresh and 100%. I told her she had a target on her back, I told her that a homing missile was on her trajectory and when it hit, it hit hard. At Revelations I took the first step in bringing this Division back to where it belongs. I took one step in climbing back to the top of the throne where I belong. This has always been my Division, the Dynamite Dynasty is still alive and the fuse is burning hot. Steel was the first of many to fall under my boot on my way to securing a future for OUR Division.
Before Dynamite is able to continue her victory speech, she is forced to lower the microphone and simply allow the crowd the take control, drowning out her voice with their chants of "Dy-na-mite" over and over. Dynamite nods her head in appreciation before raising her arm in the air, gesturing for the crowd to simmer down and let her continue. Jade Dynamite:
Let me tell you it felt fantastic, to finally redeem that loss to Steel, the loss that put me on the shelf for nine months, keeping me away and allowing this Division to fall to ruin. With Steel now in the past I can finally close that chapter. Turning a new page, and on that new page is another great threat to the future of this Division. Laura Sampson and her goons. The old me wouldn't care, the old me wouldn't give a shit. I've been here since the very start, I've out lasted generation after generation of new talent coming into this company and I'm still around the top. But what I fear is the other legends of this Division. I will never give up, but I realise Sampson is relentless, she will not stop until she has her way, until she's forced every single woman who made this show what it is out of the picture. Replacing them one by one with a new competitor. Don't get me wrong, I don't like Quinn, Kristen, Cassie and a lot of the veterans of this division. But that doesn't mean I think they should just be forced out. I welcome all the new faces we see, week in week out. Each one is a new challenge for me to overcome. But not like this, not forced upon us. So Laura Sampson, get your ass out here, because I've got some words for you, and I want you to be out here to hear them. Hell bring your little goons with you if you want. I couldn't care less.
Dynamite lowers her microphone in anticipation for the Ferocity General Manager Laura Sampson, but moments pass by to no avail. The crowd begins to boo and Jade Dynamite simply shakes her head in pity.Jade Dynamite:
She's happy bullying these other women, but when it comes to me, well she doesn't have the tools to disarm this b--
Jade Dynamite:
Of course..
Cutting Dynamite off in her tracks is the theme of the Ferocity General Manager Laura Sampson as she storms out from the back with a foul expression on her face. She stops at the top of the ramp and looks down at Dynamite in the ring with an intense glare as she speaks.Laura Sampson:
Oh Jade... I knew you'd have something to say about my Establishment sooner or later, but before I talk further. Go ahead, you wanted me here, now I am here. Say what you wish to say.
Jade Dynamite paces back and forth briefly looking up the ramp towards Sampson before coming to a halt in the center of the ring, raising the microphone to her mouth to talk.Jade Dynamite:
You want to know what I think, I think you're a coward. I think you're a bad leader, and instead of taking the blame for your bad leaderships skills, you blame the entire roster that brought Ferocity to the top of CMV and try to get rid of them all one by one. You're always going to have haters Laura. Because you'll never get rid of me. I see through your ideology. You can push Riley Dixon to the top all you want, but she'll do no better than Samantha Steel who I put down this past Sunday, she's good I'm sure, but she's just not good enough. But if you really think Riley Dixon is the best thing going in CMV, if you think that nobody can touch her? Put her against me, at Infiltration, one on one. If she wins. I will bow to her like you ask. But if I win, you step down as General Manager of Ferocity. How about that? Huh Laura?
Laura smiles at Jade for a moment, chuckling slightly before responding.Laura Sampson:
Oh Jade.. You see, there's a difference between someone like Riley, and someone like you. Riley Dixon, focuses on her career, she focuses on her goals because she is a true Champion, she is the future. You on the other hand? Well Jade, you're an old timer now and you're well past your expiry date. You don't deserve to stand across the ring from Riley Dixon. But... I like the idea of a legend such as yourself bowing down to the future of CMV. So that bet, I accept. However. It will not be Riley Dixon you face. Oh no. It'll be one of the greatest female competitors to have never stepped inside of a CMV ring. A lot of you might not know who she is, but trust me, after Infiltration you will never forget who she is. Jade I knew sooner or later you'd stand up against my agenda, my establishment. I was so certain of it in fact, I already have the poster ready. As much as you say you've changed you still have the biggest ego in this Division, and I knew you'd love nothing more than to tear my establishment down to buff up your ego. In four weeks time Jade, the biggest match in the history of this Division will go down. Jade Dynamite, fighting for the competitors of old. Takes on the greatest woman to never compete inside a CMV ring. ANDY JAIDEN!
Laura Sampson points towards the titantron which is lit up with a poster for Infiltration, featuring Jade Dynamite and Andy Jaiden. The crowd booms at the mention of Andy's name! Jumping to their feet in excitement for quite possibly CMV's biggest signing going toe to toe with the very best CMV has to offer. Jade Dynamite in the ring doesn't look scared one bit, the corner of her mouth curves up into a smirk as she talks in response to Laura.Jade Dynamite:
Laura you can throw the biggest names in the business at me all you want, all it's going to mean is a bigger "padding of my ego" when I beat them all one by one. All this does is motivate me even more. Motivate me to work harder and harder to be at my best, to put down Andy and secure a future for this Division. I accept, if I win. WHEN I win. I'll be happy to kick you out of your managerial role and back off screen where you belong. You are pregnant after all. I'd be doing you and all of us a favour. You want to know why I know I'm going to win Laura? Because you're feeding Andy to the wolves. I have never, in my entire career, lost a match without some sort of Tom Foolery or a ridiculously long layoff. So, I'll be there at Infiltration, and if you really want to feed CMV's hottest signing to CMV's best right away, then so be it.
Jade Dynamite drops the microphone in the center of the ring and raises her arms taunting Laura Sampson who stands at the top of the ramp, arms crossed, shaking her head. When from out of the crowd, both Riley Dixon and Raiden Brooks leap the barricades Riley stays on the outside while Raiden runs for the ring sliding under the bottom ropes behind Dynamite. Jade turns around but is unable to react in time, taken off of her feet by a nasty clothesline by Raiden Brooks. Riley throws a steel chair into the ring from the outside, caught by Raiden, she swings the chair down upon the back of Dynamite to Sampsons enjoyment as she begins to walk down the ramp towards the ring. Raiden passes the chair to Riley who continues dropping chair shots across Dynamites back while Raiden holds the ropes open for the General Manager. Now with all three of them in the ring, Riley throws the chair to the side and picks Dynamite up from behind, connecting with her patented Wheelbarrow Neckbreaker! Which leaves Dynamite slumped out against the mat for Raiden Brooks to deal with the remains. Raiden drags Dynamite to her feet, lifting her up high into the air for a bonecrushing powerbomb.

With Dynamite laid out across the mat, Sampson kneels down besides the former CMV Women's Champion and speaks into the microphone once more. Laura Sampson:
You really aren't smart are you Jade, never disrespect the Establishment. I look forward to seeing you bow to Riley Dixon after Andy humbles you, after she shows you that you women of old simply cannot hang with the new guard.
Sampson gets up from her knee and turns to the crowd where she continues on.Laura Sampson:
Now do you hear what I am saying?! Riley and Raiden here have just taken out the best god damn wrestler in the history of this company. If somehow you still don't believe that bringing in these new, fresh competitors is what's best for Ferocity, you soon will after Infiltration when Riley enters the Elimination Chamber, after Raiden Brooks crushes Angelina Hawkins and after Jade Dynamite is shown for the weak, old, out of date wrestler that she truly is. Because it's time for the new age of Ferocity, the women of new outclass the women of old in every single way, and over the next year or so, you'll come to understand that I was right all along..
Laura Sampson drops the microphone in the center of the ring and points once again to the poster displayed on the titantron before walking over to Raiden Brooks and Riley Dixon, raising their arms high into the air as the theme of Laura Sampson hits the PA System once again, closing out this segment.
_________________
Matthew wrote: Hayden is so much better than Schmidty in every way.
Admin





Posts

: 7060


Join date

: 2015-03-09


Age

: 21


Location

: MizTV


Humor

: Making Sons uncomfortable



See NOW I have a reason to care besides Quillow
_________________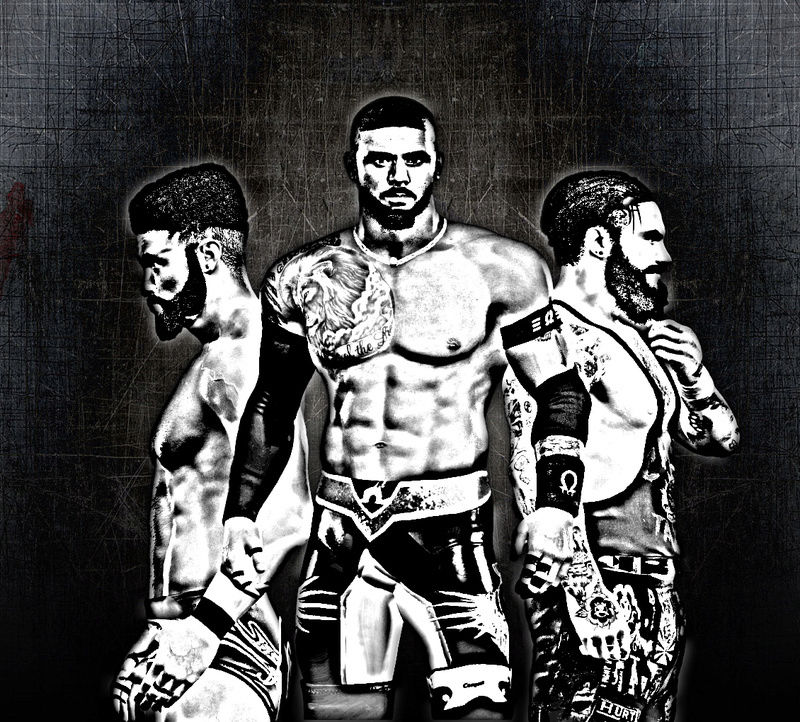 Main Event Star!





Posts

: 1040


Join date

: 2015-07-19


Age

: 21


Location

: Hopewell, Virginia



I knew Dynamite would make you care

Also welcome to CMV Andy!
Assuming she ever see's this.
_________________
Matthew wrote: Hayden is so much better than Schmidty in every way.
Admin





Posts

: 7060


Join date

: 2015-03-09


Age

: 21


Location

: MizTV


Humor

: Making Sons uncomfortable



Childish Meltzer wrote:See NOW I have a reason to care besides Quillow
Riley has been here for weeks now so you've had the reason to watch. Bless tho
_________________
GT: Alveuss
PSN: Alveuss Z7
(I absolutely will not add you back)
Jacob Ziegler
- 2x Anarchy Champion, 1x Tag Team Champions (w/ Hayden), 1x Mr Money in the Bank
Riley Dixon
- 1x Women's Intercontinental Champion
Misc.
- 1x Light Heavyweight Champion (Rubik), 1x Newcomer of the Year (Jacob Ziegler), 0x Nominated Promoer of the Year
Main Event Star!





Posts

: 1451


Join date

: 2015-11-29


Age

: 21


Location

: Glasgow, Scotland




---
Permissions in this forum:
You
cannot
reply to topics in this forum