Fusion & Genesis PPV List!
-Battlescars
-Anarchy Rulz
-Retaliation
-Deathwish
-Requiem
-Exodus
-Validation
-Sacrifice
-CyberSlam
-Dark Carnival
-Point Break
-Regicide
-Wild Card
-Absolution
-Emergence
-Home Coming
-Cause & Effect
-Final Stand
-Purgatory
-Ascendance
Quick Links!
Dashing's Stuff!
Cop's Stuff!
CMV Network!
Social Media!
Site Threads!

Ferocity starts with a bang as YOUR  CMV Woman's Undisputed Champion The Queen  Quinn-Belle and her bestie the one and only Willow Nightling make their way down the isle as Quillow theme's echoes around the arena, the boos are deafening but the duo just smile and make their way into the ring and pose on the ropes and turnbuckles. They stand in the middle of the ring with mic's in hand….

Willow : She is the NOW and I'm the FUTURE, we are Quillow and we do what we want, when we want. You all best recognize that Quinn is the CMV Woman's Undisputed Champion and last we week we shook things up, we don't care about Laura's plans, Quinn didn't feel like wrestling last week, she had just been in the biggest 30 minute iron woman match  in CMV history, better than any other iron match, including the mens. She outsmarted Fury and denied her a shot at the title, she wasn't worthy. So I stepped up, I took Quinn's place, I went 1 on 1 with Amber Briggs and well we got bored, Quinn came in and showed her why she's not worthy either. You see so many are unworthy especially Miss Money in the Bank,  good for you Kristen you grabbed a briefcase, some talent you got right there, but it means nothing, you're NOTHING….I'm not going to waste my breath on a scrub like you, boo. Not tonight anyway,
Tonight we have more important matters to address, you see last week, Laura once again abused her powers, and wasted everyone's time as per usual. I mean who the hell does she think she is. Right Quinn.

Quinn looks at Willow and both shake there heads in disgust…The fans begin booing again.

Quinn : ……

Willow : Don't piss off The Queen, you annoying little pussies.

Quinn holds her arm in pain….

Willow : You ok Quinn, Hope that bastard Johnny didn't hurt your arm too much. Maybe you should sue his ass for all the money he has.

Quinn : …. You might be onto something there Willow, The whole Sampson family are gonna rue the day that they ever crossed me… Seems like Mr Sampson, or maybe I'll just call him Johnny from now on, He has made a HUGE mistake…. How dare he put his hands on me, I bet Laura put him up to it….I have no idea what the hell Laura's problem is though, she's out to get me… Have you seen what she's done, She's booked me against Amber Briggs inside a steel cage, I'm no animal, I'm the Champ. I don't know if I'll be able to compete, I'm not at 100%, not after what Johnny did…I should be treated with respect, I'm  officially the greatest Woman's Champion of all time and did you listen to the crap spewing out of her mouth, let me quote this bitch, she said "There will be no lucky pin for you and there'll be no cheese count-outs to save you"

Willow : What the hell, who does she think she is.

Quinn : Laughable…. I don't need luck, I go to  that ring and I humiliate each and every opponent that steps foot in my ring. Don't believe me, you ALL know my resume, maybe I should refresh your memories, Cooper, Cassie, Dynamite, Page, Fury, Luck had nothing to do with it and did I once get counted-out to retain.

Willow : Hell no.

Quinn : Now…Lets talk about the HUGE match at Revelations that Laura decided to make…. I don't know who she thinks she is, but this is the biggest load of abusive powers in the history of pro-wrestling, 2 on 3 elimination handicap match for MY Championship. WHO THE HELL DOES SHE THINK SHE IS???

Willow : BITCH!!!

Quinn : You're just damn lucky you`re pregnant otherwise I'd Botch-Plex you straight to hell, That's if you're really pregnant, I doubt Schmidty would have sex with a tramp like you, so I wonder who the father is, probably Joey Bacon, but I heard even he wouldn't touch you.
Fine, whatever…you want to abuse your powers….2 on 3 it is, Quillow doesn't back down, We win, at Revelations No Morality will find out who the Real Women in CMV are…..



Quillow look up and see all 3 members of No Morality walk out onto the stage….

Jasmine : Quinn, Quinn, Quinn  you claim to be  the best, but you've never faced No Morality, Why is that? Are you scared of what we are capable of…. Well time has caught up with you and now it's 2-3 elimination match where 1 of us will walk out as the NEW CMV Woman's Undisputed Champion.

Emily : Why so glum, Quinn? You do have Willow after all hahaha, I'm sure she has your back, but we have the numbers and come Revelations, you'll find out what No Morality is all about.

MV : Quillow… If I were you, I'd focus on thee most dominant force in CMV history, forget about the Sampsons, forget about the Coopers, Cassies and everyone else you named and pay attention to No Morality…. You may have your list, but so do we, we`ve dominated and ended careers, just ask little miss Infinitee...You see we are going into Revelations as a unit, We will win by any means necessary whether it's Jasmine…. Emily or myself one of us will be crowned Champion and No Moality will rule Ferocity… We have no Morals…We are No morality. Your reign is OVER!!!!!

No Morality all drop their mics and stare at Qulliow….

Last edited by 316topher on Thu Dec 14, 2017 3:42 am; edited 1 time in total
_________________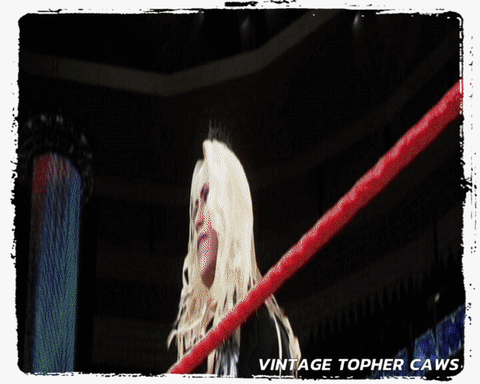 Main Event Star!





Posts

: 4975


Join date

: 2015-12-11


Age

: 99


Location

: (NEAR)... Leeds, England


Humor

: yes :D



I think I already told you my thoughts on Facebook. But just in case I didn't. I like how you're building this feud, and you've turned Quinn into one of the biggest heels on ferocity. Keep it up big toph.
_________________
Matthew wrote: Hayden is so much better than Schmidty in every way.
Admin





Posts

: 7121


Join date

: 2015-03-09


Age

: 21


Location

: MizTV


Humor

: Making Sons uncomfortable





Similar topics
---
Permissions in this forum:
You
cannot
reply to topics in this forum