Fusion & Genesis PPV List!
-Battlescars
-Anarchy Rulz
-Retaliation
-Deathwish
-Requiem
-Exodus
-Validation
-Sacrifice
-CyberSlam
-Dark Carnival
-Point Break
-Regicide
-Wild Card
-Absolution
-Emergence
-Home Coming
-Cause & Effect
-Final Stand
-Purgatory
-Ascendance
Quick Links!
Dashing's Stuff!
Cop's Stuff!
CMV Network!
Social Media!
Site Threads!

Mr Gnashtastik :  We are live for the fall out show of  Ferocity and what a PPV UnBreakable was, but that was then and this is now...and tonight can only get better….

Quinn-Belle's theme plays and out comes the CMV Undisputed Woman's Champion accompined by her bestie Willow Nightling to kick the show off to a chorus of boos, however Quinn just smiles without a care in the world and makes her way to the ring as pyros rain down.... She signals for  a mic.

The fans boo as loud as they can,

Quinn : ……………

The fans still boo….

Quinn : ……………

The fans not letting up, still boo…

Quinn : Keep it up, I got all night….

But the fans still boo…


Willow : AND STILL YOUR CMV UNDISPUTED WOMAN'S CHAMPION, I GIVE YOU THE QUEEN, QUINN-BELLE...

The fans still salty all boo what Willow just said.



Quinn : Thanks Willow, you're the best... But if you want a show of just Quillow in the ring, waiting, then the ratings will sky rocket, I mean who wants to see any of those no talent bitches backstage….


The boos  die down a little, but can still be heard…


Quinn : Oh, I see, you've pulled out your little phones, bet your tweeting…. Well, more like crying, pissing and moaning that I won, bet you want someone to come on down and take my belt…..But who, Cassie, beat her….. Kristen, beat her….Cooper, beat her, Jade Dynamite, beat her…. What about Fury, oh I beat her too. There's no one back there that can lace my boots, let alone take my title…. Hell bring out Hayden, I'll beat him too…. Nah I'll leave that to Ziegler and he will.

But there are a few things that  don't sit well with me, the lack of respect for one… I've seen replays of my 30 minute Iron Woman Match, the best iron match ever if I do say so myself… 1st of all I see Vixen after Vixen tweeting, saying I'm not a really good Queen, This coming from Amy freakin Winters…. How many times do I have to beat her, but I guess she has to make herself relevant and use my name, well honey, I don't have to be a good Queen, just The Queen, and with this around my waist, I truly am The Queen of CMV…. No one in the history of The Woman's division as put down big name after big name, like I have… they've tried, oh how they've tried but they're all talk and no walk…
You see at UnBreakable I was 3-1 down at one point, I knew what I was doing, it's called strategy, tap out early so I don't risk injury, Even when she had to bring out some new submission hold, and let's face it that's all she had, poor Fury, I warned her last week that I have many ways of beating her and I did…. Botch-Plex, Irish-Sleeper, Alarm Belle's….and even with only 3 minutes to go, I was still confident, I was still taunting, even though the commentary guy, yeah you, I'm looking at you Mr G or whatever your name is, I heard you saying I don't have time to taunt…..Please, I knew what I was doing, but what kind of nonsense did you say, oh it wasn't fair….. Wasn't fair that I put her to sleep and then immediately used Alarm Belle…. There's no rule saying the ref has to give time for the opponent to recover,  I used my brain, only I could pull off the biggest comeback this business as ever seen and that's why  I'm the greatest Champion in all of CMV and that's the real bottom line…. But give it up for Fury, she's one tough cookie, yeah c'mon that's it, chant her name too……But.

THIS IS MY SHOW!!!!!

Quinn passes the belt to Willow, who admires the title and puts it over her shoulder

Even if that useless, no good, bitch Laura Sampson says otherwise, she keeps trying to bury me, but whatever and whoever she throws at me, I knock it out of the park for a home run….So seeing as all the so called main eventers lost or I've beaten them already, then I guess I'll take a vacation, you wont see me at the next PPV Revelations, by then Ziegler could very well be Champion too, it's only a matter of time, and I think we'll have a nice long holiday as Laura tries to book a decent match for a change, but lets face it, she'll fail once again, how in the hell did she become GM…..Did her precious little daddy give her the job, or did Schmidty bend over backwards, well Laura probably did the bending over if you know what I mean.




All of a sudden....


Open to Miz
Last edited by 316topher on Wed Dec 06, 2017 12:11 pm; edited 2 times in total
_________________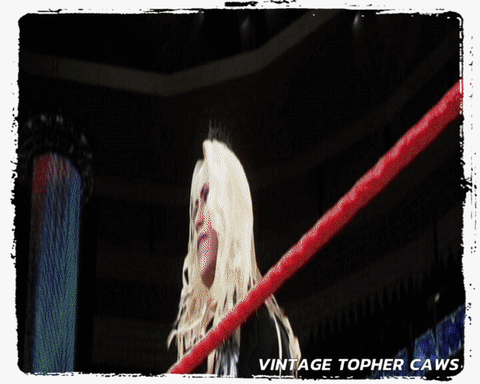 Main Event Star!





Posts

: 4978


Join date

: 2015-12-11


Age

: 99


Location

: (NEAR)... Leeds, England


Humor

: yes :D





As the arena erupts at the sound of Ferocity General Manager Laura Sampsons theme hitting the PA System, both members of Quillow turn their attention towards the ramp. Willow buries her head in her hand while Quinn rolls her eyes, annoyed at the fact she's going to have to deal with Sampson again. In a moments notice Sampson comes out from the back, however wielding a different Aura than usual. There's no smiling, no happiness, nothing but the look of anger on her face as she marches down the ramp towards the ring, a microphone as per usual in her clutches. Sampson marches up the steel steps, making her way onto the apron where she darts a cold stare into the eyes of Quinn momentarily before stepping in between the ropes and into the ring. Laura walks right up to Quinn who stands her ground, looking down upon the General Manager with a cocky smile as if to say "what are you going to do". Laura, with her eyes locked on Quinn, begins to speak into the microphone.

Laura Sampson:
You really want to push me. Huh. I bet you think you've won, that you have all the power? Because you've beaten everyone put against you? Well you know what Quinn... You want to push me? Fine. You can push me. But you're going to regret the outcome. I know exactly who'll come out here to take your belt Quinn, and wouldn't you believe, it's someone you've never faced before. Oh I warned you Quinn. I did, you can't say I didn't. I warned each and every one of the Vixens in the back not to push me. Because I'm tired, tired of the disrespect. You don't run this show Quinn. I run this show! You might be the Champion, but I could take that away from you in an instant!

Quinn smiles, simply taking everything Sampson says as if it were a joke. Full of confidence right now having beaten most of the top names in the division, Quinn simply shakes her head.

Laura Sampson:
Oh, you don't believe me? Well, you're in for a shock. You see Quinn, I said if you wanted me to be an asshole, I can be an asshole, and it looks as if you want that. I mean you keep pushing me, despite my warnings? So now it's time to pay the price. Now it's time for you to feel the power of a pissed off General Manager! I could just strip you Quinn, but where's the fun in that. No... At Revelations, in the Main Event. You will defend your CMV Women's Undisputed Championship in a two on three handicap match. Against whom you ask? Take a look.

Laura Sampson turns to the stage, extending her arm as a familiar theme hits the PA System.



All three members of No Morality walk out onto the top of the stage. Vicious in the center holding her bat while Emily and Jasmine bring up the rear flank, Quinn's cocky smile turns into a look of rage as she glares at Laura Sampson who continues on.

Laura Sampson:
Like I said Quinn, you were warned. But let me make this clear. It will be Elimination, there will be no lucky pin for you, you have to Eliminate ALL THREE members of No Morality if you want to keep your belt Quinn. There'll be no cheese count outs to save you either. Pin or Submission. If neither you or Willow are the last ones standing, you lose your CMV Women's Undisputed Championship. Next time Quinn, remember, if you decided to play with fire, you're going to end up getting burned. I look forward to seeing that smug smile removed from your face by the trio on the stage right now in four weeks time Quinn. It'll be a sight for the ages.

Laura Sampson drops the microphone to the feet of Quinn before leaving the ring and making her way up the ramp towards the back, leaving the current CMV Women's Undisputed Champion speechless in the ring with her tag team partner while the stable of No Morality watch on, smiling at what will soon become their next prey.
-Open to Topher if he wishes, otherwise the segment ends.
_________________
Matthew wrote: Hayden is so much better than Schmidty in every way.
Admin





Posts

: 7122


Join date

: 2015-03-09


Age

: 21


Location

: MizTV


Humor

: Making Sons uncomfortable




---
Permissions in this forum:
You
cannot
reply to topics in this forum