Fusion & Genesis PPV List!
-Battlescars
-Anarchy Rulz
-Retaliation
-Deathwish
-Requiem
-Exodus
-Validation
-Sacrifice
-CyberSlam
-Point Break
-Regicide
-Wild Card
-Absolution
-Emergence
-Home Coming
-Cause & Effect
-Final Resolution
-Purgatory
-Ascendance
Quick Links!
Dashing's Stuff!
Cop's Stuff!
CMV Network!
Social Media!
Site Threads!

Monday Night Fusion is over, the arena is empty and in the locker room area, similar to the scene after Retaliation, sit Shane Scott and Jacob Ziegler. Jacob sits silent at the opposite side of the room from Shane, staring at his partner. Shane on the other hand, surrounded by empty beer bottles, happily sings away to himself and taking more swigs between breaths. Jacob leans back against the wall thinking at what could have been if the night had only gone as planned. The two men could be out partying as the new Tag Team champions but again the chance had slipped through their grasp and here they sit now in a cold locker room that smells of sweat. The failure appears to be troubling Ziegler more so than Shane, or maybe Shane is just too drunk to remember his troubles at this moment. Shane finishes his song in an out of tune imperfect cadence and downs the rest of his beer.

Shane Scott
Come on… It's just a little setback. We had an off night, it happens. We'll just go to Sampson next Monday and demand a rematch, you have him wrapped around your finger anyway so he can't turn us down. Here, have one…

Shane bends down to grab another two beers, almost falling over completely as he does so. He has trouble standing up and stumbling across the room to his deflated partner.

Shane Scott
We're too good to not have those titles.

Jacob Ziegler
Then why did we lose again?

Shane either ignores the question posed by the Scotsman or just didn't even hear it. Instead Filth nudges Ziegler with the beer and takes a step backwards.

Shane Scott
Come on get up, take this.

Reluctantly Ziegler does stand up and takes one of the beers from Shane. Shane holds out the beer in his other hand…

Shane Scott
To the future Tag Team champions, cheers!

After that Shane knocks his bottle off of Ziegler's but as they collide he lets the bottle slip from his grasp and crash down onto the floor, shattering and spilling beer over both men. Ziegler looks down unimpressed as Shane just laughs and turns to go get another beer.

Shane Scott
Shit haha, I've been letting a lot slip today.

Jacob Ziegler
Yeah.

As Shane fully turns around, the Scotsman without hesitation swings towards his partner with the bottle in hand smashing it over the back of Shane's head. Beer and glass explode around the room on impact as Shane goes down hard to the floor, blood quickly beginning to drip from his skull. Ziegler, with the same stoic look he had sat with just moments earlier looks down at Shane, blood also dripping from his hand which has been cut open from the explosion of glass. Shane begins to stir on the floor, grunting and groaning in the pool of beer. After a deep breath Ziegler grabs Filth by the hair and pulls him up into a pedigree position, almost slipping himself as he does so. After a slight moment's hesitation looking down at the glass below, the Scotsman closes his eyes and hits Shane with a pedigree, driving Shane's skull into the concrete. Ziegler would rather not stick around any longer but before leaving he walks over to Shane's belongings and takes his leather jacket off of the hook. Taking a moment to look at the Pride & Filth logo on the back he sighs one last time and throws the jacket down on top of his fallen partner. The Scotsman then grabs his own belongings and exits the room, leaving Shane alone, bloody and unconscious.
_________________
GT: Alveuss
(I probably will not add you back)
Jacob Ziegler
- 2x Anarchy Champion, 1x Mr Money in the Bank, 2017 Newcomer of the Year
Riley Dixon
- My only hope for a successful caw
Rubik
- 1x Light Heavyweight Champion
Main Event Star!





Posts

: 1412


Join date

: 2015-11-29


Age

: 21


Location

: Glasgow, Scotland



_________________
Matthew wrote: Hayden is so much better than Schmidty in every way.
Admin





Posts

: 6747


Join date

: 2015-03-09


Age

: 21


Location

: MizTV


Humor

: Making Sons uncomfortable



Don't waste beer ffs..... but nice promo
_________________
Main Event Star!





Posts

: 4335


Join date

: 2015-12-11


Location

: (NEAR)... Leeds, England


Humor

: yes :D



_________________
Main Event Star!





Posts

: 2962


Join date

: 2015-03-09



RIP the bffs of yesteryears
_________________
1x CMV Anarchy champion
1x CMV Tag Team champion
Bludgeon
1x Mr. Money in The Bank, 2x World Heavyweight Champion, 1x United States champion, 1x CMV World Tag Team champion, Glammy award for Feud of the Year, Glammy Award for Heel of the Year
Xander Slate
HOW WAS HE NOT A WORLD CHAMPION!?
Admin





Posts

: 4922


Join date

: 2015-03-08


Age

: 21


Location

: The Hood


Humor

: Knock knock!



Zeb wrote:No
Believe me, I know
_________________
GT: Alveuss
(I probably will not add you back)
Jacob Ziegler
- 2x Anarchy Champion, 1x Mr Money in the Bank, 2017 Newcomer of the Year
Riley Dixon
- My only hope for a successful caw
Rubik
- 1x Light Heavyweight Champion
Main Event Star!





Posts

: 1412


Join date

: 2015-11-29


Age

: 21


Location

: Glasgow, Scotland



X-Gen still longest and greatest stable to date. RIP
_________________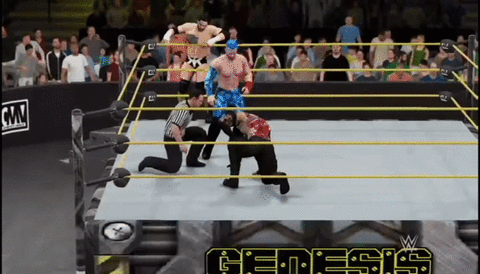 Main Event Star!





Posts

: 666


Join date

: 2015-04-06



shame they just weren't that good

_________________
Main Event Star!





Posts

: 4335


Join date

: 2015-12-11


Location

: (NEAR)... Leeds, England


Humor

: yes :D



C9 Alveuss wrote:

Zeb wrote:No

Believe me, I know
fight
_________________
Main Event Star!





Posts

: 2962


Join date

: 2015-03-09




---
Permissions in this forum:
You
cannot
reply to topics in this forum