Fusion & Genesis PPV List!
-Battlescars
-Anarchy Rulz
-Retaliation
-Deathwish
-Requiem
-Exodus
-Validation
-Sacrifice
-CyberSlam
-Dark Carnival
-Point Break
-Regicide
-Wild Card
-Absolution
-Emergence
-Home Coming
-Cause & Effect
-Final Stand
-Purgatory
Quick Links!
Dashing's Stuff!
Cop's Stuff!
CMV Network!
Social Media!
Site Threads!



Shortly following the Co-Main Event of the evening, minutes have past, the United States Champion Harvey Hastings has long left the ring, leaving Vindy struggling to get back to his own two feet, using the ropes as leverage to pull himself back up to his feet, still dazed and confused as the theme of the current #1 Contender, Hayden "Showtime" Kiteley makes his way out from the back, smiling, a microphone in his hand as he looks over the arena, eyes locked on Vindy like a hawk. Hayden makes his way to the top of the ramp and stops in his tracks, he looks around for a brief moment, giving the crowd a moment to simmer down so he can talk which indeed he does, raising the microphone to his mouth.

Hayden "Showtime" Kiteley:
Lookie, lookie here. THIRD TIME in one night they wanted me on camera! That MUST be a record. You know, I don't blame them this show is a complete MESS! Now Vindy, I'm not out here for you. I couldn't give a rats ass about you buddy. I'm out here for one thing, and that's the Undisputed Championship to become mine. OFFICIALLY! Now we all know I am the true Champion, hell I never lost clean, way back at the debut of Monday Night Fusion it was that dastardly General Manager who cost me my belt. I'm the true Champion, we all know I'm the current Champion. It's just not official yet. So Vindy, I'll extend you an offer right now as you sit there in that ring, shrouded by defeat. I'll give you the chance, the opportunity to become the REAL Champion. Because quite frankly I don't think you should be the Champion here on Fusion. You're a phoney, you're a fake and this crap you pulled tonight is just an example of why your entire career is fraudulence. You are the Undisputed Champion of Fusion. MY SHOW and you lost to a measly nobody, a pitiful United States Champion. You know how bad that makes that belt look? MY belt? So lemme give you a chance Voice, a chance to redeem yourself. A chance to become the Undisputed Champion. NEXT WEEK, the MAIN EVENT. I'll give YOU a shot at my belt, the peoples belt, the REAL BELT! But lets make this a little interesting. I'm going to give you every chance you can get, you can throw weapons at me, you can fight me all around the arena. There'll be no running. Me, you, No Holds Barred. MY CMV Undisputed Championship.

You see ladies and gentlemen, this is the kind of power that comes with being a star! I'm not Jacob Ziegler, I'm not Brett Angel, I'm not any of those false idols. I'm Hayden "Showtime" Kiteley. I don't need a Money in the Bank briefcase to get a Title shot, I get a Title shot whenever I want because that's just how the business goes. I am CMV's greatest star, and next weeks Main Event will prove it. Boy, It's been over two years and I'm not looking to wait any longer to get back what's rightfully mine. Unless of course, you're going to run from me like you ran from Intensity. You say you're on a mission Voice, earlier you said you had taken one step forward in your mission, well next week you take two steps back. But it's in good reason Voice! In fact it's for a great cause! Because your sacrifice may send you two steps back. But it'll send fusion two steps forward to become THE Flagship show in CMV once again. I saw all these comments, about how the Champions are a joke, about how Genesis is better, and right now, with the roster we have, with the people that could be Champion, I have to agree, but there's one thing that can change that. One PERSON that can change that, and that's me ladies and gentlemen. Johnny Sampson knows this, and next week when I save that CMV Undisputed Championship and bring it back to relevancy, I'll be doing the exact same thing to Fusion. Get ready Voice, I don't want any excuses, I want you at your best so when I see you tapping, when I see you TELLING ME you've had enough, I'll know that I beat you at the best you could be, with your bloated gut and all, it still wasn't enough to keep my shoulders on the mat. Enjoy that reign while it lasts, because like your diet, it'll be over shortly.

Hayden winks down from the stage to Vindy in the ring before dropping his microphone down onto the floor before spreading his arms wide while the crowd chants "Show-Time, Show-Time, Show-Time" over and over for a minute or so until Hayden begins nodding his head, his theme hitting the PA system once again. He turns around leaving Vindy alone in the ring as we fade to commercial before tonight's Main Event.


Last edited by Miztacular on Tue Dec 05, 2017 6:49 am; edited 1 time in total
_________________
Matthew wrote: Hayden is so much better than Schmidty in every way.
Admin





Posts

: 7084


Join date

: 2015-03-09


Age

: 21


Location

: MizTV


Humor

: Making Sons uncomfortable



Im the current champion. It's just official......


Is that right,?
_________________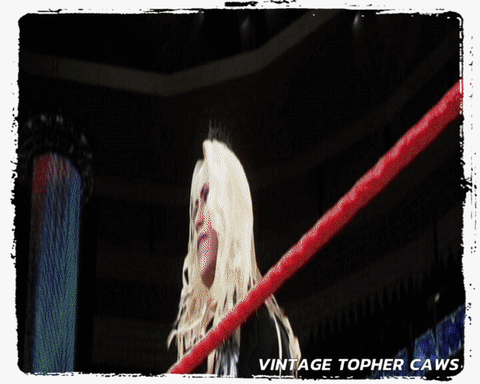 Main Event Star!





Posts

: 4811


Join date

: 2015-12-11


Age

: 99


Location

: (NEAR)... Leeds, England


Humor

: yes :D



_________________
Matthew wrote: Hayden is so much better than Schmidty in every way.
Admin





Posts

: 7084


Join date

: 2015-03-09


Age

: 21


Location

: MizTV


Humor

: Making Sons uncomfortable





Similar topics
---
Permissions in this forum:
You
cannot
reply to topics in this forum