Fusion & Genesis PPV List!
-Battlescars
-Anarchy Rulz
-Retaliation
-Deathwish
-Requiem
-Exodus
-Validation
-Sacrifice
-CyberSlam
-Dark Carnival
-Point Break
-Regicide
-Wild Card
-Absolution
-Emergence
-Home Coming
-Cause & Effect
-Final Stand
-Purgatory
Quick Links!
Dashing's Stuff!
Cop's Stuff!
CMV Network!
Social Media!
Site Threads!

The night of Unbreakable, an Iron Woman for the ages, 2 Vixens collide in an epic encounter…. For 1 a chance to put a Queen in her place and become #1 contender for the CMV Woman's Undisputed Champion….. For the other, it will be another chapter in becoming the best Woman's Champion of all time. Who will break.

Quinn is backstage once again on her mobile phone, as she looks fabulous in her new PPV attire… When Lisa Evans cautiously approaches The Queen of Bitch-Slap, as she found out how hard those bitch-slaps truly are not so long ago…

Quinn : Yes Zieg's, i heard what that little man said, don't worry about him, you got this, and soon we will have all the gold, You as the CMV Undisputed Champion and myself as the CMV Woman's Champion, No one can stop us, we're just too damn good, OK hun, i'll see you real soon ok, sooner than you think, ok hun, yes, you too, oh stop it lol, you're making me blush ....ok well we'll see haha, cya Zieg's....

Quinn puts her phone between her boobs and smiles, looks up and sees that Lisa is still here...

Quinn : .... Well, well, well look what the cat dragged in, still eaves-dropping on my conversations with my man i see, don't you have anything better to do,  you best not piss me off tonight Lisa, Not unless you want me to slap the taste out of your mouth again…

Lisa : No no that's ok, I was just wishing you good luck on you match tonight.

Quinn : Oh I don't need luck, tonight I'll shut up Fury once and for all. I'll cripple her so bad she`d wish she would have retired months ago.

Lisa : Care to share your strategy for us Quinn?

Quinn : My strategy is simple, hell it's so simple, you might even understand it…. It's to win, how I do, doesn't really matter, I mean everyone knows I can beat the best of the best, ask Cassie, I put her to sleep….Ask that fake Queen bitch Amy Winters, she suffered from a Botch-Plex, ask Jade Dynamite I defused that situation…. Hell ask that freak known as Kristen Page, she can come out here smile and laugh all she wants, just because she holds a little briefcase containing a stupid contract, doesn't mean anything to me, because last time she set foot in my world she tapped out to the Alarm Belle…. What that means is Fury will feel all those moves and i will get pinfall after pinfall, submission after submission. I will rack up the points as the timer counts down and when it's all said and done, I'll be the one with my hand raised.
But lets  say Fury does somehow get lucky and wins tonight, I'll still be the Champ, but she wont win, hell she can barely walk. But if she does, then she's #1 contender right…..Well honey that's all you`ll ever be a contender, this is my division, and I'm gonna be Champ for a reeeeeeal long time, So while you're a contender, I'll be the Champ…..Get ready to be broken….. Now get lost Lisa..

Last edited by 316topher on Sun Dec 03, 2017 11:16 am; edited 2 times in total
_________________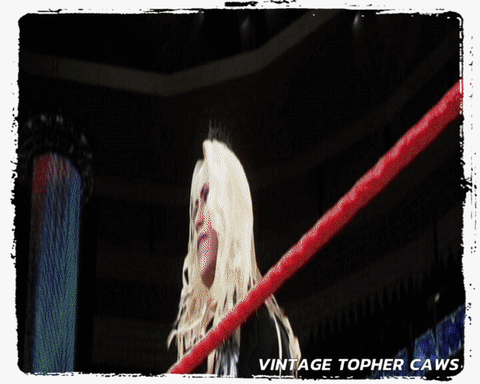 Main Event Star!





Posts

: 4758


Join date

: 2015-12-11


Age

: 99


Location

: (NEAR)... Leeds, England


Humor

: yes :D



HES NOT LITTLE HES 5'11 IN HIS BOOTS
_________________
Matthew wrote: Hayden is so much better than Schmidty in every way.
Admin





Posts

: 7060


Join date

: 2015-03-09


Age

: 21


Location

: MizTV


Humor

: Making Sons uncomfortable





Similar topics
---
Permissions in this forum:
You
cannot
reply to topics in this forum