Fusion & Genesis PPV List!
-Battlescars
-Anarchy Rulz
-Retaliation
-Deathwish
-Requiem
-Exodus
-Validation
-Sacrifice
-CyberSlam
-Dark Carnival
-Point Break
-Regicide
-Wild Card
-Absolution
-Emergence
-Home Coming
-Cause & Effect
-Final Stand
-Purgatory
-Ascendance
Quick Links!
Dashing's Stuff!
Cop's Stuff!
CMV Network!
Social Media!
Site Threads!

Slate
Excuse us, ladies and gentleman.

During Friday night Genesis #104, the big screen lights up with the smiling faces of the CMV World Tag Team champions, Xander Slate and Randy Borton, the gold over their shoulder, they both look at each other and then back towards the camera.

Borton
We interrupt this program to bring you something that actually matters, a challenge.

Slate
A challenge to Vintage!

The fans pop loud for Bacon and Jefe, Slate gagging and Randy pressing down on his nose.

Slate
I think I can smell that obese fuck from here!

Borton
Tell me about it, who ordered the anchovies?

They laugh alongside one another, the fans booing as The KLIQ carries on.

Slate
Despite the popular belief from the CMV universe, we are FIGHTING champions, these titles over our shoulders, they are elevated by us holding them, not the other way around.

Borton
Like how the International belt is struggling to uphold it's "champion", or how the Alpha World title's prestige has all but faded away with MLP stealing it!

Slate
So with Vintage winning the ... Do I have to say it? ... Eh, the ... X-Gen Classic .... Ew, leaves a nasty taste in my mouth ... They've, well I'm struggling to say earned, they, wormed their way to a shot at our championships.

Borton
But we say, why wait until Exodus to rid the Genesis tag team division of these unworthy JOKES, these sewer-dwelling, trash-eating, unfit, disgusting, slimy, filthy, gross, overweight, ugly, weird, freakish, troll-

Slate
Dude! Calm down now, sweet lord ... But yeah, all that my good brother just said is as true as the day is long. These abominations don't deserve to face us at the pay-per-view, but we're more than willing to beat them back to obscurity next week right here on Genesis!

The crowd cheers at the idea of the championship match happening sooner rather than later.

Borton
We're busy tonight, Slate has to tap out that false champion and get him ready for Bob to slaughter, and I have a guy who think he's a wolf to put down once and for all.

Slate
But we'll be here next week, Vintage, waiting, with our gold, for you, if you've got a set of balls under all of that blubber and enough guts behind that fish outfit, we'll gladly kick your asses a bit earlier than scheduled! For now, we've got a show to steal!

The duo 2SWEET for the world to see before the tron fades out, leaving the fans ready for some more action tonight.

(Open to Topher)
_________________
1x CMV Anarchy champion
1x CMV Tag Team champion
Bludgeon
1x Mr. Money in The Bank, 2x World Heavyweight Champion, 1x United States champion, 2x CMV World Tag Team champion, Glammy award for Feud of the Year, Glammy award for Tag Team of the Year (W/Borton), 2x Glammy Award for Heel of the Year
Xander Slate
HOW WAS HE NOT A WORLD CHAMPION!?
Admin





Posts

: 5568


Join date

: 2015-03-08


Age

: 21


Location

: The Hood


Humor

: Knock knock!



One week ago Kliq challenged Vintage  to a tag team title match on this weeks Genesis, the title match that is scheduled for  3 weeks at Exodus that they earned from winning the X-Gen Classic…. Vintage theme plays through the PA system and out come The Big Ham and The Human Fish to a standing ovation…. They make there way down the isle as they tag the hands of excited fans…. They enter the ring, El Jefe leans on the top turnbuckle/rope as Joey taunts in the ring….

Joey : We interrupt this program to bring you something that actual matters…… but first let me open this extra large bag of cheesey doritos.

Joey starts eating from the bag as crumbs fills his beard…

El : Ola lay Big Ham, easy on the Doritos….. AHHH DDT… Woah I'm still having flashbacks from the X-Gen Classic final.

Joey : You ok little fishy, yeah you'll be fine…. So last week Kliq ran their little mouths and issued a challenge for this weeks Genesis for the tag titles. I guess they can't wait for Exodus, they can't wait for some Fish Dick…. Or the Stinkface….Maybe they  want Hook, Line and Sinker  and they want The Baconator… Well I'm sure Fishy and myself can oblige…. But something does stink, can you smell it El Jefe?

El : Si, what is that smell?... It's revolting essa.

Joey : That my friend is the smell of Kliq, every time they open their mouths, the smell from the bullshit they spew is overpowering.

El : Should we alert the CDC or something, this could be lethal to the whole planet, we need to contain this before it gets out of hand…. I mean essa it smells worse than a night out with you when you've eaten 10 kababs.

Joey : Look I didn't block your toilet, I swear….

El : Sure thing amigo, But Kliq you want us at next Genesis, so be it, we don't mind taking your belts a few weeks earlier than scheduled.

Joey : Borton, I feel sorry for you, because whatcha gonna do, when the biggest ass in CMV runs wild all over your face.

El : And Slate I hope you like Fish Dick, cuz you're gonna get a mouth full, Arribbaaaaa!!!!

Joey : Yo Jefe, lets 2 sweet…

Joey raises his arm and 2 sweets as El Jefe is jumping up trying to 2 sweet but can't reach ….

El : Dammit…. Hold on.

El Jefe jumps out of the ring and pulls out a ladder from under the ring and slides it under the bottom rope, he sets it up and climbs it, and finally 2 sweets Joey…Vintage music plays as they signal that the gold will be around their waists soon.
Last edited by 316topher on Sun Nov 26, 2017 7:42 am; edited 2 times in total
_________________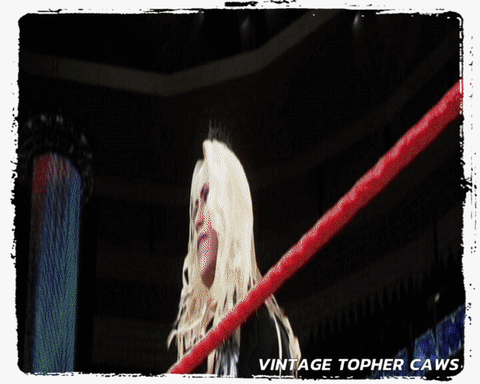 Main Event Star!





Posts

: 4971


Join date

: 2015-12-11


Age

: 99


Location

: (NEAR)... Leeds, England


Humor

: yes :D



Topher that promo is the best thing i've seen all day lmao
_________________
Chris Diamond:
1x Undisputed Champion
1x Mr. MITB
1x Fusion Tag Champ with Rob Cross (Last Ever)
1x Rising Star Champion
Winner of the 3rd annual tag team cup alongside Rob Cross
Rico Lopez:
Best Dancer On NGW
Pleb





Posts

: 47


Join date

: 2017-09-23


Age

: 15


Location

: The nearest nightclub


Humor

: Dark




---
Permissions in this forum:
You
cannot
reply to topics in this forum