Fusion & Genesis PPV List!
-Battlescars
-Anarchy Rulz
-Retaliation
-Deathwish
-Requiem
-Exodus
-Validation
-Sacrifice
-CyberSlam
-Dark Carnival
-Point Break
-Regicide
-Wild Card
-Absolution
-Emergence
-Home Coming
-Cause & Effect
-Final Stand
-Purgatory
-Ascendance
Quick Links!
Dashing's Stuff!
Cop's Stuff!
CMV Network!
Social Media!
Site Threads!

After his victory cameras are backstage in Omega Lee's locker room, a quiet little piece of heaven inside the tumultuous world of the young athlete. Lee is sitting in front of a table replenishing himself with a bottle of water. Lee has his feet up on the table, the his face logo on his boots pointed forwards so the camera can see. He sighs gently and then places his bottle down before lowering his legs off the table. He takes one look at the camera and immediately starts speaking, his voice drenched with fatigue.

Omega Lee
Are you finally woke? Do you finally realize now what I can do? Putting on five star match after five star match, all could be consider match of the year contenders that's just how I always perform. Gedo, what an incredible effort you just displayed in front of everyone, you did better than I thought. You showed so much heart, and just how bad you wanted to win, you got some big moments, and took me almost to the limit. But sometimes the power of the human heart, soul, and love, it can do incredible things. Gedo, you were running on pure emotion. Emotion and talent are two different things, so when you're in the ring with me, where emotion runs out, talent prevails. How many people have won the Olympics on just heart? It's a great story, but it never happens. Worldwide everyone witnessed a man putting it all on the line, I can say you are a tough son of a bitch but you can't out stamina, out tough, out perform greatness. But on to more important matters, as you all know our first ppv of the season Ground Zero is this Sunday and I'm not even on the card, they haven't said a word. Again, the political games these people play are ridiculous. But I'm not complaining, seeing as I'm a draw. They'll come crawling, begging me to carry the company out of the years of inconsistency and lost reputation. I noticed a lot of new names and faces and everyone of those names and faces are looking to do the same thing, all just looking for an opportunity to standout that is why at Ground Zero I'm issuing a challenge and it will be up to anyone in the back who wants to be famous off of the Gift of Greatness who that dares to and use me as their "stepping stone" however you are only allowed fifteen minutes to try and claim your fake because when you're in the ring with me time is valuable and time is money.
..So really my question is... who will challenge me?

_________________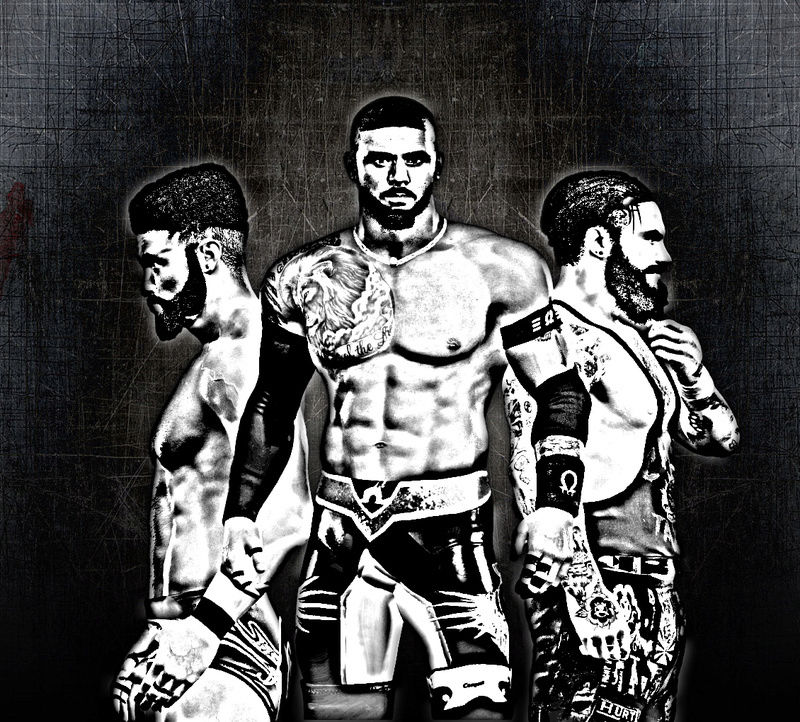 Main Event Star!





Posts

: 1040


Join date

: 2015-07-19


Age

: 21


Location

: Hopewell, Virginia



The cameras take us to outside a CMV training facility, the sky is dark as well as the building, that is except for one room where a glaring light shines, the camera cuts to a well lit gym where the newcomer to CMV, D.J. Law is seen training with a heavy bag, practicing takedowns and his ground transitions before getting up, rehydrating and taking a few breaths, he walks over to the camera, sweat glimmers on his brow before getting wiped off...

D.J. Law
You see all these lights that are out? Each one tells a story, maybe today is the day someone gave up on this, put down their gloves and just quit, you know? Just flicked that switch and never looked back... Maybe they were angry at the position they were in and stormed out, hitting that switch on the way out... And then, you come to this light...

Law looks up, pointing at the gleaming bulb...

This light stays on, you see, it doesn't matter who I beat, who I get beaten by, how tired I am, how helpless I feel, this light... will always stay on. You know why that is?

Law takes a few moments for his words to sink in.

It's because that light is a symbol of the hard work I put in, day in, day out, that light is a symbol of my hunger to succeed. Omega Lee, you say that no one can match up to your greatness and yeah I believe it, you are one of the all time greats in this company but greatness only gets you so far, hard work... however, Hard work can get you anywhere. So I accept your challenge, but I'm not looking to use you as a stepping stone, nah... I'm looking to use you as an example, an example to everyone, that as long as this light stays on, success will follow.

Law walks back to the heavy bag before picking it up and slamming it back down to the ground.

_________________
Main Event Star!





Posts

: 1218


Join date

: 2016-07-22


Age

: 22


Location

: Cardiff, Wales


Humor

: Wet



Gent, you're killing it this season. Gumble, you're the frosting on the salad.
Main Event Star!





Posts

: 3271


Join date

: 2015-03-09





Similar topics
---
Permissions in this forum:
You
cannot
reply to topics in this forum