Fusion & Genesis PPV List!
-Battlescars
-Anarchy Rulz
-Retaliation
-Deathwish
-Requiem
-Exodus
-Validation
-Sacrifice
-CyberSlam
-Dark Carnival
-Point Break
-Regicide
-Wild Card
-Absolution
-Emergence
-Home Coming
-Cause & Effect
-Final Stand
-Purgatory
-Ascendance
Quick Links!
Dashing's Stuff!
Cop's Stuff!
CMV Network!
Social Media!
Site Threads!

We are backstage at Friday Night Fusion, the camera pans across to reveal a door, on the door is a sign that says Vintage…. We go inside the locker room where the cam pans slowly….1st we see El Jefe with his hands over his ears…..then it pans to Big Ham Joey Bacon who has his hand over his mouth and finally it pans to The Bloody Brit who has his hands over his eyes, as all three members of Vintage are sitting down at a round table.

El Jefe : What happened essa, we totally let ourselves and our fans down, we lost to some freak and a f.atass, how is that possible.

Joey : A freak and a f.atass, unbelievable , was probably a fast count or something…. I mean had to be right.

El Jefe : I guess so, maybe they bribed the referee, but we got to snap out of it amigo, we don't want to go loco, you see, not all is lost, I just heard we're all apart of the tag team tournament coming up real soon…. Including you Brit.

Brit takes a swig of his beer, thinking to himself I'm looking at a freak and a f.atass. And gives a cheeky grin.

Bacon : I heard Vintage will take on those pussies called Kliq, or whatever the hell they call themselves…. Hey Andrew's you're gonna have a new partner hahaha, new season, same shit right…

El Jefe : Easy Big Man, he has a thing with tag team partners, you know from Parker stealing his Anarchy title at the time, then forced to team with him as Odd Couples,

Bacon : Hey don't forget Foreign Affairs, I wonder what ever happened to Miles, But who can ever forget commentary such as we don't know much about The Bloody Brit, but he looks like a high-flier, bwhahahaha.

El Jefe : How about Reven 8.E …. Reven 8.E  or however you say it, He didn't even know how to say his finisher.

Bacon : Man I wish I was around for that….


Joey takes a bite out of a pie and munches away as he laughs

El Jefe : He teamed with Paul Divine, won tag belts by himself, then Paul ditched him, making him co-owner of the tag titles…. Hasn't had much luck with tag partners.

Bacon : SSSSSHHHH he's right here, Not even the Alpha Campion Elijah Stewart could make a good tag tag team partner..

El Jefe : HAHAHAHA….. Sorry Brit, we`re just ribbing,  you know we have your back.

Bacon : Here have another beer, looks like you need it.

Brit reaches out and takes the beer from Bacon and nods.

Bacon : You ok man, you're awfully quiet.

Brit : Yea I'm good, look we may have had a rough 1st week, but there's a long journey ahead, we`re gonna get beat up, knocked down, by all comers, new and old, but we do what we do best, we get back up and we get  REVEN 8.E….. Dammit Jefe….. I meant REVENGE.

El Jefe/Bacon : AHAHAHAHAHAAAAA

Brit : Nothing has changed like you said…. Our goals are still the same, minor setbacks wont hinder us, just make us stronger….. Even if it means I have to team with yet another guy…..Wait who am I teaming with?

El Jefe :Reed….Jon Reed

Bacon : Hey you be known as Breed….. Get it. Hahahahahaha

Brit : No….. Jon Reed well Joey you might not be laughing if we have to face off against each other, that goes to you too Jefe.

El Jefe : What did I do?

Brit : Just saying, we might have to fight each other, but We are Vintage, but I have to go take a piss, I'll see ya later guys.


Much later…

Brit is watching Tim speaking to Elijah….When Tim finishes he turns around and nods at The Bloody Brit, Brit looks at Tim with caution and walks over to Elijah.

Brit : Be careful, smiles and getting touchy doesn't mean he's trustworthy, I've dealt with Tim before, Mr Against All Odds… Yea right, he was in XGEN, surrounded by top guys…. You wanna talk about Against All Odds, I lost my International title to Tim, against all odds in a first to 2 falls fatal 4way match at Ascendance a few years back, and guess what ....he pinned his then best buddy and XGEN partner twice to steal my belt, He's XGEN…. Look back at  last year, I won tag team gold with an XGEN guy, Yea Paul Freakin Divine…. What did he do…. He ditched the belt, leaving me Solo Tag Champs…. My point is watch your back,  saying and doing are two different things… Sure we may have lost last week against The Kliq, but that was just 1 match, the War is far from over, and Revenge will be dealt…. I'll talk to ya later…..
_________________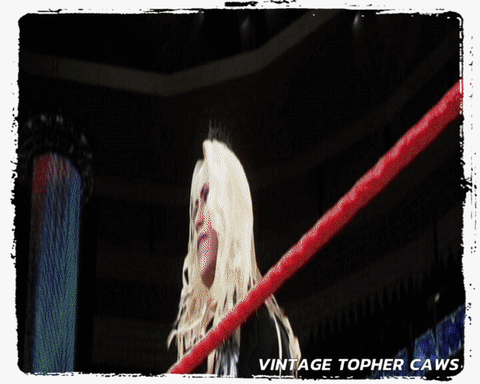 Main Event Star!





Posts

: 4971


Join date

: 2015-12-11


Age

: 99


Location

: (NEAR)... Leeds, England


Humor

: yes :D



I really liked that encounter at the end between Brit n Eli, like a grizzled vet giving a rook some wise advise (despite Eli being around longer than him lol) but the feeling that there's something brewing is very apparent, KLIQ are lovin this
_________________
1x CMV Anarchy champion
1x CMV Tag Team champion
Bludgeon
1x Mr. Money in The Bank, 2x World Heavyweight Champion, 1x United States champion, 2x CMV World Tag Team champion, Glammy award for Feud of the Year, Glammy award for Tag Team of the Year (W/Borton), 2x Glammy Award for Heel of the Year
Xander Slate
HOW WAS HE NOT A WORLD CHAMPION!?
Admin





Posts

: 5568


Join date

: 2015-03-08


Age

: 21


Location

: The Hood


Humor

: Knock knock!




_________________
Luther Thunder: 1x European Champion
Rashad Rockwell:1x Tag Team Champion with Kidd Campbell
Elijah Stewart: 1x Tag Champion with DJ Moore, 2x Alpha World Champion, 2018 Match of the Year, 2018 Attire of the Year, 2018 Face of the Year
Jimmaurie Williams:  2x CMV International Champion. Debut Episode 109.
Parker: 1x European Champion
Anthony Brown: 1x Television Champion
Miles Kelly: 1x Longest Reigning Rising Star Champion
Main Event Star!





Posts

: 3543


Join date

: 2015-08-18


Age

: 16


Location

: Near Earth


Humor

: South Park





Similar topics
---
Permissions in this forum:
You
cannot
reply to topics in this forum