Fusion & Genesis PPV List!
-Battlescars
-Anarchy Rulz
-Retaliation
-Deathwish
-Requiem
-Exodus
-Validation
-Sacrifice
-CyberSlam
-Dark Carnival
-Point Break
-Regicide
-Wild Card
-Absolution
-Emergence
-Home Coming
-Cause & Effect
-Final Stand
-Purgatory
Quick Links!
Dashing's Stuff!
Cop's Stuff!
CMV Network!
Social Media!
Site Threads!

Two flashes crash back as Quantum holds the Title, strong above his head after the main event.
He motions for the microphone but has to catch his breath first.
"Hold on... gimme a second..."
He breathes in deeply for two full, then releases to gain composure on the third as he reflects on the journey to get where he now stands.
To hold THE Championship...
"Yeah, keep booing.... you're probably all upset because you already know what I'm going to say, right? Cuz how many times have I had to come out here and say it? And the funny thing, as we continue to repeat ourselves we realize i never had to ever come out here and say a word to any of you. My actions, from Day Zero, have always given me the validation of knowing I never needed any of your acceptance and THIS CHAMPIONSHIP should be it for you.
.
How many times have we had this conversation? Me and you, you and I? All of you at home with each other? How many times... have I had to tell you who I was... what I have always been, and what I have become?
No really... how many times do the records and accolades have to be mentioned? Might as well be broken records as far as I'm concerned
I feel like every time I come out here to say some words that you've all heard before, time and time again, over and over, since eternity began. And I've grown tired of repeating myself
You know... someone once told me,
.'Time is a Circle
In eternity, where there is no time, nothing can grow. Nothing can become. Nothing changes. So Death created time, to grow the things that it would kill... and you are reborn but into the same life that you've always been born into. I mean, how many times have we had this conversation? Well, who knows? When you can't remember your lives... you can't change your lives, and that is the terrible and the secret fate of all life. You're trapped... like a nightmare you keep waking up into.
'
But in the nightmare you now have woken up to.... Quantum is King!  Now Hear me, The Age Of Quantum is Now, Here. And Here, Now.... as always... Kings Never Die.
JLV, book your rematch and you're going to understand what I mean by 'Time is a Circle'
Oh... and uh...  Tops Newsome? Heh...  You can try to surprise me any time you want, but know this: I always know when you're..."
1- open to Tops- Quantum is sincerely caught off guard
2- Close segment with a 3 second pause, then Quantum finishing the sentence and shrugging "Not Coming"
Last edited by RiftedEnergy on Fri Nov 03, 2017 4:15 pm; edited 1 time in total (Reason for editing : link)
Main Event Star!





Posts

: 775


Join date

: 2015-03-27



This was a moment long in the making for Quantum to finally win the big one and you did a fantastic job here with his victory speech, I've always enjoyed the way you've incorporated time into your wording and this was another great promo Rifted!
_________________
Matthew wrote: Hayden is so much better than Schmidty in every way.
Admin





Posts

: 7084


Join date

: 2015-03-09


Age

: 21


Location

: MizTV


Humor

: Making Sons uncomfortable



Quantum : Oh…and uh..Tops Newsome? Heh…You can try to surprise me any time you want, but know this, I always know when you're ….

Top's Music Hits which catches Quantum of guard as he looks up the ramp staring at Mr Money in the Bank…

Tops : You know nothing and you call yourself the Future Man, pathetic… Kings never die you say…. Well The Puppet Master will prove that Kings can fall faster than I can click my fingers…. You are just a mere puppet, handed title after title because of whom you are, you were X-GEN. You came to this part of CMV given #30 spot in the Royal Rumble for that shock factor, you stole my Implosion main event position, and now given the World title, tell me how long have you been here on this side since you left Fusion/Genesis about 6 months, Someone is definitely pulling the strings in your favour, Well enjoy your reign as champ, because I have a contract and 1 day I will cash-in… Not even you will see it coming, But who's to say you`ll even be Champ for long, The Age of Quantum will be short lived, either by the hands of someone else or by me … Mr Money in the Bank…. Now I could cash-in right here, right now and become Champ if I wanted to……

The crowd pop….

Tops : …….. But where's the fun in that…

The crowd boo in disappointment..

Tops:  I want you to sweat it out, I want you to look over your shoulder every time you step foot inside that squared circle…. I am The Puppet Master and I truly pull the strings….. Future Man your time is ticking, No Stings Attached.
_________________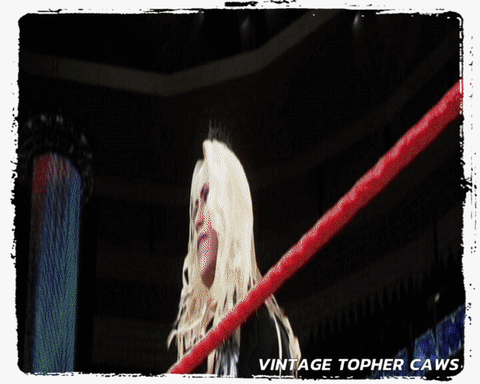 Main Event Star!





Posts

: 4813


Join date

: 2015-12-11


Age

: 99


Location

: (NEAR)... Leeds, England


Humor

: yes :D




---
Permissions in this forum:
You
cannot
reply to topics in this forum