Fusion & Genesis PPV List!
-Battlescars
-Anarchy Rulz
-Retaliation
-Deathwish
-Requiem
-Exodus
-Validation
-Sacrifice
-CyberSlam
-Dark Carnival
-Point Break
-Regicide
-Wild Card
-Absolution
-Emergence
-Home Coming
-Cause & Effect
-Final Stand
-Purgatory
Quick Links!
Dashing's Stuff!
Cop's Stuff!
CMV Network!
Social Media!
Site Threads!

As the season premiere of Genesis continues, the Titantron goes black as slowly, letters begin to pop up, one by one. D... A... S... H... until the screen read Dashing Tips! The screen started to gain color, and we could see Tyson Cage staring at himself in the mirror. Not seeing the camera filming him, he flexes with the look of astonishment on his face. Then he realized the camera, and let's a devious smirk out.
Tyson: Oh, welcome!
Tyson gets distracted by his reflection again before snapping out of it to continue speaking.
Tyson: Right, sorry ugos, got a little distracted by something Dashing. But today, I will give you some tips on what type of clothes you should wear. Since I can't cover every article of clothing in one segment to help your hot mess that you got rocking on, I am gonna to show you it part by part. This week, we are gonna be talking about your top choices.
Tyson starts to walk over to the closet. And he begins to open it, but before opening it up all the way, he closes it quickly, and starts to gag.
Tyson: Oh good, couldn't CMV afford any better looking shirt. Dammit, ok ugos, this one is for you I guess. This is shirt number 1.
Tyson pulls out the first shirt, it was a "I Will Sting You" Crowe t shirts. Tyson was struggling to not through up.
Tyson: Oh God, what was this man thinking. This is unacceptable, the colors are so 2017, it just look bad. And that font, it is so last season. Ok, so if you own this shirt, you either gonna want to wear it inside out, or you gonna want to do this.
Tyson drops the shirt in a trash can. He reaches into the closet and pulls out a "Fallen Angel" Jon Reed shirt.

Tyson struggles not to vomit at the sight of the shirt's design.

Tyson: Now this shirt is perfect. Perfect if your going to a satanic cult meeting. It has a demon and everything, only thing it missing is some god awful tattoos. But, for someone that is gonna try to look like a decent member of society, just don't wear this shirt.
Tyson tosses the shirt into the trash. And begins to pull a shirt out of the closet. He pulls a "Bickering Duo" Tyson Cage and Suraci Shirt, and he pauses as he stares off into it, completely silent.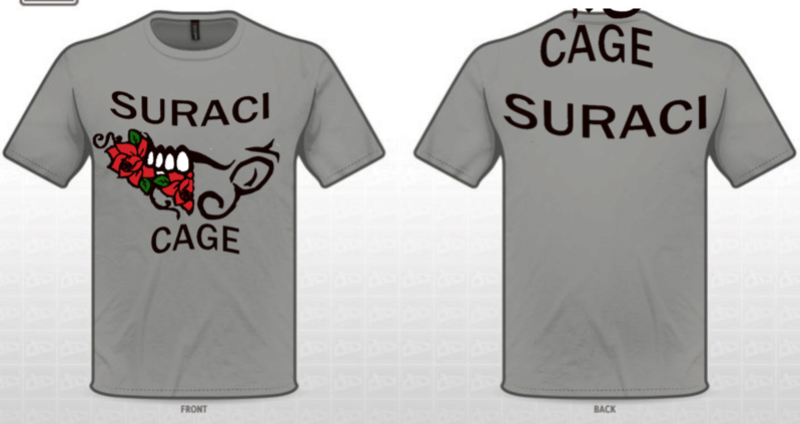 It seemed for a second, that the The Bickering Duo Tyson was breaking through, and Tyson was on the verge of a breakdown.
Tyson carefully places it into the trash can.
Tyson: That shirt is a nice one, appropriate for public, yes. Should it be thrown out no. I mean yes, it brings back memories of what could of been, and that a lesson for another time. Let's move on.
Tyson reached into the closet and grabbed the new "Dashing Tyson Cage" Tyson Cage T Shirt.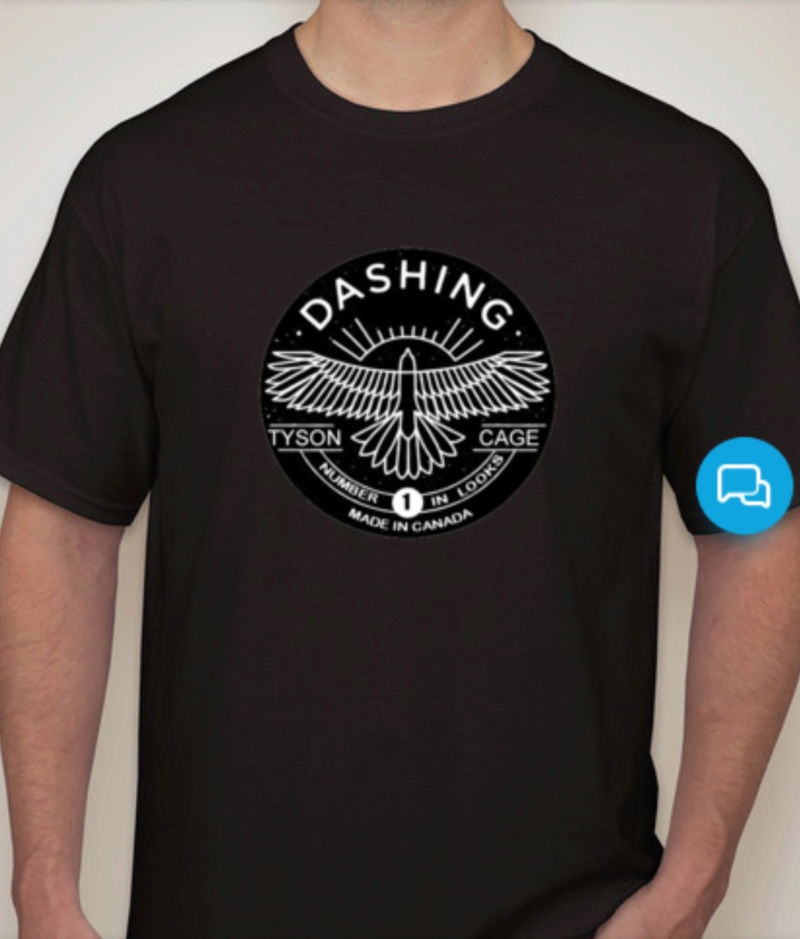 And his cockiness returns in full.
Tyson:And this here is a perfect, wait no, it's Dashing. This is the New Tyson Cage Shirt. It goes great with everything. Comes in all colors, and is made with the finest Egyptian Cotton. Go on, Buy it.
Tyson sets the shirt back into closet and pulls out a box of matches from his back pocket.
Tyson: And remember, No matter what you do. You will always be an Ugo.
Tyson lights the match and drops it into the trash can, setting it a blaze. As the camera to black and regains color, we are at the announcers table where Mr. Dashing is looking at two different shirts when he realizes that the camera I'd on him, and he quickly hides them.
_________________
Accomplishment:


Crowe - Anarchy Championship Fusion Tag Team Championship (The Anarchists)
Tyler Endicot - Rising Star Championship
Joe Dirte - NGW Tag Team Championship (The Kingdom) CMV Tag Team Championship (The Kingdom)
Maximum Rider - NGW Tag Team Championship (The Kingdom) CMV Tag Team Championship (The Kingdom)
George King - NGW Championship - Final NGW Tag Team Championship (The Kingdom) European Championship Final Television Championship / First Internet Championship CMV Tag Team Championship (The Kingdom)
Tyson Cage - Fusion Tag Team Championship (The Bickering Duo) / Anarchy Championship
Angelina Hawkins - Women's Intercontinental Championship 2x
Caleb Reed: Fusion Tag Team Championship (The Anarchists)
Jon Reed: Anarchy Championship

Main Event Star!





Posts

: 1672


Join date

: 2016-01-22


Age

: 20


Location

: Ohio



Lol, nice man, I like these, keep it up!
_________________
1x CMV Anarchy champion
1x CMV Tag Team champion
Bludgeon
1x Mr. Money in The Bank, 2x World Heavyweight Champion, 1x United States champion, 2x CMV World Tag Team champion, Glammy award for Feud of the Year, Glammy award for Tag Team of the Year (W/Borton), 2x Glammy Award for Heel of the Year
Xander Slate
HOW WAS HE NOT A WORLD CHAMPION!?
Admin





Posts

: 5511


Join date

: 2015-03-08


Age

: 21


Location

: The Hood


Humor

: Knock knock!





Similar topics
---
Permissions in this forum:
You
cannot
reply to topics in this forum