Fusion & Genesis PPV List!
-Battlescars
-Anarchy Rulz
-Retaliation
-Deathwish
-Requiem
-Exodus
-Validation
-Sacrifice
-CyberSlam
-Dark Carnival
-Point Break
-Regicide
-Wild Card
-Absolution
-Emergence
-Home Coming
-Cause & Effect
-Final Stand
-Purgatory
-Ascendance
Quick Links!
Dashing's Stuff!
Cop's Stuff!
CMV Network!
Social Media!
Site Threads!

<<Man's deep voice before show starts..>>

Last week on Ferocity….

Two of the top Vixen's collided in an all out war that shook the foundations of the Vixen`s Division as Fury once again proved why she's a force to be reckoned with. How will the Current Undisputed Champion react to loosing her  1st season match-up in 3 consecutive years in CMV. But threats are coming left, right and centre as she has been put on notice by none other than Miss Money in the Bank Kristen Page.


Quinn is pacing back and forth, irate is the word I'd use to describe her state of mind, Lisa comes running over, yelling Quinn, Quinn…

Quinn turns around and delivers a huge Slap across the face of Lisa Evans…

Lisa Evans drops her mic and grabs her face in pain, tears start to well up as Lisa begins to cry…

Quinn : STAY AWAY FROM ZEIGS, I SAW YOU IN HIS LOCKER ROOM BITCH…. WHO THE HELL DO YOU THINK YOU ARE WALKING IN ON MY MAN, WITH YOUR TITS ALMOST POPPING OUT OF YOUR LOW CUT TOP, TRYING TO GET SOME D  I BET…. LOOK WHORE YOU AIN'T EVEN PRETTY, HELL MAC THOMPSON TURNED YOU DOWN…. NOW GET LOST, BEFORE I KILL  YOU.

Lisa walks off crying as Willow approaches…

Willow : YEAH GET LOST, Sorry i`m late Quinn, but are you ok?

Quinn : I'm like so pissed off Willow, every bitch is coming after me, I have Lisa being a whore with my man, which distracted me from my match last week…But whatever, Fury can have her 5 minutes of fame, means nothing to me, I still have this….Not her.

Willow : Hell yea Champ.

Quinn : I have all the bitches on Ferocity blowing up my twitter, from Cassie, to that fake ass bitch Killer Queen….. But I ain't got time for them…. I do what I do best and make them look like idiots, which isn't hard.

Willow : True, but did you hear Kristen's comments last week?

Quinn : Don't get me started on her….. Too late…. So Kristen wants to get a mic and run her little mouth like she's some hot shot around here…. Well Kristen I hate to burst your little bubble, but to use a phrase from someone my man whooped at Ascendance a few years ago…… You`ll do fucken nuttin…. You hear me, but you said you'll take a heel to the throat….. Just so happens I have the best pair of heels for the job, so if you even think about cashing in, I'll give you that heel to the throat…But believe me you aint taking back MY Undisputed Title, that's for sure.
But you listen to me Kristen YOU take notice of me…. cuz I ain't telling no one anything, you don't tell me what to do hun, I wont send Willow after you, I don't need to….. I mean don't you remember the last time we faced off, I'll refresh your memory, it went something like this...

Quinn violently taps the top of a table over and over…

Quinn : You get it?…. That  was you tapping like the quitter  that you are…. It's just bad timing I guess…. You win one of the biggest matches of your pathetic  little life at Climb2Fame, only to realize that I'm the Champ, and I plan on staying The Champ for a long time…. Best thing for you now is I dunno, probably cash in that  contract on The IC Champ or The Hardcore Champ, you'll have better odds of winning  than if you cash in on me,  Cuz if you do cash in on me, I won't just make you tap, I'll break your bloody arm.

The scene ends with Willow smiling and nodding…

Last edited by 316topher on Thu Nov 02, 2017 6:57 pm; edited 2 times in total
_________________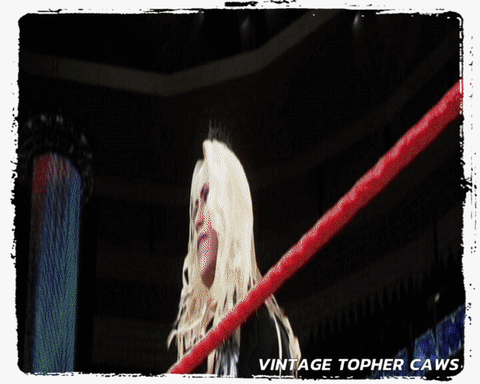 Main Event Star!





Posts

: 4971


Join date

: 2015-12-11


Age

: 99


Location

: (NEAR)... Leeds, England


Humor

: yes :D



Quillow Vs Lisa Evans in a handicap booked next week.

Great promo Topher!
_________________
Matthew wrote: Hayden is so much better than Schmidty in every way.
Admin





Posts

: 7118


Join date

: 2015-03-09


Age

: 21


Location

: MizTV


Humor

: Making Sons uncomfortable



_________________
GT: Alveuss
PSN: Alveuss Z7
(I absolutely will not add you back)
Jacob Ziegler
- 1x Undisputed Champion, 2x Anarchy Champion, 1x Tag Team Champions (w/ Hayden), 1x Mr Money in the Bank
Riley Dixon
- 1x Women's Intercontinental Champion, 1x Miss Money in the Bank
Misc.
- 1x Light Heavyweight Champion (Rubik), 1x Newcomer of the Year (Jacob Ziegler), 0x Nominated Promoer of the Year
Main Event Star!





Posts

: 1474


Join date

: 2015-11-29


Age

: 22


Location

: Glasgow, Scotland




---
Permissions in this forum:
You
cannot
reply to topics in this forum