Fusion & Genesis PPV List!
-Battlescars
-Anarchy Rulz
-Retaliation
-Deathwish
-Requiem
-Exodus
-Validation
-Sacrifice
-CyberSlam
-Dark Carnival
-Point Break
-Regicide
-Wild Card
-Absolution
-Emergence
-Home Coming
-Cause & Effect
-Final Stand
-Purgatory
-Ascendance
Quick Links!
Dashing's Stuff!
Cop's Stuff!
CMV Network!
Social Media!
Site Threads!
Page 1 of 3 • 1, 2, 3


The first episode of NGW's return show is well underway when the cameras backstage cut to "1 Shot" Leona watching the program play out on a monitor. An interviewer rushes up to her, and Leona greets her with a smile.
L

EONA:

You're wondering what I'm doing here. It's simple. I knew there would be consequences for putting my hands on Laura Sampson. I knew I was risking my career. Even knowing all of that, I did what I felt was right and I don't regret any of it.
Leona looks at the interviewer and smiles again.
L

EONA:

I don't see myself as a martyr or a victim. I don't see see myself as a big fish in a small pond. I don't see being in NGW as a punishment. Being here isn't some "new beginning." I'm the same woman I was when I first showed up to CMV and took out Titus O'Neil.

When I look in the mirror, all I see is a "1 Shot" Leona with all the same flaws ready to make the most in another phase of a career that's had its ups and downs. I've been through the ringer, and a lot of my greatest struggles were repercussions of my own actions...like showing Laura that I hadn't forgotten the pain she caused a good man.

But being in NGW isn't about Brett or Laura, it's about me showing what I'm capable of no matter the size of the stage.

I've got my gun ready...

...don't be the name I write on the bullet.
Leona winks at the camera and walks off just before the show fades into a commercial break.
Last edited by Zeb on Wed Nov 29, 2017 3:19 pm; edited 1 time in total
The fact that you do killer promos even when they're short, makes me feel threatened

Nice work
_________________
Kendall Wolfe - CMV Hall Of Famer, 1x CMV Undisputed Champion, 2x United States Champion
Levi Marta - 1x United States Champion, 1x CMV Tag Team Champion w/ Troy Voodoo, 1x CMV Light Heavyweight Champion, 1x CMV Hardcore Champion
Other CAWS: Bill Cipher, Luke Brinton, Kryminal, TJ Kendra
Midcard Playboy





Posts

: 473


Join date

: 2017-04-17


Age

: 19


Location

: Well Seymour I made It, Despite your directions.


Humor

: Ahh, Superintendent Chalmers! I hope you're ready for an unforgettable luncheon!



As the match between De La Cruz and Stroud comes to an end, the camera cuts backstage where "1 Shot" Leona sits watching it all unfold with sharp eyes that never seem to blink. Her arms are crossed, jaw clenched, legs bouncing uncontrollably. She sighs, letting out a deep breath she probably didn't know she was holding, before standing up and walking off.  
Seconds away from her NGW debut, "1 Shot" Leona can be seen talking to herself in the gorilla position in this online exclusive posted after the match.
L

EONA:

Come on, Lee, show 'em you can still go.
She takes in a deep breath and holds it to placate the butterflies. She releases it and forces a smile as her theme can be heard faintly playing in the arena.
L

EONA:

Show 'em that they haven't seen the last of you.
She steps through the curtain, and the crowds' thunderous cheers can be heard even back here.
The camera catches up with "1 Shot" Leona, making her way into the parking lot dragging her suitcase behind her. Jaw clenched, ring gear still on, the news of NGW's demise sent shockwaves throughout the CMV universe, sending Leona's world in particular into a tailspin.

She pauses in her tracks, her expression softening for a second as she lets her guard down, but in the blink of an eye that wall goes back up, reinforced this time. With the camera facing her at the front it's impossible to know what caused that momentary lapse in anger, disappointment and frustration. There's a dramatic pan around to change the view to over her shoulder revealing Brett Angel standing by the open back door of a cab, a smile on his face.
L

EONA:

I asked you not to come.
A

NGEL:

That's true.
L

EONA:

I said I had things handled.
A

NGEL:

Also true.
L

EONA:

I can take care of this on my own.
A

NGEL:

You're very honest today.
A smirk flashes on and off her face so quickly that you almost have to ask if it was ever really there.
A

NGEL:

What's the next step, Lee?
She sighs and looks away. The silence lingers for several seconds.
A

NGEL:

I think you should...
L

EONA:

No.
A

NGEL:

You didn't even let me finish.
L

EONA:

Because I know what you're gonna say.
A

NGEL:

And you know why I'm gonna say it.
L

EONA:

We're not having this fight again. Not here. Not now.
A

NGEL:

Now more than ever before you need to consider it.
She turns to side, hurt and trying to hide it, but Angel sees through the attempt. His voice softens.
A

NGEL:

Where else is there, Lee? You've proved your point; it's time to go back to Fero--
L

EONA:

NO!
A

NGEL:

You're throwing your career away. That could be you fighting in the main event. You could be a god knows how many times champion, but instead you're here.
L

EONA:

With you.
A

NGEL:

It's different; I have options. I have--
L

EONA:

You have a plan.
A

NGEL:

--a plan, right.
L

EONA:

And how's that plan of yours coming along?
A

NGEL:

This isn't about me. You're at a crossroads, and I just want to help you down the right path.
She snaps around to stare him down.
L

EONA:

I'll be damned if I go back to that place on my hands and knees begging for my job back. I'm gonna show them that I can make it without them, that they need me. But I wouldn't expect you to understand how it eats away at me to feel undervalued and unappreciated. To watch people get the title matches and main events you feel you deserve.
A

NGEL:

Angel clenches his jaw, but doesn't immediately respond, not taking the bait.
L

EONA:

I think I'm gonna take that job offer.
A

NGEL:

That's where you're gonna wrestle? You're sure.
L

EONA:

I don't have options.
A

NGEL:

When's the first match?
L

EONA:

Next week.
A

NGEL:

I'll be there. Maybe not in the front row, though; it's been a while since I've worked.
He takes her bag and helps her into the cab, the screen fading to black as the vehicle drives off.
For her most avid fans, a bit of a treat has been uploaded to "1 Shot" Leona's instagram page. She's holding her phone over her head to capture the view of her walking down a hallway, pulling a small suitcase behind her.
L

EONA:

Well, here I am everyone. Not exactly where I wanted to be. This isn't where I saw myself a year ago, but that's the thing about life, ya know? It takes you to unexpected places.

I'll admit, I'm a little scared this time around. At least NGW was under the CMV umbrella, so it always felt like I was a stone's throw from Ferocity if I was ever ready to swallow my pride. I don't have that to fall back on now. I had a choice when NGW folded, and I made it. I walked away because I need to prove that I'm the star they never wanted to see me as.

I never thought I'd be back on the independent scene all these years later, but I've learned a few new tricks since I've last been here, and once my match is done every single woman out there is going to see that my aim is sharper than it's ever been, and then they'll stop saying how I'm washed up and start praying that I don't have a bullet with their name written on it.

Ever since I was a little girl with that action figure sitting five feet from the tv screen in awe, wrestling is what I wanted to do. I don't care if it's in front of thousands, or a handful, and I don't give a damn who I have to step through to get to the top. I will hustle, and I'll grind, and I'll find, and I'll bleed, and hell, I might cry, but I'll survive.
She winks at the camera, before turning it away from her and giving a view of the currently empty venue she'll be competing in in a few hours' time. There's crew assembling a ring, and others work to put some chairs down so ticketholders have a place to sit. She turns the camera back to herself, and there's something about being in her comfort that has her at peace, at least for the moment.
L

EONA:

Stay tuned, 'cause you haven't seen the last of me. This match is just the beginning.
The latest instagram video shows "1 Shot" Leona slumped in the hallway after a crushing defeat to Clean Christine earlier in the night. She dabs some sweat off of her face with a cloth then flings it down next to her with a flick of the wrist.
L

EONA:

I thought tonight would be it, you know? I thought all the pieces of the puzzle would fall into place and everything I've done would be justified. But I didn't get any of that. I lost.
She pauses though admitting that took whatever bit of strength she didn't exert during the match.
L

EONA:

I lost.
The repetition fails to sweeten the bitter words.
L

EONA:

I lost on what was supposed to be my grand return to the independent circuit. And it hurts because I know that I'm better than this. And I'm not talking about wrestling in front of a small crowd; it's humbling. It reminds me of my roots and how I had to grind to make a name for myself long before I ever wrestled a match in NXT. What hurts is knowing that there shouldn't be a woman or man who can keep up with me in the ring, but I let that victory slip through my fingers.
She leans the back of her head against the wall.
L

EONA:

It really put a damper on what was an amazing day. The way the crowd welcomed me with open arms touched me in a way words can't do justice. When I got inside the ring, everything just felt right; it felt like I was right where I was supposed to be. Then I made a mistake and everything went to hell.
As she speaks, a bead of sweat that she missed earlier, trails down her forehead, around her lips, down her neck and between her br--
L

EONA:

--ETT! Eyes up here, perv. Knew I should have gotten someone else to record.
She snatches the rag off the ground and tosses at him, just the slightest of smiles playing on her lips.
(Krzy asked me to post this on his behalf)
_________________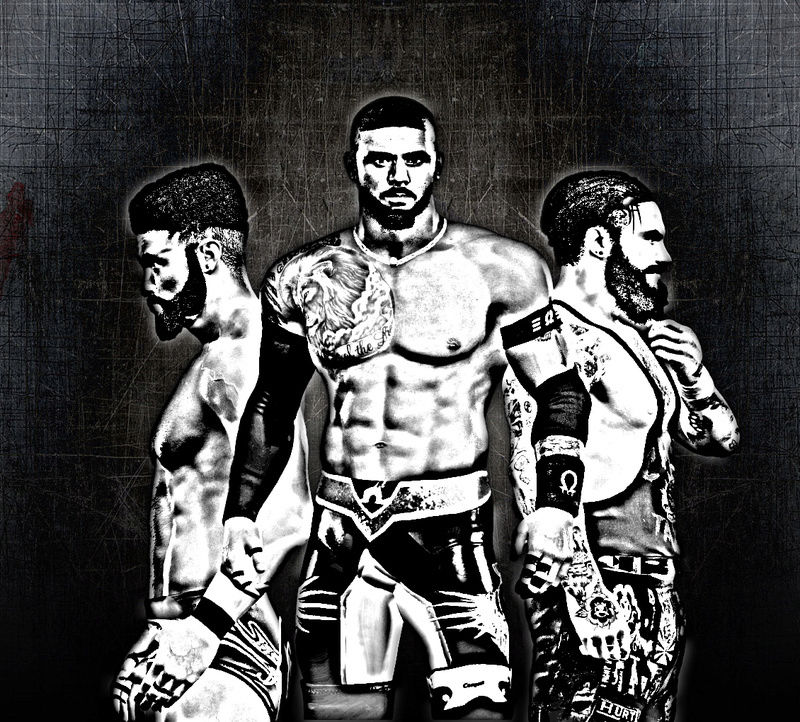 Main Event Star!





Posts

: 1040


Join date

: 2015-07-19


Age

: 21


Location

: Hopewell, Virginia



L

EONA:

There isn't a day that goes by that I don't wonder if I made the right choice.

It eats away at me.

Night after night these alternate scenarios of what could have been and what could still be play out until the sun starts to rise once again.

I hate it.

And sometimes I hate myself for it.
Each sentence is punctuated by deep, even, measured breaths as a scene comes into focus.

"1 Shot" Leona is sitting on a bench putting on her boots looking like she's moments away from wrestling a match.
L

EONA:

I look at where I'm wrestling now--in buildings a quarter of the size I'm used to in front of crowds who almost forgot my name. I look at it all, and I question if I made the right move to walk away and journey down the path that's led me here.

I haven't found myself yet. And, trust me, I've looked in every nook and cranny.

I haven't hit my stride yet when I've had trouble my entire career to shifting into that gear that's always eluded me.

It's humbling, and it's frustrating.

It's tiring, and it's somehow also refreshing.

It's humbling.

For every dark thought that I harbor, rays of light try to poke their way through. I was unhappy for a long time, and felt like I was shackled and held down by a weight and a pressure that made every step exhausting. I walked into that company to salvage Cyborg's broken promise to be there for me and couldn't make much out of myself. I got greedy and I got desperate to the point where I put my career on the line for a championship that's been nothing but toxic to me but a panacea, a launching point to greatness, to everyone else.
Her eyes glaze over as the real, the strong Leona retreats somewhere inside leaving this one to rest her chin on tented fingers.
L

EONA:

But one thing I told myself I'd never do is fall victim to regret. My mama raised that wide-eyed little girl to always stand by my actions and stare down the consequences with the same determination I made my decisions with. I'll doubt until the end of time, but I'll never regret. Never. If there's one thing in my life I'm sure of, it's that. Cyborg once told me that my stubbornness was a detriment, but staying true to myself is the only thingy that's been keeping me whole.

I won't regret in the way so many others want me to. Wrestlers far and wide tell me that I had it all and threw it all away, let my career rot to stand by some man. They won't me to grovel and beg and tell Laura Sampson that I'll look past what she did. But they don't get it I didn't do what I did for Brett. Seeing no remorse in Laura's eyes for being the catalyst that sparked his downfall was my catalyst.

I was prepared for the consequences -- for the possibility of never wrestling in Ferocity again.
Her eyes squeeze shut as her next sentence comes out in a whisper.
L

EONA:

I just wasn't prepared for being alone. Ceej and Osiris left the business, Brett has accomplished too much to remember what it feels like to be nothing. It's tough when you feel like you're on your way down clashing with everyone clawing their way to the top. For a minute I thought about stepping aside, then I remembered what I'm fighting for...who I'm fighting for--that little wide-eyed girl who believed with a pure heart that she could be anything that she wanted.
L

EONA:

Her eyes snap open, her gaze sharp, her words delivered with an impact that's felt long after they're spoken.
L

EONA:

She never wanted to be a failure.

She never wanted to feel weak or pathetic; she was tired of that feeling.

I won't let that dream die.
Page 1 of 3 • 1, 2, 3


---
Permissions in this forum:
You
cannot
reply to topics in this forum