Fusion & Genesis PPV List!
-Battlescars
-Anarchy Rulz
-Retaliation
-Deathwish
-Requiem
-Exodus
-Validation
-Sacrifice
-CyberSlam
-Dark Carnival
-Point Break
-Regicide
-Wild Card
-Absolution
-Emergence
-Home Coming
-Cause & Effect
-Final Stand
-Purgatory
-Ascendance
Quick Links!
Dashing's Stuff!
Cop's Stuff!
CMV Network!
Social Media!
Site Threads!
Page 2 of 2 •

1, 2

Maurice Fisher III starts to become livid backstage following his elimination. He stomps when he burst from the curtains of the gorilla position. Rockell and Kenneth are right there to greet him. He snaps his fingers and Rockell tosses him a hot towel. He doesn't stop walking. He goes at a fast walking pace that doesn't fall too close to jogging. Maurice finally finds an interviewer and he grabs him by the tie.

Maurice
YOU SEE THAT? You see that ape strip me of another opportunity? Who keeps letting that big bitch fight me anyways? I got a restraining order on him a long time ago. So it seems he was an illegal participant. THEREFORE, I was never fairly eliminated, seeing as he tried to murder me once again.

Tops Newsome's music goes off. The interviewer looks over Maurice's shoulder and sees Parker walk into Tops Newsome's locker room.

Interviewer
Umm, Mauri-

Rockell
Don't interrupt. That's rude.

Maurice
Do you have any idea how robbed I was?

Interviewer
But sir-

Kenneth
Shhh.

Parker starts to hammer away on Tops with a steel chair.

Interviewer
I need to calls security.

Maurice
So I'm a threat to you now? See what I get for being an angry black guy now. Turns out I need to be restrained.

Interviewer
No there's a fight.

Maurice
I am just a humble Christian man, please chill. I'm giving you the scoop on your next CMV World Champion. You've been a nuisance. I'll be in my way to Sampson to discuss my scandal.

Maurice and his crew walks off while the interviewer peeks into the locker room to witness Parker choking out Tops with a baseball bat. Parker locks eyes with the interviewer and he bolts off and slams face flirts into a wall while turning around.


_________________
Luther Thunder: 1x European Champion
Rashad Rockwell:1x Tag Team Champion with Kidd Campbell
Elijah Stewart: 1x Tag Champion with DJ Moore, 2x Alpha World Champion
Jimmaurie Williams:  2x CMV International Champion. Debut Episode 109.
Parker: 1x European Champion
Anthony Brown: 1x Television Champion
Miles Kelly: 1x Longest Reigning Rising Star Champion


Main Event Star!





Posts

: 3443


Join date

: 2015-08-18


Age

: 15


Location

: Near Earth


Humor

: South Park



Making his first appearance since CMV Showdown, Maurice Fisher III makes an entrance to open episode 76 of UnMatched. Maurice is rocking a red velvet vest with pants to match. Underneath the vets is a white dress shirt with both sleeves rolled up. Maurice checks his watch while walking down the ramp, passed the fans. Ignoring the "boo's" and the chants. Reaching over the 2nd rope, he's handed a microphone to assist him in delivering his message to the CMV Universe.

Maurice Fisher III
None of you are worthy. None of you have gone through what I have within the last month. My first ever title shot at UnChained. My first ever singles title shot at Showdown. None of you can relate to this feeling. You're not gonna like this one bit, but I didn't lose because D'Angelo was "better than me."
The "boo's" grow as reaction to Maurice's excuses. Maurice stops talking to appreciate the reaction.

Maurice Fisher III
Go ahead. And I hear you all right now,
Maurice does his best impression of a whining CMV fan.

Maurice Fisher III
"Maurice, DSD was in the chamber too. Maurice you had the hometown advantage. Maurice, DSD didn't even have his coffee that morning." Like shut up and learn to listen. That's the problem now. You never know how to stay in a fan's place. You all feel so in control. This isn't your show. If this show was owned by any of you watching, it'd be half as a good as the live events. So let me stop, because this isn't about you. This is about me.
Maurice checks his watch again to make see how long he's been out here. After checking the time he looks to the ramp where the Titantron displays the result of Showdown.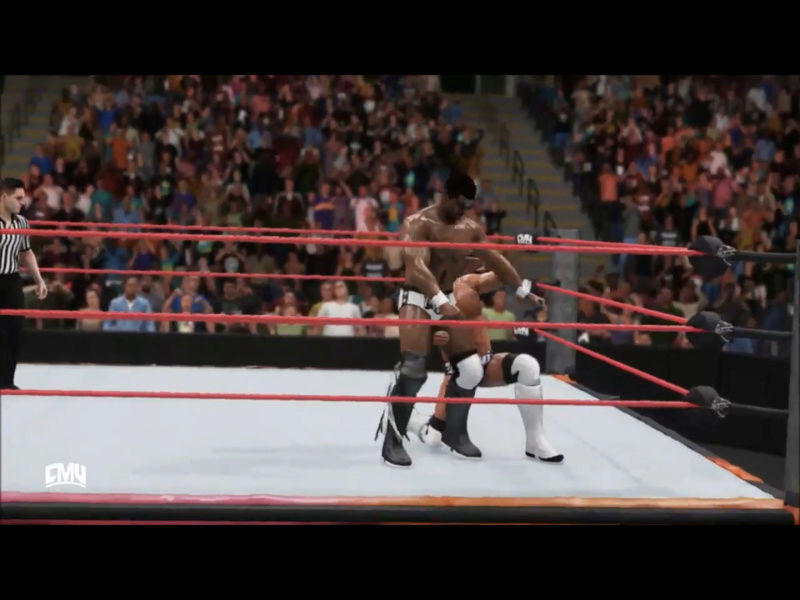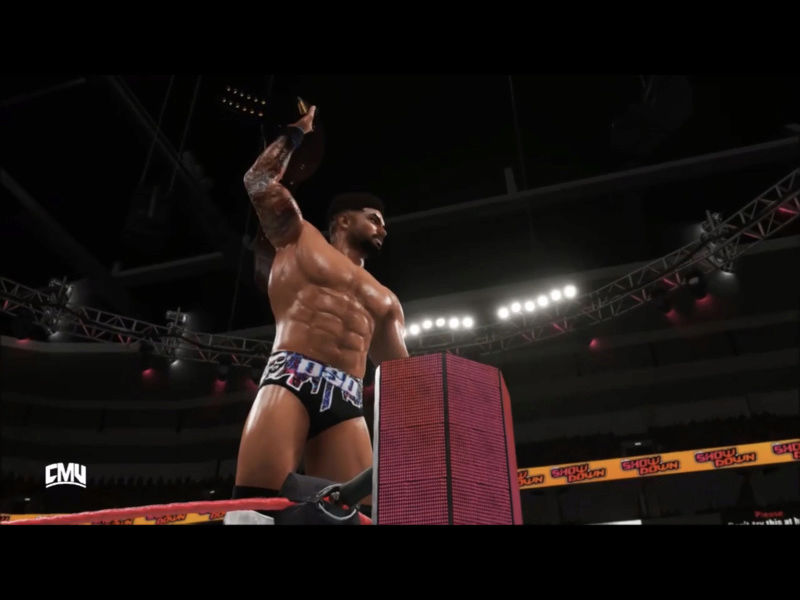 Maurice Fisher III
And it's funny because you'll all continue to cheer for him. You will continue to say I blew my shot. But I'm not even trippin' over the low blow. The low blow isn't what got me. It was the distraction. The distraction that creep through the back of my head and stayed there through the whole match. That distraction, was Omega Lee.
Maurice reaches into his pocket and he pulls out a water bottle. Maurice turns it and lifts it in the air to give the crowd a good view of it.

Maurice Fisher III
Normal, half-empty bottle of water right? Not for me it isn't. This "bottle of water" is what cost me everything at Showdown. You don't see what happens behind the scenes. Omega Lee thinks that he's still got it, knowing his time simply has passed him by. It was an everyday argument in the back, until Lee gave me the impression that he's not done with what happened back there. Lee decided to throw this at the back of my head, and that's where it all clicked. The chamber injuries, my hometown, the low-blow, Rockell, Kenneth, Lee, DSD, the championship…!
Maurice takes a second to cool down and rethink his next words.

Maurice Fisher III
I credit Lee for being the straw that broke the camel's back. All eyes were on me at Showdown. Nobody was thinking of Omega Lee that night, nobody had to put much faith into DSD. They expect him to win. Since I doubt I'm getting another title shot anytime soon, it looks like Lee is going to be first. When I see him, I'll return this water bottle to him. Only when I throw it, it's going to be in your face.
(Open to Gent)

_________________
Luther Thunder: 1x European Champion
Rashad Rockwell:1x Tag Team Champion with Kidd Campbell
Elijah Stewart: 1x Tag Champion with DJ Moore, 2x Alpha World Champion
Jimmaurie Williams:  2x CMV International Champion. Debut Episode 109.
Parker: 1x European Champion
Anthony Brown: 1x Television Champion
Miles Kelly: 1x Longest Reigning Rising Star Champion


Main Event Star!





Posts

: 3443


Join date

: 2015-08-18


Age

: 15


Location

: Near Earth


Humor

: South Park



To a mix reactions Omega Lee theme plays as Lee makes his entrance down the ramp to confront Maurice, Lee in his warm ups always ready for a match might be ready for this confrontation to go sideways

Omega Lee
Okay, let's…Bring it down a notch, Maurice. You're supposed to be this next breakout from out of nowhere, but you go to into Showdown unfocused, get pinned, and now you're out here pointing fingers. That's what happens when you miss your shot to become a champion.  I want you to remember that as the two shots at gold you couldn't get it done.

It's fitting, I feel like that is a fitting distinction with you and I as well. You're the guy with nothing really special here except some flashy lights and all of the garbage you buy is made of plastic that breaks in six minutes after you get out of the door with it and you Men's Warehouse 50% off suits....

Me? I'm the guy who may not have all of the awards and all of the bells and whistles that the big chain has, but I'm the guy who has the locals backed out of the door and posting on the internet about. You're nothing special but an Omega Lee hopeful. Where do you see yourself fitting in, Maurice, where do you go? Are you going to be lost in the shuffle with no friends to bring you up? When is the next time you're ever going to get a shot at the top again?

There's always going to be a place for Omega Lee, and that is not being cocky, Fishy. It's the truth. If I walk out, I get DMs and messages asking me to come back. When you leave? Who is knocking on your door? You need this to be relevant, I don't. I need this to be successful. I need this to leave my mark. I want that cup, I want one more shot at the championship, I want to change the game, thats practically my heisman.

You always have to be the loudest, flashiest guy in the room. Now you think you have a backbone and can come take on the world? If you didn't grow up with balls, you don't have balls now. Fake hard shit, dumb. You can't show weakness. I can, and I can overcome my weaknesses. At the end of the day, I know that you win some, you lose some.…there's no vicious cycle.
You're not tough. Nothing scary ever comes out of west coast.

You could've been champion. Instead you're the champion of nothing but the next tally mark I'm going to put beside my wins. You got knocked the fuck down after talking a big game. If you think that's over, if you think I'm going to be your comeback from a pathetic loss, you better handle the ass whooping before stepping up.

Lee stares down Fisher waiting for him to make the first move



(Open to maurie)
_________________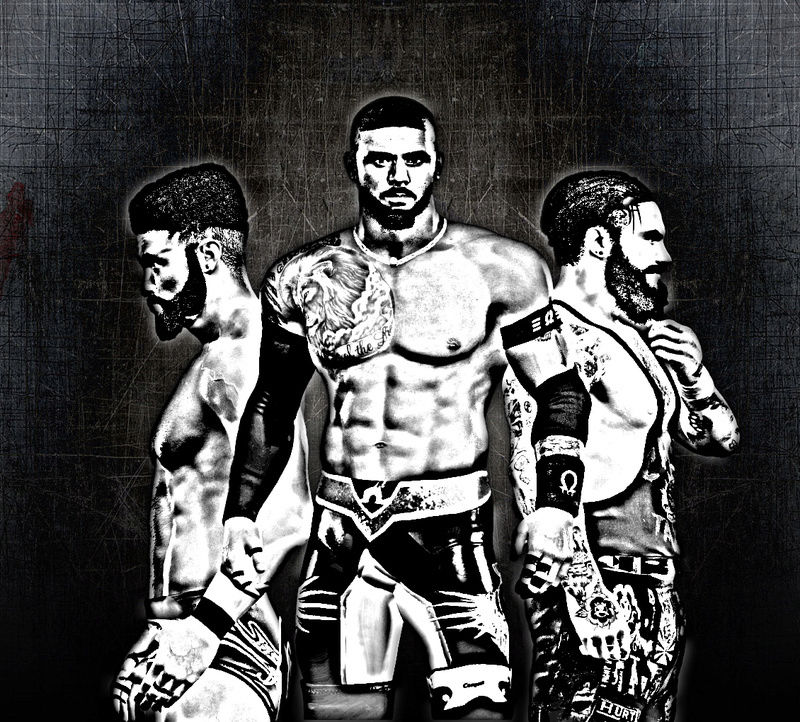 Main Event Star!





Posts

: 1036


Join date

: 2015-07-19


Age

: 21


Location

: Hopewell, Virginia



Maurice rubs his chin, obviously annoyed by Lee and still sour from his recent loss. Taking a moment to cool down, Maurice finds the perfect comeback.

Maurice
I'm going to become a tally mark? I've beaten you already, so if I'm not worthy…

Maurice leaves the question hanging.

Maurice
You wanna know what I see when I look at you? I see what I could've become. I could've been like you coming out here ready to fight. Or I could be prepared for a formal conversation. I don't need some funky ass belts to tell me I'm the best, but if that's the only way these people will notice me as so, I'll be the first to prove them wrong. You know as much as I do that this isn't the end for me. I could leave and be great, but why would I leave all the fun here to you? Can't you see when you clock out for that last time, I'll be going for another 10 years. We're not too far alike, but we will never be the same.

Lee turns his back to Maurice not eager to hear anything that he repeats at him. Maurice throws the bottle up lightly and catches it over and over again in his hand. Maurice tilts his head sideways, then looks to Lee as he continues to ignore and make his way out the ring. Before Lee can get his leg over the middle rope, Maurice returns the favor and tosses the bottle to the back of Lee's head. An irritated Omega Lee faces Maurice, now with his attention.


_________________
Luther Thunder: 1x European Champion
Rashad Rockwell:1x Tag Team Champion with Kidd Campbell
Elijah Stewart: 1x Tag Champion with DJ Moore, 2x Alpha World Champion
Jimmaurie Williams:  2x CMV International Champion. Debut Episode 109.
Parker: 1x European Champion
Anthony Brown: 1x Television Champion
Miles Kelly: 1x Longest Reigning Rising Star Champion


Main Event Star!





Posts

: 3443


Join date

: 2015-08-18


Age

: 15


Location

: Near Earth


Humor

: South Park



The show returns from commercial after the undercard finishes. Entering first, Rockell Lovve comes down to the stage followed by Kenneth the assistant.

Rockell paces back and forth in the middle of the stage area. Kenneth hands her a microphone then steps back with his arms crossed.

Rockell Lovve
Ladies and gentlemen, please welcome your career killing, bar setting, intensity reviving, Angel. I introduce, Maurice Fisher III!



Maurice is drowned in a loud bunch of mixed reactions. Maurice walks to the forefront with Rockell and Kenneth trailing behind close. Kenneth holds down the rope for Rockell and Maurice enter. Maurice circles the ring while excessively pointing to himself. Rockell passes the microphone.

Maurice
I am Maurice Fisher III. The man with so much potential that was never given a chance. feeling of redemption has been poured into the veins of me tonight. It feels GREAT indeed. I can feel my heart pump as the ref counted three as I ended the endless sound of Lee telling me how great he is. And now that I've shown my doubters, who the head honcho is around here. Especially Lee. Give it another year and I'll have the stats of a hall of famer. I've got this can't stop… Won't stop, in my veins. And I won't be surprised if Lee can't stop screaming the name. Ain't no way they can stop me now. Imma get what I can and more. Even if my blood, my sweat, and my tears mean nothing.

Now that I'm done recapping the story of No Remorse, I'm going to go on to defeat Sunshine in the MAIN EVENT! Get used to hearing my name and main event in the same sentence more often. After this, I'm making the royal rumble all mine. Im going to main event Implosion. It's not just a dream, or destiny. It's an addiction to be the Angel of UnMatched now! And-


(Ooen to Gent)

_________________
Luther Thunder: 1x European Champion
Rashad Rockwell:1x Tag Team Champion with Kidd Campbell
Elijah Stewart: 1x Tag Champion with DJ Moore, 2x Alpha World Champion
Jimmaurie Williams:  2x CMV International Champion. Debut Episode 109.
Parker: 1x European Champion
Anthony Brown: 1x Television Champion
Miles Kelly: 1x Longest Reigning Rising Star Champion


Main Event Star!





Posts

: 3443


Join date

: 2015-08-18


Age

: 15


Location

: Near Earth


Humor

: South Park



Page 2 of 2 •

1, 2

---
Permissions in this forum:
You
cannot
reply to topics in this forum