Fusion & Genesis PPV List!
-Battlescars
-Anarchy Rulz
-Retaliation
-Deathwish
-Requiem
-Exodus
-Validation
-Sacrifice
-CyberSlam
-Dark Carnival
-Point Break
-Regicide
-Wild Card
-Absolution
-Emergence
-Home Coming
-Cause & Effect
-Final Resolution
-Purgatory
-Ascendance
Page 1 of 4 • 1, 2, 3, 4

Which Title do you WANT to change hands?
Match Card!
As always for predictions the winner, will get to book a match on all three shows, and if you get EVERYTHING right, you get to book an extra match on a show of your choice. Here's the tiebreaker, and it's a crazy one, how many finishers (Not sigs) will CONNECT over both days?
Day One
We kick off Day One of Redemption Road with a fan voted match up! Putting newcomer Davina Blair who comes into this match with an unbeaten record of 3-0 against one of the longest reigning Champions in the history of the Vixens Division in the form of Amber Briggs who will be looking to ready herself for Money in the Bank next month. Will this match up be too much for Davina this early? Or will she overcome the odds with a big win?
Number One Contenders Match
After their emphatic victory earlier on in the week, the Ferocity General Manager Laura Sampson has warranted The Jezebels a number one contenders Match for the CMV Women's Tag Team Championship, and who better an opponent than their rivals Emma Watkins and Fiona Thorne enabling a rubber match tonight on Redemption Road.
Money in the Bank Qualification Match
Up next our first of three Money in the Bank Qualification matches for tonight as Amy Winters looks to take on Sophia Caldwell. Winters will be coming into this match full of confidence after her win over Caldwell earlier on in the week, however Caldwell has a history with ladder matches and so both Vixens should come into this match on even terms. All they gotta do is climb the ladder and pull down that belt!
Up next we see some six Vixens Tag Team action as No Morality go back to their old ways of targeting anyone and everyone. At the top of the month they made their mark after Miss Vicious took control, attacking several Vixens backstage, signalling their intent under the new leadership. Will the new leadership take No Morality to new heights, or will they fall at the first hurdle?
Money in the Bank Qualification Match
Jenny Wheeler has been on the heels of Kristen Page all month, calling her a bully, trying to prevent her from unleashing further fury on the rest of the roster like she did to Jane Lucid, like she tried to do to Amber Briggs. Wheeler went as far as costing Kristen the belt. Kristen had enough, she opted to attack Wheeler, challenging her to a match this Sunday, a match that would determine another competitor in this years Money in the Bank
CMV Women's Hardcore Championship Match
In our first Title Defence of Day One, Ally Cage looks to defend her CMV Women's Hardcore Championship against the hardest hitting Vixen in CMV in the form of Samantha Steel, the former two time Women's Intercontinental Champion who'll be looking to add another Championship to her list of accolades. Ally Cage on the other hand will be looking to ensure she keeps this belt for a long time and that starts with a win tonight.
CMV Women's Tag Team Championship Match
Speaking of looking for a long reign, the first ever CMV Women's Tag Team Champions, Debra and Michelle Cox look to start their tag team reign strong with a strong performance here tonight as they take on the Number One Contenders for their belts, the team that has been on their backs this month, Mad World. The Knockout Queens have beaten Mad World before, will they be able to do it again tonight though? Or will we see new Tag Team Champions tonight.
Money in the Bank Qualification Match
Up next we see the third and final Womens Money in the Bank qualification contest of the evening as we have a rematch from iMPLOSION featuring Sushi-X and Raiden Brooks. Both of these Vixens would be very interesting additions to the second ever Money in the Bank ladder match next month at Climb 2 Fame and after their back and forth rivalry this past month you can be sure they'll bring the fire.
CMV Women's Intercontinental Championship Match
Up next is our Tertiary Main Event of the evening Fury looks to defend her CMV Women's Intercontinental Championship for the third time against the Russian Empress, Angelina Hawkins in a rematch from iMPLOSION. Coming out of their last contest was some controversy with Hawkins feeling as if she'd been low blowed by The Alpha Female. So tonight they collide in a no disqualification match! No excuses can be made after tonight's matchup so they'd better come ready.
Our co-main event features a match with huge stakes for former Intercontinental Champion, Cassie Maverick, and former, and first time, Undisputed Champion, Megan Cooper. If Maverick defeats the always game Cooper in what is bound to be a heated contest, she will then be added to the Undisputed Title match at Climb to Fame which will feature Cooper cashing in her rematch clause for her most prized possession. However, their bitter rivalry aside, Cooper simply won't allow the odds to be stacked against her, and thus will push Maverick to her limit to ensure that her rematch remains a singles match.
CMV Women's Undisputed Championship
And in the main event of Redemption Road, we have a match that lives up to its namesake, the redemption, maybe even the rebirth of Jade Dynamite, a woman who was once synonymous with Vixen's Championship. Ever since the title was ripped away from her, she has yet to return to her former glory. Tonight is her chance, but she's facing a woman unlike anyone she dealt with during her historic run as champion: the winner of the main event of Implosion, a woman with a growing hall of fame-worthy career in her own right: Queen Quinn-Belle. From botches in matches, to notches in her belt, Quinn-Belle has risen to be one of the most dangerous women on the roster, and her reign, legacy and career will be tested in one of the hardest challenges she may ever have.
Day Two
Day Two of Redemption Road kicks off with some singles action, as Boso The Magnificent goes toe to toe with Sexbomb himself in Simon Hancock. Last month at iMPLOSION, Hancock made his PPV debut in losing fashion after spending the majority of the match taunting, allowing Boso to have his way and take the win. Boso has never been a good winner, taunting Hancock and stepping on his toes all month. Well you can be sure Hancock won't come into this match all fun and games.
With Voice Vindy looking to end his contract on Intensity, he needed one final sendoff, well Vitor Belfort Jr. didn't need to hear anything else, attacking Voice Vindy and inserting himself into the limelight. Looking to send him packing with a loss tonight. But we all know Vindy, and we all know Vindy would never go down without a fight and a fight is what Vitor will get tonight.
It all started when Brody felt cheated that after so many months of him dominating every opponent put in front of him, he made the challenge for three men to take him on at Implosion. His final opponent in the gauntlet was Maurice Fischer lll who has gotten the closest anybody before him has to defeating Brody. However, he failed to do so. Despite his failure to become victorious, he showed up the next week, proud at how close he came to ending the streak and he had a certain confidence about him that Brody chose to ignore. He and Wade didn't want to waste their time. But after weeks of poking the bear, it took Maurice trying to commit long term homicide to finally set the big man off. Brody went on a rampage. Slamming him through a table, throwing him into a vending machine, and slamming a door down on his broken body. Now the match has been made, Brody Halleck, the undefeated Tower of Dominance taking on the Angel of Intensity who despite his injuries still being fresh, has insisted on taking this opportunity to try and finally be the one to pin the unpinnable.
Even putting these two men on separate shows wasn't enough. Following Bucks attempt to steal Starrs opportunity to get into Money in the Bank, a jealous Zack Starr would hunt him down, effectively crossing the border and beating him senseless with a chair before he was pulled away by security. Realising they were never going to end the rivalry, Sullivan and Matthews agreed to put them against eachother, the issue is, will Buck even be ready for this?
Aaron Waite has been able to overcome all the obstacles in his way to get to Chet Taylor tonight. Finally getting his hands on the man that played apart in the loss of several months of his career. Question is, after all the work Aaron has had to put in to get to this point, will it be in vain? Will he be able to avenge those lost months and finally put away Chet for good, ending Syndicate once and for all. It certainly won't be easy, and the thought will be lingering on Waites mind, will the other members get involved in this No Holds Barred Match.
Out of absolutely nowhere, Trey Diamond attacked Quantum, imposing himself on NxT-Gens business, and he certainly paid the price the following week, when Quantum stood ringside and watch Diamond get pinned by his fellow stablemate Origen. Tonight however, it's time to nut up or shut up for both men as Trey Diamond and Quantum collide in a match with zero disqualifications.
CMV Tag Team Championship Match
The first match was marred by controversy as it looked like the Wanderers were going to retain the tag titles at Implosion until MexiTan were able to slip away with the belt thanks to a little assistance from Kurasuke. Despite the hijinks and shenanigans, the Wanderers have made it clear that they felt robbed and received their wish to have the portal traversing, Friend of Cole Savage banned from ringside. Now we'll see what the Implosion match should have been, and we'll find out once and for all who the better tag team is. The Wanderers have the chance to reclaim their tag gold, and make Implosion nothing more than a bump in the road. Meanwhile MexiTan will be forced to prove whether they actually needed Kurasuke to win the belts, or if they were merely using a tool at their disposal.
Sunshine quickly found himself a new enemy after iMPLOSION, with The Thunder Circus attacking him, continuing their run through of the CMV veterans by opting to go for Sunshine, terrorising him over the past month, even going so far as to commit post match attacks on several occasions. Tonight, Sunshine has a chance at Redemption, looking to prove he isn't some carcass that the Circus can feed on as he takes on their leader, Luther, in a singles match.
CMV European Championship Match
After dominating the scene on NGW, the last known champion of the OG teal brand made his Implosion debut and walked out with the European Championship. However, it was no easy feat then, and it won't be easy to fend off the hungry Solomon Glock a second time. This time with the big man of HALO creeping into the scene with a legacy to uphold. Will he finally break through the glass ceiling of limitations? Will Solomon Glock prove to be one of the most dominant wrestlers in this generation and take back what's his? Or will George King continue his reign of supreme over CMV, expanding his kingdom as European Champion with two more victims engraved in his path of destruction? We'll all find out when that belt rings and titans collide.
Money in the Bank Qualification Match
Anthony Brown has been the physical incarnation of the voice of doubt in Tops Newsome's head that's been haunting the multi-time championship contender for months. They're the same voices that nearly pushed Newsome into retirement, the snake whisperer hitting rock bottom after once again failing to capture the Global Championship. It's once Brown's mocking vice that shouted louder than the rest. A voice that has made it its mission to remind Newsome of his shortcomings again and again to the point where the money in the bank implications are almost an afterthought. Almost. Money in the Bank can make careers, and this could be the shot in the arm that Newsome has needed to overcome that hurdle and finally win the Global Championship. However, Brown, the hungry, cagey, up-and-comer has the same goal in mind, and putting down what he feels is Intensity's Old Yeller, by denying him this career-rejuvenating opportunity will be the cherry on top before the former Television Champion sets his sights on money in the bank.
CMV Television Championship Match
In this Television Title bout we see the delusional and very flamboyant champion in Ricky Spanish take on the Austrian Death Machine, Ringo Maxx. Will Ringo gain a new daddy tonight? Or will he obtain the oh so prestigious TV Championship? Will Ricky Spanish continue a reign that many see as being a potential historic reign that'll be written down in the history books as one of the best? Or will he fail to back up his words? These are the questions you should be asking yourself as we await this instant classic to be graced on our computer screens. A true gift to anybody who appreciates the art of professional wrestling.
Money in the Bank Qualification Match
Marko Punish blamed Novak for the loss in their six man tag team match at iMPLOSION. Brutally attacking the former three time European Champion at the top of the month, so much so that he has been bandaged ever since. After several pre-match attacks from both men, we're finally here, but something other than Pride is on the line, a spot in this years Money in the Bank Ladder Match is at hands, but only one man can walk away with the spot. Novak, or Marko.
CMV World Championship Match
Jaymes Landon Vain has been the CMV World Champion since Blood Rush, and is currently three months into his first ever singles reign over his near three year CMV career, and he is not looking to have it end just yet. However if the lunatic Parker gets his way, it could come to an end tonight with Parker bringing home more CMV gold to The Thunder Circus in his first ever World Championship singles match. Can Parker show the world how much of a force The Thunder Circus truly are, or will he fall in the wake of the Meta-Human.
Pride. Legacy. Cyborg? These have laid the foundation for what has quickly become a personal feud that is being fueled week after week by these egos and personalities who will never settle for anything less for being the best. The problem? Well, to them at least, there's only room for one at the top--they're not willing to share. They're not willing to even humor the idea that the other is on their level, and thus, the only way to prove who is better fit to be at the top of the division is the old fashioned way: a match inside of the ring. The parallels between the two are hard to ignore. There's been a long time since either of them have held singles gold, and both overcame longtime rivals at Implosion and they each are inching their way closer to that World Championship. This match will prove a lot of things, and its result will undoubtedly shake the hierarchy of the company to its core. When DSD and Hayden collide, all will watch because the winner of this battle will shape the future of UnMatched.
CMV Global Championship Match
We caught glimpses of their disdain for each other on Intensity, where Rage was so disgusted by the mere idea of Omega Lee challenging for the Global Championship that the champ sought to put his opponent on the shelf days before their title bout. But after all Lee has gone through, there's no way in hell he's going to let an opportunity like this slip through his fingers. Ever since using money in the bank to secure himself a brief run with the Global Title, he's been a fringe main eventer, and this will be perhaps his last match in a while to establish himself as a permanent threat by securing his second Global Championship. Meanwhile, Rage has been fighting for months to be where he is today, and we already saw what he's willing to do to all who dare stand in his way so that he may forever remain champion.
Last edited by Miztacular on Mon Sep 04, 2017 5:44 pm; edited 1 time in total
Admin





Posts

: 6316


Join date

: 2015-03-09


Age

: 20


Location

: MizTV


Humor

: Making Sons uncomfortable



This will be live either Tuesday/Wednesday or Wednesday/Thursday. I'm not sure if I've left enough time for people to get predictions in. If everyone who normally does them have them up by 6pm tomorrow (GMT) I'll go live at 7<3


_________________
Matthew wrote: Hayden is so much better than Schmidty in every way.
Admin





Posts

: 6316


Join date

: 2015-03-09


Age

: 20


Location

: MizTV


Humor

: Making Sons uncomfortable



davina
SUSANNA
winter
no morality
page
steel
cox
raiden
fury
maverick
kitty
---
boso
vitor
brody
zack
i thought chet was black
quantum
LEO CRUZ
sidestepper
osiris
tops
ringo
novak
parker
DSD
lee
Last edited by noodles on Mon Sep 04, 2017 3:38 am; edited 1 time in total
_________________
Main Event Star!





Posts

: 2752


Join date

: 2015-03-09



==DAY ONE==
Davina Blair
The Jezebels
Sophia Caldwell
No Morality
Kristen Page
Samantha Steel
Debra & Michelle Cox
Raiden Brooks
Angelina Hawkins
Megan Cooper
Jade Dynamite

==DAY TWO==
Simon Hancock
Voice Vindy
Brody Halleck
Zack Starr
Chet Taylor
Sub Zero
The Wanderers
Sunshine
George King
Tops Newsome
Ricky Spanish
Marko Punish
Parker
DSD
Omega Lee
_________________
Main Event Star!





Posts

: 659


Join date

: 2015-03-09


Age

: 26


Location

: Scotland


Humor

: Chimichanga...



Amber Briggs
Jezzballs
Caldwell
Starz n Stripes n other girl
Jenny!
Steel
Knock Out Kings
Brooks
Cyborg Hawkins
COOPER
Quinn Ziegler

Boso
Voice
Brody
Buck
Chet
Quantum
Wanderers
Sunshine
Glock
Brown
Ricky!
Punish
Vain
DSD
Omega Lee

_________________
Accomplishments :

2018 Heel of the Year as Schmidty
2018 Newcomer of the Year as Schmidty
2018 Face of the Year as Bob Luger
2018 Promoer of the Year
1x European Champion as Schmidty
2x United States Champion as Schmidty
1x Undisputed Champion as Schmidty
2x Alpha World Champion as Bob Luger
1x Tag Team Champion as Murdoc
1x Tag Team Champion as Freddy Osborne
2x Light Heavyweight Champion as Billy Weaver
1x Light Heavyweight Champion as Bryce Hurt
RAW POWER
Main Event Star!





Posts

: 3455


Join date

: 2015-09-19


Age

: 21


Humor

: Neville thinking he could keep up with Enzo.



Davina Blair
The Jezebels
Amy Winters
No Morality
Kristen Page
Samantha Steel
Debra & Michelle Cox
X
Fury
Megan Cooper
Quinn

Simon Hancock
Vitor
Brody Halleck
Buck Hollywood
Chet Taylor
The blue thing
The Wanderers
Sunshine
George King
Tops Newsome
Ringo Maxx
Marko Punish
Vain
DSD
Rage
_________________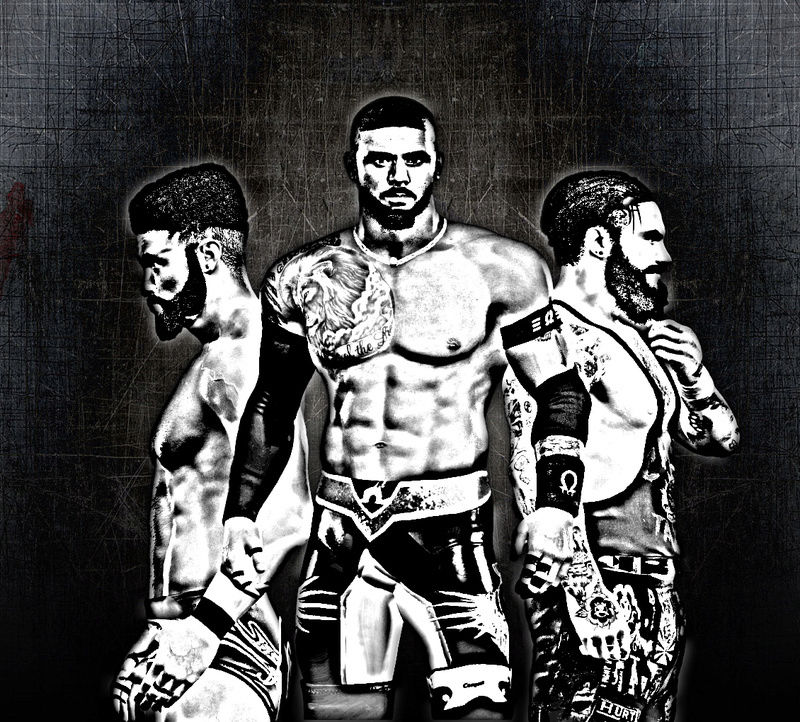 Main Event Star!





Posts

: 827


Join date

: 2015-07-19


Age

: 20


Location

: Hopewell, Virginia



Davina Blair
Jezebels
Amy Winters
No Morality
Jenny Wheeler
Samatha Steel
Mad World
Raiden Brooks
Fury
Cassie Maverick
Quinn-Belle
Simon Hancock
Voice Vindy
Brody Halleck
Buck Hollywood
Aaron Waite
Quantum
Mexitan
Sunshine
George King
Tops Newsome
Ricky Spanish
Marko Punish
Jaymes Landon Vain
Hayden Kitley
Rage

_________________
Owner Of:-
Party Boy' Lance Martini
'Pitbull' Perry Heenan
'The Deck' Percy Simmons
Strongman Bull
Jobber





Posts

: 58


Join date

: 2017-04-12



Amber Briggs
The Jezebels
Amy Winters
No Morality
Kristen Page
Cage
Debra & Michelle Cox
X
Hawkins
Megan Cooper
Quinn

Simon Hancock
Vitor
Brody Halleck
Buck Hollywood
Chet Taylor
Marko
The Wanderers
Sunshine
George King
Tops Newsome
Ringo Maxx
Marko Punish
Vain
DSD
Rage
_________________
Accomplishment:
Crowe - Anarchy Championship 
Tyler Endicot - Rising Star Championship
Joe Dirte - NGW Tag Team Championship (The Kingdom)
Maximum Rider - NGW Tag Team Championship (The Kingdom) 
George King - NGW Championship - Final
                         NGW Tag Team Championship (The Kingdom)        
                         European Championship 
Tyson Cage - Fusion Tag Team Championship (The Bickering Duo)
Angelina Hawkins - Women's Intercontinental Championship
Main Event Star!





Posts

: 1245


Join date

: 2016-01-22


Age

: 19


Location

: Ohio



Armbar Briggs
Susana and Valdris
Caldwell
NM
Kristen
Cage
Dix n Cox
Divine
Fury
Negan
Stretched face Dynamite

Simon says Handcock wins
Vitor so Cop can let out his anger
Brody the face of this feud
Buck without hair
Chef Tailor
Quantum?
Mexican boys
Soon shine
Osiris, Glock
Tops and the cheeky snake
Spanish Ricardo
aaron
oh
lsd
lovely lewis

_________________
Luther Thunder: 1x European Champion
Rashad Rockwell:1x Tag Team Champion with Kidd Campbell
Eligah Stewart
: 1x Tag Champion with DJ Moore
Jimmaurie Williams
:  2x CMV International Champion. Debut Episode 109.
Parker: 1x European Champion
Anthony Brown: 1x Television Champion
Main Event Star!





Posts

: 2886


Join date

: 2015-08-18


Age

: 15


Location

: Near Earth


Humor

: South Park



Page 1 of 4 • 1, 2, 3, 4

---
Permissions in this forum:
You
cannot
reply to topics in this forum