Fusion & Genesis PPV List!
-Battlescars
-Anarchy Rulz
-Retaliation
-Requiem
-Exodus
-CyberSlam
-Tag Team Cup
-Validation
-Dark Carnival
-Point Break
-Regicide
-Wild Card
-Absolution
-Emergence
-Home Coming
-Cause & Effect
-Final Resolution
-Purgatory
-Ascendance
Page 1 of 7 • 1, 2, 3, 4, 5, 6, 7

Predictions
As always predictions will be in affect on this card, and because it is such a big card, the winner, can book EIGHT matches on a CMV special coming up after iMPLOSION, 4 superstar matches and 4 Vixen matches. I very much doubt we'll need a tiebreaker, but just in case, the tiebreaker shall be how many titles change hands. Because it is such a big card, I'll leave a prediction template at the bottom with all of the matches on and you can copy and paste it and predict your winners, to save you from scrolling back and forth<3
Some of these matches do not have videos on the match card, but will have videos on the actual show, bless Maurie<3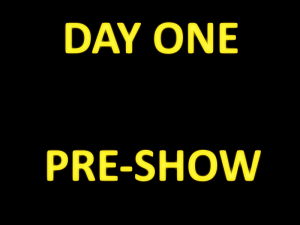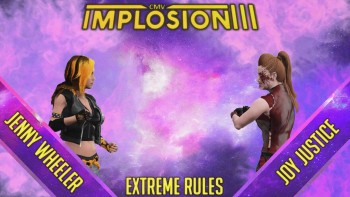 The Pre-Show for Day One kicks off nice and strong as Jenny Wheeler looks to step up to the plate and take on Joy Justice, who over this past month has acted as if Jenny is no threat, calling her small, weak... Fragile. With Jenny looking to prove Joy Justice and the world wrong a match was put in place, a "Bloody Forest" match, essentially extreme rules. The match type should favor Joy, but we know how resilient Jenny can be, this should be a cracker.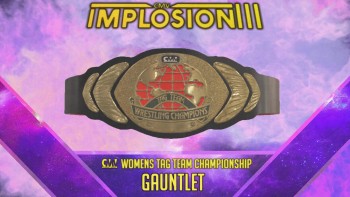 We finally get the debut of the CMV Womens Tag Team Championships tonight here at iMPLOSION as announced by the Ferocity General Manager Laura Sampson earlier on in the month, with 7 separate tag teams looking to compete here tonight. We have The Jezebels, Starz & Stripez, Fiona Thorne & Emma Watkins, Worldwide Ambition, Blazing Dragons, Mad World (Alexis Olsen & Maddy Zendran) and Debra & Michelle Cox all competing inside this Tag Team Turmoil match to determine the first ever CMV Womens Tag Team Champions.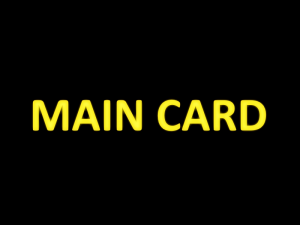 Kicking off our Main Card is the First Annual Sampson-Schmidt Appreciation Battle Royal, to remind each and every Vixen on the roster who is in charge, who signs their pay check and who gives them the opportunity to perform at the highest level. Six Vixens will go toe to toe and the last one standing will be the first entrant in this years Money in the Bank match, and what a line up it is. The first ever Vixens Champion, Amber Briggs, a former Womens Champion in Sophia Gibson. The former Hardcore and Intercontinental Champion, Rose Punish, one half of Quillow with Willow Nightling Representing, Mariah of The Thunder Circus and last and certainly not least one of the fastest rising Vixens in the industry today, Amy Winters.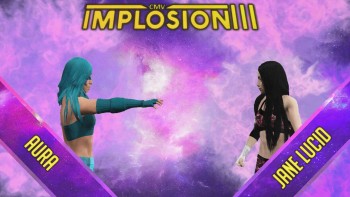 Next up, it's time to put up or shut up for these two Vixens. Over this past month Aura has been seemingly jealous of Jane Lucid, who, despite losing to Aura has had several opportunities on the Main Cards while Aura has been forced to scratch and claw her way back up. So earlier this month Aura decided to take things into her own hands attacking Lucid and making this match happen to prove once and for all that she has still got it.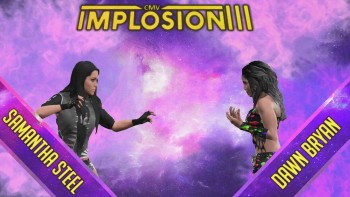 Another Money in the Bank slot is potentially on the line up next as Dawn Bryan takes on Samantha Steel in singles action. Dawn Bryan has been issued somewhat of a deal here tonight where if she can take care of Samantha Steel, who has been a thorn in the side of the Ferocity General Manager Laura Sampson, in return Dawn will earn herself a place inside Money in the Bank in two months at Climb 2 Fame however Steel is for sure no joke, and if she gets through Dawn tonight you can be sure she's coming right after Laura Sampson.
Earlier this month, Raiden Brooks issued an open challenge to all of the Vixens on Ferocity, past, present and even the future, and tonight we will find out who has the guts to willingly come out here and fight this wrecking ball of a human being. For the past few months Raiden Brooks has risen up the rankings and destroyed everyone in her path when it comes to singles action. Will she finally meet her match tonight or will the dominance continue?
The first of three Championships to be defended here tonight is up next as the former CMV Womens Champion Lexin Damjen looks to put her CMV Womens Hardcore Championship on the line tonight against Ally Cage. This time last year Damjen walked into iMPLOSION the Womens Champion and walked out with nothing, will we see deja vu here tonight? On the flipside Ally Cage walks into this being her first singles title shot, after being so close to a belt so many times tonight she finally has a one on one shot. Only one of these Vixens can walk out with the win, but who will it be?
In what is perhaps the most important match in the stables history, the leader and founder of No Morality, Sophia Caldwell will put not only her leadership of the stable on the line, but her very place in the group to get her hands on Miss Vicious tonight who stepped in as somewhat of an "interim leader" while Caldwell was off dealing with other matters at the top of the year and under Vicious the stable exceeded expectations, but the duo came to an impasse over the vision of the stable, refusing to work together, costing each other matches over the past month, but tonight it all comes to blows, and one of these Vixens will leave tonight without a stable.
In our Tertiary Main Event of the evening, Fury will put her 19-0 streak on the line along with the CMV Womens Intercontinental Championship in which she has tied the record of three months with tonight against The Russian Empress Angelina Hawkins to whom Fury has actually pinned before in tag team action, but that was a long time ago, last year in fact, this is a new Angelina Hawkins and with the exception of the times she's ran into Quinn-Belle this month she has looked dominant, and she has one thing on her mind, end that streak, and bring home the belt.
In the Co-Main Event of Day One, the former Vixens and Womens Intercontinental Champion Cassie Maverick makes a pit stop on the way back to the Title Picture, taking on a returning Vixens Champion in Kristen Page here tonight. In a build that has had no shortage of trash talk, Cassie Maverick had seemingly had the number of Kristen Page all month until this past week in which Kristen finally laid a finger on Cassie, beating her down with a kendo stick. Tonight they collide in the ring in a match that could indeed have Womens Championship implications on it for the winner, Kristen Page never got a rematch, and it's been almost a year since Cassie has had a shot, but only one Vixen will get their hopes tonight.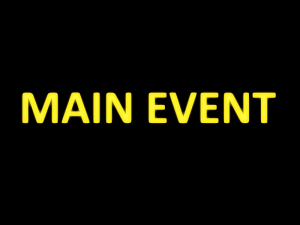 In tonights Main Event, the second annual Vixens Royal Rumble winner, The Queen of Botchville, The Queen of the Bitchslaps, Kitty Quinn-Belle will look to return to the top of the mountain for the first time in a year, last holding a championship at last years Ascendance she's looking to leave iMPLOSION how she was supposed to leave Ascendance. But that is easier said than done, as the Vixen across the ring from her, the current CMV Womens Champion Megan Cooper already has a win over Quinn last season on fusion. Quinn comes into this match off of a loss last month at Blood Rush to Cassie Maverick, but will surely have a boost in confidence after putting Cooper to sleep on the go home show in tag team action. However this is no tag match, this is one on one for the grandest belt in womens wrestling.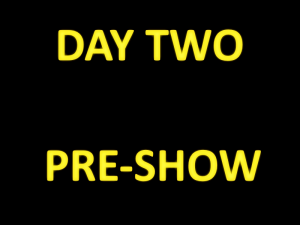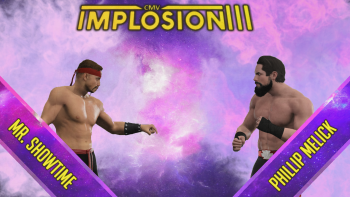 The Pre Show kicks off with one half of the former CMV Tag Team Champions, Mr. Showtime looking to go to war with the former soldier turned straight edge wrestler Phillip Melick to open up the show here tonight, after over a month of Melick forcing his beliefs down the throats of Showtime, berating him for drinking, it took a turn for the worse when he "accidentally" assaulted Mr. Showtimes gal, Jenny Wheeler and you can be sure that tonight you'll see another side of Mr. Showtime as he looks to end this once and for all.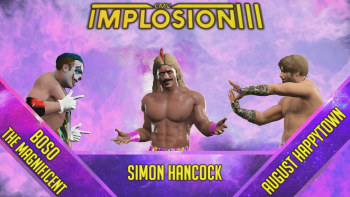 In our second matchup of the evening, we see the first of two NGW callups scheduled to be in action tonight as Simon Hancock, The Rude Rooster, makes his Pay Per View debut against the man who he left high and dry last week in August Happytown, and the ruler of pies, Boso The Magnificent who'll be sure to have a freshly baked cream pie in hand tonight for both these men should he walk out the winner.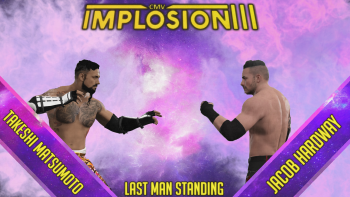 The other half of the former CMV Tag Team Champions, representing The New Orient Express, Takeshi Matsumoto is in action with a score to settle against his rival Jacob Hardway who has not failed to disrespect Takeshi over and over again these past two months. Leading to Takeshi and Hardway signing a contract for Last Man Standing to prove who really is the tougher man, Takeshi claims his years in Japan will make this match an easy one for him, while Hardway believes it'll just be another day in the office, who will be right?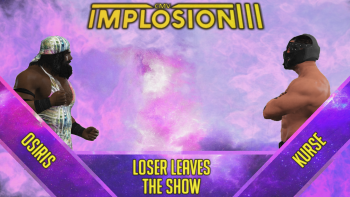 Kurse and Osiris have gone back and forth for months now, attacking eachother backstage, abandoning matches, and even this past month getting into each other in the crowd, and in general causing a huge ruckus for General Manager Eric Matthews to deal with, and because of this he made the match official, Kurse Vs Osiris, the loser will leave UnMatched, because evidently the two can not co-exist on the same brand together.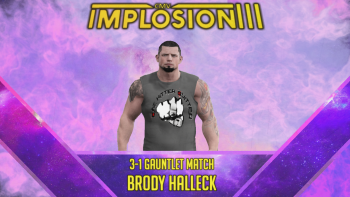 Earlier this month, Brody's manager Wade Flannagan noticed that there might be a chance that Brody, his Tower of Dominance, wasn't going to make the iMPLOSION card. Something he wasn't going to stand for, so he issued a challenge, a challenge so good that the Intensity General Manager Thomas Sullivan wouldn't be able to decline. For Brody will take on not one, not two, but three different men tonight in a gauntlet match where his manager claims he will walk out the last man standing. What makes it harder, is that he doesn't know who ANY of his opponents will be.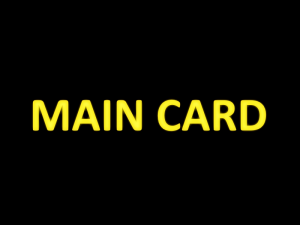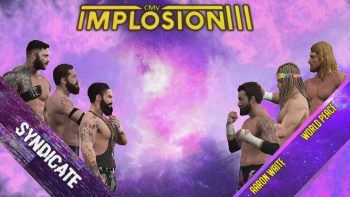 Kicking off the Main Card is the culmination of a years work for Chet Taylor, for it was this time last year where he lost to Eric Matthews, sending him down this dark, twisted path of hatred, building up his Syndicate with the goal of getting back to the top, and tonight is a big step in that direction as Syndicate take on one of the first men they targeted, Aaron Waite, who returned two weeks ago to save his tag team partners tonight, World Peace from a beat down, in which they did the same the following week saving Waite from a 3 on 1 assault. It'll be interesting to see if this odd combination of Waite and World Peace can get the job done against Chet Taylor and his band of rebellious goons.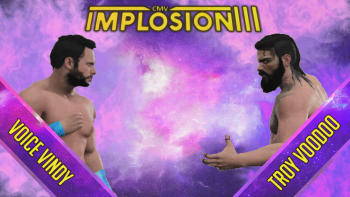 Troy Voodoo Vs Voice Vindy is a contest brewing from the lack of respect Voodoo feels he has received since making his Intensity debut, under the belief that opportunities would come his way left, right and center but instead, he's found himself as somewhat of a gatekeeper which is something he feels he is not, so he set forth on a mission, attacking Voice Vindy and declaring that at iMPLOSION he will send a message to the CMV brass, that he still has what it takes to be a top guy.. That is of course implying that the former two time Global Champion Voice Vindy plays ball, which is very doubtful.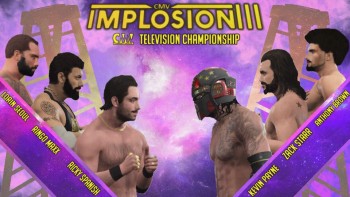 In our first Title Defense of Day Two, the current CMV Television Champion Ricky Spanish looks to defend his belt against FIVE other men in a 6 man ladder match and what a lineup it is, the former Champion, Anthony Brown, the current King of the Ring, Ringo Maxx, a former Tag Team Champion & Season One Veteran, Kevin Payne, longtime rival and longest reigning TV Champion who next got pinned for the belt, Zack Starr and the former three time Television Champion, Lorin Seoul. In a match that could well steal the show, who will walk out your new Television Champion.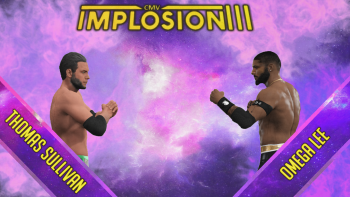 Thomas Sullivan has gone on the record on more than one occasion, calling Omega Lee a failed investment, declaring that Omega Lee will never see the Global Championship picture again until he does something to prove Sullivan he deserves it. Omega Lee most certainly didn't take kindly to these words, taking it up with Sullivan in person, cracking him on the chin in his office this past week forcing Sullivan to lace up his boots and step into the ring to shut Omega Lee up himself.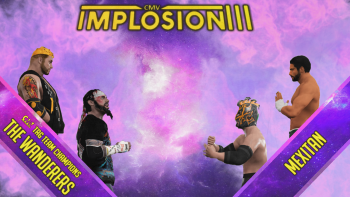 The CMV Tag Team Championships are on the line up next as The Wanderers look to make their second Title defense tonight against the rather odd pairing of Leo Cruz and Marcus Akane who have been dubbed "MexiTan" since making their debut as a Tag Team. They've certainly been riding high as of late, retiring arguably the greatest Tag Team in CMV History, The Bringers of Despair last week, but will that momentum be enough to put down the current CMV Tag Team Champions, Don Bishop and Gavin Extreme.
A feud that has been brewing for months, finally comes to a close tonight. To think something so personal, so intense could come from something as small as Sanders simply sitting at the table of Teddy Soloway is insane. There's been many twists and turns in this feud, with Sanders stealing Teddy's trombone, but Teddy fighting back, putting Sanders through a table at Takeover, after being put through two himself. Sanders had been pushed over the edge by Soloway, revealing his past to the world and getting him fired, forcing Soloways interviewer Guy to stand up for him, only to be brutally crushed by Sanders at Blood Rush. Now, here with are, Soloways one chance at redemption, he must beat Sanders once more, otherwise he is FIRED from CMV, something Sanders would gladly do.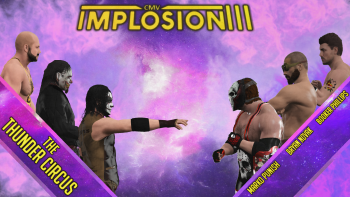 In our second six man Tag Team match of the evening, The Thunder Circus look to prove to the world that they are not jokes to be overlooked, they are here to takeover, and to ensure the world takes them seriously. They have gone after three Veterans of CMV to prove this point. Standing across the ring from them tonight we have the former two time CMV World Champion, European Champion and Tag Team Champion, Marko Punish. The former three time European Champion, Undisputed Champion and longest reigning Champion in CMV History, Bryan Novak. Lastly, the man who saved Bryan Novak last week, when all three men stood tall after a brawl, the former Tag Team Champion and Season One Veteran, Booker Phillips. Will the Thunder Circus get the win they need, or will the UnMatched Vets stop them in their tracks?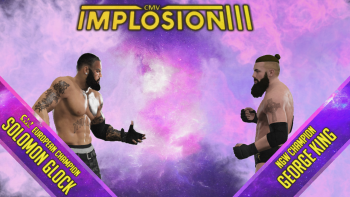 The CMV European Championship is on the line up next as Glock looks to defend his belt against the final NGW Champion, George King, the leader of The Kingdom and what an impact these guys have made since debuting on the Main Roster, destroying the final ever NGW Tag Team Champions Birds of War, and taking out two of Glocks stable mates Tyrone B Godly and the former International Champion Morguan Jackson. Despite all this, one has to wonder if the odds are stacked against Solomon Glock who's been fairly dominant for the large part of his career.
Cyborg Vs DSD, a feud that will go down in history. Began over one year ago with D'Angelo St. Daniels declaring that he was on his way back to the top, showing everyone who stood in his way what pain truly felt like, in stepped Suraci, a man who had met Cyborg on the independent circuit and was looking to do a favor for the Green Machine, and that favor was to show DSD the true feeling of pain. Who would have thought that this would be the first of many hoops that DSD would eventually have to go through in this long journey. Some time passed where DSD tried and failed to get back to the top, but one thing lingered on his mind, Cyborg. At Thunder in Tokyo he got his wish, but it was to no avail, he was put down by Cyborg and it has been eating away at him ever since. Then started the many trials and tribulations DSD had to overcome to get what he wanted, what he NEEDED. Putting down Rick, Larry and again in Tag Team action. He finally believed he was getting his moment at Blood Rush, but it wasn't to be. As Cole Savage made the walk down the ramp once again leaving DSD craving. When everything was taken from DSD, when there was no more to take, Cyborg took more. He took away DSD's one chance to get back to the Main Event, his Royal Rumble win. This further fueled the fire, and at iMPLOSION. D'Angelo St. Daniels will finally, after over 6 months of trials, get his one on one match with Cyborg... But will it simply go the same way as last time?
In the Tertiary Main Event of Day Two, a rubber match will occur, and to quote Tops Newsome himself, three is the Magic Number.
Because the third match between these two men, will take place across three stages. A regular match, a falls count anywhere match and a Hell in the Cell, the two stipulations they fought in the first two times will come back, alongside a standard singles match to truly see who the better wrestler is. This could have gone another way, but with Rage winning the title at Blood Rush, and Newsome beating Zack Starr, it was fate that brought these two together for one final clash, for the CMV Global Championship.
In some ways, the feud between Hayden and Sunshine dates back to season two. When Hayden beat Slate for the CMV Undisputed Championship effectively cutting off all ties to the Main Event for Sunshine who had been feuding with Slate prior. Ever since that moment, Sunshine has had ill feelings towards the A-Lister. However it would stay tame between the two.. Until Haydens return in Season Three of Fusion, where Sunshine felt Hayden was back to jump ahead of him in the road back to the Main Event and Sunshine wasn't going to stand for it. The duo went back and forth, eliminating Sunshine from the Chamber thus leading to a match for Sunshines Anarchy Championship in which Hayden won... Effectively kicking Sunshine out of Fusion. Sunshine would rise up the rankings with the help of Kane, making his way to the top. But when he looked to cash in his rematch clause for the CMV World Championship, he was nowhere to be found, attacked backstage by Hayden, who then revealed himself to be the man behind the destruction of Sunshines home. But Sunshine wouldn't take that laying down, brutally attacking Hayden at Blood Rush leading to tonights contest where it might finally be over between the two.
In tonights Main Event, three imposing figures collide for the CMV World Championship. Jaymes Landon Vain finally, after three years of climbing, defeated Chris Adams for the belt at Blood Rush to become the new World Champion, and Adams made it clear to the world that iMPLOSION wouldn't be JLV's homecoming, instead, his swan-song by declaring he'd cash in his rematch clause there. However, there were more pieces to the puzzle than that. With DSD stripped of his spot in the Main Event, it would be down to Quantum, the runner up and Tops Newsome the final man from Intensity to determine which brand got to Main Event with The Future Man Quantum walking out with the win creating a colossal Main Event of iMPLOSION. The Champion, Jaymes Landon Vain looks to defend the belt that took him three years to get, against the former Champion and one of the most decorated Main Eventers in CMV History, Chris Adams, and last but of course not least, the most decorated superstar to never win the big one. The former 4 time Tag Team Champion, Tornado Tag Team Champion and Intercontinental Champion, Quantum..
_________________
Matthew wrote: Hayden is so much better than Schmidty in every way.
Admin





Posts

: 6117


Join date

: 2015-03-09


Age

: 20


Location

: MizTV


Humor

: Making Sons uncomfortable



Big thanks to Maurie, Aaron and Krzy for these hype videos and thanks to everyone watching!
Now because this is a big card, I'll post a prediction template with all the matches on it that you can copy and paste, deleting the caws you think will lose to save you all from scrolling back and forth.
Prediction Template:


Day One

Jenny Wheeler/Joy Justice
Blazing Dragons/The Jezebels/Michelle & Debra Cox/Fiona Thorne & Emma Watkins/Starz & Stripez/Worldwide Ambition/Mad World
Amber Briggs/Amy Winters/Mariah/Sophia Gibson/Rose Punish/Willow Nightling
Jane Lucid/Aura
Dawn Bryan/Samantha Steel
Raiden Brooks/???
Lexin Damjen/Ally Cage
Miss Vicious/Sophia Caldwell
Fury/Angelina Hawkins
Cassie Maverick/Kristen Page
Megan Cooper/Quinn-Belle

Day Two

Mr Showtime/Phillip Melick
Simon Hancock/Boso/August Happytown
Takeshi Matsumoto/Jacob Hardway
Osiris/Kurse
Brody Halleck/???
Syndicate/Aaron Waite + World Peace
Voice Vindy/Troy Voodoo
Ricky Spanish/Anthony Brown/Kevin Payne/Ringo Maxx/Zack Starr/Lorin Seoul
Thomas Sullivan/Omega Lee
The Wanderers/MexiTan
Bryan Sanders/Teddy Soloway
Thunder Circus/Bryan Novak + Marko Punish + Booker Phillips
Solomon Glock/George King
Cyborg/DSD
Rage/Tops Newsome
Sunshine/Hayden
JLV/Quantum/Adams

_________________
Matthew wrote: Hayden is so much better than Schmidty in every way.
Admin





Posts

: 6117


Join date

: 2015-03-09


Age

: 20


Location

: MizTV


Humor

: Making Sons uncomfortable




Day One

Jenny Wheeler
Fiona Thorne & Emma Watkins
Amy Winters
Aura
Samantha Steel
Raiden Brooks
Ally Cage
Sophia Caldwell
Fury
Kristen Page
Quinn-Belle

Day Two

Phillip Melick
Simon Hancock
Jacob Hardway
Kurse
Brody Halleck
Aaron Waite + World Peace
Troy Voodoo
Anthony Brown
Omega Lee
The Wanderers
Bryan Sanders
Thunder Circus
George King
DSD
Tops Newsome
Sunshine
JLV
_________________

Accomplishment:
Crowe - Anarchy Championship 
Tyler Endicot - Rising Star Championship
Joe Dirte - NGW Tag Team Championship (The Kingdom)
Maximum Rider - NGW Tag Team Championship (The Kingdom) 
George King - NGW Championship - Final
                         NGW Tag Team Championship (The Kingdom)        
                         European Championship 
Tyson Cage - Fusion Tag Team Championship (The Bickering Duo)
Angelina Hawkins - Women's Intercontinental Championship
Main Event Star!





Posts

: 1195


Join date

: 2016-01-22


Age

: 19


Location

: Ohio



Day One
Joy
Mad World
Rose
Mary Jane Lucid
Dawwwn. Dawn! Dawn! Dawn!
Raiden
Ally Cage
Viss Missious 
Fury
Cassie
Coop Coop
Day Two
Mellick
Boso
Hardwa
Only Halo Member Booked.
Brody beats all 3 scrubs.
Friends of Chet Taylor
Voodoo
Zack Star
Omega Lee
Mexitan
Teddy Blackbeard(commonly misheard as Blackbear) Soloway the third from the isle of Skillege
CMV Vets
Solomonster
D'Angelo Boulay
Rage
Hayden Blade Kitelly
Quantum Lee
Tie Breaker- Look at my predictions.
Fuck your Template.
_________________
Luther Thunder: 1x European Champion
Rashad Rockwell:1x Tag Team Champion with Kidd Campbell
Eligah Stewart
: 1x Tag Champion with DJ Moore
Jimmaurie Williams
:  2x CMV International Champion. Debut Episode 109.
Parker: 1x European Champion
Anthony Brown: 1x Television Champion
Main Event Star!





Posts

: 2736


Join date

: 2015-08-18


Age

: 15


Location

: Near Earth


Humor

: South Park



Joy Justice
Starz and Stripez
Rose Punish will make us Schmidt's proud
Jane Lucid
Dawn Bryan
Female Brody Halleck
Damjen
Tia
Fury
Kristen
Cooper

Mellick
Boso
Hardway
Kurse
Brody
World Peace & Waite
Voice Vindy
Brown
Omega Lee
The Wanderers
Soloway
Thunder Circus
George King
Cyborg
Rage
Sunshine
Quantum

_________________
Accomplishments :

2018 Heel of the Year as Schmidty
2018 Newcomer of the Year as Schmidty
2018 Face of the Year as Bob Luger
2018 Promoer of the Year
1x European Champion as Schmidty
2x United States Champion as Schmidty
1x Undisputed Champion as Schmidty
1x Alpha World Champion as Bob Luger
1x Tag Team Champion as Murdoc
1x Tag Team Champion as Freddy Osborne
2x Light Heavyweight Champion as Billy Weaver
1x Light Heavyweight Champion as Bryce Hurt
1x Dashing's ride or die chick
Main Event Star!





Posts

: 3440


Join date

: 2015-09-19


Age

: 21



Day One

Joy Justice
Blazing Dragons
Sophia Gibson
Jane Lucid
Samantha Steel
Raiden Brooks
Ally Cage
M.V
Fury
Kristen Page
Quinn-Belle

Day Two

Mr Showtime
Boso
Takeshi Matsumoto
Osiris
???
Aaron Waite + World Peace
Voice Vindy
Ringo Maxx
Omega Lee
MexiTan
Bryan Sanders
Bryan Novak + Marko Punish + Booker Phillips
Solomon Glock
Cyborg
Rage
Sunshine
Quantum


forgot tb  so lets say 4
Last edited by topher316 on Fri Jul 14, 2017 6:05 pm; edited 2 times in total
_________________
1x CMV Television Champion - Top's Newsome
1x CMV Womens Undisputed Champion - Quinn-Belle
1x CMV Vixens Champion - Quinn-Belle
1x CMV Undisputed Champion - Chris Andrews
1x CMV International Champion - Chris Andrews
2x CMV Anarchy Champion - Chris Andrews
1x CMV Wold Tag Team Champion (Divine Affairs w/Paul Divine)
1x CMV Womans Intercontinental Champion - Dawn Bryan
1x CMV Tag Team Champion - Kid Campbell (Gladiators w/ Rashad Rockwell)
2x CMV Light Heavyweight Champion - El Jefe
1x CMV Tag Team Champion - Don Bishop (The Wanderers w/ Gavin Extreme)
1x CMV World Tag Team Champions - Police Squad
Main Event Star!





Posts

: 3739


Join date

: 2015-12-11


Location

: (NEAR)... Leeds, England


Humor

: yes :D



Day One

Joy Justice
Michelle & Debra Cox
Sophia Gibson
Aura
Samantha Steel
Raiden Brooks
Lexin Damjen
Sophia Caldwell
Fury
Cassie Maverick
Megan Cooper

Day Two

Phillip Melick
August Happytown
Takeshi Matsumoto
Kurse
Brody Halleck
Aaron Waite + World Peace
Voice Vindy
Ringo Maxx
Omega Lee
MexiTan
Bryan Sanders
Bryan Novak + Marko Punish + Booker Phillips
Solomon Glock
DSD
Tops Newsome
Hayden
Adams

tiebreaker: 4
_________________
Main Event Star!





Posts

: 2693


Join date

: 2015-05-13


Age

: 18


Location

: Ontario, Canada


Humor

: Dashing's jokes



Day One

Joy Justice
Mad World
Mariah
Aura
Dawn Bryan
???
Lexin Damjen
Sophia Caldwell
Fury
Kristen Page
Quinn-Belle

Day Two

Mr Showtime
Simon Hancock
Takeshi Matsumoto
Kurse
Brody Halleck
Aaron Waite + World Peace
Troy Voodoo
Ringo Maxx
Omega Lee
The Wanderers
Bryan Sanders
Thunder Circus
George King
DSD
Rage
Sunshine
JLV

TB - 3? idk can't be bothered to double check do the tag belts count
Last edited by Childish Meltzer on Fri Jul 14, 2017 2:37 pm; edited 2 times in total
_________________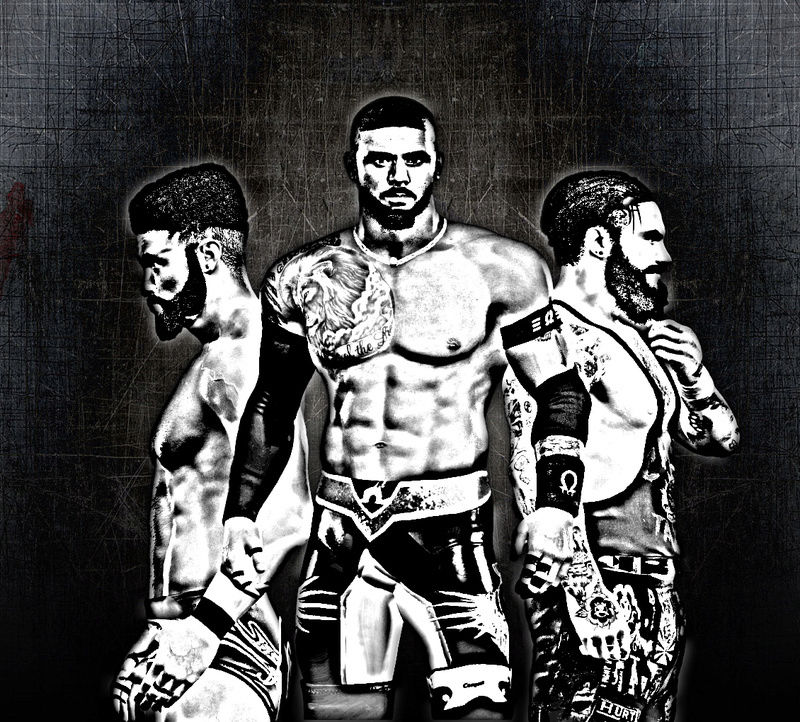 Main Event Star!





Posts

: 799


Join date

: 2015-07-19


Age

: 20


Location

: Hopewell, Virginia



Day One

Jenny Wheeler
Michelle & Debra Cox
Mariah
Aura
Dawn Bryan
???
Ally Cage
Miss Vicious
Fury
Cowbitch
Quinn-Belle

Day Two

Mr Showtime
Simon Hancock
Takeshi Matsumoto
Kurse
???
Syndicate
Troy Voodoo
Ringo Maxx
Omega Lee
The Wanderers (Topher have some faith please XD)
Teddy Soloway
Thunder Circus
George King
DSD
Rage
Hayden
Quantum

TB-4

_________________
My CAW's:
Fury-2x CMV Vixens Champion 1x CMV Womens IC Champion
Mannoroth
Grid & Animal- The Blood Brothers- 1xTornado Tag Champions
Gavin 'Extreme' Wheeler- The Wanderers -1XTag Team Champion with THE BISH
Jenny Wheeler
Takeshi Matsumoto- New Orient Express -1xTag Team Champion with Mr Showtime
Mr. Black
Lady Maria Del La Cruz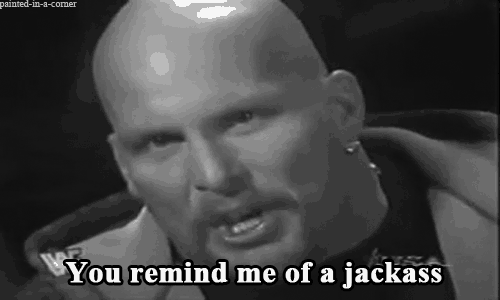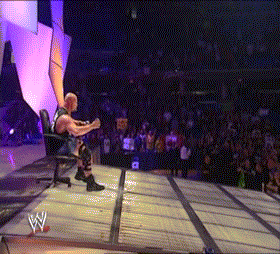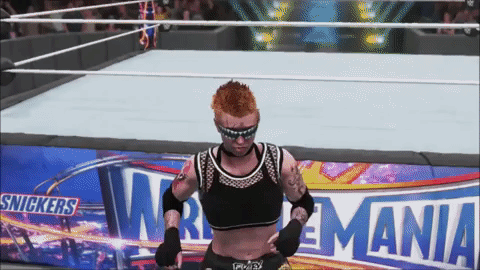 Midcard Playboy





Posts

: 447


Join date

: 2015-12-12


Age

: 24



Page 1 of 7 • 1, 2, 3, 4, 5, 6, 7

---
Permissions in this forum:
You
cannot
reply to topics in this forum