Fusion & Genesis PPV List!
-Battlescars
-Anarchy Rulz
-Retaliation
-Requiem
-Exodus
-CyberSlam
-Tag Team Cup
-Validation
-Dark Carnival
-Point Break
-Regicide
-Wild Card
-Absolution
-Emergence
-Home Coming
-Cause & Effect
-Final Resolution
-Purgatory
-Ascendance
Page 1 of 3 • 1, 2, 3

Will Vindy prove to be too much for Brody Halleck
Match Card
We kick off the show tonight with two fresh faces on the Intensity brand, one of whom, you may remember from way back to Season One of UnMatched, the third ever CMV European Champion Big Bad will make his return to CMV in tonights opening Matchup where he faces the ever flamboyant Indian Cuisine, Sandeep Krishna who will be making his CMV debut tonight with one goal in mind, picking up the win and showing why he is the pride of New Delhi.
But hold up folks, those aren't the only returns we'll see tonight, two former CMV Superstars return united as a tag team, as Breakthrough and Benjamin Black make their CMV Re-Debuts tonight against top contenders Markus and Jason Reed in what will surely be a back and forth, highly contested matchup. Breathrough and Black feel as if they have something to prove after their last outing in CMV and a win here tonight would be the first step in doing so.
Shane Winters has had somewhat of a rocky start to his CMV career, and certainly isn't looking to become any easier anytime soon because tonight, he steps into the ring toe to toe with the man with the greatest facial structure in CMV today, Leonardo Peacecraft, who boasts a very competent record this season and his well on his way to being a top contender providing he does not slip up in the coming months.
The "Gatekeeper" of the CMV Television Championship finally returns to in ring action after making his official return in the Royal Rumble match over a month ago now, with a chance to become a four time CMV Television Champion on the horizon he needs to hit the ground running, the problem is, can Lorin Seoul be the force he once was, even with the rocky season he had last time out, he was still able to cap it off with a European Championship, and has since looked to re-invent himself, however if there's ever going to be a time to beat him, it's after this big layoff, in steps Joey Fatu looking up to the task of humbling the returning Lorin Seoul.
Sons Pick
In the past, Kevin Payne has been known as Superstar who can be dominant, but never get the job done when it counts, we've seen this against Vindy, Waite and Tops Newsome this season, and several other times way back in season one during his first run, however his career has taken a new turn, aligning himself with Howard Phillps, the self proclaimed Diamond of CMV, despite being unable to get it done when it counts he's picked up a solid run as of late, with the exception of one man, Buck Hollywood, who tonight will team with former CMV Television Champion Anthony Brown to take on Howard and Payne in some tag team action.
For months, we've seen Brody dominate and destroy every man who opposes him, but people could argue that perhaps his opponents weren't the cream of the crop with the exception of Zack Starr. But tonight, in the co-main event Brody Halleck faces his toughest test to date, the first ever two time CMV Global Champion and last years Newcomer of the year, Voice Vindy who is coming off of a Global Championship loss at Blood Rush. Vindy will surely have some frustration to vent tonight, could we see Brody pinned for the first time in his career in tonights Co-Main Event?
Knowing what these two men are capable of in the ring together, we could well be seeing another match of the year performance tonight, these men have fought many times, with Tops winning the earlier exchanges but Starr beginning to even it out, but tonight could be one of the most important meetings of the two yet, for if Tops Newsome is unable to win tonight, not only will he not get his rubber match with Rage for the Global Championship, but he will get some "severe repercussions" from the Intensity General Manager Thomas Sullivan. On the flipside Starr has a chance to become a two time Television Champion at iMPLOSION, and a win over tops here tonight will surely help his confidence when it comes to winning back the belt he was never pinned for, and never got a rematch for... All of this goes down in tonights Main Event...
Admin





Posts

: 6097


Join date

: 2015-03-09


Age

: 20


Location

: MizTV


Humor

: Making Sons uncomfortable



_________________
Luther Thunder: 1x European Champion
Rashad Rockwell:1x Tag Team Champion with Kidd Campbell
Eligah Stewart
: 1x Tag Champion with DJ Moore
Jimmaurie Williams
:  2x CMV International Champion. Debut Episode 109.
Parker: 1x European Champion
Anthony Brown: 1x Television Champion
Main Event Star!





Posts

: 2723


Join date

: 2015-08-18


Age

: 15


Location

: Near Earth


Humor

: South Park



_________________
1x CMV Television Champion - Top's Newsome
1x CMV Womens Undisputed Champion - Quinn-Belle
1x CMV Vixens Champion - Quinn-Belle
1x CMV Undisputed Champion - Chris Andrews
1x CMV International Champion - Chris Andrews
2x CMV Anarchy Champion - Chris Andrews
1x CMV Wold Tag Team Champion (Divine Affairs w/Paul Divine)
1x CMV Womans Intercontinental Champion - Dawn Bryan
1x CMV Tag Team Champion - Kid Campbell (Gladiators w/ Rashad Rockwell)
2x CMV Light Heavyweight Champion - El Jefe
1x CMV Tag Team Champion - Don Bishop (The Wanderers w/ Gavin Extreme)
1x CMV World Tag Team Champions - Police Squad
Main Event Star!





Posts

: 3703


Join date

: 2015-12-11


Location

: (NEAR)... Leeds, England


Humor

: yes :D



What's conor McGregor doing here
_________________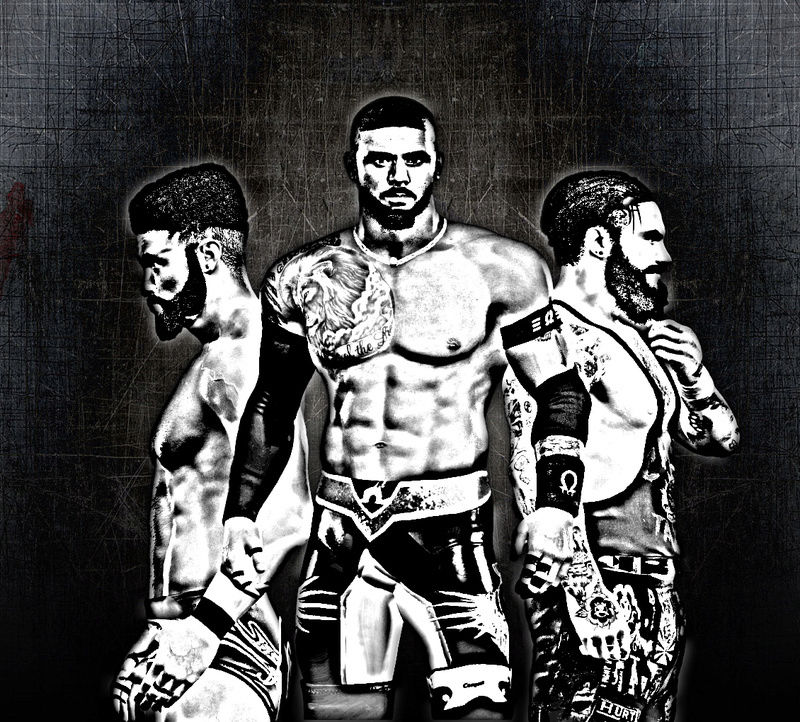 Main Event Star!





Posts

: 797


Join date

: 2015-07-19


Age

: 20


Location

: Hopewell, Virginia



Admin





Posts

: 6097


Join date

: 2015-03-09


Age

: 20


Location

: MizTV


Humor

: Making Sons uncomfortable



But are you ready for Tops V Starr part 7 or 8..... i forget
_________________
1x CMV Television Champion - Top's Newsome
1x CMV Womens Undisputed Champion - Quinn-Belle
1x CMV Vixens Champion - Quinn-Belle
1x CMV Undisputed Champion - Chris Andrews
1x CMV International Champion - Chris Andrews
2x CMV Anarchy Champion - Chris Andrews
1x CMV Wold Tag Team Champion (Divine Affairs w/Paul Divine)
1x CMV Womans Intercontinental Champion - Dawn Bryan
1x CMV Tag Team Champion - Kid Campbell (Gladiators w/ Rashad Rockwell)
2x CMV Light Heavyweight Champion - El Jefe
1x CMV Tag Team Champion - Don Bishop (The Wanderers w/ Gavin Extreme)
1x CMV World Tag Team Champions - Police Squad
Main Event Star!





Posts

: 3703


Join date

: 2015-12-11


Location

: (NEAR)... Leeds, England


Humor

: yes :D



Main Event Star!





Posts

: 935


Join date

: 2016-06-10



The pride of New Delhi? Come on cop man
_________________
༼ つ ◕_◕ ༽つ C9 TAKE MY ENERGY ༼ つ ◕_◕ ༽つ
GT: Alveuss
(I may or may not add you back)
Jacob Ziegler
- 2x Anarchy Champion, 1x Mr Money in the Bank, 1x BFF of Shane Scott, 2017 Newcomer of the Year
Rubik
- 1x Light Heavyweight Champion
Main Event Star!





Posts

: 1142


Join date

: 2015-11-29


Age

: 21


Location

: Glasgow, Scotland


Humor

: Roman Reigns' theme but every DUNNUN is replaced with BANNON



Admin





Posts

: 6097


Join date

: 2015-03-09


Age

: 20


Location

: MizTV


Humor

: Making Sons uncomfortable



Page 1 of 3 • 1, 2, 3

---
Permissions in this forum:
You
cannot
reply to topics in this forum