Fusion & Genesis PPV List!
-Battlescars
-Anarchy Rulz
-Retaliation
-Requiem
-Exodus
-CyberSlam
-Tag Team Cup
-Validation
-Dark Carnival
-Point Break
-Regicide
-Wild Card
-Absolution
-Emergence
-Home Coming
-Cause & Effect
-Final Resolution
-Purgatory
-Ascendance
Intensity comes back from commercial break, and Jacob Hardway is standing in the center of the ring. He has a microphone in his hand and the crowd is booing him. He lift the mic to his lips.

Jacob Hardway:
So. Takeshi Matsumoto. I beat you and made you my bitch a couple of week ago. Then I teamed with a delusional war veteran, and beat you and your partner Mr. Showtime. Now at the moment, I have no opponent for the Grandest Stage of them all iMPLOSION. So who is gonna be the fool that want to take the Hardway to IMPLOSION.

(Open to Fury)

_________________

Accomplishment:
Crowe - Anarchy Championship 
Tyler Endicot - Rising Star Championship
Joe Dirte - NGW Tag Team Championship (The Kingdom)
Maximum Rider - NGW Tag Team Championship (The Kingdom) 
George King - NGW Championship - Final
                         NGW Tag Team Championship (The Kingdom)        
                         European Championship 
Tyson Cage - Fusion Tag Team Championship (The Bickering Duo)
Angelina Hawkins - Women's Intercontinental Championship
Main Event Star!





Posts

: 1191


Join date

: 2016-01-22


Age

: 19


Location

: Ohio



Hardway was cut off by the crowd cheering as the music of Takeshi Matsumoto hit the P.A systems, under the titantron stepped out Takeshi's translator Daisuke and the Samurai of CMV himself. Daisuke was about to speak for Takeshi only for the deaf man to walk on down to the ring himself, the Samurai giving some lucky fans a couple of high-fives on the way down. Once he got down the ramp Takeshi jumped over the ropes into the ring, he stood infront of Jacob Hardway with a hand outstretched wordlessly asking his tormentor for the microphone. As expected Hardway refused but Takeshi wasn't taking no for an answer and just plucked the mic from Hardway.
Takeshi:
You...beat me, good for you. Everyone please give Mr Hardway a round of applause.
Sarcasticly Takeshi clapped a few times for getting back to business.

Takeshi:
Surely beating me must help you sleep at night, as all you did afterwards is run your mouth. You have a right to do so, but its not out of pride that you do it. No you do so trying to anger me, try to make me think I'm a failure.

I got news for you Mr Hardway, one or two losses to you does not undo all I have done in my Career. I asked for a challenger and you gave me a fight, you beating me is a minor bump in the road on my path to a possible singles run.

See unlike you i don't let a lost put me down, I learn from it.
And you know what i learned? That it hurts you that i brushed aside the fact I lost and accepted it, that I choose to move on and better myself. You are mad that I refuse to be a sore loser, that I refuse to moan and make excuses for you winning.

You beat me and yet you seem to want more, before Blood Rush you choose to get involved in a fight that was none of your business just because I was there. After the dishonourable war veteran got the pin in the tag match you tweeted you wanted another go at me as you had time to waste, well if the GM's allow it, you have your opponent at Implosion. I'm no fool and neither am I a coward so lets end this once and for all....one match at implosion LAST MAN STANDING!!!
With that Takeshi shoved the mic back into Jacobs hands, looking him in the eyes as he awaits his answer.
(open to Hellish)
_________________
My CAW's:
Fury-2x CMV Vixens Champion 1x CMV Womens IC Champion
Mannoroth
Grid & Animal- The Blood Brothers- 1xTornado Tag Champions
Gavin 'Extreme' Wheeler- The Wanderers -1XTag Team Champion with THE BISH
Jenny Wheeler
Takeshi Matsumoto- New Orient Express -1xTag Team Champion with Mr Showtime
Mr. Black
Lady Maria Del La Cruz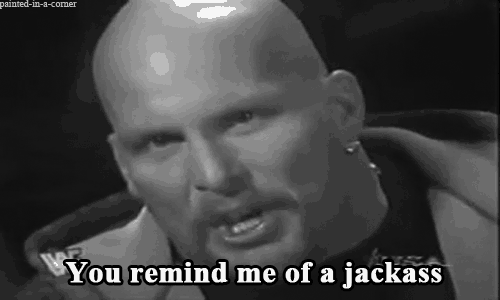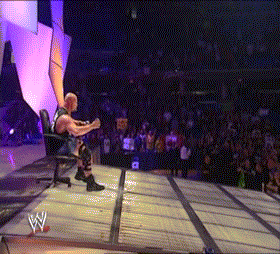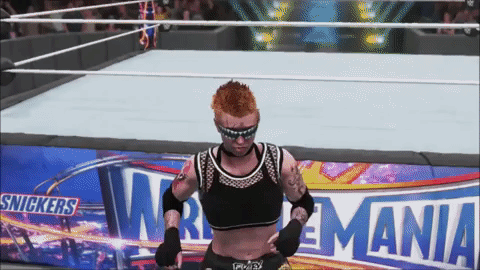 Midcard Playboy





Posts

: 445


Join date

: 2015-12-12


Age

: 24



Jacob Hardway seem surprised at the request for Last Man Standing.

Jacob Hardway:
Really. Last Man Standing. Really. I wouldn't have thought you would want to fight a guy like me, in a match like that. I really didn't think you want me to knock your ass out.

Hardway walks over to the ropes and leans against them.

You say I am upset that you aren't a sore loser.
You say I am upset that you are proud of losing. I say, that I am glad that you ain't a sore loser, I am glad you are proud of your failures. Because that means I can tear you down a piece by piece.  

Jacob walks up and get in the face of Takeshi.

Piece by piece. At iMPLOSION. I will beat you down. Choke you out. Knock your ass out. And I will end this with you out cold, my hand held high. Like it always does.

Jacob smirks as he says his final sentences.

(Open to Fury)

_________________

Accomplishment:
Crowe - Anarchy Championship 
Tyler Endicot - Rising Star Championship
Joe Dirte - NGW Tag Team Championship (The Kingdom)
Maximum Rider - NGW Tag Team Championship (The Kingdom) 
George King - NGW Championship - Final
                         NGW Tag Team Championship (The Kingdom)        
                         European Championship 
Tyson Cage - Fusion Tag Team Championship (The Bickering Duo)
Angelina Hawkins - Women's Intercontinental Championship
Main Event Star!





Posts

: 1191


Join date

: 2016-01-22


Age

: 19


Location

: Ohio



---
Permissions in this forum:
You
cannot
reply to topics in this forum