Fusion & Genesis PPV List!
-Battlescars
-Anarchy Rulz
-Retaliation
-Requiem
-Exodus
-CyberSlam
-Tag Team Cup
-Validation
-Dark Carnival
-Point Break
-Regicide
-Wild Card
-Absolution
-Emergence
-Home Coming
-Cause & Effect
-Final Resolution
-Purgatory
-Ascendance
Following commercial break, we are headed back into the arena and met by some decorations covering the ring, a nice carpet covers the canvas with a chair set up in the ring and a microphone left out on top of it. The crowd sit in suspense wondering who this elaborate setup was for. The crowd lets out a small pop as the band "Smash Mouth" walk out from the back and set up on stage and begin to play.
The crowd nod their heads, generally boogieing to the music for a few moments while waiting for whoever this elaborate set up is for to make their appearance, and, just as the chorus is about to hit, pyro explodes from around the arena and out he comes, wearing none other than Zack Starrs jacket, the very one he stole all those months ago, the very jacket Starr wore when he had his record breaking TV Title run, and in his hair? None other than Anthony Browns afro comb. With the Television Championship around his waist, Ricky Spanish gives his hips a little wiggle at the top of the ramp joined by the lead singer of Smash Mouth, who now in his 50's still has the moves. Spanish makes his way down the ramp, using Browns afro comb to comb his beautiful mustache as he heads towards the ring with the cockiest of smirks slapped across his face. Spanish leaps up onto the apron and enters the ring strutting around a bit, showing Anthony Brown how it's done as he dances to the lyrical masterpiece that is All Star and as the song comes to a close, Ricky Spanish picks up the microphone and begins to talk.
Ricky Spanish:
Ladies, Gentlemen, Anthony Brown! I am YOUR NEW.... TELEVISION Champion.. But not only that, I did exactly what I said I would do, when I pinned Anthony Brown 1, 2, 3 against the mat, I officially became his new daddy!

Ricky Spanish points up to the titantron showing some very clearly photoshopped pictures of Anthony Browns mother and Ricky Spanish in which the crowd lets out a chant of "Who's your daddy" over and over.

Ricky Spanish:
Now you're all probably wondering, why Zack Starrs jacket? Well this is a cumulation of everything, all the work I've put in since I was re-hired almost a year ago, and this very jacket, along with this afro comb, will be in my trophy cabinet alongside this Championship so I can tell the story to my 17 wives, when I'm old, and they're 21. Way back, way back now. I said that I'd come sweeping through Intensity, smacking anyone who didn't believe my gospel across the face and making them all kiss the ring, and finally, with this Television Championship around my waist, I can safely say I have done that!

But don't cheer me now, don't act like you were my fans along this path, this journey. Oh no, don't get it twisted each and everyone of you in the crowd have a red mark across your face from the back of my hand, and your wives have a red mark across their asses from the same thing. This was MY journey, and none of you believe in me.... Well... HIT IT SMASH MOUTH.



Ricky Spanish begins to play the air guitar against the boos of the crowd, jamming out to his favorite band, even taking a page out of Anthony Browns book and doing the splits, really sending a message.

Ricky Spanish:
NOW YOU'RE ALL BELIEVERS! I'm not only the Daddy of Anthony Brown, but the Daddy of this Television Championship! The Daddy... OF INTENSITY, and if anyone, ANYONE, has anything to say about that.... Well, I always have my rings and I beg you to differ. The name RICKY SPANISH, will go down in history, as the greatest Television Champion in CMV history, and there ain't no thang, anyone can do ab---

But before Spanish can continue, he's interrupted by the sound of a familiar theme, he throws his microphone to floor in absolute disgust screaming "This is my moment!" as his beautiful celebration is interrupted.
Open to Maurie
Admin





Posts

: 6100


Join date

: 2015-03-09


Age

: 20


Location

: MizTV


Humor

: Making Sons uncomfortable



The crowd knows what time it is as they hear the theme of polarizing character, Anthony Brown. Instead of his normal dancing and having fun he stomps half way down the ramp with a microphone in hand, wrecking some decorations that are on the ramp.
Anthony Brown
Haha, if it isn't Ricky Spanish, the coward himself. Congrats on your victory that you barely slipped away with. But hey barely works for you, but not me. You think you became my new daddy? You're barely man enough to even fight me in  basic match. It took you a couple tries but i guess you kinda found a way to use every advantage possible. And as soon as you got that title you did exactly what I imagined you'd do, run away with it like a pussy, punkass, and a shit champion.
The crowd starts a "Pussy" chant that Brown approves of. He makes his way closer onto the apron and points to Spanish.
Anthony Brown
That comb there is my property along with that Television Championship. So there are two things we can do...

Brown gets in the ring and stands across from Spanish.
Anthony Brown
You can hand me the title like you will do at some point. Or, I like this one better, I can give people a familiar sight and shove that guitar down your throat.
They both look ready to fight, but before they can interact with each other another theme plays.
(
Open to Sons
)
_________________
Luther Thunder: 1x European Champion
Rashad Rockwell:1x Tag Team Champion with Kidd Campbell
Eligah Stewart
: 1x Tag Champion with DJ Moore
Jimmaurie Williams
:  2x CMV International Champion. Debut Episode 109.
Parker: 1x European Champion
Anthony Brown: 1x Television Champion
Main Event Star!





Posts

: 2726


Join date

: 2015-08-18


Age

: 15


Location

: Near Earth


Humor

: South Park




*"The Diamond" Howard Phillips walks out on stage looking sharp in an expensive suit and shades on, the music shuts off as Howard begins to speak.*
Howard
: Ladies & Gentlemen while these two neanderthals in the ring bicker over who deserves what and all the rest of it, now seems like the perfect time to announce, that as of tonight's tag team match I am officially retiring from in-ring competition, to focus on an important endeavour. I plan to bring together a group of talented individuals, men, and possibly women, who are lumps of coal. Coal just waiting to become, DIAMONDS! So with that said I would like to introduce my first client, a man who has been overlooked and under appreciate for far too long, ladies and gentlemen please welcome, the true face of Intensity,
KEVIN
,
PAYNE
!

*Howard claps as Kevin Payne walks out onto the stage. Kevin shakes Howards hand and both men begin to walk down to the ring and up the steps, Howard holds the ropes open for Kevin as they enter the ring and stands in the corner as Kevin squares up to both *ricky spanish* and Anthony Brown then steps back and begins to speak.*
Kevin
: That's right boys, it occurred to me recently that to get what you want in this damn company you gotta take every single  shortcut possible, so I bought in to
Howard
here's idea. A group of elite, a group of
DIAMONDS
! And what better way to start such a group than with the greatness that is
Kevin
.
Payne
. NOW, lets get down to business here boys, I've been on a roll lately, whooping ass left and right with no given opportunity which is why if anyone is getting a shot at a title right now its gonna be me, and with Howard by my side I'm gonna, Beat Up!
*Kevin whispers*
*ricky spanish* And if you've got a problem with that Anthony boyo then well,
*Kevin starts prodding Browns chest as he says;*
you're gonna have to deal with ME!
*Brown slaps away Payne's hand and the two square up to each other but before they come to blows another superstars music begins to play...*
Open to You know who
_________________
Main Event Star!





Posts

: 649


Join date

: 2015-03-09


Age

: 25


Location

: Scotland


Humor

: Chimichanga...




Ringo Maxx steps out on stage, the surprise shown on the faces in the crowd only rivaled by those of the men in the ring. Maxx stares coldly back, a steel chair gripped tightly in his right hand. He slowly makes his way down the entrance way, his jean-and-leather jacket billowing around him, knuckles white and pumping.

Ringo climbs the steel steps gracefully, his heavy footfalls muffled by the cheers of the crowd. He ducks between the ropes and into the ring, and then directly into the face of Ricky Spanish. Ricky smiles at Maxx, getting only heavy breathing and furrowed brows in return. Ringo shakes his head, and then turns to Anthony Brown, giving him that same look.

And then his eyes fall on Kevin Payne, who receives the very same treatment. This time, however, Ringo's eyes remain locked on Payne's as he beckons for a microphone, which is brought to him by a ringside technician. He raises the mic to his lips, but lingers. The tension builds to a boiling point before he breaks it, speaking in his low, gruff Austrian accent slow and deliberately.

Ringo Maxx
"I want you to listen to me very... very closely. You all run your mouths so, so... so much. You puff your chests out and flex your muscles, you try and throw your weight around... and yet, you've done nothing to back up what you say. How long have you been out here? How long are you going to make worthless threats? Do I have to give them what they want... blood?"

The crowd erupts with cheers at that one, not even fazing Maxx in the slightest. Ringo walks into the corner, turning his back to the others for the first time. Slowly turning back around, he raises the chair as if to use it, but instead unfolds it and slams it into the ground, taking an easy seat into it.

Ringo Maxx
"The first shot to whoever has the guts is free. Make it count."

Maxx drops the mic and places his hands behind his head, waiting patiently.

[Open to a particular someone]
_________________
AETERNUS
Ringo Maxx - 1x King of the Ring (Current)
1x CMV Television Champion (Current)
Shane Scott - 1x BFF of Jacob Ziegler
Main Event Star!





Posts

: 1210


Join date

: 2015-06-09


Age

: 19


Location

: nowhere


Humor

: none





Not missing a beat Zack Starr's theme hits the PA system garnering the reactions of the fans, the annoyance of Ricky Spanish, the starstrucken admiration of Anthony Brown, the snobby eye roll of Howard Philips for his client, and the amusement of Ringo Maxx

Bursting from the curtain is Zack Starr and he has a bottle of champagne! He removes his sunglasses as the cameras get a clear shot of his beaten and bruised face caused by Brody Halleck. Starr doesn't even seem frazzled by the moment, his body language suggesting he's got a million things on his mind and none of them are all that important to him. Nonchalantly and perhaps even cavalierly, Zack starts to speak while down to the ring. His attention isn't even on the other men, driving home just how blah whatever it is he's about to discuss is to him.


Zack Starr
You know let me just do something real quick and then I'll get to my point. Let me address one guy and that is Ricky Spanish. See Ricky, you can convince the people who are new here that you're hot stuff but let me just START from day one and work my way back to you. When you first came here, you were a curtain jerker at best. You had a few matches and hey, you won maybe one or two. Then you got fired by Sampson. Then I helped you get back to your feet, gave you a job. You carried bags for a living and got paid to wrestle part time. You were a coffee getter. A gopher. A male rat.


Zack Starr offers up a shrug as he fights off a chuckle. His elbow pads now set up, Starr cracks a little smirk and goes back to chatting, his eyes on the camera and his arms moving while he talks at an upbeat tempo.



Zack Starr
So you worked your way up from bag carrier and gopher to a "respectable wrestler". Eventually you went from undercard jabroni to Television Champion in a dreary world. I would say you're not a star but I imagine if RAGE  is a champion then you've got some claiming to the title. You never beat anybody amazing, ya never beat me or HALO or anyone so on and SO FORTH. That said, I can't fault you for who you fought since your competition level is who you DO fight and not who you want to fight. Maybe you'd fight all these guys if you could but alas, ya won't. Your road to the top was softer than that thing you call facial hair but that's not your fault nor do I care to stress out about it! You found your way to a title and you won it so good for you. We're all proud of you and we're all throwing you a parade over it. I even got you this nice bottle of champagne.

Zack Starr takes a big swig of the champagne and spits it in the face of the Television Champion


Zack Starr
So NOW? Let's talk real business.  Now I'm not oblivious to the fact that there are a lot of names lining up from one side of the room to the next to face you. You've got Kevin Payne who has the talent but not the personality. You've got Anthony Brown who has the personality but unfortunately not enough talent. and Ringo? Well.....you're just what you just said everyone else is all talk and muscles but no results, don't think I forgot about Nick, you Arnold Schwarzenegger mark.
I could go on and on about these flawed yet equal opponents but there's only so many hours in a day so I'll just sum it all up as quickly as I can and do it in a neat and tidy bow.


They're marks.  I'm not.  Ricky is my bitch for life.  So i should challenge him.

Starr clicks his tongue, winks at the camera with the unbruised eye and then walks off.
_________________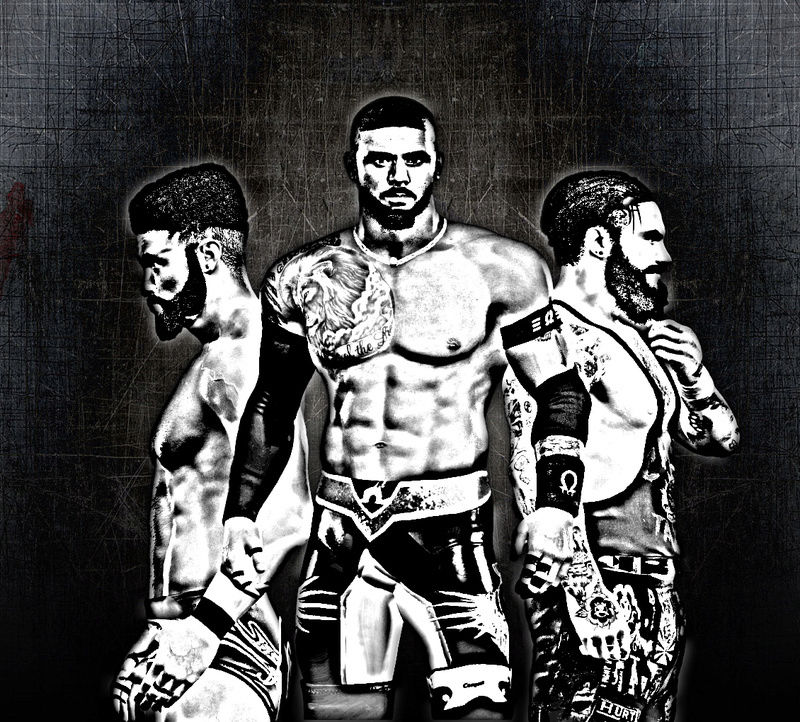 Main Event Star!





Posts

: 798


Join date

: 2015-07-19


Age

: 20


Location

: Hopewell, Virginia



But before Starr has a chance to move more than a few feet, all eyes,
spit covered an all, in the arena turn towards the stage as the theme of the Intensity General Manager Thomas Sullivan hits the PA System.



Aaaaand out he comes, the Money Major himself with a microphone in hand he stands at the top of the ramp looking down at the 5 men in the ring clamoring over the Television Championship. He raises a finger, demanding attention, and, with all of them wondering who is getting the shot, they turn to him causing him to let off a smile before talking into the microphone.

Thomas Sullivan:
Look here boys, you all make some good claims, but before we get this underway, lemme just take a second to congratulate our new Television Champion, Ricky Spanish for dethroning that C Level puffy haired hipster Anthony Brown who proved once and for all that he truly doesn't have IT.

So lets address this Television Championship shall we. But to really address it,
we've got to consider what it is that brings in the big money, what it is that brings in the viewership, because after all, that's what it's all about, this is a business at the end of the day, and I am the most successful businessman on the planet. But I'm sure you all know that.

But, back to the point, what generates interest, well a large combination of things, star power, the size of the stage, a great story, but perhaps the most important factor of all.... Unpredictability. I see five of you out here, all the boxes checked, there's some huge star power in this ring, and then there's Anthony Brown... But nonetheless. There's the biggest stage of them all at iMPLOSION for the match to take place. All of you have intent, there's a great story here... Now if we combine this all, into say... a six man ladder match!

The crowd interrupts him with a pop at the sound of this announcement.

That creates the unpredictability, who will walk out with the belt?! Who can scale that ladder first and grab the key to destiny?! But, there's one missing piece of this puzzle, One final backer to this investment... Take a look at you all in there... You have the Champion, Ricky Spanish, you have the former Champion, with a rematch clause, Anthony Brown. You have a man in Kevin Payne who has proven his dominance time and time again but remains with a chip on his shoulder due to always failing the big ones. You have the former best friend turned rival of the Champion in Zack Starr, who's had the Champions number at every turn. Then finally you have a vengeful King who is looking to extract blood from those around him, including the brother of one Nick Starr, who's career was ended at the hands of Ringo..

But you know what this group of 5 is missing? The one piece of the puzzle to make this story whole. The gatekeeper, the man who has lived and bled the Television Championship since it's incursion some years ago, and if we are to crown a true Television Champion, who better to go through than the most decorated Television Champion in history... The Three Time Television Champion, the man who returned at the royal rumble.... The Veteran.
Lorin Seoul.



All of the men in the ring look up to the stage as it begins to cloud with smoke, Lorin Seouls theme blaring throughout the PA System, the crowd goes wild, thinking his return in the rumble was just a one time thing, but here he is, in the flesh! Seoul walks out to the top of the ramp as Sullivan claps.. His Television Championship Match for iMPLOSION now fully booked....

Admin





Posts

: 6100


Join date

: 2015-03-09


Age

: 20


Location

: MizTV


Humor

: Making Sons uncomfortable




Similar topics
---
Permissions in this forum:
You
cannot
reply to topics in this forum