Fusion & Genesis PPV List!
-Battlescars
-Anarchy Rulz
-Retaliation
-Requiem
-Exodus
-CyberSlam
-Tag Team Cup
-Validation
-Dark Carnival
-Point Break
-Regicide
-Wild Card
-Absolution
-Emergence
-Home Coming
-Cause & Effect
-Final Resolution
-Purgatory
-Ascendance
Page 1 of 7 • 1, 2, 3, 4, 5, 6, 7

Which match would you prefer to see main event Fusion next week LIVE from Las Vegas!
Monday night Fusion: Episode 85!
LIVE from the Pensacola Bay Center
in Pensacola, Florida!!!Purgatory card thus far!
(Subject to change.)
-Bob Luger vs. Ryan Kent (c) for the CMV Alpha World championship!
-Marcantel vs. Josh Wolf vs. Kayden Kynra vs. Randy Borton vs. Guri Sukanov vs. Jon Reed in an Elimination Chamber match!
-Jay Davis vs. Elijah Stewart in an Anarchy Rulz match!
----- ----- ----- ----- -----

Shane Scott returns to Monday night Fusion and is looking to claim his first of many planned victims in the former CMV Anarchy champion, Troy Meyers.




The Bickering Duo suit up for battle tonight as they are closer than ever before to finally getting their shot at the Fusion Tag Team titles, but first must get through one more team, the veteran combo of Diablo and Angelico, Heaven or Hell.




The CMV universe is on the edge of their seats for this next one, as the winner of the third annual Cyborg Invitational will be decided once and for all when the still unpinned but down on his luck, Travis King, goes one on one with Salvi's last hope, D'Angelo Prince.




Killian Redd put on one hell of a performance in his CMV debut last night in the Royal Rumble match, lasting over fifteen minutes and scoring a few eliminations to boot. Tonight, he squares off against a former Undisputed champion in the form of Rhys Matthews, who's left without a direction as Ascendance growing near.




This next bout was supposed to see Crowe get a one on one rematch for the CMV Anarchy championship against the new title holder, Shanaz Andoni, but thanks to American Justice's unexpected return and dismantling of Crowe last night at Absolution, The REAL #1 Bubba now must face the hulking yellow and black crusader.




Both of these Fusion superstars have been on a roll since arriving in CMV, but tonight only one of them will keep their streak alive as it's The Antagonist versus The Pitbull, submission against submission; who will emerge victorious?




In our main event of the evening, it'll be a star-studded encounter indeed, as the co-general manager of Monday night Fusion, Schmidty, and his boys, the Fusion Tag Team champions, Desolation, battle the returning Scotsman, Jacob Ziegler, the 2019 CMV Royal Rumble match winner, Paul Divine, and the man that he very well may face in the main event of Ascendance five, the Undisputed champion, Chris Andrews.
Live Event!
-Cameron Harris vs. Bloody Justice
-Police Squad vs. The New Gods
-!winner
Reality Wrasslin' #19!
-Rubik vs. Guri Sukanov (Austin did this to you, Alveuss)
-D'Angelo Prince vs. Jaquan Shay
-Agnus W/Lupus vs. Bison
-Aleister Knox vs. Tyler Endicot
_________________
1x CMV Anarchy champion
1x CMV Tag Team champion
Bludgeon
1x Mr. Money in The Bank, 2x World Heavyweight Champion, 1x United States champion, Glammy award for Feud of the Year, Glammy Award for Heel of the Year
Xander Slate
Admin





Posts

: 4348


Join date

: 2015-03-08


Age

: 20


Location

: The Hood


Humor

: Knock knock!



I have faith in Rubik, you'll all see. Austin I thought we were friends tho.
_________________
༼ つ ◕_◕ ༽つ C9 TAKE MY ENERGY ༼ つ ◕_◕ ༽つ
GT: Alveuss
(I may or may not add you back)
Jacob Ziegler
- 2x Anarchy Champion, 1x Mr Money in the Bank, 1x BFF of Shane Scott, 2017 Newcomer of the Year
Rubik
- 1x Light Heavyweight Champion
Main Event Star!





Posts

: 1145


Join date

: 2015-11-29


Age

: 21


Location

: Glasgow, Scotland


Humor

: Roman Reigns' theme but every DUNNUN is replaced with BANNON



Hey Dashing, did you ever get the new Harvey? I can reupload if needed.
_________________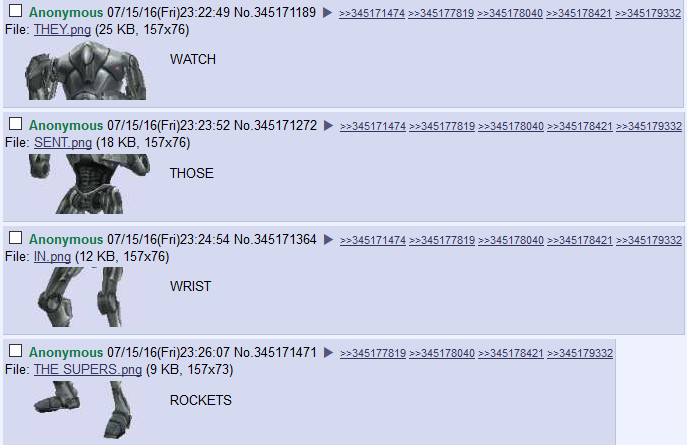 ACHIEVEMENTS B R U H
Josh Wolf:
Inaugural Rising Star Champion (Two Time Champion)
Main Event Star!





Posts

: 651


Join date

: 2017-01-28


Age

: 20



Is the Tyler v Alister for the Rising Star Championship?
_________________

Accomplishment:
Crowe - Anarchy Championship 
Tyler Endicot - Rising Star Championship
Joe Dirte - NGW Tag Team Championship (The Kingdom)
Maximum Rider - NGW Tag Team Championship (The Kingdom) 
George King - NGW Championship - Final
                         NGW Tag Team Championship (The Kingdom)        
                         European Championship 
Tyson Cage - Fusion Tag Team Championship (The Bickering Duo)
Angelina Hawkins - Women's Intercontinental Championship
Main Event Star!





Posts

: 1191


Join date

: 2016-01-22


Age

: 19


Location

: Ohio



How come there's not a poll option that doesn't include Ziegler?
_________________
Accomplishments :

2018 Heel of the Year as Schmidty
2018 Newcomer of the Year as Schmidty
2018 Face of the Year as Bob Luger
2018 Promoer of the Year
1x European Champion as Schmidty
2x United States Champion as Schmidty
1x Undisputed Champion as Schmidty
1x Alpha World Champion as Bob Luger
1x Tag Team Champion as Murdoc
1x Tag Team Champion as Freddy Osborne
2x Light Heavyweight Champion as Billy Weaver
1x Light Heavyweight Champion as Bryce Hurt
1x Dashing's ride or die chick
Main Event Star!





Posts

: 3427


Join date

: 2015-09-19


Age

: 21



Alveuss wrote:I have faith in Rubik, you'll all see. Austin I thought we were friends tho.
This is Rubik's big push.
_________________
AETERNUS
Ringo Maxx - 1x King of the Ring (Current)
1x CMV Television Champion (Current)
Shane Scott - 1x BFF of Jacob Ziegler
Main Event Star!





Posts

: 1210


Join date

: 2015-06-09


Age

: 19


Location

: nowhere


Humor

: none



New Batman wrote:How come there's not a poll option that doesn't include Ziegler?
Getting that moon push
_________________
༼ つ ◕_◕ ༽つ C9 TAKE MY ENERGY ༼ つ ◕_◕ ༽つ
GT: Alveuss
(I may or may not add you back)
Jacob Ziegler
- 2x Anarchy Champion, 1x Mr Money in the Bank, 1x BFF of Shane Scott, 2017 Newcomer of the Year
Rubik
- 1x Light Heavyweight Champion
Main Event Star!





Posts

: 1145


Join date

: 2015-11-29


Age

: 21


Location

: Glasgow, Scotland


Humor

: Roman Reigns' theme but every DUNNUN is replaced with BANNON



Alveuss wrote:

New Batman wrote:How come there's not a poll option that doesn't include Ziegler?

Getting that moon push
As you should
Now I'm not saying this to kiss your ass and get you to buy Friday the 13th, or to get you to make Sandeep any quicker
But you should be getting this deep push
Ziegler was my pick to win the rumble
I think 2019 should be Zieglers year
Also make Sandeep and get F13
Admin





Posts

: 6100


Join date

: 2015-03-09


Age

: 20


Location

: MizTV


Humor

: Making Sons uncomfortable



Please play F13 with me sometime Cop
_________________
Midcard Playboy





Posts

: 386


Join date

: 2015-06-28


Age

: 18


Location

: Somewhere in Florida


Humor

: Setting things on fire and seeing people get hurt



Page 1 of 7 • 1, 2, 3, 4, 5, 6, 7

---
Permissions in this forum:
You
cannot
reply to topics in this forum