Fusion & Genesis PPV List!
-Battlescars
-Anarchy Rulz
-Retaliation
-Requiem
-Exodus
-CyberSlam
-Tag Team Cup
-Validation
-Dark Carnival
-Point Break
-Regicide
-Wild Card
-Absolution
-Emergence
-Home Coming
-Cause & Effect
-Final Resolution
-Purgatory
-Ascendance
After his match at Blood Rush, Top's Newsome is seen backstage, blood still  pouring down the face after his brutal match with Quantum, but he is smiling, he wipes the blood out of his eyes and Mac Thompson shoves a mic in The Puppet Master's face, Top's chokes Mac for 5 seconds and releases  his grip….

Tops : You ever do that again little man, I will not let go, DO YOU HEAR ME.

Mac coughs and gasps for air, his face bright red, he nods in fear.

Tops : You see, I don't care about Quantum, he can have his little victory, it meant nothing,  he can have his spot in the main event I don't care about that either…. I didn't need to prove myself against Quantum, I've beaten his ass before when he was Blizzard… ….. But I'm looking at you Mac…..I see the FEAR in your eyes…. Well you and the rest of Intensity and the WHOLE of CMV should be scared,  No more am I allowing undeserving nobodies hold the Global Championship….
Tonight wasn't about me, it was about the Championship Match…. I watched as all three men go to war and to walk out as The Champ… and the reason why I have this smile on my face is because I saw who won….RAGE. The same guy who stole Medusa, my pet snake, the same guy who almost blinded me and made me wear this mask that I wore today when I came out for my match……The same guy I took to HELL ….in a Cell and destroyed. The Puppet Master only cares about one thing and that's the CMV Global Championship and considering me and Rage are  1-1 with me kicking his ass at No Remorse….
Well we need to settle things once and for all.. All the distractions are gone..... Now I can focus on me, CMV is going to IMPLODE because the Puppet Master has set his sights on his old nemesis….  But like I said we've gone out there and almost killed each other...Yes you defeated me in the Falls Count Anywhere and i pinned you inside Hell in a Cell. .....So i propose our match be even bigger and better than what we've done before….. So how about Top's Vs Rage part III…… hmmmm three, I guess that's the magic number….So I propose not one match… Not even two matches  BUT Three matches….. in…THREE STAGES OF HELL. For that very title at IMPLOSION...... Stage 1 lets just see who the better wrestler is, a normal 1 on 1..... Stage 2.... The match you know all too well.... Falls Count Anywhere.....and last but not least... Stage 3 My match....Once again we will go to Hell..... in the Cell of course.
 Rage you may have won the Global Championship, but now you have to face The Puppet Master  and you have something i want..... No Strings Attached.....
Last edited by topher316 on Tue Jun 20, 2017 3:09 pm; edited 1 time in total
_________________
1x CMV Television Champion - Top's Newsome
1x CMV Womens Undisputed Champion - Quinn-Belle
1x CMV Vixens Champion - Quinn-Belle
1x CMV Undisputed Champion - Chris Andrews
1x CMV International Champion - Chris Andrews
2x CMV Anarchy Champion - Chris Andrews
1x CMV Wold Tag Team Champion (Divine Affairs w/Paul Divine)
1x CMV Womans Intercontinental Champion - Dawn Bryan
1x CMV Tag Team Champion - Kid Campbell (Gladiators w/ Rashad Rockwell)
2x CMV Light Heavyweight Champion - El Jefe
1x CMV Tag Team Champion - Don Bishop (The Wanderers w/ Gavin Extreme)
1x CMV World Tag Team Champions - Police Squad
Main Event Star!





Posts

: 3736


Join date

: 2015-12-11


Location

: (NEAR)... Leeds, England


Humor

: yes :D



As the interview comes to an end, Tops' exit out of the frame is cut off by Thomas Sullivan, the Intensity General Manager, he pats Tops on the shoulder as he walks past.

Thomas Sullivan:
Just one moment Lisa!

Lisa Evans turns to face Sullivan who gestures for her to come over, which of course she does, and now with Tops looking on Thomas Sullivan turns towards him and begins to speak, with the whole world watching.

Thomas Sullivan:
Three might be the magic number Tops, but you know what would have been magical? My brand in the Main Event of iMPLOSION. Beating Quantum may not have mattered to you, but it's not about you. It's about representing the brand, MY brand. Something in which you have failed to do...

But fear not Tops, as a little bit of Magic may have just fallen in your favor. I am a businessman as you know, and a rather successful one at that. Being a businessmen is all about making good investments, taking big risks for big rewards. Right now Mr. Newsome, the Global Championship picture is rather open, with Vindy losing his belt and Lee losing his rematch, there is no direct contender. But while your story makes sense, there's just one thing I cannot count on. Your ability to show up. Time and time again you've had opportunity after opportunity thrown your way, and time and time it's been wasted.

If I am to give you your spot in the Global Championship Match at iMPLOSION I'm going to need some proof that you can still compete with top tier talent. Which is why I am going to throw you this bone. The match makes sense, that is for sure, but you need something behind you to make the fans believe again.

So I ask, what better way to prove you've still got it, than by beating the guy that took it all away from you? The guy who had the odds stacked against him when he fought you, but overcame it to crush your dreams. I'm talking about the former Global Champion, Zack Starr. If you can get past Zack Starr in next weeks Main Event. You're iMPLOSION wish will be granted. But hear this warning Tops, if you nullify this investment with another piss poor performance on a Championship scale, in our Biggest match at iMPLOSION, there will be dire consequences.

And with this quick announcement, Sullivan leaves, butting shoulders with Tops as he passes leaving the Puppet Master with a sour look in his eyes as the segment fades to black.
_________________
Matthew wrote: Hayden is so much better than Schmidty in every way.
Admin





Posts

: 6117


Join date

: 2015-03-09


Age

: 20


Location

: MizTV


Humor

: Making Sons uncomfortable



Thomas Sullivan entering backstage after his response to Tops Newsome  producers and agents are all talking to Sullivan at a mile a minute pace. Suddenly though, the sound of footsteps and sarcastic clapping approaching the gorilla position. Everyone stops what they're doing and turns to the direction of where the sound is coming from and it's Omega Lee as he walks into frame.

Omega Lee
Why are you looking at me like that? Do you even realized what you've done?! You're messing with my career, I mean what kind of ship are you running here huh? You had an opportunity to make things right after what just happened at Blood Rush but instead you just gave away my golden ticket to iMPLOSION to some second rate joke like Tops Newsome. This is serious business and you should know better than to keep me out of  mean this is just classic CMV booking, when I wanted my rematch I was expecting a one on one but what you gave me instead was a triple threat match that I didn't get beat in and after  doing all the work in that match Rage stole my win. Rage and I even had a match two nights before and I beat him ONE..TWO..THREE in that very same ring. So tell me you're giving me my rematch mext week or are we going to have a conversation about my career here in CMV?

_________________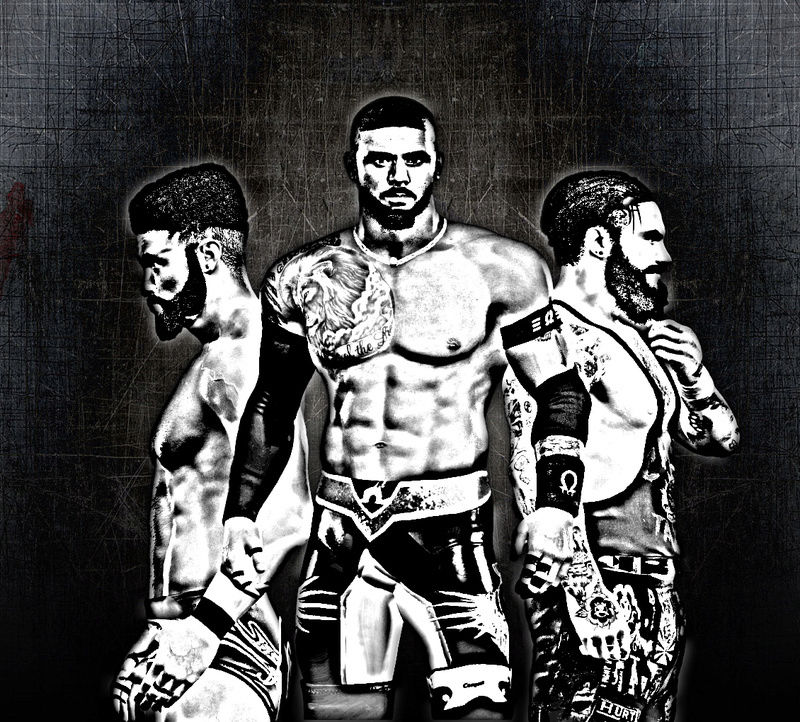 Main Event Star!





Posts

: 799


Join date

: 2015-07-19


Age

: 20


Location

: Hopewell, Virginia



---
Permissions in this forum:
You
cannot
reply to topics in this forum