Fusion & Genesis PPV List!
-Battlescars
-Anarchy Rulz
-Retaliation
-Requiem
-Exodus
-CyberSlam
-Tag Team Cup
-Validation
-Dark Carnival
-Point Break
-Regicide
-Wild Card
-Absolution
-Emergence
-Home Coming
-Cause & Effect
-Final Resolution
-Purgatory
-Ascendance
Page 1 of 6 • 1, 2, 3, 4, 5, 6

Kayden Kynra wants a match at Home Coming; but against who?
CMV Presents: Home Coming!
Episode 324!!
LIVE from the Neal S. Blaisdell Center
in Honolulu, Hawaii!!!
----- ----- ----- ----- -----

It's the very last day of 2018 here in CMV, and we're launching into the new year and kicking off the road to Ascendance 5 with one hell of a show! It all gets underway with our Cyborg Invitational match-up of the evening, pitting the Bickering Duo against one another, as tag team partners, Tyson Cage and Suraci, collide! If The Masked Man can nab the victory here in this one, he'd retake third place and if all goes in his favor he could finish that way, but the man with most exquisite facial hair in all of CMV has made in abundantly clear that he has no plans of taking the loss here tonight!




In our first of eight championship matches at tonight's event, Hellfire Club's, Kaiva, will be putting his CMV International title on the line, against a very game, Pierre Thompson. But no matter how pumped up he may be, Primetime, is on the suffering end of a minor concussion thanks to The Latvian's comrade, Jon Reed, just a few nights ago on Genesis, an injury that the champ will no doubt be taking advantage of.




In a match that has some big implications behind it, the son of Fusion's illustrious general manager, Brody Sampson, will be making his in-ring debut in opposition to none other than The Asian Sensation, Paul Divine! We know that if Japan's Biggest Export is victorious over who Big Johnny called, "the future of CMV", he'll be added to tonight's main event, making it a triple threat for the Undisputed title. But just earlier today, it was announced that after he disregarded his suspension at the top of the week on Fusion, attacking Chris Andrews, another stipulation has been tagged onto this already important bout; if Paul Divine is to lose, he'll be banned from the Royal Rumble match next month!




The CMV World Tag Team titles will be up for grabs in this next one, when Extreme Conditions finally cash-in their rematch clause and challenge the current champs, Nick Blake and Zack Cage, in a Tornado Tag Team Elimination match!




It's all about making an impact if you ask Dallas Chandler, and that's just what he set out to do at the top of the month when he returned after a near five month hiatus only to brutally assault the in-ring veteran, Oliver Smith, jumping him from behind backstage. But the old-timer has most definitely made Chandler pay for his actions, returning the favor on more than one occasion. But tonight, the two will finally face off one on one in a No DQ match; will The Baddest Man in All the Land prove why he calls himself just that, or will Smith teach him a lesson in respect?




Tables are the name of the game in this Rising Star championship match, after having not only his title but also two weeks of his career taken from him thanks to Sebastian Vachon, Josh Wolf is out for nothing less than the equal here in this one, on the hunt to reclaim what he still feels is his and put down The Grenoble Nightmare for good.




It's one of, if not THE most dangerous matches in all of wrestling; strung above the ring is a briefcase that inside contains a contract for a CMV International title match, the first man to scale a ladder and retrieve said case will make that opportunity his. It's the brash, cocky and loud-mouthed, Jay Davis, up against the fun-loving, fan favorite, Good Vibes Kid, Elijah Stewart! Which of these two young and hungry superstars will outshine the other and risk everything-even their own career- for just a shot at championship gold?




Bob Luger has no doubt carried Friday night Genesis to the forefront of CMV and the wrestling world as a whole under his reign as the Alpha World champion. Nearing four months with the gold and with the most challengers slain, The Work Ethic Titan has lived up to that name, taking on any and all comers. But many feel as though he'll be facing his biggest threat yet in the form of the snake, Sean Silva, here tonight. The leader of RISE has proven to be just a dangerous on his own as he would be backed up by his boys, earning this opportunity by pinning Luger back at Cause & Effect, emerging as the sole survivor of his team that night. But ole Bobby boy got that win back just a few nights ago on Genesis, and so now it's time to find out which of the two is truly the better, as they clash to see who will head into the near year as the face of Genesis!




Two of the Genesis brand's top talents go toe to toe in this next bout, after hearing all of the praise that Sam Valentine has received since arriving on the yellow brand some months ago, Ryan Kent, took it upon himself to remind everyone just who the big dog is when he attacked The Dream last week before his big main event match. Though the assault backfired and Sam stood tall, tonight the two will take their beef to the ring, general manager, Dave Turner, announcing that the winner will be named the next number one contender to the CMV Alpha World championship!




Another rubber match comes our way here tonight at Home Coming, when the CMV Light Heavyweight champion, Bryce Hurt, defends his title against the former champ, THE HUMAN FISH, El Jefe! History could be made in this one if The Boss finds himself victorious, he'd become the first ever three-time Light Heavyweight title holder, but Hurt is not about to let that happen, his reign is still young, and he'll do everything that he has to in order to see it grow older.




Randy Borton not only had his title taken from him back at Emergence, but his pride was badly damaged too, when the new and improved Hellfire Club jumped him in a horrendous three-on-one attack. Tonight, The Moo Moo Man will be out for revenge but it may not come so easily, as he must stand face to face with the gargantuan enforcer of the HFC, Afterlife!




Crowe saw his pride be his downfall this past Monday night on Fusion, when he issued an open challenge for his CMV Anarchy championship and who else but The REAL #1 Bubba answered that call. Despite a valiant effort, Crowe fell short and Shanaz Andoni was crowned our brand new champion, although he could have gotten his rematch here tonight, the former champ has decided to bide his time and wait for the correct moment to strike, and so via a poll on CMV's website, The Punjabi Playboy will make his first defense of his newly won gold against the self-proclaimed Ultimate Jobber, Troy Meyers!




Hopefully the ring has been properly reinforced for this next match-up, as two mack trucks are set to collide head on when the undefeated Russian Ogre, Guri Sukanov, faces undoubtedly his biggest challenge yet, in the form of The OG Monster of CMV, The Barbarian, Bison!




In our co-main event of the evening, all three instruments of destruction that will be individually used throughout the show will come together as one, when Xander Slate and Schmidty look to write the final chapter in their chaotic rivalry, with the CMV United States championship handing above the ring in a Tables, Ladders and chairs match!




The final match of the year, of 2018, will come down to this, the CMV Undisputed World championship up for grabs, the grandest prize in all of CMV, advertised as a one on one contest between The Bloody Brit, Chris Andrews, and the champ, Rhys Matthews, and it very well may be, but of course IF Paul Divine is successful against Brody Sampson early on in the show, then this will be made into a triple threat match, where it's truly anyone's ball-game. As it currently stands, Matthews has the advantage locked firmly in his corner with The Brit suffering from bruised ribs, seriously risking a major injury by competing here tonight. But Andrews has ignored the doctors warnings, it's a pride thing with him, but you've got to respect it, he won't back down, not with that title that he's chased all season long so close from his grasp. Can Chris cap-off an incredible year by finally reaching the top of the mountain; or will Rhys further prove one way or another that he is not a fluke, but the World champion for a good damn reason!?
_________________
1x CMV Anarchy champion
1x CMV Tag Team champion
Bludgeon
1x Mr. Money in The Bank, 2x World Heavyweight Champion, 1x United States champion, Glammy award for Feud of the Year, Glammy Award for Heel of the Year
Xander Slate
Predictions, you know the drill, bitches.

Whoever gets the most correct, gets to book a Fusion match, two Reality Wrasslin' matches, a Genesis match, a Live Event match for each show and of course, a dank ass custom-colored name on the site until the next pay-per-view!

Tie-breaker:
How many times will Elijah Stewart fall off of a ladder?
_________________
1x CMV Anarchy champion
1x CMV Tag Team champion
Bludgeon
1x Mr. Money in The Bank, 2x World Heavyweight Champion, 1x United States champion, Glammy award for Feud of the Year, Glammy Award for Heel of the Year
Xander Slate
Suraci
Pierre
Paul
Blake/Cage
Dallas
Josh
Elijah
Bob
Kent
Bryce
Afterlife
Troy
Guri
Slate
Bloody Brit

the mofo will fall 3x
_________________
1x CMV Television Champion - Top's Newsome
1x CMV Womens Undisputed Champion - Quinn-Belle
1x CMV Vixens Champion - Quinn-Belle
1x CMV Undisputed Champion - Chris Andrews
1x CMV International Champion - Chris Andrews
2x CMV Anarchy Champion - Chris Andrews
1x CMV Wold Tag Team Champion (Divine Affairs w/Paul Divine)
1x CMV Womans Intercontinental Champion - Dawn Bryan
1x CMV Tag Team Champion - Kid Campbell (Gladiators w/ Rashad Rockwell)
2x CMV Light Heavyweight Champion - El Jefe
1x CMV Tag Team Champion - Don Bishop (The Wanderers w/ Gavin Extreme)
1x CMV World Tag Team Champions - Police Squad
Main Event Star!





Posts

: 3708


Join date

: 2015-12-11


Location

: (NEAR)... Leeds, England


Humor

: yes :D



Suraci
Kaiva
Divine
Cage & Blake
Chandler
Vachon
Luger
Sam
El Jefe
Borton
Andoni
Big THICC Guri
Slate
Rhys
_________________
1x CMV Anarchy champion
1x CMV Tag Team champion
Bludgeon
1x Mr. Money in The Bank, 2x World Heavyweight Champion, 1x United States champion, Glammy award for Feud of the Year, Glammy Award for Heel of the Year
Xander Slate
Suraci
Pierre Thompson
Brody Sampson
Extreme Conditions
Oliver Smith
Josh Wolf
Jay Davis
Bob Luger
Ryan Kent
Bryce Hurt
Randy Borton
Troy Meyers
Guri Sukonov
Xander Slate
Chris Andrews

Tie Breaker: 3 Times.
Main Event Star!





Posts

: 1019


Join date

: 2016-07-18


Age

: 16


Location

: New York, Sahn!!


Humor

: Hellish



Suraci
Kaiva
Paul
Blage
Dallas
Wolf
Davis
Luger
Kent
Hurt
Borton
Meyers
Thiccanov
Slate
Andrews

TB- 3
_________________
つ ◕_◕ ༽つ TSM TAKE MY ENERGY ༼ つ ◕_◕ ༽つ
Main Event Star!





Posts

: 888


Join date

: 2016-07-22


Age

: 21


Location

: Cardiff, Wales


Humor

: Sarcastic and Adam Sandler



Main Event Star!





Posts

: 935


Join date

: 2016-06-10



_________________
1x CMV Television Champion - Top's Newsome
1x CMV Womens Undisputed Champion - Quinn-Belle
1x CMV Vixens Champion - Quinn-Belle
1x CMV Undisputed Champion - Chris Andrews
1x CMV International Champion - Chris Andrews
2x CMV Anarchy Champion - Chris Andrews
1x CMV Wold Tag Team Champion (Divine Affairs w/Paul Divine)
1x CMV Womans Intercontinental Champion - Dawn Bryan
1x CMV Tag Team Champion - Kid Campbell (Gladiators w/ Rashad Rockwell)
2x CMV Light Heavyweight Champion - El Jefe
1x CMV Tag Team Champion - Don Bishop (The Wanderers w/ Gavin Extreme)
1x CMV World Tag Team Champions - Police Squad
Main Event Star!





Posts

: 3708


Join date

: 2015-12-11


Location

: (NEAR)... Leeds, England


Humor

: yes :D



Oh okay fam. I see Dashy boy voting for his CAW (jk ily)

Tyson
Pierre
Paul (he's not a babyface guys)
EC
Dallas (Loser better shave their beard.)
Josh
Elijah
Bob
Sam
Bryce
Randy
Shanaz
S U C C anov
Xander
Rhys (If Triple threat still Rhys)

Tie: 2 Time 2 Time
_________________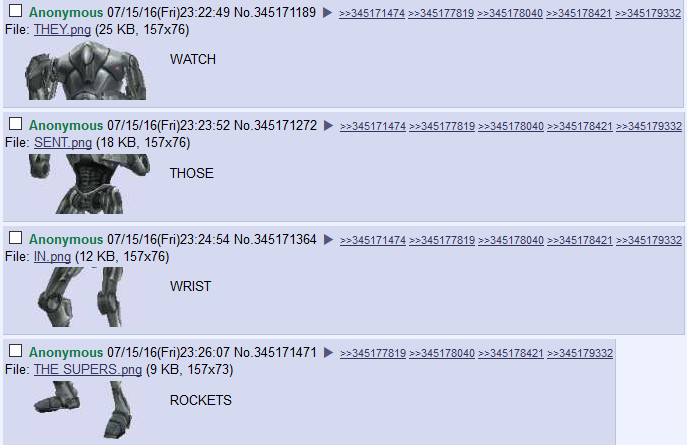 ACHIEVEMENTS B R U H
Josh Wolf:
Inaugural Rising Star Champion (Two Time Champion)
Main Event Star!





Posts

: 651


Join date

: 2017-01-28


Age

: 20



Page 1 of 6 • 1, 2, 3, 4, 5, 6

---
Permissions in this forum:
You
cannot
reply to topics in this forum