Fusion & Genesis PPV List!
-Battlescars
-Anarchy Rulz
-Retaliation
-Requiem
-Exodus
-CyberSlam
-Tag Team Cup
-Validation
-Dark Carnival
-Point Break
-Regicide
-Wild Card
-Absolution
-Emergence
-Home Coming
-Cause & Effect
-Final Resolution
-Purgatory
-Ascendance
Page 1 of 7 • 1, 2, 3, 4, 5, 6, 7

Did Tia Powley deserve to win Queen of the Ring?
Match Card
We kick off the show tonight with Bettey Meyers, who has claimed to have a change of attitude, looking to hurt people first, win matches second. Tonight she has the chance to learn from some of the best as we have perhaps the craziest, most insane three Vixen team in history as the deranged Mariah, the unbeaten Joy Justice and the newly refined Bettey Meyers team together, as Meyers, with a personal goal to get some revenge looks to get one over the Vixen who beat her at Queen of the Ring, she'll be joined by Ally Cage who has a bone to pick with Mariah, and her HALO stablemate the former two time CMV Womens Intercontinental Champion, "1 Shot" Leona.
In our second match of the evening we see two former Champions collide. Amber Briggs, the first ever Vixens Champion, takes on Morgan Black, the former Vixens Champion. Over the past few months Amber Briggs has had a bit of a resurgence, climbing the rankings once again, she came to a small hurdle in Cassie Maverick at Takeover but is looking to bounce back tonight. However Morgan Black is no easy matchup.
Last week, Maddy Zendran and Alexis Olsen look to continue their current run of dominance after taking Kristen Page out, they targeted No Morality last week, in what could turn out to be a huge mistake. However tonight they take on the duo of Fiona Thorne and Emma Watkins ailing from the United Kingdom, in what could be a technical masterclass it'll be a tough one to call, however the X-Factor here is how No Morality react to last weeks actions.
Rose Punish has seemingly turned into a big match player as of late, struggling on the normal shows but when it all comes down to it and that belt is on the line, she pulls the win out of nowhere. Tonight she faces another tough former Rival in Lexin Damjen. With both Vixens needing the win, but only one winner can walk out, who will pick it up?

Our CMV Womens Intercontinental Champion steps into the ring tonight looking to continue her impressive run as of late, however tonight she takes on a former CMV Womens Intercontinental Champion in her own right in Ashley Kelly, a potential tough match up for Fury, but certainly no different than she's dealt with before. But she'll need the momentum, for she'll be defending her Title next week!

In our Co-Main Event of the evening our Queen of the Ring winner "Miss Vicious" formerly known as Tia Powley takes on a formidable opponent in Aerora, the first time they've fought since the very start of Aerora's career, for a long time, Tia was the only person who had beaten Aerora, but now, some 8 months later, it's time to see who;s improved the most.

In tonights Main Event, the runner up in Queen of the Ring, the most decorated Vixen in CMV history, Cassie Maverick, teams with longtime rival and current CMV Womens Undisputed Champion Megan Cooper in some tag team action to take on this years Vixens Royal Rumble winner, the Queen of Botchville, Kitty Quinn-Belle and her unofficial tag team partner Willow Nightling in duo dubbed as "Quillow" in what is sure to be an epic Main Event.
Dark Matches
Rachel Grant Vs Audrey Hope
In our first dark match, two struggling Vixens fight for momentum to climb the card.
Amy Winters Vs Christine Lashley
The epitome of the dark match, a debut, Amy Winters looks to make her CMV debut against the behemoth, Christine Lashley
Aura, Skyler Craft, Jenny Wheeler, Danielle Davis
In our third and final dark match, to emphasize how important these matches can be for the up and coming talent, the winner will get the chance to challenge Fury next week for the CMV Womens Intercontinental Championship.
What is the point of Dark Matches?
They are essentially live events, but they will be before the show, and exclusively for newer Vixens and Vixens who are getting lost in the shuffle, there'll be storylines and cutscenes just as the main card would have.
Admin





Posts

: 6097


Join date

: 2015-03-09


Age

: 20


Location

: MizTV


Humor

: Making Sons uncomfortable



Think some of the pictures are broken but I just got called into work so RIP, will fix when I get home had to rush this out. Will have to be a double tomorrow because I won't be able to do UnMatched as I now have to go into work, but IDK it's my mums birthday tomorrow. Will see what I can do.
Admin





Posts

: 6097


Join date

: 2015-03-09


Age

: 20


Location

: MizTV


Humor

: Making Sons uncomfortable



Main Event Star!





Posts

: 935


Join date

: 2016-06-10



_________________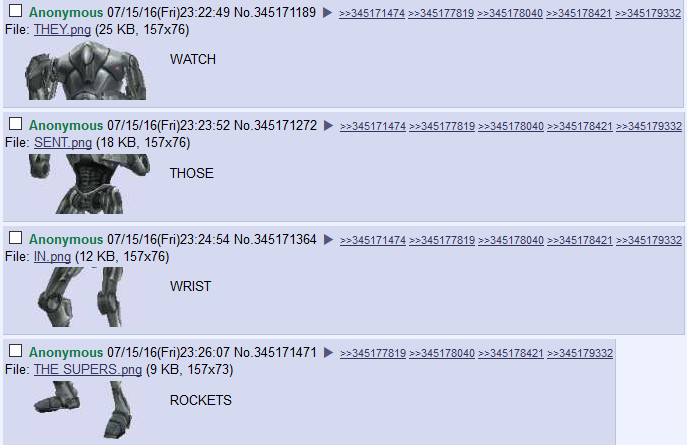 ACHIEVEMENTS B R U H
Josh Wolf:
Inaugural Rising Star Champion (Two Time Champion)
Main Event Star!





Posts

: 651


Join date

: 2017-01-28


Age

: 20



Hey if that 6 vixen match if the team joy justice loses would that count as a lose for her?
Midcard Playboy





Posts

: 204


Join date

: 2016-11-18


Age

: 17



Admin





Posts

: 6097


Join date

: 2015-03-09


Age

: 20


Location

: MizTV


Humor

: Making Sons uncomfortable



> Not a dark match if you can see it
_________________
1x CMV Anarchy champion
1x CMV Tag Team champion
Bludgeon
1x Mr. Money in The Bank, 2x World Heavyweight Champion, 1x United States champion, Glammy award for Feud of the Year, Glammy Award for Heel of the Year
Xander Slate
Admin





Posts

: 4347


Join date

: 2015-03-08


Age

: 20


Location

: The Hood


Humor

: Knock knock!



Mr. Dashing wrote:> Not a dark match if you can see it
omg shut up
_________________
つ ◕_◕ ༽つ TSM TAKE MY ENERGY ༼ つ ◕_◕ ༽つ
Main Event Star!





Posts

: 888


Join date

: 2016-07-22


Age

: 21


Location

: Cardiff, Wales


Humor

: Sarcastic and Adam Sandler



Admin





Posts

: 6097


Join date

: 2015-03-09


Age

: 20


Location

: MizTV


Humor

: Making Sons uncomfortable



Page 1 of 7 • 1, 2, 3, 4, 5, 6, 7

---
Permissions in this forum:
You
cannot
reply to topics in this forum