Fusion & Genesis PPV List!
-Battlescars
-Anarchy Rulz
-Retaliation
-Requiem
-Exodus
-CyberSlam
-Tag Team Cup
-Validation
-Dark Carnival
-Point Break
-Regicide
-Wild Card
-Absolution
-Emergence
-Home Coming
-Cause & Effect
-Final Resolution
-Purgatory
-Ascendance
After his victory against Bryan Sanders, Wade signals for a microphone and enters the ring as Brody lifts the bloodied Sanders to his feet and tosses him over the top rope and out of the ring.

Wade Flanagan
Ladies and gentlemen, get on your phones and text your buddies. Tell them that you just got the PRIVILEGE of watching yet another superstar FAIL to topple the Tower of Dominance that is Brody Halleck. And while you're at it, ask them, who can beat this guy? And if your buddy is smart, they'll text back.......NOBODY!

The fans boo at his confidence as he continues.

Wade Flanagan
Brody Halleck is the most dominant man in CMV, past or present and I don't plan on allowing his talents to be wasted any longer. Logan Hail? Ringo Maxx? Bryan Sanders? Some other guys who's names I don't know? Those aren't fights that can satisfy that hunger that this man possesses. He belongs in the main event. On the top of this brand. Which is currently a spot reserved by your Global Champion, Voice Vindy. But Brody, he isn't intimidated by Voice. Fear is a choice and he chose to banish fear from his mind years ago. Brody is a man who I can promise right now in front of all of you unworthy fans in attendance, that will NEVER lose a wrestling match here in CMV. He's a winner. A winner who demands that his time is no longer wasted in non title matches.

Wade pauses to allow the train of boos to pass.

Wade Flanagan
Brody is a PRIZE fighter! Give him his prize! Give him....

Before Wade can finish, his attentions his brought to the stage when...

[Open to Gent]
_________________
Accomplishments :

2018 Heel of the Year as Schmidty
2018 Newcomer of the Year as Schmidty
2018 Face of the Year as Bob Luger
2018 Promoer of the Year
1x European Champion as Schmidty
2x United States Champion as Schmidty
1x Undisputed Champion as Schmidty
1x Alpha World Champion as Bob Luger
1x Tag Team Champion as Murdoc
1x Tag Team Champion as Freddy Osborne
2x Light Heavyweight Champion as Billy Weaver
1x Light Heavyweight Champion as Bryce Hurt
1x Dashing's ride or die chick
Main Event Star!





Posts

: 3424


Join date

: 2015-09-19


Age

: 21



Just before Wade Flanigan can get the words out to finish his statement the Zack Starr's theme blast on the PA system just when he walks out the camera cuts away to former Global and Television Champion

☆Zack Starr☆

How many times am i going to have to come out here and remind every mark that comes out here wasting everyones time talking about how dominant he is and talk about the main event without mentioning me? I'm confused I've been scratching my head backstage trying to figure out what exactly is Brody Halleck? Or at least who he thinks he is? You see I get it, you're big, ....you're tall, ..... you're taller than most people and that's kinda where I run out of things to say about you because if it wasn't for the fact that you hit the genetic lottery and you vaguely look like Brendan Fraser no one would really care. I mean yeah sure you got a few wins but who have you really beaten a bunch of no bodies thats who. Now you're walking around now that the ink on your contract has finally dried like your the big dog around here. Do you know who I am, my accomplishments, the catalog of six star matches I'M ZACK STARR BITCH!
I've seen guys like you come and go the tall, the short, the fat, the flippy ones they all come and go because when they get knocked down once they cry "Oh this is too hard, I can't hang in wrestling, I used to be white trash, I never had a passion for wrestling" then they leave. I've been knocked down more times than I can count and the weird thing is I just keep getting better everytime I get up. Brody since out of shape Elvis Presley there thinks you shouldn't be wasting your so called talents against thw scrubs in the back why not face oh idk....ME?!
_________________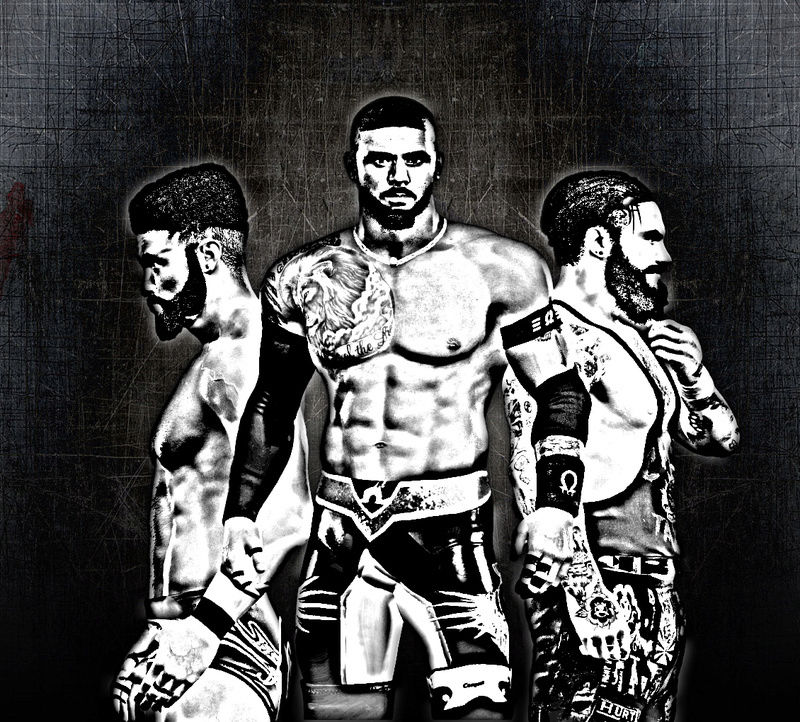 Main Event Star!





Posts

: 797


Join date

: 2015-07-19


Age

: 20


Location

: Hopewell, Virginia



Brody's eyes never leave the tron as Zack finally finishes speaking. He smiles and nods to Wade who raises the mic to his face with a smile of his own.

Wade Flanagan
Congratulations Mr. Starr, you've just shortened your career.

And with that, he drops the microphone and he and Brody leave the ring.

-----------------------------------------------
Later that night...

Tops Newsome leaves the ring after getting the victory over Zack Starr. The medics slide into the ring to try and patch of the cut on Starr's forehead. However, they soon scatter as Brody Halleck comes sliding into the ring. Officials and the medical team all stand there and beg him not to do anything to Starr who's still suffering from that crushing defeat. However, Brody doesn't see them. All he see's is a victim in a pool of blood and he's, the motherfucking shark. So without delaying the inevitable any longer, he picks Starr up to his feet and throws him on his shoulders then, BAM, drops him with one of the most brutal backpack stunners ever seen. Zack's head snaps back almost instantly upon impact of Brody's massive shoulder. He's out as Brody stands back up over his limp body and holds an arm up as the show cuts to commercial.
_________________
Accomplishments :

2018 Heel of the Year as Schmidty
2018 Newcomer of the Year as Schmidty
2018 Face of the Year as Bob Luger
2018 Promoer of the Year
1x European Champion as Schmidty
2x United States Champion as Schmidty
1x Undisputed Champion as Schmidty
1x Alpha World Champion as Bob Luger
1x Tag Team Champion as Murdoc
1x Tag Team Champion as Freddy Osborne
2x Light Heavyweight Champion as Billy Weaver
1x Light Heavyweight Champion as Bryce Hurt
1x Dashing's ride or die chick
Main Event Star!





Posts

: 3424


Join date

: 2015-09-19


Age

: 21



---
Permissions in this forum:
You
cannot
reply to topics in this forum