Fusion & Genesis PPV List!
-Battlescars
-Anarchy Rulz
-Retaliation
-Requiem
-Exodus
-CyberSlam
-Tag Team Cup
-Validation
-Dark Carnival
-Point Break
-Regicide
-Wild Card
-Absolution
-Emergence
-Home Coming
-Cause & Effect
-Final Resolution
-Purgatory
-Ascendance
On day two of this Takeover Extravaganza, Guy catches up with Osiris who is scheduled to face Kurse later on in the night.
G
UY:
Hey there, Osiris! Good to see you back after that nasty fall you took the same night you returned to the company.
O
SIRIS:
My man, Guy! How's it hanging? I see you ditched that Teddy Soloway character.
G
UY:
It's kind of been the other way around, and I was told that if I wanted to be kept onboard as an interviewer, that I had to, well, interview people.
O
SIRIS:
Makes sense. So allow me to give you the interview of a lifetime! They say what doesn't kill you leaves you stuck at home for a couple of weeks.
G
UY:
Is that really how the saying goes?
O
SIRIS:
Something like that. All I know is that Kurse tried to take me out, but he didn't do a good job at it. It's just as Omar said, "You come at the King, you best do more than throw him off the stage, because when he comes back he's going to do ten times worse to you."
G
UY:
Now I haven't watched the show, so I'll have to take you at your word that that was an exact quote.
O
SIRIS:
Guy.
G
UY:
Osiris?
O
SIRIS:
You're telling me you haven't seen The Wire?
G
UY:
Well there's so much TV out there that it's kind hard to keep up.
O
SIRIS:
Nah man, we gotta rectify this with the quickness.
Osiris pulls out his cellphone and starts looking for the video.
G
UY:
We're gonna watch it all now?
O
SIRIS:
Well my match isn't coming up anytime soon, and it's not like Kurse is worth preparing for. The only advantages he's got is that his mama fed him too much and his face probably caused a half dozen deaths.
A voice calls out from off screen.
A
NGEL:
Isn't that the same thing you said about Satoru?
O
SIRIS:
Well that was different. Not only was he fat and ugly, but homeboy wasn't bout wearing anything on those stinky-ass feet. Ain't nobody trying to smell that.
G
UY:
Br..Brett Angel? I thought you were…
A
NGEL:
A lot of people like to think things about me. But nobody ever has the balls to say things to my face. A lot of people like to talk this and that and make their petty threats to quit when I'm out of earshot, but they never have the balls to make eye-contact when we're in the same room.
G
UY:
I didn't mean to offend, it's just that..well, I never expected to see you, of all people, here tonight.
O
SIRIS:
Now you've done it...
A
NGEL:
Why wouldn't I be here, Guy? HALO's here, and that HAvret thing they tried to do was cute, but I'm as much a part of this group as anyone else, and so I'm here to support my friends.
O
SIRIS:
Besides, look at the man's shirt.
G
UY:
Right, "UnMatched is Angel." I feel like calling the shirt controversial would be an understatement.
A
NGEL:
Is it wrong?
G
UY:
I--
A
NGEL:
Don't worry, it was rhetorical, because the answer is obvious. This show's been going downhill since I left, because there's nobody here that can fill my shoes. Just this past week they shit out a show and called it a "mystery card" to save face because there's nobody on the roster worth advertising. Why? Because they put all of their eggs in the Brett Angel basket, dropped the damn thing, then cried when they didn't get an omelette for breakfast.
O
SIRIS:
Easy there, big guy. We already discussed this. I'm here now to carry on your legacy. Might even let you hold the World Title when I win it.
A
NGEL:
When?
O
SIRIS:
All in due time. Tonight I get rid of the monstrosity Kurse, tomorrow the world is mine for the taking.
G
UY:
But Brett, aren't you concerned about what Dave Turner will say about you skipping out of two-straight Genesis shows on top of everything else that's happened this month?
A
NGEL:
That question boils down to whether or not I care what Dave Turner thinks, and the answer is: no. If I'm the nobody he claims I am, then I shouldn't be missed. Besides--
Angel pulls out a ticket from his back pocket.
A
NGEL:
--this is a free country, and I'm a paying customer. But if Dave Turner does have a problem, then he can let me know to my face. The days of Brett Angel, the company man are over. I'm in this for me now and the fans who never lost faith in me and never believed the lies they tried to spread.
O
SIRIS:
Yeah, Brett didn't leave all those times because he thought he was bigger than UnMatched, the man is just lazy.
Angel shakes his head and begins to walk off screen, but bumps right into Leona.
L
EONA:
I don't like what you're becoming.
A
NGEL:
After what they tried to do to me, and still are trying to do...it's only fair that I fight back.
L
EONA:
Who is "they," Brett?
A
NGEL:
...and I'm only just getting started.
Angel walks off without making eye contact with Leona. Osiris walks up to her and puts a comforting hand on her shoulder.
O
SIRIS:
He'll be okay. But come and watch me beat Kurse's ass to take your mind off of it.
_________________
Main Event Star!





Posts

: 2701


Join date

: 2015-03-09



I thought this was the new miz tape.
_________________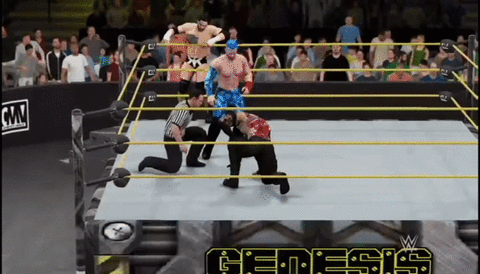 Main Event Star!





Posts

: 622


Join date

: 2015-04-06



well, look who it is
you've got some nerve
Main Event Star!





Posts

: 2701


Join date

: 2015-03-09



---
Permissions in this forum:
You
cannot
reply to topics in this forum