Fusion & Genesis PPV List!
-Battlescars
-Anarchy Rulz
-Retaliation
-Deathwish
-Requiem
-Exodus
-Validation
-Sacrifice
-CyberSlam
-Dark Carnival
-Point Break
-Regicide
-Wild Card
-Absolution
-Emergence
-Home Coming
-Cause & Effect
-Final Stand
-Purgatory
Quick Links!
Dashing's Stuff!
Cop's Stuff!
CMV Network!
Social Media!
Site Threads!
Page 93 of 97 •

1 ... 48 ... 92, 93, 94, 95, 96, 97


New Guy, The Gentlebrusier Henry Evans Tags are CMV and Dash
I got a guy for unmatched, Name is Caleb White tag is CMV
Legend tells of a man who controls the storms. Riley Storm has arrived to rain on CMV's parade. Hashtags: CMV and RILEY_STORM.

Special Moves:
Sig 1: Trouble in Paradise
Sig 2: Thunder and Lightning (Two Amigos)
Fin 1: Eye of the Storm
Fin 2: Wildfire
New Jack Dyalop up on Dashings side with new PPV attire, Changes to moveset, and new entrance and victory.
Gabriel Paine is the defendant of author Thomas Paine. Also known through his moniker, Common Sense, he has sent waves through the world of professional wrestling.

Special Moves:
Sig 1: Paine Maker (TKO)
Sig 2: The Crisis (The DDT)
Fin 1: Taste of Paine (Eat Defeat)
Fin 2: Common Sense (Sweet Chin Music/Superkick)
Comes with a manager attire
Hashtags:
CMV
GABRIEL_PAINE
COMMON_SENSE
New CAW name is Terry Anderson tags are CMV and Dash
His name is Satoru. He's 6'2" and a Light Heavyweight. He's basically a jobber, but fans love him no matter what. His appeal is through him only using the weirdest moves available. (He needs to be made)
Entrance:
Motion: Adam Rose 2 (w/out Rose Buds)
Music: Flamboyant
Signatures:
1: Bearhug Spinebuster
2: Ah Funk It
Finishers:
1: Dudebuster
2: Koji Clutch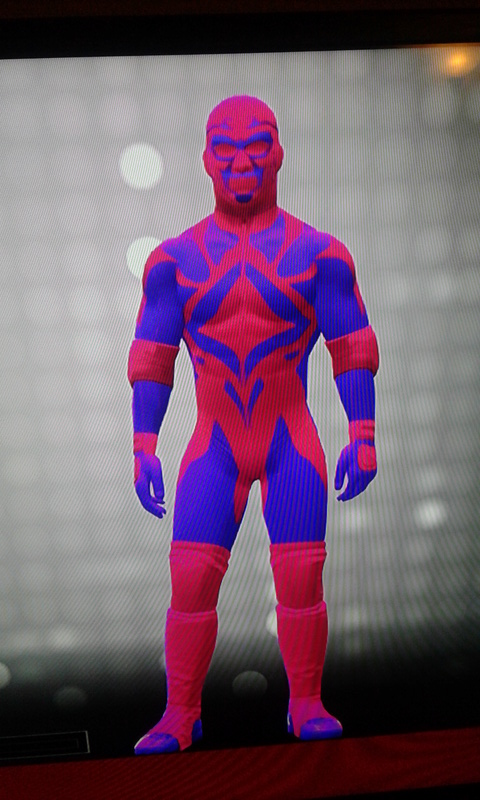 Jobber





Posts

: 69


Join date

: 2017-12-03


Age

: 24


Location

: Boston MA



3 mysterious men arrive at Fusion. With a vendetta to destroy the legacy of one man. The group calls themselves "The Harbingers" and though their true identities are unknown, their motivations are very clear.
(Needs to be made) (Leave masks on when in ring)

Eights (Crazy Eights)
5'10"
Eric Youngs attire
Seth Rollins moveset (minus specials)
Signatures
1- Superkick 1
2- Shooting Star 4
Finishers
1- Cross Rhodes
2- Samoan Driver 2

Mac (The Big Man)
6'6"
(Black)
Killian Attire
Luke Gallows moveset (minus specials)
Signatures
1- 2 handed Chokeslam
2- Psychout Lariat
Finishers
1- Big Boot 10
2- Backpack Stunner

A.R. (Gunner)
6'1"
AOP attire
Eric Young moveset (minus specials)
Signatures
1- Canadian Neckbrecker
2- Spinebuster
Finishers
1- Spear 4
2- Cross-legged fisherman buster

Entrance
SANITY

Tag Finishers
AR & Eights- Heat Bomb
AR & Mac- Hart Attack
Eights & Mac- Ally Use
Jobber





Posts

: 69


Join date

: 2017-12-03


Age

: 24


Location

: Boston MA



For dashing
Park Sung-Ho
tags are #CMV
Thank you

For ferocity
Luna Sung-Ho
Solar Sung-Ho
Tags are #CMV

here are the tag team details
Team Name - Total Eclipse
Member 1 - Luna Sung-Ho
Member 2 - Solar Sung-Ho

Crowd - Cheer

Tag Team Finisher - The Shining Star

Entrance - Together

Tag Entrance - The Bella Twins - Movie Asuka - Music Ruby Riot - Everything Else Paige
Tag Vicotry - Face DIY - Heel - Shining Stars - Music Ruby Riot - Movie Asuka - Everything Else Paige

Thank you

Dashing if you can get them I will make manager attires?
Page 93 of 97 •

1 ... 48 ... 92, 93, 94, 95, 96, 97



Similar topics
---
Permissions in this forum:
You
cannot
reply to topics in this forum