Fusion & Genesis PPV List!
-Battlescars
-Anarchy Rulz
-Retaliation
-Requiem
-Exodus
-CyberSlam
-Tag Team Cup
-Validation
-Dark Carnival
-Point Break
-Regicide
-Wild Card
-Absolution
-Emergence
-Home Coming
-Cause & Effect
-Final Resolution
-Purgatory
-Ascendance
The camera cuts back to the arena following a commercial break after Bettey Meyers took on Dirty Diana earlier on the night. As the camera pans over the ring we see the current Ferocity General Manager Laura Sampson standing in the center of the ring next to a table and chairs, a note board in her hands, the familiar sights of a contract signing. With the crowd hot on their feet following Bettey Meyers' win Sampson gives them their moment to cool down before she opens up the segment. Looking into the hard camera with a corporate smile on her face.
Laura Sampson:
Hello Ladies and Gentlemen! It's nice to see your enjoying the show, boy Ferocity has been quite the hit since it's premiere episode just a few short months ago hasn't it? Consistently raking in more viewers than it's UnMatched and Intensity counterparts. This puts all those people out there who believe the Vixens having their own show was a bad idea to shame. Those people that said the Vixens Division was being cast off, left behind. Well it's the exact opposite, this revolutionary show has topped the charts and left the Superstars in the dust. However this isn't about the doubters, no, .
Sampson raises the contract up in the air as she continues on.
Laura Sampson:
this is about The Womens Intercontinental Championship! A Championship that has had a resurgence under the current Champion Cassie Maverick, as she looks to tie the record for three months at No Remorse. We've certainly had our differences in the past, but there's one thing I simply can't deny! That Mavericks reign with the Womens Intercontinental Championship is one of the MANY reasons why the fans keep coming back for more each week. Tonight, we sign the contract for her hardest challenge yet. A triple threat Ladder Match for the belt at No Remorse.
The crowd lets out an emphatic cheer at the idea of seeing three of the very best go to war over the CMV Womens Intercontinental Championship.
Laura Sampson:
Why a ladder match you say? Well I recalled Cassie wanting a Ladder match way back at Showdown against Ashley Kelly and "1 Shot" Leona. Knowing that was a match type she was fond of I thought I'd reward her for being such a big part in why the ratings are so high right now. Like I said, we may not get along, but Cassie Maverick equals ratings, and these three Vixens, well.. That could be match of---
Before Sampson can continue, the theme of No Morality hits the PA System and all five of them come out from the back, one by one in a line, splitting as they reach the bottom of the ramp, with two of them going either way, while Caldwell walks up the steel steps and into the ring, standing across from Laura Sampson with menacing smile upon her face, Caldwell goes to pick a microphone up from the table, but stops when Sampson continues talking.
Laura Sampson:
I should've expected you to come out on your own terms, no matter, you're here now. But before you pick up that microphone Sophia, I want to tell you something. I'm very glad you brought the rest of the gang down here today, as I wanted to ensure you got the message. If any of your stooges, lay a finger on either Fury or Cassie between now, and the title match in the Co-Main Event of No Remorse. Even if you win the match, you will not walk out with the belt. Do you hear me Caldwell? Do I make myself clear? The Belt will still be on the line, but only Cassie and Fury can actually win it if any of your subordinates get involved tonight. These contract signings always end in a ruckus, and so I have to do this to ensure it stays civil.
Caldwell looks up slowly from the table, a dark grin on her face as she stares down the general manager, letting off a simple shrug before signing her name across the dotted line without a moment to think. She then reverts to snatching the microphone off of the table as she begins to speak.
Sophia Caldwell:
Laura... Laura, Laura, Laura.. Do you think... You control me.
Caldwell walks around the table, approaching Sampson.
Sophia Caldwell:
You think you control.. Us?
Caldwell continues to get closer, breaching Sampsons personal space, Caldwell circles Sampson as she continues to talk.
Sophia Caldwell:
Is this the power you think you have Laura? You may have everyone else under your control Laura. I'm sure you enjoy the power that your father gave you, putting you in charge of a show, I'm sure that power makes you...
Caldwell leans in very close, bringing her hand up Sampsons arm as she whispers.
Sophia Caldwell:
Hot.
Caldwell smiles and backs off, leaving Sampson standing awkwardly and embarrassed in the ring as Caldwell continues.
Sophia Caldwell:
But Laura you are mistaken.. Nobody controls me, nobody controls my destiny. Me and my followers, our cause, has been the talking point of the Vixens Division for months. We have proven you don't need titles to be the true Queen of this Division, of this company. If I take this belt from Cassie at No Remorse, it means nothing, and I will relinquish it the very next night, so don't you DARE. Try to intimidate me, try to threaten me. If I want to attack Cassie and Fury, we will attack Cassie and Fury and there's nothing any of you can do about it. But maybe Laura, maybe... I'll play ball. I guess we'll have to wait and see.
Caldwell lets off a cheeky wink towards the hard camera and a smile, she then raises the microphone to her mouth but before she can continue she is interrupted by a familiar theme, and with a demonic smile upon her face she backs into a corner allowing the next competitor in this Triple Threat to make their way to the ring.
Admin





Posts

: 6097


Join date

: 2015-03-09


Age

: 20


Location

: MizTV


Humor

: Making Sons uncomfortable





There was a loud pop from the crowd as Caldwell was interrupted by Furys theme, the Urban warrior stepping out from under the titantron. Seeing as she wasn't booked tonight Fury was in her street clothes, storming down to the ramp with her usual bad attitude in her leather jacket and jeans. Before she climbed up the steel steps Fury took a moment to stare down each off Caldwells lackeys, before grabbing a few tins off beer from one of the runners. She rolled under the ropes into the ring, passing by Laura Sampson and getting right into the face of No Moralitys leader.

The pair stare off for a bit before Fury smirked and took the microphone from her, setting her beer on the table.

Fury: Well Caldy I'm right here, funny how you keep thinking you're all that threatening that if you wanted to hurt me that all off you crew will. What's the matter...oh right you can't do anything right yourself.

Now it would be easy for me to just beat the shit out off you in front of your girls......

The Urban Warrior was interrupted by the fans shouting 'knock her lights out!'

Fury: Oh I would love too, but you see I owe Laura one. When I left Fusion I was considering retiring and going into the sport of Snooker, but she contacted me and offered to sign me on to her brand despite my continuous knee issues. So when she phoned me earlier this week asking me to show up for this signing, she asked that I don't attack every single one of you. Out of respect for her doing that, unless you provoke me, Laura just saved you from a bad night from me atleast.

Turning her back to Caldwell, she headed over to the table looking over the contract.

Fury: Now when I first came on this brand, I had no interest in going for the titles especially a third rate belt. But since the IC title has been dragged into the picture, I've been wondering. I'm I ready to get back into the title picture?

Once again the crowd interrupt shouting 'yes'

Fury: Sure its a minor belt, but it can be a good step forward towards the bigger prizes. But have I gotten to the level I need to go for it?

'Yes'

Fury: Give me a Hell Yeah if you think I should sign this contract, and take this shot for the belt!

Fury pointed the mic towards the crowd as they roared 'Hells Yeah!!!!'

Fury: Well then looks like its been decided.

She picked up the pen and signed her name onto the dotted line, with her name on the contract Fury took a seat on one of the chairs, and puts her steel toed boots up on the table. Cracking open one of the beers and taking a drink.

Fury: All we need now is one more signature.

Sitting back, the Urban Warrior keeps her eyes on Caldwell as they all wait for the champ to show herself.

(Open to the Cowbitch)
_________________
My CAW's:
Fury-2x CMV Vixens Champion 1x CMV Womens IC Champion
Mannoroth
Grid & Animal- The Blood Brothers- 1xTornado Tag Champions
Gavin 'Extreme' Wheeler- The Wanderers -1XTag Team Champion with THE BISH
Jenny Wheeler
Takeshi Matsumoto- New Orient Express -1xTag Team Champion with Mr Showtime
Mr. Black
Lady Maria Del La Cruz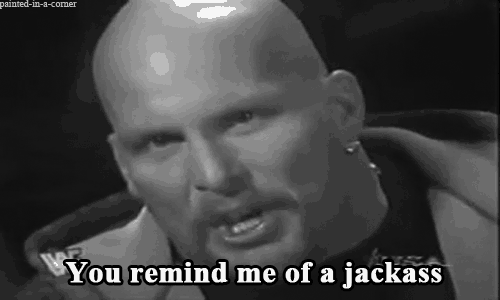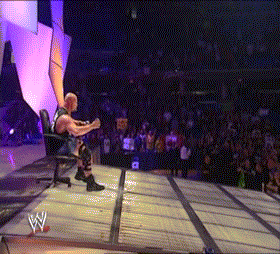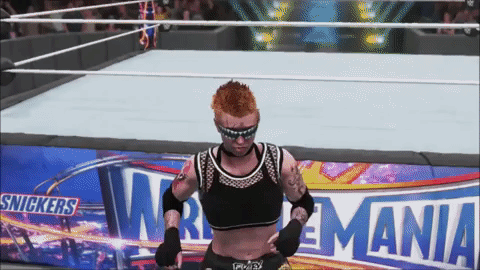 Midcard Playboy





Posts

: 444


Join date

: 2015-12-12


Age

: 24





Cassie Maverick's music hits as she made her way down to the ring, holding her IC Women's title high. She got a mixed reaction as some fans couldn't help but like her in spite of all the shit she's pulled over the last few months. The cowgirl entered the ring and took a moment to stare down both of her challengers before grabbing a mic.

"I reckon I should thank Laura for this match up, but I'm not happy. I gotta thirds chance of winning this here ladder match. I don't fancy the thought of losin' my IC belt without getting pinned neither! Caldwell, you don't deserve a title shot and you act like yer above this purdy little belt. But that's just fine and dandy if you don't want the title, I'll just take it back should you get lucky enough to win it! I just see this as another chance to twist yer neck shut!"

Some cheers now. Clearly Cassie was lesser of two evils when compared to Caldwell. Fury looked anxious and the Cowgirl turned to her next.

"As fer you. You and I haven't gotten along much but if anybody else is gonna walk out IC Champion, I want it to be you. At least Fury here will treat this here title with the respect it deserves! I love the IC belt! It's my baby! If I don't get keep it at No Remorse and then you can bet yer ass I'm gonna get it back! Keep that in mind old buddy!"

Cassie then signs the contract for the match and slams the pen down on the clipboard with authority. Then she had one final thing to say before she left. "And may the best bitch win!"
_________________
My Characters
Rage - Current CMV Global Champion
Cassie Maverick - 2x IC Champion, 2x Vixen's Champion
Mr. Showtime - Former Tag Team Champion
Bill Maverick
Susanna
Valderiss
Aya Ali
Hans Von Braun
Baron von Braun
Thunderbird
Main Event Star!





Posts

: 1173


Join date

: 2015-09-13



But before Cassie is able to leave the ring, Caldwell clicks her fingers, both Fury and Cassie look over at Caldwell with curious looks on their faces, Caldwell only lets out a smirk as all four of the other members of No Morality climb onto the apron.
Laura Sampson:
Remember what I said Caldwell, don't do this.
Caldwell turns her head sharply towards Sampson.
Sophia Caldwell:
Oh but remember what I said Sampson, holding that belt does not matter to me, I can always come back and rip that belt from her next month. I can break Cassie down bit by bit. You see, lets say I have my sisters attack these two right here right now, sure I lose the right to win the belt at No Remorse, but as Cassie holds that belt, she'll know she's not the true Champion, because I beat her, and then when I take it from her in the future, it will hurt her that much more because it'll prove that she was nothing. Sorry Laura, but I don't play by your rules.... I play by m---
Before Caldwell can finish, Cassie hits her cutter on Caldwell in the center of the ring, dropping her on the mat. Fury and Cassie look at eachother, you can see the animosity in their eyes, but in a flash they stand back to back in the center of the ring. Caldwell rolls out of the ring and orders the rest of No Morality to go in there, and without hesitation Compromise and Jasmine Crossings enter the ring, while Tia and Emily look back and forth at each other for a moment, and Tia, rolling her eyes in frustration, nods towards Emily and the duo also enter the ring. Out of the corner of her eye, Caldwell notices this hesitation and thinks about it for a moment, before shaking her head and bellowing orders into the ring.
Emily and Tia head for Cassie while the two bigger Vixens go for Fury, causing them both respectively to back into separate corners of the ring. Fury ducks a clothesline from Compromise and bursts out of the corner hitting Jasmine Crossings with a gut wrenching spear. While on the other side of the ring, Cassie has been grinded into the mat by the combined efforts of Emily and Tia, both of whom, underestimate Cassie's resiliency and turn away, looking to make it a three on one attack on Fury. However Cassie jumps back to her feet and hits another cutter! This time to Emily!

Catching Tia's attention once more, she turns around, and the two continue brawling as Caldwell slides into the ring, a stiff jab from Cassie stuns Tia for a brief moment knocking her into the corner. Cassie taunts, looking to perhaps hit the cunt punt, but as she runs up to connect, Caldwell hits a superkick from out of nowhere!

On the other side of the ring, Fury and Compromise have been going back and forth, equally matched in strength, but if there's one thing you don't want to do, it's get into a street fight with The Urban Warrior and after an exchange of blows, Fury gets thrown back into the corner, Compromise walks her down, but receives a headbutt for her troubles, stunning her long enough for Fury to hit another spear.

Fury turns to Caldwell and the two stand face to face, in the background Tia finally gets out of the corner, but instead of squaring up to Fury, she rolls out of the ring to check on the rest of the members of No Morality, leaving just Caldwell and Fury standing in the ring, Caldwell goes for a right, but Fury ducks it, sending Caldwell into the ropes with an Irish whip, bouncing off of them and then back into Fury, who lifts Caldwell up into the air and powerbombs her through the table, and for the first time in months! We see Fury Slay the Dreamer!

Caldwell rolls out of the ring and regroups with the rest of No Morality at the bottom of the ramp and Fury pulls Cassie to her feet, the two glare at No Morality and then back at eachother, and with a smirk on her face, Cassie raise the Womens Intercontinental Championship above her head and stares at Fury while the camera fades to black.
Admin





Posts

: 6097


Join date

: 2015-03-09


Age

: 20


Location

: MizTV


Humor

: Making Sons uncomfortable




Similar topics
---
Permissions in this forum:
You
cannot
reply to topics in this forum