Fusion & Genesis PPV List!
-Battlescars
-Anarchy Rulz
-Retaliation
-Requiem
-Exodus
-CyberSlam
-Tag Team Cup
-Validation
-Dark Carnival
-Point Break
-Regicide
-Wild Card
-Absolution
-Emergence
-Home Coming
-Cause & Effect
-Final Resolution
-Purgatory
-Ascendance
As Spanish walks up the ramp, his theme blaring in the background, heard barely above the boo's of the crowd, he turns around for a second with a sharp smile on his face, he looks around the crowd and smiles, and slowly, teasing them, he walks back to the ring, a slight bounce of joy in his feet as he walks around the ring to the timekeepers area to retrieve a microphone. Stepping into the ring he looks at the crowd, and immediately, showing his frustrations, his smile drops to a look of sincerity, dropping the character for some from the heart truth.
Ricky Spanish:
Where you at Zack?! Huh, where you at! I'm calling you out, the biggest rematch in CMV history, except this time we do it in your hometown! So I can embarrass you in front of everyone you know, everyone behind you will kiss the ring.
Ricky holds his hand up in the air to give the hard camera a premium view of his ring.
Ricky Spanish:
But I'm not done there Starr, no, no, you see this is the biggest rematch in the business, and behind it needs some big wagers, I beat you, you leave Intensity and you get down ON your knees and you kiss the ring. You beat me, I leave CMV... Forever. But because I know you're too scared to step out here Starr, because you're too scared, lemme just breakdown what will happen in this match, this rematch. I'll land in Hollywood California, the day of the match, the Spanish family. MYSELF, will get off that plane and immediately... IMMEDIATELY Zack, I'll become the new don of that town. I'm going to come down to all the gatherings, all the meetings, hell I'll even come to your house and I'll hand out SMACKS to everyone who doesn't want to kiss the ring. Then after that, after your neighbours, your friends, your family, your wife, everyone has felt the back of my hand across their face, after that, I'm going to step in this ring across from you and I'm going to lay you out on the mat like the failed pornstar you are and cover you for the one, two, three, ain't no two ways about it. You got the first one Zack, well done, but that was a fluke. You absolutely suck Zack, and the next time you step into the ring with me..... I'm going to prove it.
Ricky drops the microphone and goes to leave the ring, however before he is able to leave, he's interrupted by the sound of a familiar voice.
Last edited by Papa Gnasher on Sun Jan 22, 2017 12:57 am; edited 1 time in total
Admin





Posts

: 6097


Join date

: 2015-03-09


Age

: 20


Location

: MizTV


Humor

: Making Sons uncomfortable



_________________
Accomplishments :

2018 Heel of the Year as Schmidty
2018 Newcomer of the Year as Schmidty
2018 Face of the Year as Bob Luger
2018 Promoer of the Year
1x European Champion as Schmidty
2x United States Champion as Schmidty
1x Undisputed Champion as Schmidty
1x Alpha World Champion as Bob Luger
1x Tag Team Champion as Murdoc
1x Tag Team Champion as Freddy Osborne
2x Light Heavyweight Champion as Billy Weaver
1x Light Heavyweight Champion as Bryce Hurt
1x Dashing's ride or die chick
Main Event Star!





Posts

: 3424


Join date

: 2015-09-19


Age

: 21



since when Spanish had HBK's theme song
_________________
Main Event Star!





Posts

: 2686


Join date

: 2015-05-13


Age

: 18


Location

: Ontario, Canada


Humor

: Dashing's jokes



Gent realized he'd made a dumb mistake giving Spanish Quinns theme so he gave him HBK's
Admin





Posts

: 6097


Join date

: 2015-03-09


Age

: 20


Location

: MizTV


Humor

: Making Sons uncomfortable



*☆Zack Starr☆*
That's quite the picture you painted for all of us Spanish it's so much clearer now but you know something there's one thing that you conveniently forgot to add how it only took me 8 minutes to superkick the taste out of your mouth at Unchained. So what did you do, you decided to take that embarrassment, that built up frustration, that anger you had sitting in your stomach and tried your damnedest to best me and you ended up flat on your ass and here you are challenging me to what I already beaten you twice so I think I've already proved I'm the better man but you know something Spanish I'll deal with you later because right now I want to address something, there's this guy on this brand who believes he should be the man to walk into the new year on the top of the bill, in the lead role, Matthews?! You're time has been done the moment you lost your World Championship two years ago, this isn't your moment anymore, while my moment, my moment was taken from me by the very man who holds that belt right now, Voice Vindy. So look, I see you've thrown your hat into this little qualifier, this audition if you will, an audition in which four people prove themselves to be the most worthy to headline CMV's next major PPV to hit the big screen. Well Matthews, I'M THE ACTOR, I'M THE STARR ATTRACTION and ladies and gentlemen when I enter my name, I'll be the one to get the part and I will walk out of No Remorse, once again in the leading role of CMV.
_________________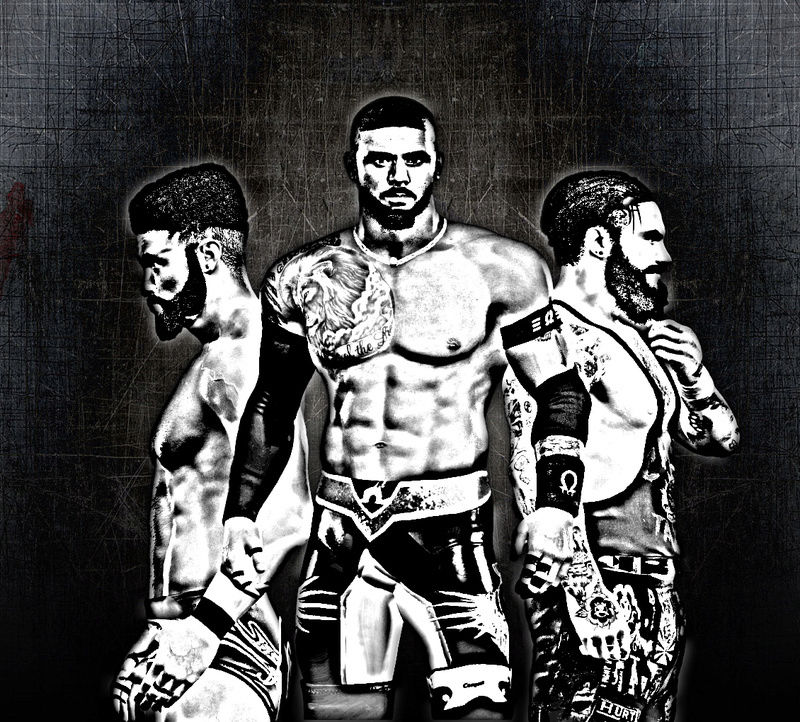 Main Event Star!





Posts

: 797


Join date

: 2015-07-19


Age

: 20


Location

: Hopewell, Virginia



Zack Starr drops the mic and turns away, looking to make his way to the back after dropping the bombshell that is his participation in the qualification match, but before he gets backstage Spanish calls for him.
Ricky Spanish:
Starr! You ain't escaping me so easy!
Starr stops in his tracks, he doesn't turn around, instead he just stands at the top of the ramp, a smile on his face with his back turned to Spanish as listens to what he has to say.
Ricky Spanish:
As far as I hear it Starr! There is still one space left in that match, and if that's what I gotta do to get my hands on you! I'm entering that match! Not only am I gonna win that chase, but I'm going to make you jealous, I'm gonna win that chase AND I'm going to beat Voice Vindy.

After I'm done Starr, after I've given my backhand to your neighbours, your family, and left you in ruins, I'm going to stay in California, I'm going to little old Nick Starr's house. I'll pour some champagne and I'll give his family a chance to pay me tribute and remind you why you never piss off Spanish!

I don't want to wrestle you Zack, I want to beat you down, I want to destroy you, you are a fraud, you are a liar, and you are a thief, and when I get my hands on you you're going to get your first taste of gold since losing that belt, and it'll be the taste of my rings as they go crashing through your mouth.
Ricky Spanish drops the mic and stares at Starr, who just lets off a laugh and continues his walk to the back, leaving Spanish fuming in the ring as the show heads to commercial.
Admin





Posts

: 6097


Join date

: 2015-03-09


Age

: 20


Location

: MizTV


Humor

: Making Sons uncomfortable



---
Permissions in this forum:
You
cannot
reply to topics in this forum