Fusion & Genesis PPV List!
-Battlescars
-Anarchy Rulz
-Retaliation
-Requiem
-Exodus
-CyberSlam
-Tag Team Cup
-Validation
-Dark Carnival
-Point Break
-Regicide
-Wild Card
-Absolution
-Emergence
-Home Coming
-Cause & Effect
-Final Resolution
-Purgatory
-Ascendance
Paul Divine enters the arena flanked by his stable mates. The New Gods seem to be glowing with confidence as they strut down the hallway grins playing on their lips. The many workers and superstars seem to part like the Red Sea as the charismatic stable continues towards the locker rooms. We hear the faint voice of one of the many interviewers backstage. Paul has no time to remember all their names. But he always has time for an interview. The team stops and turns to face the blonde haired woman.

     Paul how does it feel to be back on top of the fusion roster. Beating the likes of some of the best?

Divine chuckles lightly before answering

 The fact of the matter is, I should have always been here. But poor booking mixed with under utilizing my talent has kept me down. I've always been able to keep my head just above water to survive. Time after time I've had to take matters into my own hands to stay relevant.

Ive shown my animal instinct back with X-Gen and became 4 time tag Champions. But that's all anyone has seen me as. Again, that's why I had to push them away. I had to become my own man. These shots and pushes have always been there for me. I just allowed others to reach out and take hold of them. But not anymore. It's my time now.

You've got The Bloody Brit talking about "he made the Anarchy Title prestigious, nah mate. You may have added to it but, Ziegler brought the prestige to it. I sprinkled on a little more.  Now you can hold onto that title all you want. Keep fighting to hold it. The fans won't remember you though. No they remember the likes of Dave Turner, Ryan Kent, Justin Sane, and Scott Norrie. Not because they held a single title the longest. But, because they held multiple titles and beat the best the business has had to offer during that time. I've always given respect where respect is due.  But have never been given the same treatment. I'm done with the childish games. I've shed the skin of X-Gen. I'm no longer here to just be a champion. I've proven time after time I have what it takes. And now I'm not waiting for a hand out. I'm not waiting for anything to be given to me. I'm going to start taking what should have already been mine. I don't want to be known as a champion. I want to be known as a legend. The laid back wrestler who was all about putting on a show, no longer exists. I'm out for blood. Ive beaten Sane and with my past accolades I well deserve a shot at his title. And once I take Schmidty out, Ill be coming for what is rightfully mine. If it has to be against Sane or Xander. I will get what's owed to me. And the only payment I take, is blood

Paul pushes past the female interviewer as Mike, Matthew, and Sebastian stare in disbelief at this new side of the Asian Sensation.
_________________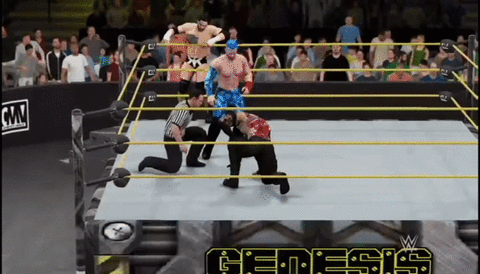 Main Event Star!





Posts

: 622


Join date

: 2015-04-06




Similar topics
---
Permissions in this forum:
You
cannot
reply to topics in this forum