Fusion & Genesis PPV List!
-Battlescars
-Anarchy Rulz
-Retaliation
-Deathwish
-Requiem
-Exodus
-Validation
-Sacrifice
-CyberSlam
-Dark Carnival
-Point Break
-Regicide
-Wild Card
-Absolution
-Emergence
-Home Coming
-Cause & Effect
-Final Resolution
-Purgatory
-Ascendance
The scene opens in a typical rowdy old west style saloon. The walls of the room are fairly dirty with various stains on them, combinations of drinks, blood and god knows what else. The floor is layered with a thin sprinkling of sawdust to hide such stains and maybe worse. Most of the tables are full with people drinking and talking loudly to be heard over everyone else. They are all ignoring the man sitting in the corner playing a lively tune on an old piano. Several dance hall girls circulate the room and a stereo typical barman stands at the bar cleaning an already clean glass with a dirty rag.
The camera pans left to show standing at the bar with whiskeys Frank and Jesse James.
They stop and look at the camera, then spitting baccy out into a spittoon with an audible TING address the viewers.

Jesse: Well god damn Frank if that weren't the most disappointing time ive had in ages.

Frank: You mean that match with them damn  sons of bitches?

Jesse: No Frank! The night after with their sisters

Both cowboys burst into fits of laughter. When they calm down Jesse continues

Jesse: But yeah Frank that match was damn shit as well. That big freak who was as strong as an ox and even dumber!

Frank: You mean the one with yella hair? And Yella clothes?
And a big yella streak down his back?

Jesse: That be them Frank, that be them.

Frank: Well we sure as hell aint standing for it are we ?

Jesse: Hell no brother! Them yellow bellied snakes in the grass. We got a message for ya. We coming for ya boys. We going rope throw and brand ya.

Frank: Hell yeah when a Vulgar Display of Power hits ya you'll look worse than that other runt who dint even have the balls to get in the ring.

Jesse: So whatta ya say boys?  Another ride on the bucking bronco?
(open to Fury/Topher)
Midcard Playboy





Posts

: 235


Join date

: 2015-12-21



Lisa Evans and a CMV cameraman arrive at a cul-de-sac, looking at a small but nice home. Looking down at a note with an address they had this was the place they were looking for. Lisa walked up to the front door knocking on it. Moments later the door was answered by a short but attractive woman.

Lisa: Oh sorry i must have the wrong address i was told this was where Gavin Extreme lived.

Jenny: No you got the right place, I'm Jenny Wheeler, Gavins my big brother, he's out the back with the kids. Come on through.

With that Jenny leads Lisa and the cameraman through house and out into a spacious back yard. Gavin was lying on his back in the grass looking up at the sky while two boys were kicking about a soccer ball nearby.

Jenny: Gav some folks with a camera from CMV is here to see you.

Gavin just remained where  he was as Lisa and the camera approached.

Lisa: Can I ask why your just laying there looking at the sky?

Gavin: I find it easier to think like this.

finally he sits up paying attention. As he does this one of the boys shouts over to him.

Boy: Unlce Gav heads up!

Gavin turned his head in time for the soccer ball to bounce of the metalplate in his forehead into the goal at the other side of the yard.

Boy: nice one


Lisa: I'll just get on to why we're here, It seems the Cowboys from hell has this message for you.

She pulls out an Ipad and plays the Cowboys earlier segment.

Lisa: What do you have to say about that?

Gavin being the idiot he is didn't seem to get what the Cowboys were going on about, believing the video was just a very short western film.

Gavin: I love westerns but that one was very short, I didn't know those two were movie stars. But i don't get it are they the sheriffs or the outlaws? I mean the way they were talking they think that they were wronged in some way, and we didn't see this runt or the yellow haired ox, then why did they go on about branding snakes? Isn't that animal cruelty?

Hearing this Lisa just face palmed, she was told that Gavin was dim but she didn't think he was this stupid.

Lisa: Gavin the Cowboys were talking about their match with you and Don Bishop. They weren't happy about how it went and are trying to challenge you two to another match. Judging on how they where insulting you and Don they mean business.

Gavin: Oh....I mean i know i got a little heated on twitter after the match. But I didn't mean what I said, I don't get mad like that often but I was worried that Don was going to get hurt in that match. And I don't want my friend getting more hurt than what he already was, those two cowboys play rough i can vouch for that. But really if they wanted a good match they should have kept in the ring instead of throwing me to the outside and ganging up on me, I just wanted to get back into the ring. Not my fault they got counted out.

Lisa: Still they want a rematch, will The Wanderers accept it?

Gavin: They want one they got it.
_________________
My CAW's:
Fury-2x CMV Vixens Champion 1x CMV Womens IC Champion
Mannoroth
Grid & Animal- The Blood Brothers- 1xTornado Tag Champions
Gavin 'Extreme' Wheeler- The Wanderers -1XTag Team Champion with THE BISH
Jenny Wheeler
Takeshi Matsumoto- New Orient Express -1xTag Team Champion with Mr Showtime
Mr. Black
Lady Maria Del La Cruz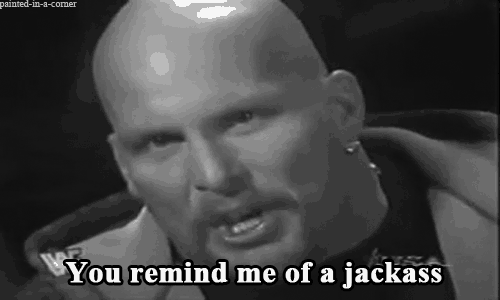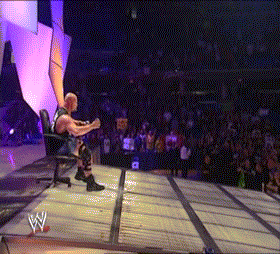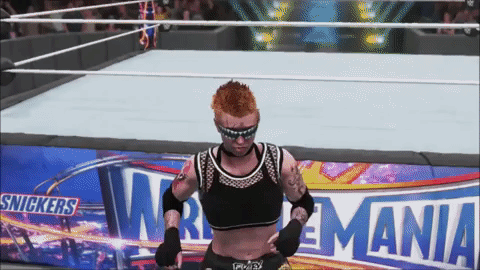 Midcard Playboy





Posts

: 469


Join date

: 2015-12-12


Age

: 24



meanwhile  ... and much later on....good ol' Mac Thompson finds `The Bish' Don Bishop back at the arena....


Mac : So umm Don Bishop, few days have passed since you and Gavin, The Wanderers defeated the CowBoys from Hell and it seems like they want a rematch, your thoughts please.


Bish : Rematch....Rematch.... hell i didn't even get into the 1st match, so how can i have a rematch if i wasn't officially involved in the first match :/


Mac : Ummm good point....


Bish : And i heard what they said about my sister..... How dare they talk about John like that.

Mac : John?

Bish : Oh, well you see my sister is actually my brother, he's just confused... But i can see why they would be disappointed, but i bet John liked it.


Mac : Ummm well, ummm ok..... Anyway Wanderers Vs Cowboys 1 more time, your thoughts please.


Bish : Well this time, i will get in the match, just hope i don't get beat up before the match, seems like someone attacks me for no reason. Just look at my face, this aint make-up boy. But i accept too... This time tho, The Bish is gonna Dish out the pain.....if i get in the god damn ring this that is. Cowboys, put ya guns away, cuz they fire blanks, no surprise there. Me and Gavin will see you for part 2. Saddle up boys, bang, bang hahahaha.


Bishop does his Bang  Bang taunt and walks off.


Mac : Ummm ok crazy mofo....Back to you at ringside,  sigh i need  a new job.
_________________
1x CMV Television Champion - Top's Newsome
1x CMV Womens Undisputed Champion - Quinn-Belle
1x CMV Vixens Champion - Quinn-Belle
1x CMV Undisputed Champion - Chris Andrews
2x CMV International Champion - Chris Andrews
2x CMV Anarchy Champion - Chris Andrews
1x CMV Wold Tag Team Champion (Divine Affairs w/Paul Divine)
1x CMV Womans Intercontinental Champion - Dawn Bryan
1x CMV Tag Team Champion - Kid Campbell (Gladiators w/ Rashad Rockwell)
2x CMV Light Heavyweight Champion - El Jefe
1x CMV Tag Team Champion - Don Bishop (The Wanderers w/ Gavin Extreme)
1x CMV World Tag Team Champions - Police Squad
Main Event Star!





Posts

: 3911


Join date

: 2015-12-11


Location

: (NEAR)... Leeds, England


Humor

: yes :D




Similar topics
---
Permissions in this forum:
You
cannot
reply to topics in this forum