Fusion & Genesis PPV List!
-Battlescars
-Anarchy Rulz
-Retaliation
-Requiem
-Exodus
-CyberSlam
-Tag Team Cup
-Validation
-Dark Carnival
-Point Break
-Regicide
-Wild Card
-Absolution
-Emergence
-Home Coming
-Cause & Effect
-Final Resolution
-Purgatory
-Ascendance
Page 1 of 3 • 1, 2, 3

What's your response on the return of Troy Voodoo?
\\ GENESIS EPISODE 58 //
LIVE from the LAKELAND CENTER in LAKELAND, FLORIDA!
Exodus card thus far:
Subject to Change
-Elimination Chamber for the CMV Alpha World Championship! (Andrew Briggs, Bob Luger, Furious Frank, Randy Borton, Ryan Kent & Tim LaFave)
-Fusion Elimination Chamber match! (Jacob Ziegler, Sam Valentine, Billy Weaver, Marcantel, Bannon & Chris Andrews)
-CMV Vixens championship Elimination Chamber match! (Jade Divine (c), Fury, Rose Punish, Amber Briggs, Quinn-Belle & Megan Cooper)
-Iron Man match! (Troy Meyers vs. Jay Davis)
-Shiloh Gray vs. Kenji Murakami!
-The Fallen vs. Extreme Conditions!
-Azreal (c) vs. Bryan Novak for the CMV International championship!
-Atonement vs. The Blood Brothers (c) for the CMV Tornado Tag Team championship!
\\ - - - | - - - | - - - //
MATCH 1OPENER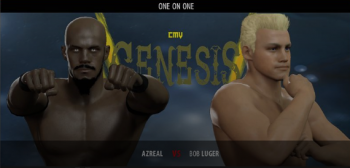 What would close last weeks Genesis will now open this weeks. As Bob Luger gets a second-chance at the International Champion at the start of Genesis #58. Despite the harrowing odds, Luger, win or lose, will put on another great match as he does every time he steps in the ring.
MATCH 2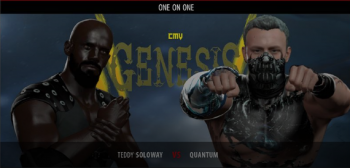 Quantum makes his in-ring debut for the Genesis Brand tonight as he takes on the "undefeated" Teddy Soloway. Quantum, being a well-known force in CMV, gets an opportunity to leave his mark on Genesis as he takes on the Goliath, Teddy. Can Quantum beat Soloway or will Teddy pick up his 7th consecutive victory?MATCH 3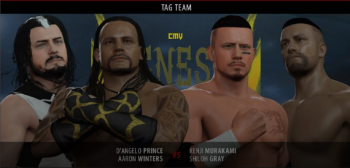 With Kenji's match pre-booked for Exodus against Shiloh Gray. They get an opportunity to scout each other as they team together against Aaron Winters and the Uncrowned Prince; D'angelo Prince. Chemistry may be lacking in this match, but the individual skills of each CMV superstar in this bout will speak for itself.MATCH 4CMV LIGHT HEAVYWEIGHT CHAMPIONSHIP MATCH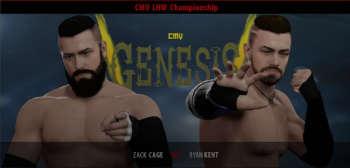 The most unlikely man gets a shot at Ryan Kent's Light Heavyweight Championship as Zack Cage returns to in-ring action. But can Genesis' prodigal son snatch the belt from the mighty grasp of Kent? Almost every Light Heavyweight has challenged Kent for this title. Who's left? Who can stop him? Perhaps the Firestarter will go into Season 4 uncontested as the greatest Light Heavyweight Champion.
MATCH 5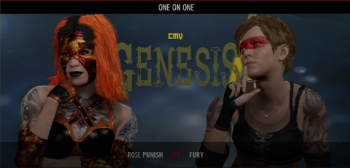 Two of the baddest ladies in CMV today square off as this match was only a matter of time since Rose was traded from UnMatched/Intensity. But who will beat who in the clash of the female titans? Rose or Fury. Find out tonight.MATCH 6CO-MAIN EVENT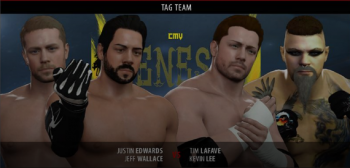 After picking up a victory against the current Tag Team Champions; The Empire of Pain, the reformed T & Lee take on the former Tag Team Champions in WEB. A victory here could quite possibly be the beginnings of a path to a third reign as World Tag Team Champions for T & Lee. But WEB is no push over; and with their stinging loss to The Empire of Pain only two weeks ago; they would want nothing more than to bull over the former 2 time Tag Team Champions in Tim LaFave and Kevin Lee.MATCH 7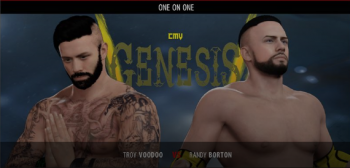 A rematch of epic proportions. The last these two men met it was for the Undisputed Heavyweight Championship and the newly crowned King; Randy Borton would win that match and more importantly kick of his second reign as the Undisputed Champion. Now, fast forward; Troy Voodoo has returned and the rematch that should-of-been happens tonight. But can Borton put everything he's learned together since last he and Voodoo met to secure the victory? Or will Troy return and show CMV again why he is and always will be; THE FUTURE.
\\ - - - |  - - - | - - -//
#NEVER5GET

, the Live Show; hosted by the CMV Network. Four Matches, Four Winners, let's see who we got...
= Hardcore Harry v. Troy Meyers =
= Angelica Jones W/Amanda Davis v. Riley Dixon W/Debra Cox =
= Jon Reed v. Matt Jefferson =
= I'm a !winner we'll figure it out match =
_________________
IT'S TIME
Main Event Star!





Posts

: 2231


Join date

: 2015-08-29


Age

: 25


Location

: New York


Humor

: Slapstick



>quantum
retiring after this show
Main Event Star!





Posts

: 2707


Join date

: 2015-03-09



Doesn't even recap the promo which contains the reasoning for a Luger vs azreal rematch
_________________
Accomplishments :

2018 Heel of the Year as Schmidty
2018 Newcomer of the Year as Schmidty
2018 Face of the Year as Bob Luger
2018 Promoer of the Year
1x European Champion as Schmidty
2x United States Champion as Schmidty
1x Undisputed Champion as Schmidty
1x Alpha World Champion as Bob Luger
1x Tag Team Champion as Murdoc
1x Tag Team Champion as Freddy Osborne
2x Light Heavyweight Champion as Billy Weaver
1x Light Heavyweight Champion as Bryce Hurt
1x Dashing's ride or die chick
Main Event Star!





Posts

: 3440


Join date

: 2015-09-19


Age

: 21



didn't think Voodoo vs Borton will happen this soon lol
_________________
Main Event Star!





Posts

: 2692


Join date

: 2015-05-13


Age

: 18


Location

: Ontario, Canada


Humor

: Dashing's jokes



Fuck Voodoo, Borton has this

_________________
Ryan Kent
1x NXT champion
Former money in the bank holder!
1x CMV Alpha champion
1x Undisputed champion
1X NXT tag champs
1X CMV Tag Champs
1x Hardcore Champion
1x International champion
1x Light Heavyweight champion
The man with the most title defences in CMV history!
CMV second ever grand slam champion!
Sean Kent
1x Fusion tag champs
Main Event Star!





Posts

: 637


Join date

: 2015-03-28


Age

: 17


Location

: England


Humor

: Dark Humor



Troy Meyers vs Troy Voodo
_________________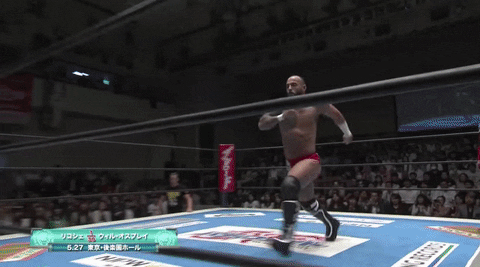 Main Event Star!





Posts

: 936


Join date

: 2016-06-10


Age

: 13



I like Voodoo, fuck you Borton
_________________
༼ つ ◕_◕ ༽つ C9 TAKE MY ENERGY ༼ つ ◕_◕ ༽つ
GT: Alveuss
(I may or may not add you back)
Jacob Ziegler
- 2x Anarchy Champion, 1x Mr Money in the Bank, 1x BFF of Shane Scott, 2017 Newcomer of the Year
Rubik
- 1x Light Heavyweight Champion
Main Event Star!





Posts

: 1158


Join date

: 2015-11-29


Age

: 21


Location

: Glasgow, Scotland


Humor

: Roman Reigns' theme but every DUNNUN is replaced with BANNON



Alveuss wrote:I like Voodoo, fuck you Borton
you would love to fuck me
_________________
Main Event Star!





Posts

: 2692


Join date

: 2015-05-13


Age

: 18


Location

: Ontario, Canada


Humor

: Dashing's jokes



Honestly I woulda thought that Voodoo v Borton rematch would be a ppv match, but then agian I don't book. Maybe I should start WhatCulture CMV.

_________________

Accomplishment:
Crowe - Anarchy Championship 
Tyler Endicot - Rising Star Championship
Joe Dirte - NGW Tag Team Championship (The Kingdom)
Maximum Rider - NGW Tag Team Championship (The Kingdom) 
George King - NGW Championship - Final
                         NGW Tag Team Championship (The Kingdom)        
                         European Championship 
Tyson Cage - Fusion Tag Team Championship (The Bickering Duo)
Angelina Hawkins - Women's Intercontinental Championship
Main Event Star!





Posts

: 1195


Join date

: 2016-01-22


Age

: 19


Location

: Ohio



Page 1 of 3 • 1, 2, 3

---
Permissions in this forum:
You
cannot
reply to topics in this forum