Fusion & Genesis PPV List!
-Battlescars
-Anarchy Rulz
-Retaliation
-Deathwish
-Requiem
-Exodus
-Validation
-Sacrifice
-CyberSlam
-Dark Carnival
-Point Break
-Regicide
-Wild Card
-Absolution
-Emergence
-Home Coming
-Cause & Effect
-Final Stand
-Purgatory
-Ascendance
Quick Links!
Dashing's Stuff!
Cop's Stuff!
CMV Network!
Social Media!
Site Threads!

Intensity opens up for the fallout of CMV Quarantine to hear the sound of the current Intensity General Managers Theme playing throughout the arena, Laura Sampson already in the ring as her theme begins to fade out to the standing ovation to which the crowd is giving her, Laura Sampson lets off a charming smile as the crowd continue to cheer her name throughout this arena here tonight. Moments go by and it slowly starts to simmer down allowing the general manager to raise the microphone to her mouth and actually get a word in.
Laura Sampson:
Thank you everybody!
And with that, the crowd re-ignites chanting "Thank you Laura" over and over as Sampsons stands in the ring, letting of a humble smile as she raises the microphone to her mouth once more.
Laura Sampson:
Thank you all really! You know this is my first month here as the General Manager of Intensity, and we've certainly had our ups and downs, but what a month it has been, capped off by an absolutely fantastic Quarantine show just four days ago. I cannot stress just how much it means for me to get this praise from you, the people, the fans, and as long as I am here, I will continue to give you exactly what you want to see! five star WRESTLING! However...
The tone in Lauras voice lowers, as she calms down, getting into the serious stuff now, she continues to press on, with an ounce of sadness in her voice.
Laura Sampson:
With five star wrestling, there's always the risk of accidents happening, and tonight I a very sorry to inform you, that our CMV Womens Intercontinental Champion Ashleigh Infinitee, has not been medically cleared to compete following her triple threat match at Quarantine. She walked into that match, with a sincere concussion, determined to fight through it, and she did, she went on to win the match. However, she suffered an even worse injury in doing so, as she hit her finisher, Space Food (Sethwalker) to finish the match on Cassie, she unfortunately broke her foot on the landing and was helped to the back by the referee following the match. But I think it's best you all heard it from her..
The camera pans to the stage, as Infinitee comes out from the back on crutches, the belt wrapped around her waist as she makes her way down to the ring to a standing ovation from the crowd, cheering her name as she begins to clamber up the steel steps, while Laura Sampson holds the ropes open for her and helps her into the ring where she's passed a microphone from the General Manager.
Ashleigh Infinitee:
I'm sorry for letting not only myself down, the belt down, our wonderful General Manager down, and most importantly, all of you down. I begged and I pleaded to the doctors here in CMV to allow me to compete, but with a broken foot, it's simply not possible. I've hit that move millions of times and never had an issue, but luck was not on my side at Quarantine, I showed the world I could overcome the odds of a concussion and beat two of the top stars in this Division to become a two time CMV Womens Intercontinental Champion. But let me reassure all of you, and everyone in the back, that this will not be the last time I'm seen with this belt around my waist, when I return from this injury, when my foot is recovered. I will be back, better, faster, stronger than ever and I will win back what I never lost! Whoever gets this next, I hope you keep it nice and warm for me.
Infinitee raises the belt high into the air one last time to the roar of the crowd before passing it over to Laura Sampson who puts hit over her shoulder and begins to speak into the microphone.
Laura Sampson:
Ladies and Gentlemen, don't think I don't have a plan for this. You see, look back to the start of the season, how was the first ever CMV Womens Champion crowned?! With a sixteen Vixen tournament. So, I am proud to announce, that from here, until the end of the season, culminating on Day 2 of Contingency sixteen Vixens will compete in the exact same tournament and the winner, will walk out of Contingency with the CMV Womens Intercontinental Championship, and into the new season with their legacy strapped around their waist. But who is in this tournament you ask? Well, it is indeed the era of opportunity and because of such, I have picked sixteen Vixens from all walks of life, from on places on the card, ALL fighting for a chance to win some Championship gold! Here they are...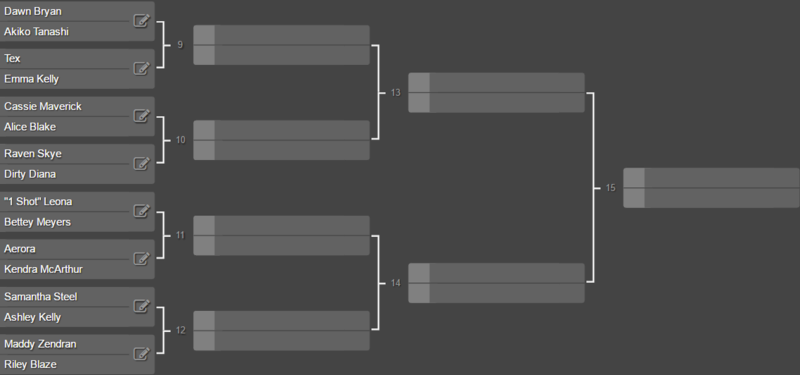 Laura Sampson points to the titantron revealing the sixteen Vixens in this tournament bracket before raising the microphone to her mouth once more.
Laura Sampson:
There you have it! Sixteen Vixens with various different accomplishments, including a former CMV Womens Champion, a former two time CMV Vixens Champion and a former CMV Womens Intercontinental Champion! This showdown will determine the true holder of our Womens Intercontinental Championship!

Thank you once more ladies and gentlemen! Enjoy the show!
Laura Sampson drops the microphone and walks over to Infinitee to help her out of the ring once more, however as they begin to leave the ring, they are interrupted by a theme hitting the PA System.
Open to any Vixen in the tournament and Aaron Waite.
Last edited by Miztacular on Sat Sep 24, 2016 4:49 pm; edited 1 time in total
_________________
Matthew wrote: Hayden is so much better than Schmidty in every way.
Admin





Posts

: 7104


Join date

: 2015-03-09


Age

: 21


Location

: MizTV


Humor

: Making Sons uncomfortable



HEEEEEEEEEEEEEEEY HEEEEEEEEEEY HEYY HEYYY is the song heard throughout the arena as the fans once again get on their feet. Dawn comes out wearing her new Canadian attire. Dawn makes her way down to the ring whilst clapping her hands together as a sign of respect for Infinitee.
Dawn : Everyone give it up for Ashleigh Infinitee...
The fans tear the joint down, screaming as loud as they can....
Dawn : That's what i'm talking about, respect. Infinitee you went out there and won the title when you wasn't 100%.... You laid it all out on the line, unfortunately for you, you suffered an even worse injury, these are the risks we take, we put our bodies on the line, we do this cuz we love what we do, no matter how bad we are hurting. But by doing so, sometimes we push ourselves too much. 
Infinitee, you may be a great champion but opportunity is knocking....The brackets were just revealed for the 16 Vixen Tournament and none other than myself is at the top, the number 1 seed if you will. There's a reason why i'm at the top, and that reason is that belt belongs around my waist. I beat a monster in Rose Punish to capture my 1st IC title and i don't want to be the chick just known for being the 1st Vixen to successfully defend that belt.... I want to be known as thee best IC Champ of all time. Only way to do that is by going through every round till I reach the final and be crowned the IC Champ for the 2nd time. But looking at the brackets it wont be easy, but i am determined, focused more than ever, It's been too long since i've had  that title around my waist.... But Infinitee when you return, i will gladly give you your well deserved title match, so we can tear it down 1 more time....
Then all of a sudden another theme hits the PA System...
---
Open to anyone in the tournament who wants to interrupt and Aaron Waite, because he got that beef with the GM.
_________________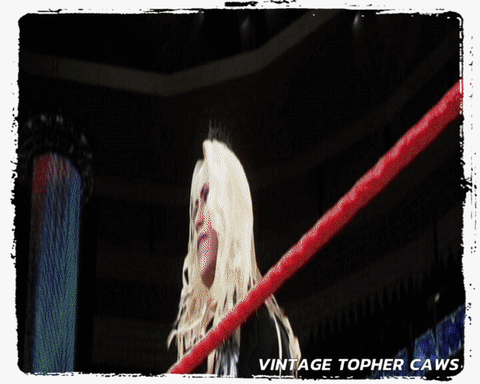 Main Event Star!





Posts

: 4902


Join date

: 2015-12-11


Age

: 99


Location

: (NEAR)... Leeds, England


Humor

: yes :D





As soon as the glass shatters a wave a boos hits the arena. Aaron Waite has appeared on the stage, microphone in hand, with a pissed off look on his face, looking like he is about to unload on the new General Manager of Intensity

Aaron Waite : Are you kidding me right now? No one gives a shit about these tramps tournament... You all should be talking about me and how for two months in a row I've been screwed out of MY CMV GLOBAL CHAMPIONSHIP!!! The first month the referee had a mind of his own and should be fired! and on Quarantine... I had to fight after being PUNT KICKED IN THE FREAKING HEAD! How do you think this is fair? huh?

Laura Sampson picks up her microphone and lifts her microphone to her mouth only to be interrupted by Waite

Aaron Waite : Shut up when Greatness is speaking... Where is the justice that your father gave to this show? Where is the fairness? You're a damn joke just like Unmatched. As long as you're still in charge this show is going to go downhill really fast, and I promise you, if I do not get another chance at regaining MY CMV Global Championship, I will leave this show and join another one that was a green theme to it...

Aaron Smirks and turns his back on the General Manger, about to make his way back behind the curtain before he is interrupted.
_________________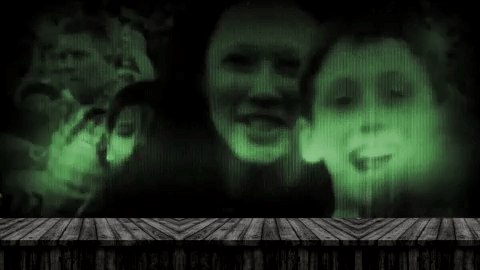 Data Resets : 1

Main Event Star!





Posts

: 1013


Join date

: 2015-03-10


Age

: 20


Location

: Australia


Humor

: Dark



Laura Sampson:
Hold on there for one second Aaron.
Aaron stops in his tracks, and turns his head slightly back towards the general manager who continues to speak.
Laura Sampson:
You know full well that your contract does not allow you to do such a thing, you're a smart guy too. Makes me wonder, why even say it? Especially to the person who knows the ins and outs of your contract. I think you're compensating for something in front of these Vixens Mr. Waite.
Aaron turns around in full force, enraged at Laura Sampsons' comments, but before he can say anything, he is cut off by the Intensity General Manager.
Laura Sampson:
No, no, no Mr. Waite, it is my time to talk now. I think you're all talk, you just didn't think I'd bring up your contract on live television, it's alright Aaron, I get it, trying to look tough out here in front of these Vixens so you don't feel emasculated. Nonetheless. Aaron, you make some very good points, the referee made a mistake at Climb 2 Fame and you had taken a big blow to the head before the match at Quarantine. However Mr. Waite, the way you went about seeking justice does not bode well for your case. Coming out here and interruption this announcement, talking trash, trying to threaten me. Well Mr. Waite by all means when your contract expires you may re-negotiate with Fusion, I won't stop you, but just remember what happened last time you appeared on Fusion, this is why I think you're full of it.

However, I'm not going to call your bluff, mainly because as I said, you make some very reasonable points. So here's what I'm going to do for you. Next week you will take on the former Television and European Champion Dave Skylark, in a King of the Ring Qualification match, and if you win, you'll be the third man on Intensity's side of the King of the Ring tournament.

You can do that right? I mean, you've not hesitated to bring up how you've done it before at iMPLOSION, winning four matches in one night, we'll see if you can repeat that at Contingency. That will be all.
Aaron raises the microphone to his mouth to speak, but instead, grumbles something under his breath before dropping the microphone and storming off to the back in a hissy fit as the segment comes to a close.
_________________
Matthew wrote: Hayden is so much better than Schmidty in every way.
Admin





Posts

: 7104


Join date

: 2015-03-09


Age

: 21


Location

: MizTV


Humor

: Making Sons uncomfortable




---
Permissions in this forum:
You
cannot
reply to topics in this forum