Fusion & Genesis PPV List!
-Battlescars
-Anarchy Rulz
-Retaliation
-Deathwish
-Requiem
-Exodus
-Validation
-Sacrifice
-CyberSlam
-Dark Carnival
-Point Break
-Regicide
-Wild Card
-Absolution
-Emergence
-Home Coming
-Cause & Effect
-Final Resolution
-Purgatory
-Ascendance
Page 1 of 5 • 1, 2, 3, 4, 5

How did you like Anarchy Rulz?
THURSDAY Night GENESIS Episode 57!
LIVE from the Casper Event Center in Casper, Wyoming!!!
SHOW OPENER!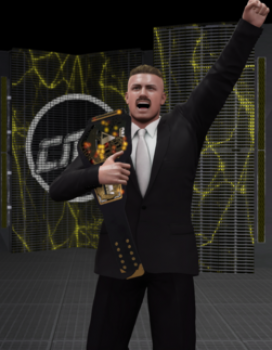 Dave Turner revealed the CMV Alpha World Championship and announced the competitors for the Genesis Elimination Chamber match at Exodus; Randy Borton, Tim LaFave, Ryan Kent, Andrew Briggs, Furious Frank and Bob Luger. Each competitor would come out to say something about the upcoming match . . .Exodus card thus far!
(Subject to change.)
-Elimination Chamber for the CMV Alpha World Championship! (Andrew Briggs, Bob Luger, Furious Frank, Randy Borton, Ryan Kent & Tim LaFave)
-Fusion Elimination Chamber match! (Jacob Ziegler, Sam Valentine, Billy Weaver & Chris Andrews)
-CMV Vixens championship Elimination Chamber match! (Jade Divine (c), Fury & Megan Cooper)
-Iron Man match! (Troy Meyers vs. Jay Davis)
-Shiloh Gray vs. Kenji Murakami!
-The Fallen vs. Extreme Conditions!
\ - - - | - - - | - - - /

OPENER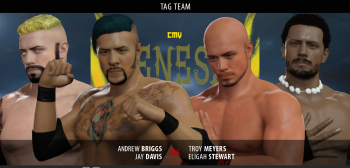 In a grab-bag Tag Team match, we get the insufferable Jay Davis; tagging with the equally insufferable and ungrateful Andrew Briggs versus Mr. Good Vibes Eligah Stewart and the bald wonder Troy Meyers. With Troy and Davis coming up short in the Light Heavyweight Championship Gauntlet at Anarchy Rulz will they have any momentum to help their respective teammates in this battle versus Good versus Arrogant?MATCH #2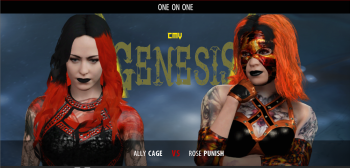 In part-1 of the Back-to-Back Vixen's Battle; the young and fresh Ally Cage takes on the imposing Rose Punish. While Ally has had a stand-still career to start can he pull it all out to defeat one of the most frightning Vixen's on the main roster or will Rose shut down any and all opposition from Miss Cage.MATCH #3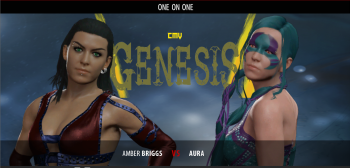 In part-2 of the Back-to-Back Vixen's Battle; Amber Briggs locks up with the Aura. Both Briggs and Aura have been in a rut but a win here would push them in the right direction. But who will defeat who? Will the Briggs Breaker put down Aura? Or will the japenese angel's Osaka Street Cutter put Briggs into a coma?MATCH #4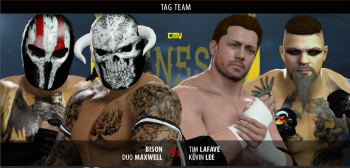 In a stunning return, Tim LaFave will pair with his old friend and blood brother. Kevin Lee. After traveling the desert and training under the brutal heat of the sun; Lee has come back to Genesis. T & Lee take on the current Tornado Tag Team Champions in The Empire of Pain and after coming off a dominate victory at Anarchy Rulz, things are looking good for Bison and Duo Maxwell.MATCH #5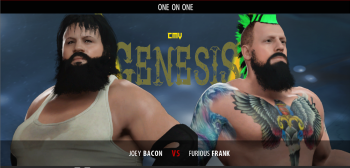 Furious Frank challenges the mammoth Joey Bacon in singles competition. And with Tim slowing down the momentum of Bacon on a Live Event can the train that is Frank continue to run over any and everything that stands in his path. Or will Joey finally sit on the locomotive Furious Frank and bring his streak to a screeching halt?MATCH #6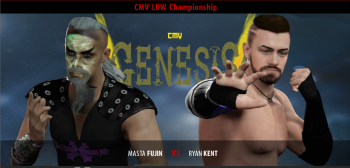 SPEAKING OF STREAKS. If anyone can stop Kent's reign as Light Heavyweight Champion it's the currently undefeated Master Fujinn who, since joining CMV has not known a singles loss. With Kent's participation in the Elimination Chamber match for the CMV Alpha Championship coming up; if Ryan ever wanted to act like he didn't want the Light Heavyweight Championship, now would be the time. As the Elimination Chamber at Exodus will take a majority of his focus and possible double duty at the event would spell bad news for Kent.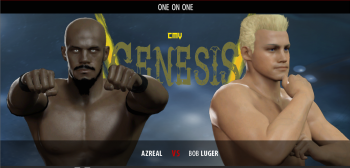 Iiiiiiiiiiiiiiiiiiiiiiiiiiiiiiit's TIME! Bob Luger takes on the current International Champion. With Luger coming off a victory on Dave Turner and Azreal a victory off Tim LaFave. This clash of competitors promises to be a fast paced, action packed moment in professional wrestling history. A win against Azreal will complete the transformation and Bob Luger will, not only be the Work Ethic Titan, but possible candidate for International Championship match and looking further, the first duel champion if he wins the CMV Alpha Championship at Exodus.
LET'S NOT FORGET YOU CUCKS,
that we got a totally sick Live Event post show!!!
= Kenji Murakami vs. Matt Jefferson =
= Angelica Jones & Amanda Davis vs. Dix & Cox (Riley Dixon & Debra Cox) =
= Hardcore Harry vs. Jason Royal =
= I'm a !winner match =
Last edited by TimLaFave on Thu Sep 22, 2016 12:53 pm; edited 1 time in total
_________________
Tim LaFave (Genesis)
Nick Blake (Fusion)
Shiloh Gray (Fusion)
Voice Vindy (Fusion)
Aerora (Ferocity)
Credit to Aaron for the avatar.
Main Event Star!





Posts

: 2297


Join date

: 2015-08-29


Age

: 25


Location

: New York


Humor

: Slapstick



_________________
Main Event Star!





Posts

: 2737


Join date

: 2015-05-14


Age

: 18


Location

: Ontario, Canada


Humor

: Dashing's jokes



So you book cobalt every show, even after it's revealed it's some scrub's caw, but soloway is nowhere to be seen

it's a struggle not being in the kliq
Last edited by The Friendly Savage on Thu Sep 22, 2016 2:26 am; edited 1 time in total
Last edited by The Friendly Savage on Thu Sep 22, 2016 2:25 am; edited 3 times in total
like how can you find room for joey bacon but not a productive member of the roster
Aura is in a match when she is supposed to be kidnapped by the fallen

For fuck's sake Dashing pls read the promos.
_________________
MATT "MJ" JEFFERSON
Second Annual CMV tag team cup winner (with Eric Thunder)
CMV World tag team champion (1 time with Eric Thunder)
AURA
ERIC THUNDER
Second Annual CMV tag team cup winner (With Matt Jefferson)
CMV World tag team champion (1 time with Matt Jefferson)
LEX NIGHT
BJORN WOLFFE
RACHEL GRANT
ZACH SMITH
Midcard Playboy





Posts

: 481


Join date

: 2016-01-14


Age

: 17


Location

: Nunya



They kidnapped the decoy Aura, that's why she's been losing so much
Admin





Posts

: 4534


Join date

: 2015-03-09


Age

: 20


Location

: The Hood


Humor

: Knock knock!



Cashing in on Bison tonight.
_________________
Accomplishments :

2018 Heel of the Year as Schmidty
2018 Newcomer of the Year as Schmidty
2018 Face of the Year as Bob Luger
2018 Promoer of the Year
1x European Champion as Schmidty
2x United States Champion as Schmidty
1x Undisputed Champion as Schmidty
2x Alpha World Champion as Bob Luger
1x Tag Team Champion as Murdoc
1x Tag Team Champion as Freddy Osborne
2x Light Heavyweight Champion as Billy Weaver
1x Light Heavyweight Champion as Bryce Hurt
RAW POWER
Main Event Star!





Posts

: 3455


Join date

: 2015-09-20


Age

: 21


Humor

: Neville thinking he could keep up with Enzo.



Midcard Playboy





Posts

: 421


Join date

: 2015-03-09


Location

: Chicago



Page 1 of 5 • 1, 2, 3, 4, 5

---
Permissions in this forum:
You
cannot
reply to topics in this forum