Fusion & Genesis PPV List!
-Battlescars
-Anarchy Rulz
-Retaliation
-Deathwish
-Requiem
-Exodus
-Validation
-Sacrifice
-CyberSlam
-Dark Carnival
-Point Break
-Regicide
-Wild Card
-Absolution
-Emergence
-Home Coming
-Cause & Effect
-Final Stand
-Purgatory
Quick Links!
Dashing's Stuff!
Cop's Stuff!
CMV Network!
Social Media!
Site Threads!

After Tops has left the ring following the conclusion of the main event of Intensity to look for Tia, Aaron is left alone in the ring, and as he recovers, the crowd lets off a string of boos from the crowd as they notice some commotion coming from the top of the stage as  Chet Taylor comes out from the back sporting a strange "S" Armband with the microphone tucked firmly into his arm as he walks down the ramp sarcastically applauding the former CMV Global Champion as he looks back at Chet, breathing heavily, confusion struck upon his face. Taylor stops at the bottom of the ramp standing there with a smug look on his face as he just continues to clap sarcastically towards the former Dual Champion, however as time passes his smug grin turns into a blank expression as he stares into the eyes of Waite who remains alone in the center of the ring. As Waite and Taylor engage in a stare down, Taylor slowly raises his hand and clicks his fingers, letting off a slick smile as Aaron Waite remains confused in the center of the ring.
Waite begins to look around the arena in confusion as the crowd begins to get louder as they begin to notice the duo of Tyler Raze and Cody Douglas make their way through the crowd, Aaron, at the sight of these retreats out of the ring to grab a chair and quick gets back into the ring as the duo leap the barricade, circling the ring like sharks following the scent of blood. Waite looks around, keeping his eyes on the men before turning back to Taylor, with sweat dripping down his forehead and the expression of "Why?" stricken across his face as Chet raises the microphone to his mouth while Raze and Douglas take two sides of the ring.

-Chet Taylor-
Tell me how one would make a statement....
Is it the use of LIES, DECEIT, CARNAGE, PAIN, AGONY but I thought that these are ones of good choices, I mean it is what drives our heroes and top stars after all....
But yet I am judged, while others base their journeys off of respect, base their journeys off of pride, base their journeys off of greed, base their journeys off of the light.....
I SUFFOCATE LIGHT
You see you judged me by my actions, you judged me by my thought process, you judged me for who you really are egomaniacal, self-aggrandizing, conman like Aaron Waite but the difference between me and people like Waite is I have merit...

Chet Taylor pauses talking as he signals towards Raze and Douglas who climb onto the apron on opposite sides of the ring, and with that Taylor follows, climbing onto another side of the ring, Aaron, with his veteran instinct understands what's about to go down, he smacks the mat with his chair sending off a warning to Taylor and Co. However, in unison, the three men step their feet into the ring and Aaron runs straight after Douglas who jumps down from the apron, but before he can turn around, Taylor dives in, targeting his legs with a chop block causing Aaron to drop the steel chair. Aaron backs up into the corner as Taylor and Raze descend on him, however from behind Douglas pulls the arms of Waite out from the back, effectively binding him to the ring post, holding him in place as Taylor presses on, talking to Waite.

-Chet Taylor-
People tell me I'm delusional because they don't understand what I've accomplished in just a very short time here on Intensity, the obese Neanderthals that sit in that audience say I haven't done anything to prove myself. Have they even watched my career unfold? Did they see what I accomplished on Fusion? Have they seen my path of destruction and the pile of bodies I left laying from Doug Thompson to Eric Matthews I am easily...EASILY...the greatest LEGITIMATE WRESTLING talent in the game today. Those modern-day marks who still claims I am a "joke" simply don't see the point. There's no question. I've always been the single best talent in this league since my debut, but I've been held back by the shadow of my former character dressing like some degenerate I was supposed to be nothing until now…..
Now I am part of the one true revolution this sport so desperately deserves. As far as I'm concerned, those win-loss records and rankings are fabricated by management because the organization itself is in denial of my accomplishments and is willing to spite me for something I believe in. Matthews is crying in his hospital bed, yearning for a hell much more merciful than the one I put him in. His career is now in serious jeopardy of being ended prematurely. Frankly, I'm waiting for the news of his retirement any day now. I'm sure THAT should depress his homely fan-girls to suicide.
The men that stand next to me we are bonded together, I didn't choose them they didn't choose me. On one hand we have my good friend in the form of Cody Douglas a misunderstood human being, casted aside because he doesn't fit your idea of a sane man so you treat him like an animal……Douglas and I shook up the wrestling world when we ended Thompson and Matthews surely you'd think that it is worth something, you'd think we get a little bit of respect from management and get pushes beyond belief, maybe a title shot…..no we get NOTHING then we have a young jacked up monster of a man in Tyler Raze with the whole world ahead of him but the fact is he's still gets lost in the shuffle playing second fiddle to guys like Tops Newsome and Lazer well instead of waiting for his time to breakout he's forcing his way up the card and it starts by cutting the heads of guys in our way. Its people like Matthews and Waite that won't let us have our way, I will cleanse wrestling, I will make it legitimate and there's nothing you people can do about it…..

With that, Taylor drops the microphone and slaps Waite across the face, however, Waite refuses to lie down for someone like Taylor, and spits back in his face, Taylor wipes it off, with a smile on his face which soon turns to rage as he looks back towards Waite, booting him in the face before signaling for Douglas to enter the ring. With all three men now in the ring Taylor begins directing Traffic, as Raze sets himself up in the far corner of the ring, and Douglas picks up a steel chair, Taylor takes a moment to pick Waite up by the head and lay some smack talk into him.

-Chet Taylor-
As soon as you came over to this brand you were bread for glory by Johnny Sampson he's to thank for your rise to the top and now he's to thank for your downfall once he left you by yourself. All that praising for your athletic ability but not a peep is said about your moral merit. The fact is you're obnoxious, arrogant, weak minded, and a snake yet you were given all the glory because of your name and you're one of the prime example of what's wrong with CMV. Now that Sampson is no longer in charge of things now is the time to take control of things and set things right because breaking news ladies and gentlemen we are the Syndicate and this is our house now bitches……

Following his smack talk, Taylor proceeds to hit Waite with a stiff forearm, smacking him across the face before taking his back and holding his head up in the air for a whopping chair shot from Douglas which sends Waite crashing to the mat in a slumped heap. Taylor then points over to Raze who stands in the corner, holding onto the ropes, setting himself up for a vicious PUNT KICK to the dome of Waite, knocking him unconscious.
With Waite down on the mat, the trio of Syndicate stand tall in the ring, admiring their handy work as they look down upon the dead weight of Aaron Waite smiling, each member stretching their arm out into a fist and joining together over the body of Waite. Taylor picks up the microphone just one more time, for some last words.

-Chet Taylor-
I want everyone in this building to watch because whether boo the hell out of me after this or you cheer and kiss my ass then ride the Chet Taylor train all the way to next season because after all this has cleared and my revolution has conquered everyone will soon realize what they are dealing with never forget this moment I will stake my claim as the individual who will set wrestling right. And as I know you've already seen, I don't just preach 'Legitimate Wrestling'...I AM LEGITIMATE WRESTLING.

As Chet Taylor finishes up, he passes the microphone to the mentally deranged Cody Douglas who speaks for the first time since decimating Eric Matthews two months ago
_________________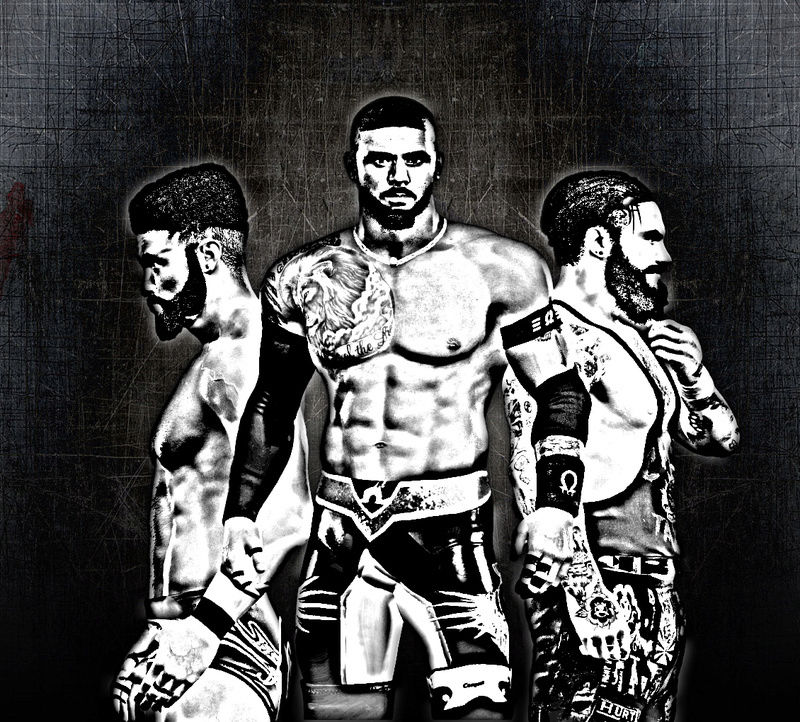 Main Event Star!





Posts

: 1040


Join date

: 2015-07-19


Age

: 21


Location

: Hopewell, Virginia



Cody Douglas:
I think it's long overdue, very much so in fact, for an explanation as to why I am here. You see my pal Chet here, he summed it up pretty nicely, he summed up how we came together and what we set out to do, you know Chet, you know where he comes from, and you know what he stands for. Raze, well, I'm sure you'll here from him a little later, but it's my turn now you hear me. Who is Cody Douglas, what a question to ask, and where to start. On a normal day I'm everything all of you dream to be, a larger than life superstar, a man who is feared by many, but you see, most days for me, most days.. Aren't normal days. So lemme explain to all you dumbfounded miscreants exactly what a BAD day is like in the life of Cody Douglas... But first you'll have to understand WHAT I go through, WHAT I feel.... Intermittent explosive disorder.... Do you know what that is... It is a behavioral disorder characterized by explosive outbursts of anger... Anger, and violence.. However this isn't me, you see somebody with Intermittent Explosive Disorder doesn't have any control of their outbursts.. It just happens and they sit and watch their actions unfold, oblivious to the fact that they caused it... I on the other hand, am in FULL control. You see anger to me... Anger.. Is like a drug. I love it. I CRAVE it. I don't want any of you to sit there and feel sorry, I don't want any of you to sit there and think I need therapeutic treatment. I am FINE the way I am. I enjoy hurting people, I enjoy the rush, the thrill, the excitement as anger runs through my veins while I beat another human being to a bloody pulp. It feels good, satisfying. Listen here people, I have no disorder, there's nothing wrong with me, I am just a natural born killer, and as I sit here watching this product I feel anger run through my body, anger towards the SYSTEM. Anger towards the PEOPLE, and I have to let it all out and salvage what is left of this industry. Thompson, Matthews were just the first baby steps of a movement, and when we're done here, when we've made an EXAMPLE out of this former Global Champion, we will not stop, and we will push forward. Taking over this company bleeding it from the inside out.
Douglas turns to the unconscious body of Aaron Waite, picking up the chair as he does and placing his head between the legs, looking to break his neck! But before he does, he leans in real close and continues talking.
Cody Douglas:
Believe me when I say this Aaron, this isn't exactly anything personal, but a creature does not attack a mouse to determine where it stands in the foot chain. It goes for the lion, the tiger, the bear, the shark. You were just the one who straddled away from the herd for us to test our place in the food chain that is this roster, and it seems as if, we're higher up than you. So it's time to feast.
Cody Douglas drops the microhone next to the head of Waite just as he opens his eyes, regaining consciousness. Douglas backs up, perhaps looking to jump on the chair, shutting it over the neck of Aaron Waite surely ending his career. He lets off a roaring cackle of laughter fueled by absolute insanity as he begins to run forward, but as soon as he gets going, he comes to a halt at the sound of the Intensity General Managers theme.
With a look of ferocity in his eyes, Cody Douglas turns towards the ramp as does the gazes of Tyler Raze and Chet Taylor, the daughter of Johnny Sampson comes out from the back, with all the eyes of Syndicate on her she makes her way down the ramp, towards the side of the ring, where she looks to retrieve a microphone from the timekeepers area.
After retrieving one she makes her way into the ring, looking across at the three members of Syndicate with a look of concern upon her face as she raises the microphone to her mouth.
Laura Sampson:
Look, I don't know what my father allowed on this brand, but what I do know is, this kind of unprovoked violence will NOT be tolerated on MY show. This is not the doghouse, this is not a place of Anarchy like UnMatched is. This is a place for wrestling, and these actions will not stand here. Now, I'm a big believe in what comes around goes around, and I know for a fact, Aaron Waite certainly deserves some comeuppance for his past actions with my father on this brand. BUT THIS IS NOT THE WAY TO GO. Ending a mans career is not the answer and you will NOT do this again. I'm sorry to make a fool of the three of you, but this has to happen. SECURITY! ESCORT THESE MEN FROM THE PREMISES.
At the beckoning of the General Manager, a horde of security comes rushing out from the back and as they make their way up the ramp, Cody Douglas picks the mic up from the mat just one last time.
Cody Douglas:
Oh. You will regret this.
Douglas drops the microphone and the three men exit the ring, escaping through the crowd away from the security as Laura Sampson stands tall in the ring, trying to hold back the fear in her eyes, but is reassured at the fact that she is in charge as she issues one final statement.
Laura Sampson:
Maybe I did not make myself clear, this brand will not fall into chaos, I will not hesitate to issue suspensions if people refuse to listen to me, people have NO right to run around thinking they own the place. While I stand here in this ring, in control of this brand, the people who have given wrestling a bad name, the people who push and shove their way around, jumping the line to get to the top, they will get what is coming to them. I am a fair person, fair, but firm, and I am certainly not afraid of a trio of punks. Here's your verbal warning, to each and everyone in this arena, Understand this, cheating will not get you ANYWHERE, the law abiding individuals will get what they deserve, while those who choose to stand against what is right, target the fans, target the people who work oh so hard to get here, they will get... What THEY deserve.

Thank you all! I hope you had a fantastic night here on Intensity!
Laura Sampson drops the microphone and steps out onto the apron as the crowd cheers her name, applauding her for standing her ground against Syndicate as she raises her arms on the apron, sharing a moment with the crowd as the camera fades to black.
_________________
Matthew wrote: Hayden is so much better than Schmidty in every way.
Admin





Posts

: 7058


Join date

: 2015-03-09


Age

: 21


Location

: MizTV


Humor

: Making Sons uncomfortable




---
Permissions in this forum:
You
cannot
reply to topics in this forum