Fusion & Genesis PPV List!
-Battlescars
-Anarchy Rulz
-Retaliation
-Deathwish
-Requiem
-Exodus
-Validation
-Sacrifice
-CyberSlam
-Dark Carnival
-Point Break
-Regicide
-Wild Card
-Absolution
-Emergence
-Home Coming
-Cause & Effect
-Final Stand
-Purgatory
-Ascendance
Quick Links!
Dashing's Stuff!
Cop's Stuff!
CMV Network!
Social Media!
Site Threads!

Moments before our Co-Main Event of the evening, the former first ever Mrs. Money in the Banks theme hits the PA System.... However no Titantron appears and the arena goes black moments later, and the theme dies down. The crowd in a stunned silence, as something begins to fade into the Titantron, as it fades into view it's revealed to be some sort of logo.
The crowd, still confused as the Logo hovers in the center of the titantron, glitching slightly as the titantron begins to split in half, the top becoming pitch black and the bottom becoming a polarizing shade of white and with a loud

CRASH

the words "No Morality" appear alongside the logo on the screen..
The lights begin to flicker rapidly as the crowd continues to watch on, in a state of awe, absolutely oblivious to what is going on on the titantron and then the lights stop, the titantron goes off, and another theme hits the titantron...
As this unheard of theme hits the PA system, the lights come back on, to reveal two Vixens at the top of the stage..
The Boo's hit as soon as the crowd realizes one of the two Vixens are in fact Sophia Caldwell, however the other Vixen is completely unknown to the CMV Universe, the duo make their way down the ramp to the sound of this new theme, Caldwell with a microphone in her hand as they make their way towards the ring. Caldwell circles the ring and steps in through the ropes while this unknown Vixen leaps onto the apron and steps through them, the duo stand tall in the center of the ring, soaking in this heated atmosphere set by the crowd for a brief moment before Sophia Caldwell begins to talk.
Sophia Caldwell:
Yeah.. Yeah... Yeah.... Boo me, come on BOO ME. Laugh at me, do whatever. I know I became the first person to fail to win after Cashing in Money in the Bank, but what you don't know.. Is that was my plan. I couldn't allow Dawn Bryan to win.. I couldn't allow Cassie Maverick to win, I couldn't allow any of those Vixens to win that match... So I had to win it and I LET HER PIN ME. So yeah, kudos on that Kristen.. But we both know that on my day I can put you to the mat for the three count.

You see now you're thinking... Why oh why would you want to waste that opportunity, you MUST be lying... Well sure you could think that, but as I've been proclaiming. You're all blinded by the glory, by the gold, but I... I see the world in black and white... I see it clearly, and you know what I see... I see a world where the Titles mean nothing, that's right, I don't need a petty piece of metal to be relevant, I don't need a little bit of gold to be the most DOMINANT Vixen in CMV, so Kristen, you enjoy that false hope I have bestowed upon you...
As the crowd continue to boo, Caldwell lowers her microphone and starts tapping on her forehead as if she's trying to remember something, and in a snap she screams at the crowd.
Sophia Caldwell:
SHUT UP!

Now... You're all probably wondering... You're wondering who this is by my side here tonight, you're wondering what I've conjured up, who this menacing, dominant looking Vixen is.. Well, every organization, every institution needs it's muscle, it needs those people who are willing to go all out for the cause, it needs its driving force, and well, ladies and gentlemen, I'd like to formerly introduce the person who will crush each and everyone of your favourite Vixens into the mat at your despair. This Vixen to my right, is a good friend of mine, we go way back, what's her name you may be asking? Well it doesn't matter what her name is. All that matters is what you'll come to know her as, and that's Compromise, now you may think that's quite ironic because surely No Morality would not compromise, but if you think real hard, you'll understand it, you see, she's called Compromise, not because we compromise, but because she will FORCE you to compromise, because there is simply no stopping her, there is no stopping us... We are No Morality, and we will show NO COMPROMISE.

Tonight is the beginning of a new chapter, a chapter all of the Vixens in this company will fear, because we are not alone, and tonight. I will give any of the Vixens in the back a chance. A CHANCE to become one of us, one of the future, to see the world how I do, to all of those who feel like they've been underutilized, under appreciated, you will get what you truly deserve, all you must do, is come on out and become one..... OF US.
Sophia Caldwell drops the microphone in the center of the ring before the duo turn to face the hard camera, and in Unison they raise their fists into the air awaiting a response from someone in the back. As moments go by, the duo remain stood towards the camera as the crowd continues to press on with their sheet of boo's covering the arena until...
Emilys theme hits the PA system and the crowd begin to cheer in hopes that the Canadian Born Luchadore will shut down this movement as she comes out from the back followed by her manager Sam Payne, they begin to make their way down the ramp as the duo of No Morality turn to face them. Emily slides under the ring as Sam Payne waits on the outside, Emily walks towards the center of the ring and picks up the microphone.
Emily:
You know Caldwell, I think it was an absolute JOKE when you lost to Kristen, and theres no excuse for it, and so when I started to make my way out here, I knew I was going to put a stop to this.
The crowd begins to cheer the name of Emily as she stands face to face with Caldwell in the ring with the microphone pressed firmly against her lips.
Emily:
But then I heard what you said about being underutilized and underappreciated.. I beat Dirty Diana just before she became champion, and what have I been used for? Enhancement Talent... I thought my style would light up the Vixens division, but instead, I am overlooked..
Emily drops to her knees in front of Caldwell, which sparks a smile upon her face, the crowd begin to chant "Don't do it" as Emily continues on..
Emily:
And so I thought. What have I got to lose...
Emily looks up into the face of Caldwell and says just one last thing..
Emily:
Show me the way...
Emily drops the microphone down by the feet of Caldwell who nods towards Compromise as the crowd begin to chant "No!" over and over as Compromise leaves the ring to retrieve a steel chair while Caldwell picks up the microphone, as Compromise slides back into the ring with the chair, Emily's manager gets into the ring to save Emily, only to be SMACKED across the face by a steel chair by Compromise. Caldwell watches the events unfold before looks down at Emily as she speaks into the microphone.
Sophia Caldwell:
You have made a wise choice Emily and I am to humbly accept your request, however.. There's just a couple of things you have to do for me first..
Emily looks up in bewilderment as Caldwell continues to talk.
Sophia Caldwell:
You see, to really prove you're part of this cause, I'm going to need something from you, a physical Item... and a gesture.. Hand me your mask.... I said... HAND ME YOUR MASK..
Emily, still on her knee's slowly raises her arms and removes the mask from her face, laying it out by the feet of Caldwell..
Sophia Caldwell:
Good... Now, for the final part of your initiation.. I'm going to need you to cut ALL ties. With your lifelong friend, your manager, the man who got you where you are today... Sam Payne.
Emily looks across the ring with a tear in her eye, knowing full well this is what she HAS to do to make sure she still has a career down the line, as she gets to her feet, hoping Sam understands, she takes the chair from out of the hands of Compromise and raises it high above the head of Payne, but she can't do it, she falls to her knees and drops the chair. Compromise, becoming impatient, pulls Emily to her feet.
Sophia Caldwell:
CALM DOWN, Compromise.. This is no easy decision. Now Emily.. I understand what this must feel like, but you must understand it's for the greater good of your career. Sams got you this far, and you're this close to being cut, you said it yourself, you have nothing to lose. Get it over with, beat him senseless and we can move on with our day..
Emily looks towards Caldwell who smiles menacingly back, holding out the chair. Emily takes it, and looks back towards her manager, she murmurs "Sorry" before swinging down the steel chair onto his head letting out a shrill cry of emotion as it hits, she throws the chair to the mat and turns, Caldwell gestures towards Compromise to finish the job as she begins unloading with punches as the medical team run down the ramp. While Caldwell walks over to their newest initiate..
Sophia Caldwell:
See how hard was that? But don't worry, you're one of us now...
The camera begins to fade as the medical crew attend to Sam Payne while Sophia Caldwell leaves the ring with Emilys arm over her shoulder and Compromise in the flank as the camera fades to black.
_________________
Matthew wrote: Hayden is so much better than Schmidty in every way.
Admin





Posts

: 7118


Join date

: 2015-03-09


Age

: 21


Location

: MizTV


Humor

: Making Sons uncomfortable



After pinning Sophia Gibson for the three count on her singles return to CMV, the theme of the former CMV Womens Champion and longest reigning Vixen in CMV hits the PA system as Jade Dynamite stands tall in the ring with a cocky smile on her face as if to send a message to Kristen Page. As seconds go by Dynamite turns towards the timekeepers area and gestures for a microphone with is hastily brought to her as she steps into the center of the ring with the microphone poised in position and begins to talk, looking directly into the hard camera with fire in her eyes.
Jade Dynamite:
You all talk and you talk but what happens when you square up to me in the ring, you lose, only two people have beaten me clean in the center of this ring, so when someone like Dirty Diana, calls me out for doing nothing as of late, I can only look to her and say well what have you done huh? Nothing but devalue the belt that I MADE RELEVANT. Anything short of a nine month reign devalues it, that was the bar I set and nobody, not Diana, not Kristen and certainly not Sophia Caldwell is going to raise that bar. Diana, you want to talk about having loads of chances, didn't it take you three title shots to finally win it, and then only when it wasn't me you were facing. What else was it you said Diana, I'm trying to think, because for once, I'm agreeing with Kristen Page, you see I just don't give a damn what you say. Something about me being the favourite from the higher ups? Wasn't that it.. Well let me blow away that little conspiracy. The very first night of Johnny Sampsons reign as GM, he made me defend, against you no less, of course you'd like to forget that because it didn't go your way. Then, later on in the month at Rage in a Cage, I had to fight Sophia Caldwell, a match that if I lost, I'd have to defend every single week for the next month, then after I beat Caldwell, I had to defend in a gauntlet. My point is Diana, I wouldn't exactly call that safe booking.
But that's fine Diana, jealous individuals always leech on to the success of others, always finding some little excuse that they then try to convince the world of its existence. Well Diana, all you've done is convinced yourself, Because this is still my Division, it is still the Dynamite Division, I may have had time off for injuries but guess what Diana, nobody attacks something that's meaningless, nobody attacks a rat to make an impact to the world, they attack a Lion, and that's what I am, and that's what I'll be when I rip my Championship out of your arms or Kristen's arms on the final day of this season. A bomb will sound, and everything will shift back into place.
The crowd gets on their feet chanting Dynamites name causing her to let off the slightest of smirks before she continues on.Jade Dynamite:
So as I said last week, both of you fight it out, give it your all for the Title at Quarantine, but you both know the inevitable is coming at Contingency All the pieces of the puzzle will fall into place and the true Champion of the Vixens division will stand tall reclaiming what is rightfully mine, and when I do, I can assure you this, I will break that record that I was so close to breaking, I will become the longest reigning Champion in CMV history. Just you wait. Because whoever walks out of Quarantine with the belt, will have just stepped into an empty plain in the middle of the desert, but let me tell you this, don't get cozy, it's about to become nuclear. That homing missile is priming up, and whoever walks out of Quarantine with the belt will have a target on their back and you both know DAMN WELL that I won't miss and when it hits you, well, you know what will happen...
Dynamite lowers her microphone for a brief moment as the crowd in unison begins to grow louder and louder leading into a big payoff.Jade Dynamite & The crowd in unison:
Boom…
Jade Dynamite drops the microphone and turns, looking towards Sophia Gibson, letting off a little cackle of pity as she turns to leave the ring, only to be interrupted by the arena going black, a light shining down on the ring blinding Jade Dynamite who stands tall in the center, while Gibson rolls out of the ring to get out of the light. Dynamite, with her hand raised covering her eyes looks around in confusion towards the stage and just as she'd expected some familiar words appear on the titantron.
With a look of disdain across her face, Dynamite clenches her fists and readys herself, with her only experience of the all-woman stable coming in the form of Sophia Caldwell, she can only assume what is about to go down, and so instinctively she does what she is born to do and prepares for a war. The seconds go by and nothing happens until the titantron completely shuts off along with the light over the head of the ring.
As the static plays the lights begin to flicker for a moment as three bodies appear on the stage in the Intensity arena, and after a couple of seconds… The lights come back on and the arena is back to normal.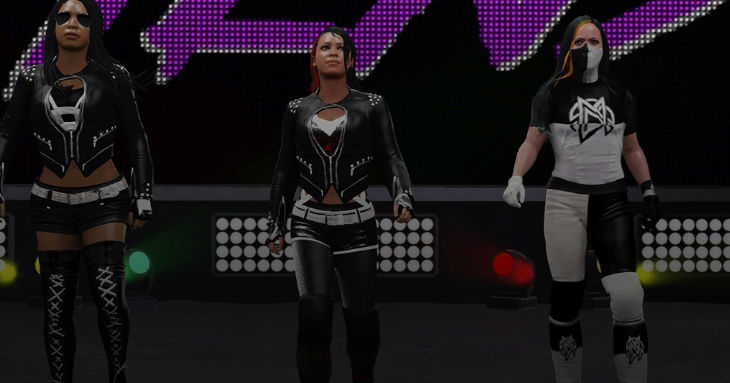 The three figures on the stage revealed, with Sophia Caldwell in the center, a smirk on her face as compromise and a new Vixen never seen before by the CMV universe walk side by side down the ramp towards the ring. The trio stop at the bottom of the ramp as Caldwell gestures for them to stay put as she leaps onto the apron and steps into the ring, gesturing for Dynamite to pass her the microphone, and with some slight hesitation, Dynamite throws the microphone to the feet of Sophia Caldwell who cautiously bends over to pick it up, keeping one eye on Dynamite at all times, prepared for that vicious curb stomp.Sophia Caldwell:
I'm going to keep this short and sweet Jade. We have business with Gibson over there, so… How about you get out of MY ring, otherwise we'll have business with you too..
Caldwell drops the mic and looks to walk past Dynamite who steps in her way, Caldwell, having expected this, smiles for a brief moment as she looks up into the face of Dynamite who stares back with a fierce look on her face to which Caldwell matches.  Under her breath Caldwell mutters..Sophia Caldwell:
I warned you..
And with a click of her finger, a shadow looms over Caldwell and Dynamite turns her attention to empowering figure that is Compromise. As Caldwell slips out from between the two, directing traffic as she orders the unknown Vixen to retrieve the body of Sophia Gibson on the outside. Compromise and Dynamite continue to stare at each other, waiting for the other to throw the first punch, Dynamite lets off a slight smile before turning for a second only to turn back with a stiff jab, but it's met with one in response from Compromise as the two begin to unload, a brutal combination by Dynamite who lands a short jab followed by an overhand right leaving her chin open for an uppercut from Compromise which staggers the longest reigning women's Champion, who steps back for a moment, wiping a trickle of blood from her mouth as she smiles at Compromise.

Compromise advances forward, leading with a jab at the sight of blood, lunging forward with power but not connecting allowing Dynamite to slip the jab and connect with an absolutely brutal inside leg kick causing Compromise to wilt, but only for a second as she shakes it off. But a second is long enough for Dynamite to wind up as she sprints forward jumping into the air for the Pressure Plate (Running Mushroom Stomp) but Compromise quickly rolls forward underneath it, as Dynamite turns around she's hoisted into the inverted fireman's carry position and Compromise looks to hit Burn Notice (Inverted Death Valley Driver) however as she releases Dynamite, she flips out of it and lands on her feet. The two look at each other across the ring as Caldwell watches on from the top turnbuckle clapping while she watches the action unfold.

As this all unfolds in the ring, this yet to be named Vixen hunts down Sophia Gibson on the outside, smashing her face into the announce table several times before throwing her into the barricade. With Gibson up against the barricade she begins to eat punch after punch from the newest member of No Morality, and after a solid 25 seconds of lethal blows, Gibson crumbles to the floor, her face paint beginning to smear as it mixes with blood trickling down from underneath her eye. With that the newest member of No Morality leaps onto the apron, and as she's about to step into the ring Caldwell gestures for her to wait on the apron while Compromise and Dynamite once again press forward. Dynamite forcing Compromise into the turnbuckles, controlling the wrists as she continues to target the legs of Compromise, looking to cut down those tree trunk thighs with some vicious knees. Compromise pushes Dynamite out of the corner and flies forward with a stiff elbow cutting open the forehead of Dynamite who returns with a spinning sole kick to the body. Compromise reacts, holding her gut as Dynamite elbows her in the back of the head several times, but Compromise will not go down. Now with Compromise on one knee, Dynamite continues to unload with vicious "12 to 6" elbows to the back of the head of Compromise but alas, she does not drop to the canvas, instead she powers up, pushing Dynamite back a step or two, and as Compromise gets to her feet, she turns around to crushing boot to the gut, THIS IS IT, Dynamite turns, running towards the ropes looking for a curbstomp, but Caldwell, who'd been on the turnbuckles the entire time, leaps off with a clothesline, cutting Dynamites sprint into the curb stomp off firmly in its tracks. Caldwell gets to her feet just as quick as Dynamite does, with rage on her face she runs at Caldwell clotheslining her down to the ground, however as this goes on, the unknown new signing steps into the ring and jumps onto the back of Dynamite while she's on top of Caldwell unloading. She pulls Dynamite off and begin to exchange, Dynamite takes a few good punches from the new Vixen before she takes control following a huge uppercut. However despite her impressive offense, the numbers game begins to become a factor as Caldwell hits Dynamite with a chop block allowing the newest Initiate of No Morality to drop a stiff elbow to the gut while Compromise recovers on the ropes for a brief moment.

Caldwell proceeds to pick Dynamite up by her hair and set her up on her knees as Compromise hits a jaw breaking big boot from out of the corner on Dynamite sending her crashing to the mat. With Dynamite down inside the ring, and Gibson down on the outside,  Caldwell begins to direct traffic, telling the new Initiate to retrieve a steel chair from the outside, while telling Compromise to bring the battered body of Sophia Gibson into the ring. As they do, Caldwell drags Dynamite into the corner and starts talking trash, slapping her, Dynamite follows up by spitting blood into the face of Caldwell who simply laughs before getting on top of Dynamite in full mount and unloading with Elbow after Elbow, blood literally pouring out of several open wounds on Dynamite's head as Caldwell gets up to her feet, admiring her work, getting the crowd up on their feet in a rage as she taunts them, however as she turns away from Dynamite, Jade staggers back up to her feet, looking to hit the Pressure Plate, but with the blood in the eyes of Dynamite, impairing her vision she doesn't see No Morality's newest member in the ring with a chair, and so as she runs up behind Caldwell, she runs into a stiff shot to the face, laying her flat out on her back as Caldwell turns around with a smile, picking up the microphone she had previously dropped earlier while Compromise rolls Gibson under the bottom rope.Sophia Caldwell:
Did I not warn you Jade, did I not tell you to step out of this ring and go your separate way, but alas, your pride got the better of you, and now, now you have made an enemy of us. There is no going back for you Jade, you will never see clearly, you will never see black and white, but instead you'll see the red of your own blood, trickling down your face as you lay there looking up to the bright lights wondering what could have been. This is no longer your division Jade, and it never will be again, this is our division, we as a unit have just dismantled CMV's most dominant Vixen in it's history, who else is there to take out to prove our point. You were right in that respect Jade, you are the Lion, but we are Humanity coming to cut away your natural habitat and not even you can stand up to that. As I said, we are bigger than Championships, so while you waste away with Kristen Page in this ongoing battle for nothing more than a simple strap, we'll assume control this division, reconstructing it from the ground up and make it our own. It will no longer be known as the Dynamite Division, or the Vixens division for that matter, for it will be known as our Division, a Division with no Governing body, a division of No Morality..
Last week, when Emily lost to Gibson, you all probably thought we were a joke, but no. That loss was to be expected, one does not go from a jobber to defeating a former World Champion in mere days, but tonight. You will all find out the great lengths that Emily has come under our tuition, but before that, Let me introduce to you all, our newest Initiate, Jasmine Crossings and just like Compromise, there's very little I need to say about her, she's her and alongside all of us, a part of our cause she'll rise to the top of this Division. Of course you know Compromise is the Muscle, well Crossings, she's the one we go to when we need to HURT somebody, like really HURT them, with her strongstyle you won't be walking for a while…
But now, for the reason we really came out here, Emily… It's time..
Sophia Caldwell points to the stage to which Emily walks out from the back, With a look of anger across her face as she makes her way down the ramp towards the ring, rolling in under the bottom rope, she stands across the ring from the downed Gibson determined to get revenge.Sophia Caldwell:
Now.. It's time for your revenge Emily. Ring the bell!
Compromise leaves the ring, and walks into the timekeepers area, stealing the bell and ringing it, Jasmine leaves the ring, dragging the limp body of Dynamite out with her while Caldwell takes the form of the referee as this impromptu match begins. Straight out of the gate Emily approaches Gibson in the corner as she struggles to her feet and begins to unload in the corner with right hook after right hook with Gibson having Zero offense in return, he face already thick with blood as Emily rolls Gibson out of the corner and climbs the ropes, she looks around the crowd, licking the blood off of her knuckles before hitting the shooting star press onto Sophia Gibson into the pin, as Caldwell drops for a slow three count.

1…..

2…..

3…..

Sophia Caldwell raises the arm of Emily into the air as Compromise and Jasmine get back in the ring after pulling Gibson out onto the floor. The quartet stand tall in the ring looking towards the hard camera as Caldwell picks up the microphone for one last time.Sophia Caldwell:
You see that people, two former CMV Women's Champions… One Night. There is No Morality, there is NO COMPROMISE.
Caldwell drops the microphone as the four of them stand tall in the ring looking into the hard camera, raising their arms into the air to end the segment as we go into our Main Event while the theme of No Morality plays throughout the arena.
_________________
Matthew wrote: Hayden is so much better than Schmidty in every way.
Admin





Posts

: 7118


Join date

: 2015-03-09


Age

: 21


Location

: MizTV


Humor

: Making Sons uncomfortable



After her debut win against Tia Powley, Jasmine Crossings stands tall in the center of the ring, aiming her fist into the air as Caldwell steps into the ring, pointing towards the ramp as the remaining members of No Morality come out from the back, Compromise and Emily make their way down the ramp towards the ring, Emily jumps up to the apron and into the ring while Compromise climbs up the steps and steps into the ring. Tia Powley backs into the far right corner of the ring staying out of their way in attempt to recover from her wounds. The Quartet that is No Morality stand tall in the center of the ring, raising their arms in unison towards the hard camera for a brief moment before they all turn around towards the downed Tia Powley.

Powley, with a look of anger, she uses the ropes, struggling to pull herself up to her feet and fails, falling back down to the apron, wincing in pain as Compromise, Crossings and Emily begins to close in on her. Tia backs up as deep into the corner as she can, her back firmly pressed against the turnbuckles as the shadows of Compromise, Jasmine and Emily loom over her, shutting out the lights of the arena. However before the can strike a voice is heard behind them.
Sophia Caldwell:
Stand down!
Tia Powley with a confused look on her face, looks out as Compromise steps aside to reveal Sophia Caldwell with a microphone in her hand, the trio part ways leaving an open channel between Tia Powley and Sophia Caldwell as Powley stares not quite knowing what to expect while Caldwell gazes back, a menacing smile upon her face.
Sophia Caldwell:
Do not fear Tia... We will not hurt you any longer. Nobody.. Will hurt you any longer. IF.
Caldwell pauses for a moment as Powley looks on, breathing heavily, still trying to recover as Caldwell continues.
Sophia Caldwell:
IF... You join us.
Caldwell lowers the microphone and looks into the eyes of Powley, as the other members of No Morality turn and look at Powley as she looks around in shock, frantically looking at all of the members of No Morality as Caldwell continues on to the dismay of the crowd.
Sophia Caldwell:
This is no coincidence Tia, I've been planning this all month, you see, I know you have potential, which is why I made sure, that everytime we sent our message to the CMV Universe, it was before or after a match with you or your uncle Tops. Because then it would be in your mind whether you won or lost, think of it as subliminal messaging. You should be a Champion Tia, you should be, like we all should, but we've come to accept that we are bigger than the belts, and you are too. Some come Tia, become the final piece of the puzzle and round off No Morality. Being with Tops can only get you so far, and unlike him, we will not steal your glory. We will all bask in it together. All you need to do Tia, is accept my offer, take my hand, and join OUR cause..
Sophia Caldwell comes in close to Tia Powley, extending an arm as she raises the microphone back to her mouth.
Sophia Caldwell:
So... Whaddya say?
Caldwell lowers her microphone and ushers Tia to except the offer, Tia looks around frantically not knowing what to do, her mind racing, but with the mention of Tops name going through her head, anger spreads through her veins and she looks up with a scowl on her face as she reaches out and grabs the hand of Caldwell, who pulls Tia to her feet, patting her on the back.
Sophia Caldwell:
You made the right choice Tia..
With that, all five Vixens of No Morality step into line in front of the hard camera, with Caldwell in the middle, Compromise to her right alongside Tia, and Emily to her left alongside Jasmine, and for one last time Caldwell raises the microphone in her mouth.
Sophia Caldwell:
Listen up people, there is no stopping us, this is no longer Dynamites Division, this is nobodies Division, this is not only our Division, but this is our Show, our Company, OUR PLANET, and anybody.... ANYBODY, that stands in our way will witness the destruction that we can bring, we are here to spread purity to this industry, we will show the world the truth. Because with No Morality, comes No Compromise.
Caldwell drops the microphone onto the mat, and all five Vixens look into the hard camera for a brief moment before they begin to raise their fists to the sky, starting with Jasmine and Tia on the outside, then Compromise and Emily on the inside and finally in the middle Sophia Caldwell raises her fist to the sky as the camera fades to black with their theme echoing around the arena.
_________________
Matthew wrote: Hayden is so much better than Schmidty in every way.
Admin





Posts

: 7118


Join date

: 2015-03-09


Age

: 21


Location

: MizTV


Humor

: Making Sons uncomfortable



No Morality's theme echo's throughout the arena after Tia Powleys win over Rachel Grant on the live show, the final initiate of No Morality stands tall in the ring as Sophia Caldwell makes her way up the steel steps, a microphone in her hand looking to once again talk to the CMV Universe while Rachel Grant backs up, wincing, into the corner looking to recover, Sophia Caldwell looks into the hard camera, the microphone poised in position as she begins to talk.
Sophia Caldwell:
Once again, I prove to the world... WE prove to the world, that we are the dominant force within this Vixens Division, the black and white forecast of our vision. Every single person who has stepped into the ring against one of us, has not seen the light of day, even the so called leader of this division "Jade Dy-no-more". Tonight, our newest addition, the former puppeteer, Tia Powley has proven her worth, and it just goes to show each and everyone of you, that under my tutelage, with MY Vision, and united we stand striking down ALL of those who stand in our way. Tonight... Tonight.. It was Rachel Grant.
The duo of Tia Powley and Sophia Caldwell turn to face Rachel Grant, with a look of anger on her face she pulls herself to her feet to the discreet laughter of Caldwell who shakes her head, letting off a smile of pity, as Grant struggles to her feet Tia boots her straight into the gut sending her back down to the mat
Sophia Caldwell:
I would stay down if I were you Rachel, look at the people who have defied me in the past, look at the names on that list and look at yourself and sit there motionless, and sit there and listen. You see Grant, I have a question for you, look at us, look at what we stand for and look at who we have DECIMATED. Look at us and answer me, why Grant, when I came out each and every week offering the Vixens of this division a chance to rebuild themselves, why didn't you come out? Did you not believe my word? Do you not understand what we see, the vision we have? In this Division, OUR Division, you're either with us or against us Rachel.
Caldwell gets down into the face of Rachel Grant, inches away as she presses on.
Sophia Caldwell:
You made the wrong choice Rachel.
Out of nowhere, a last ditch effort, Rachel Grant lets out a crunching right hook, connecting with the bridge of the nose of Caldwell doing some serious damage perhaps even breaking it, as Caldwell stumbles backwards throwing the microphone out of the ring towards the ramp in rage, cupping her nose with her left and and clicking her fingers with the right as Tia comes up from behind her, slapping Rachel Grant before following it up with some destructive stomps in the corner however it only lasts for a brief moment as they're interrupted by the sound of a former CMV Womens Champions theme.
At the sound of Sophia Gibsons theme, Tia and Caldwell turn their gazes to the entrance ramp, Tia standing in front as Caldwell watches on still with one hand covering her nose, blood trickling out through her fingers as they await the former CMV Womens Champions entrance down the ramp, however following a huge pop, Sophia Gibson comes through the crowd, picking up the chair that Tia Powley had previously used during her match with Grant, sliding into the ring behind Tia and Caldwell, and from the back Caldwell takes a crashing chair shot to the back of the head sending her tumbling down to the mat, the blood from her previously cupped nose splashing across the canvas. Tia slides out of the ring pulling Caldwell out with her as Rachel Grant and Sophia Gibson stand tall in the ring with a chair at the ready looking on at Tia Powley and Sophia Caldwell on the outside who is now back to her feet, the blood from her exploded nose covering her mouth and chin, dripping down onto her chest as she lets of a menacing stare towards Gibson and Grant, clicking her fingers.
After a small instance of static, Emily, Jasmine and Compromise are ringside, Compromise seemingly held back by Caldwell as Tia, Emily and Jasmine climb onto the ring apron, Gibson and Grant stand in the center of the ring, back to back as Caldwell picks up the microphone she'd previously thrown towards the mat and raises it to her mouth.
Sophia Caldwell:
Well Gibson, you've certainly proven one thing tonight, you're either dumb, or very.. VERY brave. You must realize that tonight you came out on top, with a cheap shot, but now, you have a target on your back once again, think back to what happened last time, you were left bloody, beaten in the center of the ring, and now, well, you'll be praying that's ONLY what happens to you. I'll let you have this night Gibson, Grant. For this will be the ONLY night you walk out with your hands held high. Stand down.
Evidently playing some psychological warfare with Sophia Gibson and Rachel Grant, the members of No Morality step down from the apron in unison and stand in formation behind Sophia Caldwell as the group of five stare into the ring, and despite her bloody mess of a face, Caldwell makes one final push on the microphone.
Sophia Caldwell:
I look forward to seeing the both of you in less than 48 hours time at Quarantine, for you will pay for your actions tonight, and you will regret every single second of it. Because for every second you stand in that ring, with a smile on your face, thinking you have won, is an hour you'll spend recovering, in pain, as you lay in a hospital bed somewhere thinking about your future endeavors knowing that we will never stop. Enjoy this moment, for it is a rare one. Be prepared for what is to come at Quarantine...
The four other members of No Morality step to the side as Caldwell backs up through them, dropping the mic and making her way up the ramp, the rest of them follow shortly on after, however Compromise stays planted at the bottom of the ramp, staring a black hole into the eyes of the two Vixens in the ring, Caldwell senses this and snaps her fingers, signaling for Compromise to follow as the group stand in line at the top of the ramp, all raising their fists in the air as the segment fades to black.
_________________
Matthew wrote: Hayden is so much better than Schmidty in every way.
Admin





Posts

: 7118


Join date

: 2015-03-09


Age

: 21


Location

: MizTV


Humor

: Making Sons uncomfortable



Following Lexins loss to Bettey Meyers No Morality's theme hits the PA system causing Lexin to turn her head in dismay towards the stage, Damjen, completely exhausted pulls herself up to her feet using the ropes, stumbling back in the ring, struggling to stay on her feet as the five Vixens of No Morality make their way down the ramp towards the ring, however as they reach the bottom of the ramp, Dawn Bryan, Sophia Gibson and Rachel Grant emerge from the crowd with weapons in hand, sliding into the ring behind Lexin Damjen and staring back at No Morality.

Sophia Caldwell, with the microphone in her hand looks back at the quartet in the ring, her mischievous smile transitions into a look of anger as she slowly raises the microphone to her mouth, beginning to speak.
Sophia Caldwell:
You just won't stay away will you... All four of you are just determined to stand in the way of change, stand in the way of clarity, and WHY?! What point are you looking to prove? What is your goal? I think you're just trying to get in my way, I think you're trying to steal OUR spotlight because you all must understand that we. The five of us, are the future, and you're grasping onto us as we climb this mountain, all the way to the top. Dawn, you already know that at Contingency you will suffer defeat by my hand. But the rest of you... All three of you, Damjen, Gibson and Grant. YOU ALL, deserve to recieve the same punishment as Bryan for standing in our way, so how about this. All three of you, obviously want revenge for your shortcomings when we kept putting you down, well you have the chance to get it, but to do so, you have to three of us... three on three at Contingency... You'll have your chance, you'll have your chance at redemption, but you run the risk of falling once more, because you WILL fall once more. No Morality are unstoppable, unbeatable, untouchable, and at Contingency... You'll all find out for yourselves..

Fall out..
Sophia Caldwell drops the microphone onto the stage and begins to walk up the stage backwards, her arms spead out in front of the rest of No Morality, effectively directing them up the ramp as the five members of No Morality stare down into the ring towards the four faces in the ring as the segment fades to black, showing No Morality raising their fists into the air at the top of the ramp.
_________________
Matthew wrote: Hayden is so much better than Schmidty in every way.
Admin





Posts

: 7118


Join date

: 2015-03-09


Age

: 21


Location

: MizTV


Humor

: Making Sons uncomfortable





Similar topics
---
Permissions in this forum:
You
cannot
reply to topics in this forum