Fusion & Genesis PPV List!
-Battlescars
-Anarchy Rulz
-Retaliation
-Requiem
-Exodus
-CyberSlam
-Tag Team Cup
-Validation
-Dark Carnival
-Point Break
-Regicide
-Wild Card
-Absolution
-Emergence
-Home Coming
-Cause & Effect
-Final Resolution
-Purgatory
-Ascendance
Page 1 of 3 • 1, 2, 3

How likely is it that Chris Andrews will win the Anarchy title and advance in the King of the Ring tournament?
Thursday Night Genesis: Episode 54!
LIVE from the Family Arena in St. Charles, Missouri!!!
Anarchy Rulz card thus far:
Subject to Change
-Hayden vs. JustIN Sane (c) for the CMV Undisputed World Heavyweight championship!
-Chris Andrews vs. Shiloh Gray in an Anarchy Rulz Match!
-Anarchy Rulz gauntlet match for the CMV Light Heavyweight championship!
-Mike Grizzly vs. Billy Weaver in a Last Man Standing match!
- - - | - - - | - - -

OPENER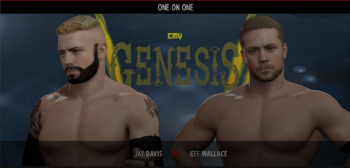 Jay Davis, again challenges someone that may well be too much for him to handle, as he takes on one of the three members of the World Tag Team champions in Jeff Wallace, a member of WEB, one of the most fierce tag teams to date. Jay Davis may have certainly bitten off more than he can chew as again another top contender on the CMV roster looks down to Jay Davis and another one of his over-zealous challenges.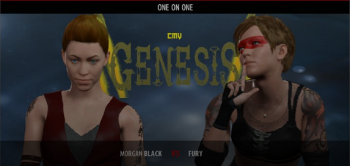 Morgan Black takes on former two time Vixen's champion, Fury. Morgan Black, coming off of her victory against Rose Punish at Battle Scars for a contract to have a place under Royce's management, while on the same night, Fury took a loss in the #1 contenders match, the anger of that loss fuels her actions in this one. But who will turn up victorious?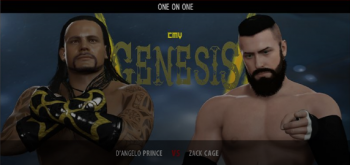 Making his CMV debut, the independent superstar extraordinaire, D'angelo Prince, takes on CMV veteren, Zack Cage. D'angelo has a lot to prove in CMV, where the big boys play. Will Zack show mercy to the new prospect or will he show Prince that shovel for newcomers?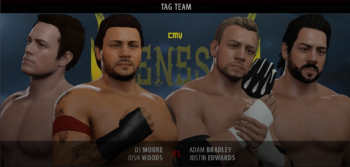 The Hooligans take on two-thirds of WEB in tag action. DJ Moore, an experienced tag team competitor, tags with the up-and-coming, Josh Woods. But can DJ help Woods through the perils that come with the poisonous WEB? Or will they be able to show the world that they're more than just Hooligans.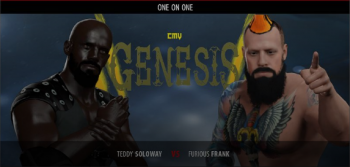 Furious Frank welcomes "Scumbag" Teddy Soloway "Black Bear" but often misheard as "Black Beard" the IV from the isles of Skellige to CMV with open arms. Can Teddy handle the heat or will the fury of Frank blow the giant out of the water? Watch as two goliaths collide like billowing clouds on a stormy day!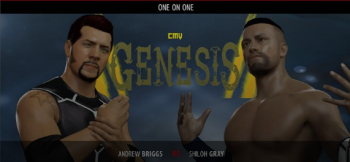 After securing a victory at Battle Scars over Chris Andrews, Shiloh gears up to fight the former two time Light Heavyweight champion, Andrew Briggs, in this intense contest. With Shiloh versus The Bloody Brit II around the bend, Gray needs any momentum he can get coming up. But will Briggs give him some or take it away as Andrew is also a fierce competitor and is not to be taken lightly?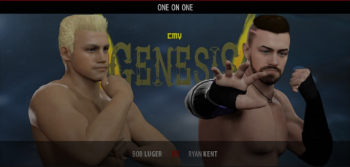 Iiiiiiiiiiiiiiiiiiiiiiiiiiiiiiiit's
TIME!
In our main event the Work Ethic King, Bob Luger, takes on the wild and always unpredictable, Ryan Kent. This match is paramount for both of these men as the winner will progress to the first round of the 2018 King of the Ring tournament this Saturday and take the first of many possible steps to join the history books and grab a spot in next month's Elimination Chamber match at Exodus to crown the first ever CMV Alpha World champion!
ALSO,
our wonderful selection on the Live Event show!
= Vicious & Delicious vs. Extreme Conditions =
= Riley Dixon vs. Rose Punish =
= Lance Romance vs. Kenji Murakami =
_________________
IT'S TIME
Main Event Star!





Posts

: 2219


Join date

: 2015-08-29


Age

: 25


Location

: New York


Humor

: Slapstick



Just posted a promo, not sure if I should keep it or not but I guess it can still work.

_________________
Amber Briggs(Ferocity) - 1x CMV Vixens Champion(Inaugural)
Duke(On Hiatus) - 1x Tornado Tag Team Champion w/ Buzzsaw Jack (Inaugural)
Andrew Briggs(Fusion) - 2x CMV LHW Champion
The Briggs Family & Friends



Xbox Live Gamertag: Purple oFireo
Midcard Playboy





Posts

: 285


Join date

: 2015-03-26


Age

: 23


Location

: NS, Canada


Humor

: Eh! What's this aboot?



_________________
Ryan Kent
1x NXT champion
Former money in the bank holder!
1x Undisputed champion
1X NXT tag champs
1X CMV Tag Champs
1x Hardcore Champion
1x International champion
1x Light Heavyweight champion
The man with the most title defences in CMV history!
CMV second ever grand slam champion!
Sean Kent
1x Fusion tag champs
Main Event Star!





Posts

: 624


Join date

: 2015-03-28


Age

: 17


Location

: England


Humor

: Dark Humor



how could you see that he was the same size as sane but call him a big man
just awful booking
_________________
Main Event Star!





Posts

: 2697


Join date

: 2015-03-09



Why is there a Chris Andrews poll on a Genesis card? Doi he's on Fusion.
_________________
Accomplishments :

2018 Heel of the Year as Schmidty
2018 Newcomer of the Year as Schmidty
2018 Face of the Year as Bob Luger
2018 Promoer of the Year
1x European Champion as Schmidty
2x United States Champion as Schmidty
1x Undisputed Champion as Schmidty
1x Alpha World Champion as Bob Luger
1x Tag Team Champion as Murdoc
1x Tag Team Champion as Freddy Osborne
1x Dashing's ride or die chick
Main Event Star!





Posts

: 3412


Join date

: 2015-09-19


Age

: 21



_________________
Main Event Star!





Posts

: 2697


Join date

: 2015-03-09



I didnt challenge Wallace
Main Event Star!





Posts

: 1014


Join date

: 2016-07-18


Age

: 16


Location

: New York, Sahn!!


Humor

: Hellish



_________________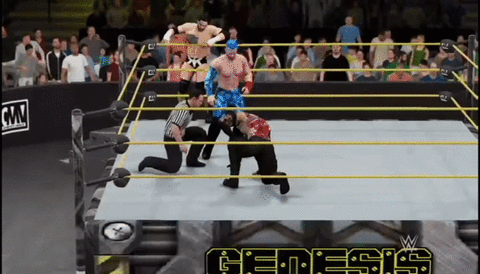 Main Event Star!





Posts

: 622


Join date

: 2015-04-06



This is TIM leave me alone
Admin





Posts

: 4346


Join date

: 2015-03-08


Age

: 20


Location

: The Hood


Humor

: Knock knock!



Page 1 of 3 • 1, 2, 3

---
Permissions in this forum:
You
cannot
reply to topics in this forum