Fusion & Genesis PPV List!
-Battlescars
-Anarchy Rulz
-Retaliation
-Deathwish
-Requiem
-Exodus
-Validation
-Sacrifice
-CyberSlam
-Dark Carnival
-Point Break
-Regicide
-Wild Card
-Absolution
-Emergence
-Home Coming
-Cause & Effect
-Final Stand
-Purgatory
Quick Links!
Dashing's Stuff!
Cop's Stuff!
CMV Network!
Social Media!
Site Threads!

After coming back from commercial break following the second Vixens debut of the night the camera opens up to an empty ring as the theme of the former two time CMV Womens Intercontinental Champion Sophia Caldwell hits the PA system to the dismay of the crowd who show their distaste with a plethora of Boo's
Sophia Caldwell:
Whatever, Whatever, just shut your mouths.
Caldwells voice cuts through the boo's of the crowd as she comes out from the back with a microphone already in hand as she walks out to the top of the stage, looking out over the arena.
Sophia Caldwell:
All your booing means NOTHING! You're all BLIND! Oblivious to the fact that everything you do or say means NOTHING.
The boo's grow louder as Caldwell begins to walk down the ramp, waving the Boo's aside as she leaps onto the apron and steps through the ropes and into the ring laughing in the face of all of the booing fans as she looks towards the hard camera and raises the microphone to her mouth once more.
Sophia Caldwell:
You can Boo and I'll keep on saying it means nothing, it doesn't now, and it never did. I was blinded by the spotlight when I used to believe that you people meant ANYTHING, but now I know and you can't effect anything that happens to me in this ring. SURE, I lost last week, but wins and losses mean nothing, one big win can turn your career around, Kristen Page believes she has this monster inside of her? Pfft, I hope she wins that belt at Climb 2 Fame, just so I can cash in on her when I climb that ladder and WIN the first ever official Womens Money in the Bank match. I mean look at who's in the match with me.

The only name worth mentioning is Cassie Maverick, but ever since coming to UnMatched she's avoided any big challenge, she's been fighting cans. People who have decimated the Womens Intercontinental Championships prestige. I am the only one to have ever held that belt that is worth proving yourself against. Lets see who else is in this match, I honestly can't even remember. they're all NOBODIES! Dawn Bryan, the person I took the belt from, a person who received a reality check from ME and ever since has become nothing but an afterthought. Ashleigh Infinitee, some new kid who got lucky and won an important match and hasn't won since! Then we got two newcomers. WHO EVEN IS RACHEL GRANT OR ALICE BLAKE?

Yeah, I may have teamed with them, I may have worked with them, but they left me in that ring after that brawl a few weeks ago and now they're dead to me. None of the Vixens in this match are on my level which is exactly WHY I'll come out on top and pull down that briefcase. You're looking at your NEW CMV Womens Champion.

Don't be blinded within all these flashing colors people, take it down to the very basics, the black and white, and it'll be me who's standing tall on top of that ladder. If anyone disagree's they can come out and say something about it.
Sophia Caldwell lowers the microphone as the crowd continue to show their resentment while she leans up against the ropes and looks towards the ramp awaiting a response from one of the Vixens in the back.
Open to any Vixen, preferably one in the six Vixens mitb match.
_________________
Matthew wrote: Hayden is so much better than Schmidty in every way.
Admin





Posts

: 7068


Join date

: 2015-03-09


Age

: 21


Location

: MizTV


Humor

: Making Sons uncomfortable






Dawn's music plays through out the arena which is met by cheers from the CMV Universe, Out steps Dawn who is now at the top of the ramp way with a mic in her hand....

Dawn : Oh how the "mighty" have fallen.... Just look at you now, trying to be a bitch with an attitude when all you are is just a bitch.... 

The fans start a Bitch chant directed at Sophia, Sophia looks on in disgust.

Dawn : Aww what's with the face..... Oh that's just how you look, my bad.. But seriously  i wouldn't worry too much about who's in the match, you should be worried now that you've alienated yourself from everyone putting a bullseye  on your back...  I guess we can look forward to you bitching how everyone was ganging up on you... Lets face it after your actions you deserve a beatdown. Guess we`ll have to beat some respect into you. 
Climb2Fame you wont be the one climbing, you'll be the one falling.... Falling off that ladder as i push you off it and grabbing the briefcase for myself. So you can come out here all you want and say you're black and white now but after i'm done with you.... you're going to be black and blue!!!!

Dawn drops the mic, smiles as her theme is played again as she walks off.
_________________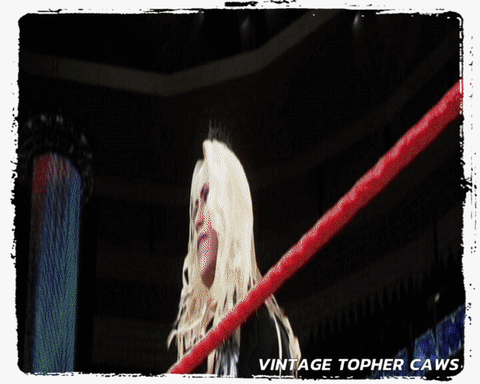 Main Event Star!





Posts

: 4763


Join date

: 2015-12-11


Age

: 99


Location

: (NEAR)... Leeds, England


Humor

: yes :D




---
Permissions in this forum:
You
cannot
reply to topics in this forum