Fusion & Genesis PPV List!
-Battlescars
-Anarchy Rulz
-Retaliation
-Deathwish
-Requiem
-Exodus
-Validation
-Sacrifice
-CyberSlam
-Dark Carnival
-Point Break
-Regicide
-Wild Card
-Absolution
-Emergence
-Home Coming
-Cause & Effect
-Final Stand
-Purgatory
Quick Links!
Dashing's Stuff!
Cop's Stuff!
CMV Network!
Social Media!
Site Threads!

With all the other 3 men in the Main Event gone from the ring, leaving just the Television Champion Tops Newsome, and his Niece Tia Powley who had come out post match to aid her uncle, Tops and Tia begin to make their way to the corner of the ring to head towards the back, before they're interrupted by a very familiar theme.
At the sound of Johnny Sampsons theme, Tops whips the Television Championship over his shoulder, clutching on with his life as he looks towards the ramp with curiosity as the current Intensity General Manager Johnny Sampson comes out from the back, with a microphone in hand and his dank black shades already tucked into his jacket front pocket from earlier on this evening when he addressed the universe. Sampson looks down to the ring with a smirk on his face as he raises the microphone to his mouth to once again address the world of Intensity.
Johnny Sampson:
Now guys, I know I said you wouldn't see me out here again until I revealed your new GM in the fallout of Climb 2 Fame, however I was sitting backstage, WITH your new GM... LIVE here tonight and they brought up to me, that Tops Newsome hasn't been looking too great as of late, maybe he's on the decline. So. We talked, and we talked, and seeing as they're set to be the new General Manager post Climb 2 Fame. I said that they should make the decision. Well what they say, we should have Tops defend at Climb 2 Fame. Which had me thinking, who he should defend against. Well, your brand new GM, gave an absolutely solid list of names in which we'll now see compete in a number one contenders match next week. Who are they? Well Tops, you're going to have to wait and see. A true champ should be ready to defend against anybody, so you will not find out who you're facing until around 9 days until the fight. I hope you're ready Tops, you've been losing as of late, and as it is the era of opportunity as long as I am General Manager, it could be absolutely ANYBODY in this contenders match. I look forward to your performance at climb 2 fame.
Sampson simply smiles as the crowd erupts in cheer as Sampson makes his way to the back.
_________________
Matthew wrote: Hayden is so much better than Schmidty in every way.
Admin





Posts

: 7068


Join date

: 2015-03-09


Age

: 21


Location

: MizTV


Humor

: Making Sons uncomfortable



Sampson has left, leaving Tops and Tia in the ring looking on and shaking their heads...

Tops : Loosing streak? Loosing streak i don't think so..... I took 1 hell of a beat down by Gavin at Arrival i came back with the ultimate comeback and retained my Television Championship.... Yes i may have lost against Logan, he got lucky, and in my second chance Adams stole a win by pinning Bull.... Not much of a loosing streak.. Sure i didn't get into MITB ladder match but what's done is done.... I'm the Puppet Master, Thee most vicious, ruthless, and smartest person in this company, you see i'm always thinking, like a game of chess i plan my 2nd, 3rd, 4th moves ahead of time... So my 1st move didn't go to plan, i move onto the next one and so on. 
You talk about mystery opponents....HAHAHAAHA ..... Are you all forgetting Redemption Road.

Tia : How can they forget Top's?  You had to defend your Television Championship against a mystery opponent, You didn't know it was till he came down that isle.

Tops : Exactly!!!! I had no time to prepare, i had no idea who, but did i let that phase me. No. I do what i do best and delivered  No Strings Attached to Dave Skylark... I wasn't intimidated by his presence, his return, his accomplishments, whether he lost this title or not..... I made sure he didn't reclaim it.
So the countdown is on again..10..9..8..7..6..5..4..3..2..1...Making me wait, making me think, making me walk in circles as  to who it could be..... Well i have news for each and everyone of you pathetic losers sitting here tonight and the millions watching worldwide to all the wrestlers on Intensity.... You can try and take my title, but just remember i'm the PUPPET MASTER and I pull the strings.....

No.........Strings......Attached.


Top's entrance theme plays through out the arena as Tops n Tia smile and exit the ring.

_________________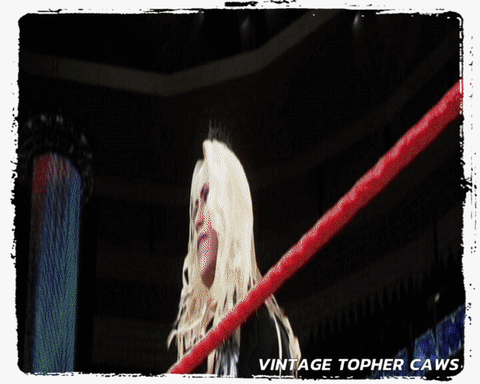 Main Event Star!





Posts

: 4763


Join date

: 2015-12-11


Age

: 99


Location

: (NEAR)... Leeds, England


Humor

: yes :D




---
Permissions in this forum:
You
cannot
reply to topics in this forum