Fusion & Genesis PPV List!
-Battlescars
-Anarchy Rulz
-Retaliation
-Deathwish
-Requiem
-Exodus
-Validation
-Sacrifice
-CyberSlam
-Dark Carnival
-Point Break
-Regicide
-Wild Card
-Absolution
-Emergence
-Home Coming
-Cause & Effect
-Final Stand
-Purgatory
Quick Links!
Dashing's Stuff!
Cop's Stuff!
CMV Network!
Social Media!
Site Threads!

After Cassie picks up yet another victory, this time over the current CMV Women's Intercontinental Champion an unfamiliar theme hits the titantron blaring around the arena, Cassie looks around in confusion, oblivious as to whom this may be.



However as the camera pans over to the stage we see the former two time CMV Women's Intercontinental Champion Sophia Caldwell sporting her new black and white attire and new theme as she makes her way down the ramp, speaking as she walks

Sophia Caldwell:
Oh Cassie, you think you're killing it? You think you're doing well here? Beating people who are the very reason why that Womens Intercontinental Championship means so little, all of them have failed to hold the belt for more than a month! It's absolutely pitiful that you think because you've beaten them, you deserve to leapfrog me in the title chase. Please.....

Caldwell walks up to the apron and leaps onto it from the floor, staring into the eyes of the former 2 time vixens champion as she continues to talk.

Sophia Caldwell:
You think, that because you were successful on fusion that you can just jump the line here? That's not how it works, not in my eyes. I've been grinding and fighting. There's no way some prissy little cowgirl is getting the jump over me on MY show. You may have the support of the crowd, well, so did I, and I got news for you.

Sophia Caldwell lowers the microphone for a moment before she leaps over the top rope and stands face to face with the cowgirl and raises the microphone to her mouth once more.

Sophia Caldwell:
It doesn't mean a damn thing.. I was like you Cassie, I had ALL the support in the world and it didn't do me any favours against Jade dynamite. It was my own ability that won me my two Women's Intercontinental Championships, and it'll be my ability, that'll kick you back to the curb, to the point where you'll run crying back to fusion with tears on your eyes as you realise just how black and white this world really is. It's no fun and games. I'll be sure to teach you that.

Caldwell drops the microphone at Cassies feet and gestures for her to muster up some sort of response to the former two time CMV Women's Intercontinental Champion.  

Cassie picks up the microphone with a very smug smile on her face. She was hardly upset nor intmadated by Sophia Caldwell. More like annoyed.

Cassie Maverick:
Sophia! Honey! Didn't ya momma ever teach ya some manners? You should know better that to address the likes a livin' legend like that. I could care less that you held that little bush league belt before. That strap hardly has any value or prestigue yet. But rest assured, once this here cowgirl wins that there title, The IC belt will finally have some meaning!

Cassie then scowls and then get closer to Sophia Caldwell, face to face, nose to nose.

Cassie Maverick:
And if you wanna try yer luck on cashing in on Lady Lisa's chicken shit bounty, then lets do this right here, right now! I make sure you'll be walkin' funny before the night is through!

Rachel Grant standing at ringside has been watching the exchange between Caldwell and Maverick she asks for a microphone from the timekeeper and walks up the steps entering the ring.

Rachel Grant:
You know Cadwell, i like the way you think this little cowgirl slut overhere is just being handing these wins from the higher ups, she ain't no fighter just because she puts out to all the boys in the back she thinks she's hot shit well let me tell you somethings Cassie, one That belt will belong to me soon it deserves a true fighter to wear it's strap not a stripper, two that bounty is MINE i'd like to see you try and hit that little "Cunt Punt" move on me WITCH SHOULD CAUSE A DQ BY THE WAY REF just because she blows you backstage like she does everyone doesn't mean she should be handed victories.

Rachel steps closer to get to the two vixens after her speech ready to fight.



Heeeeeeeeeeeyyy Heeyy Hey Hey hit's the PA system as Dawn Bryan comes out with a smile on her face and a mic in her hand….

Dawn Bryan:
Woah, Woah, Woah ….. You really think I'm gonna let you run the show Sophia…. I don't think so… You had the world in the palm of your hands and you threw it all away… The respect of the CMV Universe to the wrestlers backstage… you had it all, but you couldn't get your way, and was beaten, you lost your title not once but twice…. What do you do…. You cry like a little bitch and now look at you, you think this is your show, ha, I got news for you, it will never be your show, not as long as  I'm around.  But I see you have a lapdog following you, and it looks like you're all ready for a fight…. But you forgot one key ingredient …. Me… Dawn Bryan, you think you're gonna come down here and attack a legend…. Now I know she don't need any help in kicking both your sorry asses, but I'm here now…. And if it's a fight you want, then it's a fight you're gonna get, but it's gonna be a fair fight…. This isn't the Caldwell show after all.

Dawn Bryan makes her way down to the ring after dropping the microphone, Rachel Grant and Sophia Caldwell turn to face Bryan as she climbs onto the ramp. Utilising the distraction Cassie Maverick attacks Rachel from behind with a chop block, and before Caldwell can turn around Dawn Bryan pulls her into the ropes face first for a hotshot! With Caldwell stunned and Grant clambering back to her feet Dawn Bryan and Maverick shake hands as they continue to work together against the two heels.



However they're interrupted by the sound of newcomer Alice Blakes theme as she runs out from the back sliding into the ring, Dawn Bryan turn around but only into a clothesline from Blake. Maverick however, doesn't get caught as she connects with by the Bulls Horns to Alice Blake sending her face straight into the mat. Rachel Grant comes up from behind attempting to take advantage, however Cassie Maverick is quick enough to get off the reversal sending Grant out of the ring. As Maverick raises her arm into the air in celebration she receives a low blow from behind as she crumbles to the mat leaving Caldwell smiling as she looks over her handy work. Caldwell gestures to Grant on the outside to grab a steel chair which is thrown in the ring to Sophia Caldwell who turns with a crazed look on her eye as Grant helps Blake back into the ring. Caldwell smacks Maverick in the back with chair, preventing the former two time Vixens champion getting back to feet. Caldwell begins to direct traffic as Grant and Blake go across the ring dragging Dawn Bryan up to her knees allowing Caldwell to talk to Bryan off of the mic, Bryan however, refuses to take it and headbutts Caldwell who screams in frustration, smacking the chair into the mat as she prepares to smack Bryan across the head with it, however before she can, the theme of the former women's intercontinental champion Ashleigh Infinitee hits the PA system.



Grant leaves Bryan to Blakeon as she turns her attention along with Caldwell to infinitee who runs in the ring only into a clothesline from Rachel Grant which sends the former Womens intercontinental champion into the mat. However on the other side of the ring, Bryan sends Blake rolling out of the ring following the bang a rang. As the duo of Caldwell and Grant turn their attention to Bryan, Maverick begins to get back to her feet turning Caldwell's attention to her leaving Grant and Bryan to engage in a mad brawl in the center of the ring as Caldwell swings for a chair shot to Mavericks head only for her to roll out of the way.

Caldwell turns again looking deep into the eyes of Cassie Maverick as she runs forward chair in hand only for Maverick to step out of the way causing Caldwell to run into a running mushroom stomp from Infinitee!! Now, with just Rachel Grant left of the heels still standing, brawling with Bryan in the corner, Maverick and Infinitee come up from behind Grant who receives a huge uppercut from Bryan causing her to stumble backwards and turn into Cassies Cutter!

As Rachel Grant rolls out of the ring following Cassies Cutter, the three of them turn across the ring to see Caldwell stagger back to her feet. Maverick walks towards her, picking the chair up before smacking Caldwell across the face with it sending her crumbling into the mat. However it's not over yet. Maverick and Infinitee carry Caldwell onto the top rope and hold her in a seated position allowing Bryan to climb up the turnbuckles and talk trash to the face of Caldwell before hitting her with the Avalanche Cradle DDT leaving Caldwell unconscious in the ring as Rachek Grant and Alice Blake make their way up the ramp looking down at the ring, leaving Caldwell as Ashleigh Infinitee, Dawn Bryan and Cassie Maverick celebrate their victory in the center in the ring with Dawn Bryan's theme playing around the arena.


_________________
Matthew wrote: Hayden is so much better than Schmidty in every way.
Admin





Posts

: 7068


Join date

: 2015-03-09


Age

: 21


Location

: MizTV


Humor

: Making Sons uncomfortable



_________________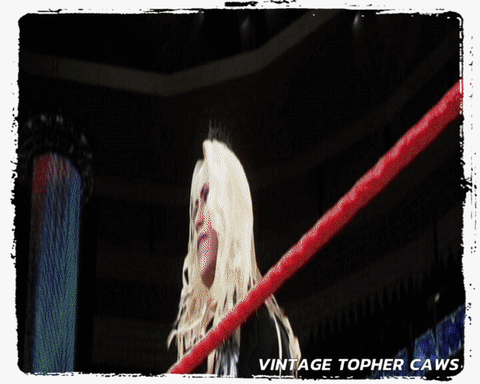 Main Event Star!





Posts

: 4763


Join date

: 2015-12-11


Age

: 99


Location

: (NEAR)... Leeds, England


Humor

: yes :D





Similar topics
---
Permissions in this forum:
You
cannot
reply to topics in this forum