Fusion & Genesis PPV List!
-Battlescars
-Anarchy Rulz
-Retaliation
-Requiem
-Exodus
-CyberSlam
-Tag Team Cup
-Validation
-Dark Carnival
-Point Break
-Regicide
-Wild Card
-Absolution
-Emergence
-Home Coming
-Cause & Effect
-Final Resolution
-Purgatory
-Ascendance
Page 1 of 3 • 1, 2, 3

What was the match of the night for you on Fusion #52???
Saturday night Genesis: Episode 52!
LIVE! from the Sun National Bank Center in Trenton, New Jersey!!!
Battle Scars card thus far!
(Subject to change.)
-The Money in The Bank Ladder match! Featuring: Duo Maxwell, Nick Blake, Elijah Stewart, Jacob Ziegler, Tim LaFave & Azreal!
-Casey Wilson vs. Jade Divine (c) for the CMV Vixens championship!
-WEB vs. Hayden, Sushi-X & Quantum in a Clean Slate match!
-Vixens Fatal-4-Way Ladder match! Featuring: Amber Briggs, Cass LaFave, Fury & Kitty Quinn-Belle!
-Ace Stephens vs. Bison!
-Nick Blake vs. Friends of Cole Savage [PRE-SHOW!]
-Vicious & Delicious vs. The Blood Brothers [PRE-SHOW!]
-Morgan Black vs. Rose Punish in a Ladder match for a Royce Inc. contract [PRE-SHOW!]
-Eric Thunder vs. Ryan Kent (c) for the CMV Light Heavyweight championship [PRE-SHOW!]
-Shiloh Gray vs. Chris Andrews!
-Headhunter vs. Bryan Novak!
-Archangel vs. The Fallen!
-Bob Luger vs. Randy Borton!
* - - - | - - - | - - - *

THE OPENER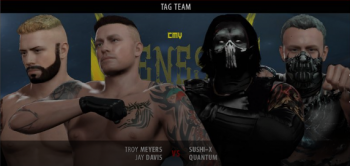 After weeks of messing with the bulls, The Rebels get the horns here tonight. Jay Davis and Troy Meyers now face one of the greatest tag teams in CMV history; XGEN. And while this may be a great opportunity for Davis and Meyers to make a name for themselves, Sushi-X and Quantum have never been known to let someone make it big at their expense. In this opener for CMV Genesis, we'll find out if The Rebels are what they claim to be; or just another tag team on the CMV roster. . .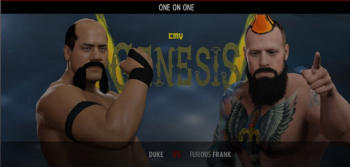 Duke Briggs takes on Furious Frank in the "Briggs Family vs. Fast 'n' Furious" two-part tag team extravaganza here tonight on Genesis. With Andrew and Bob colliding further down the card, a win from their respective partner in this match will surely boost their morale for part two of this tag team battle for the ages.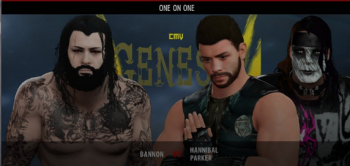 The newly formed tag team of Parker and Hannibal take on one of the fiercest new prospects on the CMV roster, Bannon. Bannon who makes his main roster debut tonight has a lot to prove if he wants to go up from here. But can he take down the Headbutting Hellion; or will Hannibal let it be known that his win in the Slick B Memorial Battle Royal truly made a difference.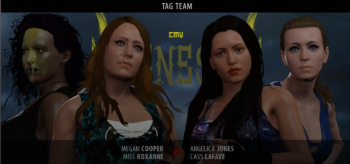 Cole Savage and Cass LaFave have been butting heads since the two met and now his subordinate finally gets a shot at Cass in this tag team classic. With Miss Roxanne by her side; can Savage's elite team of wrestlers prove they're the best; or will Angelica Jones, CMV's newest Vixen superstar, move further up the ladder as she tags with Mama Cass tonight?
Part two of the "Briggs Family vs. Fast 'n' Furious" two-part tag team extravaganza finishes here. With Andrew being a former two-time Light Heavyweight champion and Bob being one-half of one of the most formidable former tag team champions to date: who will come out on top and prove they're truly the best? Find out tonight!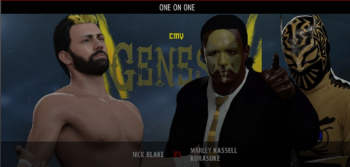 Nick Blake's masochistic side could not wait for Battle Scars as he's called to meet Marley Kassell one on one, here and now. While the odds are clearly in favor of Cole Savage's elite subordinates, can Nick Blake show that pain is a foreign concept to him and inflict some 'ED TRAUMA on his possible future ally here tonight?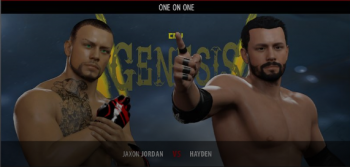 Iiiiiiiiiiiiiiiiiiiiiiiiiiiiiiiiiiiiiiiiiiiit's

TIME!

Here in our main event, we get one the greatest International champions in CMV history, Jaxon Jordan, squaring off against the crown jewel of CMV, Hayden 'Blade' Kiteley. The fact is, both of these men are CMV heavy hitters, but who will put down who in this cataclysmic main event? Jordan, the man with the fist of stone; or Hayden, the man who serves justice on the daily?
LET'S NOT FORGET,
The CMV.com exclusive Live Event!!! Post-Genesis the matches will be...
= Nelson Jr. vs. Ryan Colt =
= Ally Cage vs. Alexia Stroud =
= Morgan Jackson vs. Pierre Thompson =
_________________
IT'S TIME
stop calling them subordinates
_________________
Be happy I called them anything at all.
_________________
IT'S TIME
rudest thing i've read today
_________________
It's 10:40AM. I'm sure something else will come up.
_________________
IT'S TIME
Where's Rose Punish vs Morgan Black Ladder Match for a Royce Inc. contract? Damn it, Dashing, I will go tell your mom!
Midcard Playboy





Posts

: 213


Join date

: 2015-05-02


Age

: 22


Location

: USA



TimLaFave wrote:It's 10:40AM. I'm sure something else will come up.
i got something coming up for you
_________________
The Friendly Savage wrote:

TimLaFave wrote:It's 10:40AM. I'm sure something else will come up.

i got something coming up for you
:3
_________________
IT'S TIME
_________________
Accomplishments :

2018 Heel of the Year as Schmidty
2018 Newcomer of the Year as Schmidty
2018 Face of the Year as Bob Luger
2018 Promoer of the Year
1x European Champion as Schmidty
2x United States Champion as Schmidty
1x Undisputed Champion as Schmidty
1x Alpha World Champion as Bob Luger
1x Tag Team Champion as Murdoc
1x Tag Team Champion as Freddy Osborne
2x Light Heavyweight Champion as Billy Weaver
1x Light Heavyweight Champion as Bryce Hurt
1x Dashing's ride or die chick
Main Event Star!





Posts

: 3440


Join date

: 2015-09-19


Age

: 21



Page 1 of 3 • 1, 2, 3

---
Permissions in this forum:
You
cannot
reply to topics in this forum